Hafner to DL, Thome to Cleveland?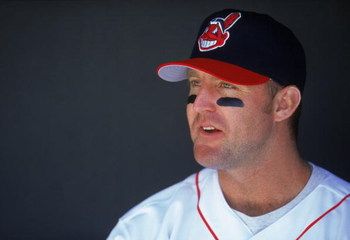 Jim Thome (Photo: AP)
The Indians have placed designated hitter
Travis Hafner
on the 15-day disabled list with a right foot sprain. The Indians have called up right-handed pitcher
Josh Judy
to take Hafner's spot on the 25-man roster and help a burned out bullpen. He may not be in Cleveland long as he probably will be optioned out after the first game of the doubleheader tomorrow so the Indians can activate right-handed pitcher
Zach McAllister
who is expected to make the start in the second game of the doubleheader.
There is some concern that Hafner may be done for the season, and that along with the news that Twins designated hitter
Jim Thome
has been put on trade waivers today has a lot of people in the baseball world believing the Indians and Thome may soon be reuniting.
Thome, 40, has a no trade clause, but one would think he would surely waive it for the opportunity to come back to Cleveland and play every day. He has been a part time player with the Twins this year, but when he has played he has been productive as in 68 games he is hitting .256 with 12 HR, 40 RBI and a .868 OPS. If Hafner is indeed lost for a long time - if not the rest of the season - Thome would be a perfect fit on many levels.
Since Thome is playing for the Twins in the AL he must first pass through waivers to all the AL teams before an NL team can put in a claim for him. The claiming order goes from worst record to best record, and at the moment the Indians appear to hold all the cards and will probably get the first crack at Thome since they have the worst record among contending teams in the AL that may be interested in picking him up.
The process is expected to take 24-48 hours, and it is possible sometime on Wednesday or Thursday that Thome could be traded to a new team, with that team maybe being the Indians. He is a former fan favorite and would surely be welcomed back even if some people are still angered by his free agent departure almost nine years ago.
Thome's return would allow him to finish his career with the team he will always be most remembered playing with, and along the same lines as outfielder Kenny Lofton who was traded to the Indians in July of 2007 and finished his career with the team that season.
Follow Tony and the Indians Prospect Insider on Twitter @TonyIPI. Also, his latest book the 2011 Cleveland Indians Top 100 Prospects & More is available for purchase for $20.95 to customers in the US (shipping and handling extra). Use discount code 2Z6F362B to receive 40% off the book through the site store!
User Comments
No comments currently. Be the first to comment!