Huff Gets Help From Brother, Coaches With Struggles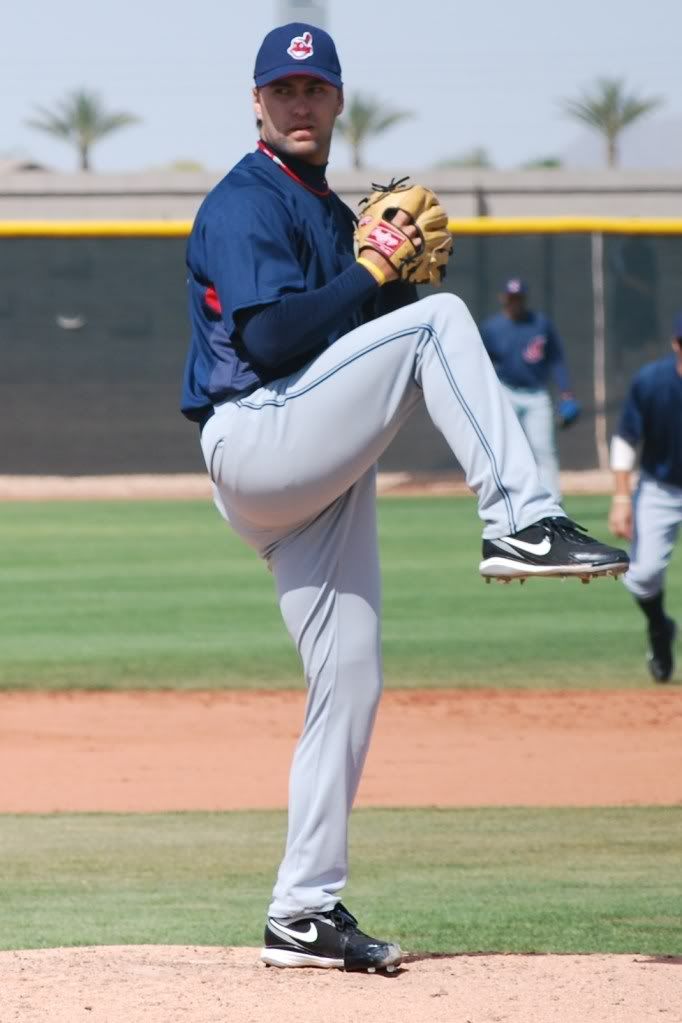 Left-hander David Huff is a high profile draft pick selected by the Indians in the 1st round of the 2006 Draft who really broke onto the scene last year. After going 11-5 with a 2.52 ERA in 27 combined starts at Double-A Akron and Triple-A Buffalo in 2008, he solidified himself as a top starting pitching prospect in all of baseball ready to take the leap to the big leagues sometime this season.
In the offseason, the Indians said there would be an open competition in spring training between Huff and fellow lefties Jeremy Sowers, Zach Jackson, Scott Lewis and Aaron Laffey for the fifth and final spot in the rotation. While he was in the mix to make the Indians rotation out of spring training, he was never really seriously considered for the rotation spot given that he was the only one out of the five pitchers who was not already on the 40-man roster. Given that the Indians had other options to turn to with the four other lefties, there was no need to rush Huff and start his service clock. Instead, the Indians decided that he could go to Triple-A Columbus and finish a few things off and potentially be a call up option later in the year when injuries or performance issues ultimately create a need in the big league rotation.
Even still, it was Huff's first big league spring training experience, and the exposure to the big league side of things from the coaching staff, front office, players and atmosphere will help keep him more at ease the next time he joins the big league club.
"It was my first big league camp," said Huff in an interview at new Huntington Park in Columbus. "It was a great experience and I loved it. The guys are great up there, and they make it real comfortable for newcomers. All in all I had fun with it. I am looking to next year and hopefully I will be there again."
When spring training broke, the Indians departed for Texas to open their season while Huff and a cast of several other hot prospects caught a flight for Columbus in the hopes of getting that "call" soon from the big league club. The Indians told him to "be ready".
Coach Assitance
Since the start of the minor league season the Indians prized left-handed pitcher is off to a solid start to the 2009 season with a 3-0 record and 4.09 ERA in three starts for Columbus. While the numbers are solid, Huff is not pitching up to the standards that the Indians, fans, and he himself hold him up to.
"If you look at his numbers, I am sure they are not as good as he wants them to be," said Columbus Manager Torey Lovullo. "But he is 3-0, and he has kept us in the ballgames that he has pitched in. He has made big pitches when he has had to. When his back is against the wall he has that one main ingredient that you can count on. He is not gonna back down; he is going to execute his game plan."
The area of Huff's game he has struggled with the most in the early going has been his command, which is what is considered one of his best attributes. His ability to command three pitches and throw quality strikes is a big reason he is so effective and dominant, but his lack of the pinpoint command he usually has is what has hurt him in the early going. As a result, he has allowed more walks and is giving up more home runs. Coming into the season, Huff had a 2.25 BB/9 average and 0.7 HR/9 average, but in his first three starts this year he has allowed nine walks (3.68 BB/9) and four home runs (1.64 HR/9).
The command issues are partly the result of a setback he had in spring where he came down with tendonitis in his left elbow which sidelined him for a short time and resulted in him having to take it easy for a few weeks. As a result he fell a little behind and his mechanics got a little off track.
"For me personally," said Huff, "I maybe pressed a little bit [in spring training] because I was thinking
User Comments
No comments currently. Be the first to comment!