Indians 2009 Rule 5 Draft Preview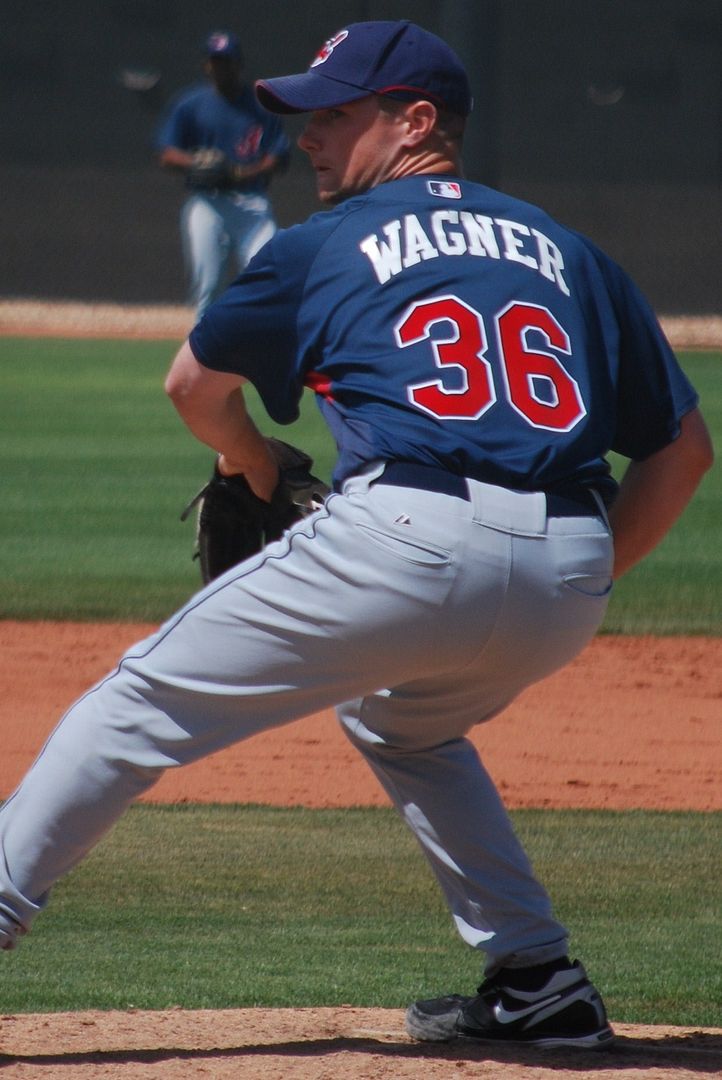 We are on the eve of the 2009 Rule 5 Draft which will take place at the conclusion of the Winter Meetings tomorrow out in Indianapolis, IN. For those unfamiliar with the Rule 5 Draft and how it works check out the in depth
FAQ
here on the site, and here is the list of the
Indians 2009 eligible
s to be taken.
Looking at how things stand right now, it looks like if the Indians lose anyone it will be a pitcher or two. There are a lot of solid arms available, though very little as far as upside goes. There are only but two or three position players who may get any consideration, if even that.
With that in mind, here is a last minute look at the ten players in the Indians system who could draw the most interest:
1. Neil Wagner (RHP - Akron)
2009: 1-3, 2.95 ERA, 46 G, 61.0 IP, 48 H, 3 HR, 32 BB, 69 K
This may come as somewhat of a surprise to list Wagner as the most likely player taken from the Indians, but what makes him so attractive is his upper 90s fastball that sits 93-95 MPH and has reached as high as 98 MPH. His two secondary offerings a split changeup and slider are only average at best, but they can be effective when he is throwing his fastball for strikes. He is versatile and can handle any bullpen role, and it appears the light maybe finally went on based on his awesome second half finish this year at Akron: 1-1, 0.77 ERA, 17 G, 23.1 IP, 12 H, 8 BB, 34 K, 1.92 GO/AO. With his big fastball and an ability to avoid the long ball (career 11 HR allowed in 233.1 IP), Wagner looks to have the best chance to be taken to see what he can do and if there is potential for improved command and development of his other pitches.
2. Steven Wright (RHP – Akron):
2009: 10-0, 2.48 ERA, 38 G, 87.0 IP, 77 H, 1 HR, 20 BB, 68 K
Wright is actually a little more advanced and polished as a pitcher than Wagner, but the difference between the two is Wagner has the big fastball while Wright doesn't. Even still, Wright can get it up to 93 MPH at times, but his bread and butter pitch is a nasty plus slider. His fastball-slider mix is very good, and he also throws a curveball and changeup in addition to those pitches to help keep batters honest. He is a strike thrower as in 349.0 career minor league innings he has only walked 91 batters good for a 2.3 BB/9 ratio. This past season he was also one of the hardest pitchers in the Eastern League to hit a home run off of as he yielded just one home run all year in 87.0 innings pitched. Wright doesn't have much upside to be a backend of the bullpen reliever so teams may pass on him because of this, but if they want a quality arm that looks like he can pitch middle relief in the big leagues for a good amount of time then someone may take a shot on him.
3. Yohan Pino (RHP – Columbus)
2009: 9-3, 2.83 ERA, 42 G (14 GS), 127.0 IP, 110 H, 9 HR, 29 BB, 122 K
The Indians picked up Pino in mid-August as the player to be named in the Carl Pavano trade to the Twins. He is the most major league ready pitcher on the Indians eligibles list, and is very durable with the resiliency to handle any role. He doesn't have the big arm teams may covet in the draft as his fastball sits at 89-91 MPH, but he complements it with a plus curveball and average slider. He gets good sink with the fastball and has the ability to change speed as well as command and control all of his pitches. His readiness combined with his versatility to pitch in either a bullpen, swing, or starting role may be of interest to some teams.
4. Chuck Lofgren (LHP – Columbus):
2009: 9-11, 4.15 ERA, 25 G, 141.0 IP, 118 H, 16 HR, 48 BB, 93 K
Lofgren has the highest prospect pedigree of anyone on the Indians eligibles list. As a former #2 ranked prospect in the system, teams certainly know a lot about him and have scouted him extensively in the past. With that, they will have a lot to draw upon when evaluating him as a pitcher three to four years ago versus how he has performed the last year or two. He doesn't have the big fastball but does crank it up to 93 MPH at times and he has some deception in his delivery which can give lefties fits. In fact, if Lofgren is selected it will strictly be because someone is taking a shot on him as a left-handed specialist (LOOGY) out of the bullpen since lefties this year hit just .216 against him at Triple-A Columbus and only hit .094 against him at Double-A Akron. Teams don't typically draft to fill their 5th starter needs so he won't be an option for anyone there. Lofgren struggled at times in his first exposure to Triple-A last year, so for him to get selected it will likely be based purely on his "name" or to try him out as a LOOGY.
5. Josh Rodriguez (INF – Akron):
2009: .295 AVG, 33 G, 18 R, 4 2B, 0 3B, 0 HR, 12 RBI, 23 BB, 30 K, 2 SB, .760 OPS
Rodriguez may be another surprise to be listed this high, but he sort of fits the mold of what a lot of teams do in the Rule 5 Draft which is to pick up a player who maybe initially fits in as a utility player in the short term, but long term is still viewed as a potential everyday player. He missed over a 100 games last year with a hamstring injury, but when he was healthy and in the lineup he showed an improved approach at the plate drawing more walks and getting on base at a good clip. Even though he missed a lot of time in 2009, he has a full season of experience at the Double-A level under his belt in 2008 at Akron. He has proven himself to be a reliable defender either at shortstop or second base, and will likely open as the starting shortstop at Triple-A Columbus in 2010 though is expected to get some work in at second base. His versatility to play almost anywhere in the infield, some pop in his right-handed bat, and his prospect pedigree (2nd round draft pick in 2006) could make him a target.
6. Carlton Smith (RHP – Akron):
2009: 6-2, 2.72 ERA, 37 G, 79.1 IP, 68 H, 5 HR, 23 BB, 40 K
Smith had a breakout season as a reliever this past year at Double-A Akron. Making the transition from a starter to reliever in 2009, he really blossomed and grew into the role. The move also seemed to help his sinking fastball as his velocity spiked to where he was hitting 92-94 MPH quite consistently this past season and even got it up to 95-96 MPH a couple of times. The one knock on Smith is for as hard as he throws he doesn't get many strikeouts (40 K, 79.1 IP), though this is more a byproduct of his pitch-to-contact philosophy where he works quick and looks for hitters to put the ball in play and on the ground. There were a lot of great performances in Akron this year out of the bullpen and several interesting arms, but Smith is listed above most of those guys because of his better velocity. Velocity is often king when it comes to the Rule 5 Draft, as that is one thing that acts as a true separator among like players. With his experience as a starter and reliever, Smith could conceivably stick in a big league bullpen as a long man and with his power sinking fastball has the potential to become more.
7. Josh Tomlin (RHP – Akron):
2009: 14-9, 4.16 ERA, 26 G, 145.0 IP, 149 H, 21 HR, 27 BB, 125 K
Tomlin was the anchor of the Double-A Akron staff all year in 2009, and while his overall numbers were good but not great, he once again displayed an ability to compete night in and night out and win on a consistent basis. In his minor league career, Tomlin is now 43-20 with a 3.32 ERA with excellent 1.7 BB/9 and 8.1 K/9 ratios. His ability to consistently throw his fastball over the plate for strikes and command it to all areas of the zone helps him with what is just an average fastball which sits at 89-91 MPH and tops out at 93 MPH. He also throws a slider, curveball, and changeup, but like the fastball not one pitch is considered above average. Because he has a mix of several average pitches, he used his ability to command and control the ball to his advantage and play up the level of some of his pitches. Tomlin is versatile in that he can really pitch in any role and he is also extremely durable. Those two qualities may interest a team in the Rule 5 Draft, though it doesn't seem likely as there are a lot of pitchers in the draft or already in other organizations like him.
8. Frank Herrmann (RHP – Columbus):
2009: 4-4, 2.95 ERA, 49 G, 106.2 IP, 110 H, 7 HR, 18 BB, 62 K

Of all the pitchers available still considered prospects, Herrmann has the most experience. He pitched in 44 games at Triple-A Columbus this past season and after putting together a solid year looks to be on the verge of making his big league debut sometime in 2010. He is a lot like Carlton Smith in that he throws a power sinking fastball but does not pile up many strikeouts because he pitches to contact by using his good command and intelligence on the mound. He was converted from a starter to a reliever early in the season last year, and once he settled into the bullpen role he seemed to really take off. He is currently pitching winter ball out in the Dominican Winter League and in 11 games is 1-0 with a 2.25 ERA (12.0 IP, 13 H, 2 HR, 4 BB, 6 K). Herrmann's lack of a true plus pitch nor much upside as a late inning reliever or middle of the rotation starter will likely see him passed over in the draft.
9. Matt McBride (1B/OF/C – Akron):
2009: .287 AVG, 129 G, 72 R, 44 2B, 0 3B, 18 HR, 99 RBI, 29 BB, 57 K, 1 SB, .829 OPS
The hardest player of any of the Indians eligibles to get a read on going to the draft is McBride. First off, he is currently a man without a position. He is still very raw and learning at first base and in the outfield, and he would be almost unplayable at those positions in the big leagues right now. His best position is catcher, but a shoulder injury at the end of the 2007 season has kind of taken him out of consideration as a big league catcher which really hurts his value. He tried to play catcher out in the Arizona Fall League this offseason and the evaluations on his play were mixed. There is no question he has an interesting bat as anytime someone in the minors clubs 44 doubles and 18 home runs you should take notice. The problem is it is hard to get a true feel for him as a hitter at the moment as he had an unreal one month campaign at High-A Kinston (.405 AVG, 1.120 OPS), a so-so four month campaign at Double-A Akron (.247 AVG, .728 OPS), and an excellent showing in 22 games out in the AFL (.378 AVG, 1.159 OPS). Still, the numbers at Akron this year in 361 at bats suggest his bat is not big league ready and that he won't be selected in the draft, and even if he does it will be hard for him to stick all year.
10. Scott Lewis (LHP – Cleveland):
2009: 0-0, 8.31 ERA, 1 G, 4.1 IP, 7 H, 2 HR, 1 BB, 3 K
Lewis was the starter for the Indians home opener this past season, but did not make it out of the fifth inning in that start. He ended up coming down with a strained elbow shortly after that start and never pitched another inning in Cleveland all year, though he did make seven appearances in the minors on various rehab assignments (0-1, 2.70 ERA, 7 G, 23.1 IP, 14 H, 2 HR, 5 BB, 22 K). He is a soft-tossing left-hander who relies on command and control to go along with an excellent curveball and changeup. He was removed from the Indians 40-man roster at the conclusion of the season, but since he cleared waivers the Indians outrighted him to Triple-A Columbus. It remains to be seen why a team would have interest in Lewis in the Rule 5 Draft when they just could have picked him up off waivers a few weeks ago and without the roster restrictions the Rule 5 Draft brings. But, I know of one team in particular who has been studying him and may consider him, which is why he is listed here.
Others who may get consideration: John Drennen (OF), Ryan Edell (LHP), Paolo Espino (RHP), Erik Stiller (RHP)
Prediction
The Indians could certainly lose a player or two in the draft, but while all of the players listed above are good players with a chance to have a big league career realized some day not one of them is an elite prospect or has a great chance to be an impact player at the big league level down the road. If the Indians lose anyone, it will likely be one or two of the pitchers; however, given that the Indians have a large amount of depth in the pitching department at the Triple-A and Double-A level next year any pitching loss should be covered up quite easily from within the system. Bottom line, in hindsight the Indians did a very good job protecting their best prospects and stand little chance of losing anyone with high value.
User Comments
No comments currently. Be the first to comment!