Indians 2010 Rule 5 Draft Preview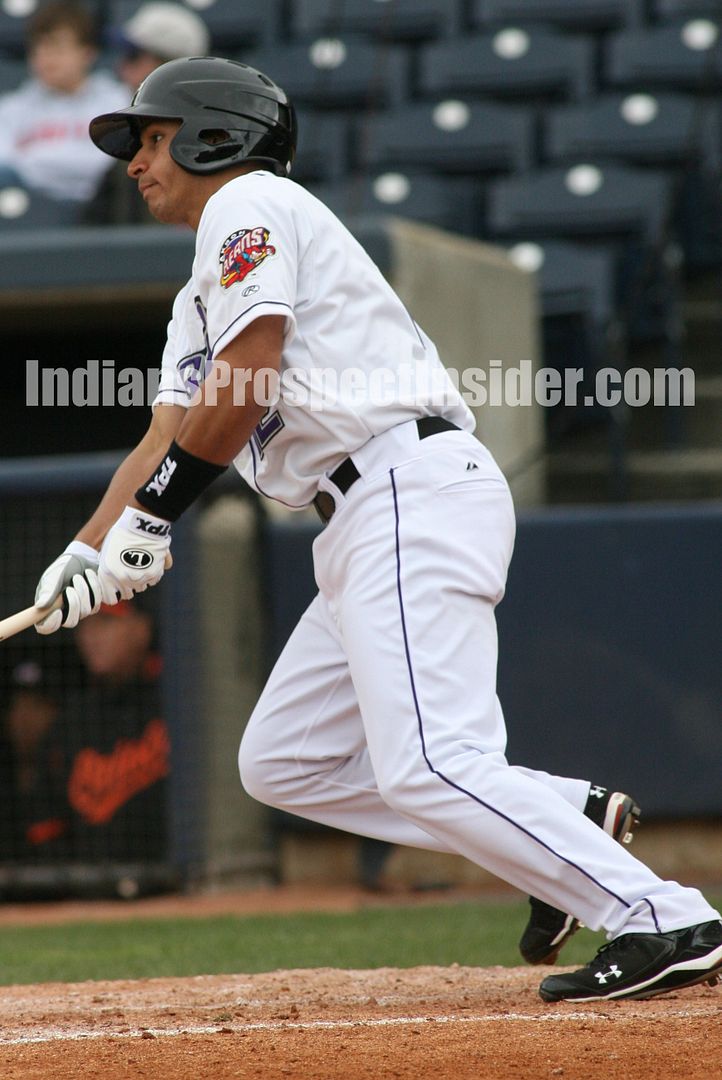 Rodriguez is one of just a few possible
Rule 5casualties for the Indians.
(Photo: Ken Carr)
Note: I'll be doing a live blog tomorrow with any updates leading up to the Rule 5 Draft and with information on any picks the Indians make or player they lose.
The Rule 5 Draft is tomorrow.
Though things can always change, the Cleveland Indians are not expected to make a selection in the Major League phase of the draft. While the Indians sit on the sidelines there is a chance that other teams may chose to take someone from their list of unprotected players.
With that in mind it is time to take a look at just who the Indians may lose this year in the draft. The list of Rule 5 eligibles is a lot less attractive this year for the Indians - which of course is a good thing - though there are a few players who could be selected.
Here is a rundown of the four players who may be taken in the Major League phase of the draft. In addition, all of the other eligibles are listed with a brief explanation on why they likely won't be taken.
Adam Miller (Right-handed Pitcher):
I went into great length as to why Miller will likely not be selected
in my piece on him yesterday
. That said, there is no denying that once 40-man rosters were finalized on November 19th and teams saw who was left unprotected by the Indians that Miller was a guy who caught the attention of many by name recognition alone. I know this for a fact because a day after the Indians finalized their 40-man roster I received calls and emails from baseball personnel from a couple of organizations asking about him. Bottom line, he's a complete unknown with his health and stuff, and no one outside of the Indians organization has a clue if he realistically can ever pitch again without restrictions. I'll put him as a 40-60 shot to be picked based solely on name and the oft chance a team takes a look at him, but I feel that even if he is selected he will be offered back to the Indians sometime next spring.
Josh Rodriguez (Middle Infielder):
Rodriguez is a tough one to figure out. He has the draft pedigree as a former 2nd round pick in 2006, got a big $625K bonus, and is a former highly regarded prospect in the Indians' system. His standing fell because of performance in 2008 and injuries in 2009, but he really bounced back and arguably had his best season as a pro last year where in 107 combined games between Double-A Akron and Triple-A Columbus he hit .297 with 13 HR, 57 RBI and an .862 OPS. However, even with his high draft standing and performance last season he never got the call to Cleveland and was passed over by the likes of Jayson Nix and Drew Sutton, and then was not rostered this offseason. In talking with other organizations, I get the feeling that there are some intangibles to his game that teams don't like as one scout bluntly said "he's not a winner". In any case he should spark some interest because of the pop in his bat to go along with his versatility to play anywhere in the infield and even some outfield. I'd put it more at 25-75 he is selected, meaning he likely will remain with the Indians.
Matt McBride (First Baseman/Outfielder):
McBride would be a ton more valuable if teams felt he could still catch, but it looks like unless it is in an emergency role his catching days are over. He had a solid year in 2010 where in 127 combined games between Double-A Akron and Triple-A Columbus he hit .279 with 21 HR, 75 RBI and a .814 OPS. He followed that up with an outstanding showing in winter ball in the Dominican Republic this offseason hitting .282 with 8 HR, 26 RBI and a .899 OPS in 28 games. That said, he had a better season in 2009 not only in the regular season but in the offseason in the Arizona Fall League and went undrafted last year. He's a year older now at 25 years old and to many in the industry is no longer a prospect. His power is inviting and he has the versatility to play first base and the two corner outfield positions, but he unfortunately he no longer stands out to scouts. I'd put him at a 20-80 chance of being selected based solely on his power as a right-handed bat off the bench.
Anthony Reyes (Right-handed Pitcher):
Even though Reyes has pitched in the big leagues and is 29 years old, he is actually Rule 5 eligible because he is under contract with the Indians but not on their 40-man roster. Now, he has little if any shot of being selected because of his age, injury history and questionable health status, but he is more an example here in the Adam Miller saga. While several people fret at the possibility of losing Miller, I haven't heard a peep over the potential loss of Reyes. The only difference between Reyes and Miller is that Reyes is three years older. Both are coming off career threatening injuries, have about the same stuff after the injuries, and both are "names" as former multi-year #1 prospects in their organizations.
And the rest...
Hector Ambriz (RHP):
No one claimed him off waivers last month when he was removed from the 40-man roster. No way he is taken now.
Juan Aponte (1B):
He may not even make it through the offseason without being released by the Indians themselves.
John Drennen (OF):
He certainly has the pedigree as a former first round pick and has had back-to-back solid seasons at Double-A Akron. He has some versatility to play all three positions and has some power from the left side. He could generate some interest, but I wouldn't expect him to be selected.
Paolo Espino (RHP):
A nice depth option for any organization, but the value for pitchers like him rest almost solely with the current team as nothing distinguishes him as a need to another team as lot of them have many guys like him already in their system.
Jose Flores (RHP):
No chance as he is a low end prospect who pitched at Low-A last season, although he may be lost in the Triple-A or Double-A phase if he is not protected on one of those lists (the Triple-A and Double-A reserve lists are unknown).
Connor Graham (RHP):
He has the kind of arm and kind of role out of the pen teams look for in the Rule 5 Draft, so he may get some interest. But his lack of command makes it very unlikely he is selected.
Jerad Head (INF/OF):
He is having a fine winter ball season and is very versatile and a consistently productive player. He's not much of a prospect nor has a lot of potential since he is 28 years old, but he *could* be a Casey Blake-like guy in the minors waiting for an opportunity.
Wes Hodges (1B):
He cleared waivers after being removed from the 40-man roster last month, and therefore has no chance to be taken in the Rule 5 Draft. Claiming him on waivers would have been easier.
Chad Huffman (OF):
Again, he was a 40-man roster removal a few weeks back. Since no one claimed him, there is almost zero chance anyone takes him in Rule 5.
Kyle Landis (RHP):
He missed all of 2010 season recovering from a nerve issue and has yet to pitch above High-A. His 2011 comeback attempt will be with the Indians.
Preston Mattingly (1B/OF):
He is a new guy picked up in offseason trade for Roman Pena....but should not generate any interest.
Ryan Morris (LHP):
He is coming off yet another surgery this offseason and has yet to pitch above High-A. He's not going anywhere.
Yohan Pino (RHP):
He has been a solid performer in Triple-A, but is just organizational depth and lacks the stuff to generate any sincere interest from teams.
Beau Mills (1B):
He looks like he bottomed out last season and has been a big disappointment the last two years. Next season is big for him to restablish himself and remain relevant. He's shouldn't go anywhere on Thursday.
Doug Pickens (C):
While he has shown some versatility playing some first base, he has yet to play above High-A and is not a highly valued catching prospect.
Ronald Rivas (SS):
With Juan Diaz joining the organization and now the everyday shortstop at Akron next year, Rivas may not even stick with the organization out of spring training.
Danny Salazar (RHP):
He suffered through an inury-plagued 2010 season and has yet to pitch above Low-A. He'll be back.
Karexon Sanchez (2B/3B):
He is a versatile infielder with some pop, but has played zero games above Single-A. Interest should be minimal.
Jason Smit (1B/OF):
The Aussie has some versatility, but has yet to play above Low-A. He has missed a lot of time in his career due to injuries too.
Carlton Smith (RHP):
He has a nice sinker and some pop on his fastball, but his numbers in the bullpen don't stand out. He had a poor year in Triple-A last year too.
Steven Wright (RHP):
He was a guy who was a possibility last year, but after what was really a lost year in 2010 his best shot may be to come back and restablish himself in 2011 and get a year closer to minor league free agency.
User Comments
No comments currently. Be the first to comment!