Indians Add Another Starting Pitcher To Mix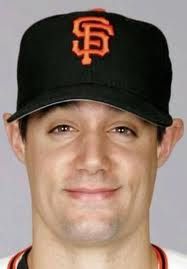 (Photo: MLB)
On Tuesday the Cleveland Indians acquired right-handed pitcher
Joe Martinez
from the Pittsburgh Pirates for a player to be named later or for cash considerations.
Martinez, 27, was traded last July by the San Francisco Giants to the Pirates for left-handed pitcher Javier Lopez. In nine combined games at the big league level with the Pirates and Giants he went 0-1 with a 4.12 ERA (19.2 IP, 26 H, 9 ER, 9 BB, 9 K), and in 21 combined appearances (17 starts) between Triple-A Fresno (Giants) and Indianapolis (Pirates) he went 5-6 with a 3.94 ERA (109.2IP, 124H, 48ER, 83K).
Martinez is yet another sinkerballer who specializes in pitching to contact and getting groundball outs. His fastball only comes in on hitters in the upper 80s, but has good movement and complements it with two solid secondary pitches in a curveball and changeup. He has proven in the past to be a durable, reliable starter who won't wow people with his stuff when he pitches, but he competes well and has had a lot of success in the minors and mixed results in limited time in the big leagues so far.
The Indians have been desperately looking everywhere for additional, inexpensive starting pitching options. The addition of Martinez adds another pitcher into the mix to fill the backend of the rotation and make starts this upcoming season. He may also fill a long relief or swing role in the bullpen to start the season.
Barring injury, the Indians are set to open the 2011 season with Fausto Carmona, Justin Masterson, Carlos Carrasco and Mitch Talbot in the starting rotation. But due to youth, inexperience, and inconsistent performance all of those pitchers in the past, as well as several very green pitchers who need more development time at Triple-A like Jeanmar Gomez, Corey Kluber and Zach McAllister, they have been looking to acquire more starting pitching options this offseason.
Martinez was on the Pirates' 40-man roster so will be added to the Indians 40-man roster and take the vacated spot left by right-handed pitcher Justin Germano who was designated for assignment over a week ago. Outfielder Austin Kearns still has not officially been added to the 40-man roster as his contract still needs approval, and once it is approved the Indians will need to remove another player from the 40-man roster in order to make room for him.
User Comments
No comments currently. Be the first to comment!