Indians Announce 2010 On-Base Award Winners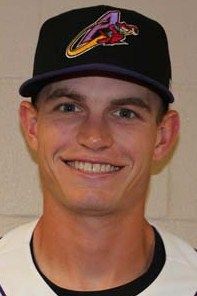 The Cleveland Indians on Sunday announced the year-end organizational winners of their Minor League On-Base Program "On-Base-Where Careers Take Off", presented by Continental Airlines. The on-base program stresses pitch recognition and patience at the plate for all position players within the organization's Player Development System.
Players are rewarded during the season with a cash recognition for their performances based on three different non-traditional hitting categories at each of the six Indians Minor League affiliates (AAA Columbus, AA Akron, A Kinston, A Lake County, A Mahoning Valley, Rookie AZL Indians). The three hitting categories are: on-base percentage, percentage of hard hit at-bats and walk percentage based on total plate appearances. These categories represent the ability to make solid contact, the best approach to hitting and the best overall ability to hit.
The following are the list of organizational winners in each of the three categories. For their efforts, the winners will receive a round trip voucher for anywhere in the continental United States courtesy of Continental Airlines, Official Airline of the Cleveland Indians.
Hard Hit Percentage: Infielder Cord Phelps - 42 %
Walk Percentage: Catcher Roberto Perez – 17.2%
On-Base Percentage: Outfielder Jordan Henry - .411
Infielder Cord Phelps led the entire Indians Minor League system in hard hit percentage as he hit the ball hard in 42 percent of his at-bats this year. On the year, Phelps batted a combined .308 (136-442) with 66 runs scored, 28 doubles, 7 triples, 8HR and 54 RBI in 119 games between AA Akron and AAA Columbus. He began his season at AA Akron batting .296 (59-199) with 25 runs scored, 8 doubles, 3 triples, 2HR and 23RBI in 53 games before being promoted to Columbus. At Columbus he hit .317 (77-243) with 41 runs scored, 20 doubles, 4 triples, 6HR and 31RBI in 66 games. Phelps helped lead the Clippers to the International League Championship as he batted .313 (10-32) with 5 runs scored, 3 doubles, a HR and 5RBI in 8 playoff games. Phelps was the Indians 3rd round selection in the 2008 draft out from Stanford University. In three professional seasons he owns a .286 (305-1065) average with 162 runs scored, 65 doubles, 14 triples, 14HR and 129RBI in 285 games at the minor league level.
Catcher Roberto Perez led the entire Indians Minor League system in walk percentage as he walked in 17.2 percent of his plate appearances (80BB/466PA). His 80 walks were 7th most in the Midwest League. In 2010, just his 2nd season in professional baseball, Perez batted .217 (82-378) with 54 runs scored, 22 doubles, 3 triples, 6HR and 38RBI in 118 games for the Midwest League Champion Lake County Captains. He was selected by the Indians in the 33rd round of the 2008 draft. Perez owns a .250 (143-573) average with 91 runs scored, 36 doubles, 3 triples, 9HR and 75RBI in 173 games over two seasons at the minor league level.
Outfielder Jordan Henry posted a .411 on-base percentage during the 2010 season which led all Indians farmhands. He started his season at Kinston where he batted .333 (54-162) with 32 runs scored, 4 doubles and 13RBI (.438 OBP) in 42 games before being promoted to AA Akron. While at Akron he hit .300 (86-287) with 45 runs scored, 8 doubles, 4 triples, and 16RBI (.396 OBP) in 74 games. Combined between the two stops he hit .312 (140-449) with 77 runs scored, 12 doubles, 4 triples and 29RBI in 116 games while also stealing 29 bases in 35 attempts. Henry was the Indians 7th round selection from the University of Mississippi in the 2009 draft. Last year in just his first season of professional baseball, he led the New York-Penn League in on-base percentage (.408). In two seasons at the minor league level he owns a career average of .303 (211-697) and on-base percentage of .410 with 148 runs scored, 24 doubles, 4 triples and 52RBI in 183 games.
User Comments
No comments currently. Be the first to comment!