Indians are happy where they stand after deadline frenzy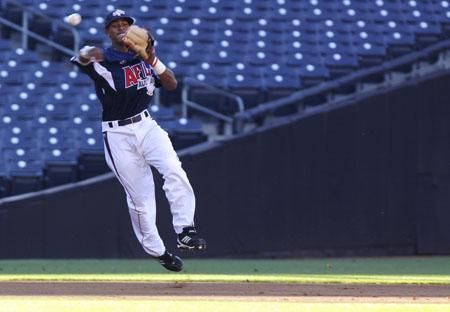 Francisco Lindor (Photo: AP)
The 2011 Draft season is officially over with the August 15th signing deadline coming and going on Monday night.
Over the course of a little over two months the Indians signed 29 of their 50 draft picks. As for the other 21 players they drafted they no longer have the option to sign them as all of those players will either enroll to school as college freshman or return as a college junior or senior.
Now that the dust has settled on the 2011 Draft, Indians Director of Amateur Scouting Brad Grant is happy with how things shook out for him and his staff, especially considering that they were able to ink their top two picks on Monday night. First round pick shortstop Francisco Lindor and second round pick right-handed pitcher Dillon Howard are highly regarded players and both agreed to terms minutes before the deadline.
"We are very happy that we were able to come to terms with Francisco Lindor, Dillon Howard, and Shawn Armstrong [on Monday night]," Grant said. "It was from the work of all of our scouts. It did not just come together at the end on [Monday night]. It was a process that began last June and our scouts did their due diligence all the way through until the end. It is really to their credit where we ended up on [Monday night]. It is not just the three we signed [Monday night], it is also the other 27 players that we are happy to enter into the organization as well."
Over the past few years the signing process with top picks has become a running joke in the industry as all the top guys are not officially signed until the August 15th deadline date or a few days before. Even though things went right down to the last minute with Lindor - literally the last minute or two before the deadline – the Indians were confident all along that they would sign him. He ended up signing for $2.9 million, a near bonus for the organization.
"There are always questions and there is always doubt, but at the same time we were confident that Francisco wanted to play professional baseball and that this was a priority in his life," Grant said. "We are glad that we were able to offer him the opportunity to come to an agreement. We probably came to an agreement about a minute and a half or two minutes before the deadline."
Lindor is expected to join short-season Single-A Mahoning Valley today. He will work out with the team but is not expected to play until the last week of the season.
"We are working out the details, but he will report to Mahoning Valley and work out at Mahoning Valley and actually play in four or five games there at the end and then head to Instructional League," Grant said. "We won't get him into a game right away as there will probably be a progression into a game. He just worked out this summer. He hit every day, took ground balls everyday, and did his throwing program, but did not play any games this summer."
With only three weeks left in the season it makes it sort of a lost season for the recently drafted players and the organization. Not just for the three players who signed on Monday night, but the other half a dozen players or so who signed in the past seven to ten days.
"It is certainly to the players' advantage and to our advantage to be able to get them out and get them a full half season," Grant said. "You lose a half season of development time, so for them to sit and not play all summer it is definitely a disadvantage to both sides. Unfortunately, it is part of the process and with where the signing deadline is we run into this situation. Hopefully in the next agreement it is something that is rectified."
While Lindor steals a lot of the focus because he is a first round pick, Howard is every bit the player and was considered a first round talent who slipped to the second round for signability reasons. The $1.85 million bonus he signed is reflective of how much talent the Indians believe he has as they gave mid-first round money to a player in the top half of the second round.
"Howard is just an advanced feel to pitch high school pitcher," Grant said. "He has a 90-94 MPH fastball with late sinking action to it, produces a lot of ground ball outs, and at the same time he can also get swing and miss with his fastball. He has a slurvish breaking ball that has late bite to it and has swing and miss action to it, and he has a very good feel for a changeup as well. The thing that separates him is his ability to pitch with his fastball. He can locate it to both sides, move it in and out and up and down, and he can really get groundballs pitching to contact and get outs."
Unlike Lindor, Howard has been playing all summer as he pitched for the Midland Redskins, a team which just won the Connie Mack World Series last week for the third straight year. Because Howard has been pitching the Indians will not need to spend as much time building him back up. They are working through the process to determine where he will go these last three weeks and when he will pitch, but he is expected to pitch a few innings somewhere before the end of the season.
"We are still working through that," Grant said about Howard's timeline. "We know that he will definitely go to Instructional League for sure. We are just working through the details of where we assign him and where the process goes from here leading up to Instructional League. He can pitch in games as he has been pitching on a regular basis all summer, so we are just working through a plan to build him up and where he goes. I do anticipate him to pitch through August and at Instructional League."
Armstrong's signing is overshadowed some because of the Indians signed their top two picks at the same time he was signed, but they are just as excited to add him to the mix.
"We liked his arm strength," Grant said. "He is a guy who can throw up to 96 MPH and has a developing breaking ball. He pitched for us this summer and the fastball velocity continued to increase throughout the course of the summer, so we think we got a power arm with some secondary pitches which are still developing. His stuff may play up even better in the bullpen long term, but we will start him at the beginning and allow it to play from there."
If there was any disappointment from Monday night it was that the Indians were unable to come to terms with 8th round pick left-handed pitcher Stephen Tarpley. By not signing him it is the first time in the four drafts since Brad Grant took over the reigns as the head guy in charge of the draft that the Indians were unable to sign a player drafted in the first 14 rounds. The last player in the Top 14 to not sign was 7th round pick left-handed pitcher Cole St. Clair in the 2007 Draft.
Tarpley was a highly regarded high school arm that was committed to the University of Southern California, and in the end he and the Indians just could not come together on a deal that worked for both parties.
"We made a significant offer to Stephen and his family," Grant said. "It just came down at the end that we were unable to align in value. It was a positive situation for both sides, and we wish Stephen nothing but the best of luck at USC and hope we have the opportunity to draft him again in three years."
Now that the signing process with the 2011 Draft is over, the focus will now move into developing all of these players and getting them to the big leagues. The timetable for every player will be different and will be dictated mostly by how the players perform and develop.
"We will let the process play out as it is too early to predict where they will go," Grant said. "We will see how things go in Instructional League and then evaluate things in spring training and then kind of allow them to dictate where they end up next spring."
Lindor may be young, but he could move quickly through the system. The Indians are showing that with his assignment to Mahoning Valley, a league mostly filled with college players. Even still, the Indians plan to let him dictate how quickly he moves through the system and how much to challenge him.
"Every player is different," Grant said. "Every player sets their own time frame, and we are going to allow Francisco to do the same thing. We are going to provide him with every resource to become a Major League player and how quickly that happens will be dictated by what he does."
With the recent trades of their last two first round picks right-handed pitcher Alex White and left-handed pitcher Drew Pomeranz to the Colorado Rockies in the Ubaldo Jimenez deal, it was important that the Indians sign their top two picks this year.
But for Grant and his staff the focus is always about getting the guys that they like and value signed regardless of what the team does on the trade front. It is all about adding more talent into the organization and providing the Player Development staff with a new group of players to develop and nurture into possible big league options down the road.
"Every year it is important to sign our picks," Grant said. "Whether we have made trades or not we are always looking to acquire premium talent and enter it into our organization. The trade side of things did not add any additional pressure as we always want to add talent into our system and we feel like we have done it again this year."
Follow Tony and the Indians Prospect Insider on Twitter @TonyIPI. Also, his latest book the 2011 Cleveland Indians Top 100 Prospects & More is available for purchase for $20.95 to customers in the US (shipping and handling extra).
User Comments
No comments currently. Be the first to comment!