Indians Minor League Magazine 9/7 (Ep. 20)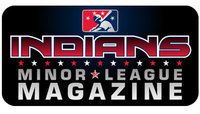 "Indians Minor League Magazine" is a half hour program on the Cleveland Indians cable network SportsTime Ohio (STO) which airs weekly on Tuesday nights from 6:00-6:30 PM EST. The show recaps all of the highlights from the week that was in the Cleveland Indians farm system with lots of video, interviews, and in-studio guests.
This is the final episode of the season where the show hosts wrap up the season with Indians Farm Director
Ross Atkins
and discuss the top prospects at each position in the Indians farm system. I hope for those who are not able to view this show on TV thought this was helpful to post all year, and a special thank you goes out to Michael Taylor for providing these edited clips to post all year!
Be sure to follow "Indians Minor League Magazine" on Facebook at:
http://www.facebook.com/pages/Indians-Minor-League-Magazine/120037858012265?ref=ts
Part 1:Part 2:Part 3:
User Comments
No comments currently. Be the first to comment!