Indians need to give the fans reason to support them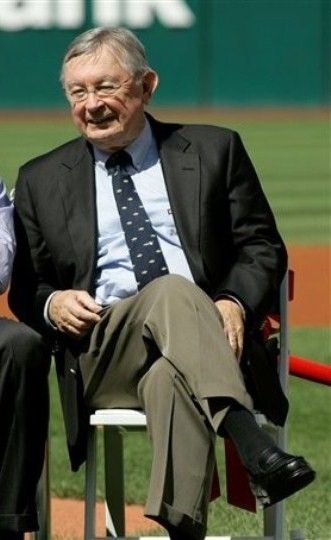 Larry Dolan and the Indians need to restore
faith in a fan base that does not trust them.
(Photo: AP)
The clash between the Cleveland Indians and their fans appears to be at an all-time high these days.

As fans continue to grow more and more impatient as each day passes this offseason with no significant acquisition being made the anger continues to rise. We have already blown past the boiling over stage as we are reaching critical levels for a full nuclear meltdown.

It is no secret that there is a huge disconnect between Indians owner Larry Dolan and the fans. He is viewed by many fans as "cheap" and a "liar" and a lot of people simply refuse to get over his decisions to tear down the team not once, but twice during his tenure as owner. This town holds grudges and is not about handing out forgiveness so freely. Larry Dolan made his own bed, and once you make it in this town the way he has, it pretty much stays that way forever.

Beyond the fans' contempt for Dolan, their frustration level as sports fans of all three major sports franchises in this town is at an all-time high. The 10-year anniversary of the Roberto Alomar trade recently passed and in the ten seasons since the Era of Champions ended in 2001 they have made the playoffs just once. Fans have grown impatient and expect results. They are tired of being a league doormat and essentially a farm club for bigger market Major League teams.

On top of this the Browns are a complete mess and since their return in 1999 have been one of the worst franchises not only in the NFL but in any major sports league. They are once again in the midst of another disappointing double digit loss season and may find themselves undergoing another reboot by this time next year.

And of course the sting from LeBron James decision to "take his talents to South Beach" still resonates. He left the Cavaliers franchise a mess and they ended last season as one of the worst teams in the NBA and may never again reach the heights it did when he was with the team.

The fans just want a reason to believe; a reason to believe that just one of their three sports franchises in Cleveland will win.

Believe it or not, the team with the best chance of winning anything right now is the Indians, and they need to find a way to play off that and get the fans to fall into their plan (again).

The Indians know that the fans will never come flocking back to Progressive Field. They pretty much understand that, but a lot of fans do not. There seems to be a belief in this town that if the Indians win again or they go gaga in free agency and spend on some big time free agents that the stands will fill up again. That is simply not happening.

It does not matter if the Indians were to win a World Series in 2012 or if they went crazy this offseason with spending on players along the lines of the Marlins and Angels. The days of this team fielding sellouts on a nightly basis are a thing of the past. A one hit wonder. The population is dwindling, corporations have been leaving the Cleveland area in herds over the past decade, and interest in the team is just not the same as it was in the 90s.

But what the team can do is generate enough interest to make people believe they are trying to win. Restore faith.

A lot of people felt the trade for Ubaldo Jimenez was a sign the Indians had changed their ways and that they were going to be very active this offseason with an "all-in" approach by going hard after some good free agents or picking up a notable player in a trade. But that has not been the case at all.

Of course, maybe people just incorrectly perceived the Jimenez trade as an "all-in" move rather than it being a move that the Indians simply aligned in value on a player. They talk trades with teams every day and most often things do not work out, but in some cases interest aligns between them and another team which is where the Jimenez trade maybe came into play.

There are (were) some solid to good players available in free agency this offseason, but there is not a realistic signing this offseason that causes much more than a ripple to attendance. Going out and signing Josh Willingham and paying him $7 million in 2012 is not going to net an additional 300,000 fans in the ballpark next year, which is essentially what it would cost in fan support to pay for his $7 million salary ($7 million divided by $20 average ticket).

With no disrespect to resigning Grady Sizemore and trading for Derek Lowe, the offseason has been relatively quiet as they have not made the splash many people have been hoping. It bears noting that there are still two months until the start of spring training, so the Indians offseason is still not over, and there is a feeling that they have a few things up their sleeve that they may get done in advance of the start of spring training.

But if the Indians truly want to make a big splash with the fans, the focus needs to be on stopping this endless cycle of the roster merry-go-round they have had over the past ten years. The best way to truly gain the support of fans – most importantly the faith and trust of them - is to start locking up and extending some of their better players nearing free agency.

People know the drill by now. Get all excited about some young prospects coming up. Watch as those young prospects succeed or fail in their first year or two in the bigs. And then for the few that grow into legit Major League players watch as they are traded for prospects three or four years later.

It is a vicious cycle which has taken its toll on the fan base and has had a major effect on attendance.

People will whine and complain about the lack of free agent signings, but if you gave any fan a choice between signing Michael Cuddyer and resigning Justin Masterson, they'd choose Masterson every day of the week and twice on Sunday. Or trading for Carlos Lee or resigning Asdrubal Cabrera, Shin-Soo Choo…you get the picture. With finite dollars to spend, if given a choice between the two, in most cases the fans will choose to keep their own players.

The Indians need to build an identity and a product that appeal to the fans. There is no better way to do that than through the connection made between the fan and player, and the only way that can happen is over a run of several years. By constantly turning over the roster every three or five years it does not give an opportunity for fans to grow an attachment to players. Instead it creates apathy and people always waiting for the proverbial other shoe to drop since they know at some point that player will leave in a trade or in free agency. In the end, not only does the roster get turned over, but the fans turnover as well.

We all know that players like Kenny Lofton, Jim Thome, Manny Ramirez, Sandy Alomar, Omar Vizquel and others are long-time fan favorites. A lot of it had to do with the fact they were very good players on good teams during an exciting time in Indians' lore, but a big part of why they are so popular is their longevity in the organization. They were Indians' for so long and fans had an opportunity to grow an emotional attachment to them.

Quick, name a player on the current Indians roster you have a sincere emotional attachment to? Travis Hafner? Grady Sizemore? Those are the only two Indians' players who have been here for longer than three or five full seasons. Beyond Grady's Ladies, who has developed a real attachment to any of these players?

The Indians had a few young players emerge last season as stars or soon-to-be stars. Shortstop Asdrubal Cabrera is one of the best offensive shortstops in baseball, prior to last year Shin-Soo Choo was one of the best right-fielders in baseball, and Justin Masterson has established himself as one of the best young starting pitchers in the game. All of these players are nearing free agency in the next two to three years. On top of that the Indians also have young players several years from free agency like Carlos Santana and Jason Kipnis on the verge of stardom.

This is where the Indians need to step outside of their comfort zone. The risk adverse approach they play in free agency and in trade acquisitions is fine and makes sense. You often do not know what you are buying until you buy it and use it, and you often overpay for it. Would you rather keep a used car you own that runs well and you know the history behind it? Or would you rather sell off your used car and go out and replace it with another used car that you have no idea how it was driven by the previous owner or what kind of shape it truly is in under the hood?

This is why going out and spending money on free agent contracts for mid-tier free agents like Josh Willingham and Michael Cuddyer is maybe not the best approach, and that it makes much more sense for them to make an effort to re-sign their own players. To step outside of their comfort zone in an effort to give long term deals for money that they may not be comfortable giving to players from within. Not from the outside.

Doing this would have a much greater impact with the fan base than throwing around a few million dollars at free agents because if they choose not to resign their own players then we are back to the same viscous cycle as noted above. And it means even more apathy by a fan base that already distrusts the team immensely.

Everyone always brings up Dolan's comment from way back in 2002 when they blew the team up and how he promised to "spend when the time is right". In time Dolan acknowledged that he misspoke, but there is some truth to that statement and the Indians have an opportunity to spend when the time is right. The right time is fast approaching as several core players are nearing free agency.

In fairness to the Indians, they tried it with Jake Westbrook and Travis Hafner back in 2007 when they extended both of them prior to free agency. Hafner, Westbrook, and C.C. Sabathia were three core players up for free agency after the 2008 season. In the end they chose to extend Hafner and Westbrook because they could spread out the money over two players for less years than a deal for just Sabathia would have involved.

But the Hafner and Westbrook extensions ended up as disasters as both players got hurt almost after signing their new deals and were an albatross to the payroll. Some of that is their fault as it is still mindboggling they would give a DH a guaranteed four year deal. The Westbrook thing was just bad luck as he hurt his arm. It is something that can happen to any pitcher at any time. Even Sabathia.

Hindsight is always 20/20, but which option between signing Westbrook and Hafner or signing just Sabathia looks better now? Both options would have had the same effect on payroll for three or four years, it was the commitment to Sabathia beyond the third or fourth year that was the problem. But sometimes spreading out available money over two or three players does not always work as sometimes just giving that one player all of the money is a better decision. It was an opportunity back then the Indians had to step outside of their comfort zone to keep a star in Sabathia, but chose not to.

Thankfully the Indians do not have a Sabathia-like player on their current roster that is going to sign a contract in the near future that reaches the stratosphere. But they still need to seize the opportunity to step outside of their comfort zone and take a risk on signing some of their current soon-to-be free agents to long term deals even with the poor experience from the Westbrook and Hafner contracts.

It is certainly a risk they would have to take, but one that could help pay off and more importantly help rebuild the confidence in a fan base that has lost entire faith in them.

Success in the win-loss column is ultimately what matters, but if the Indians want to have any success at the turnstiles they need to play well and they need to have a team that creates a bond with the fans. Attendance would not creep up overnight, but in time as fans begin to trust the team more and that emotional attachment to players builds, it is probably the single biggest thing that could affect attendance.

Baseball is a team game, but it is also a game about relationships, which is something not common in other sports. It is a father-son game, but beyond that it is also a player-fan game where you attach yourself to certain players more than you do in other sports because you follow the team and those players every night for six months out of the year. When you are watching a team for that long and that often, you develop a fondness for certain players.

Playing off that appeal to the players and (hopefully) a winning team is the best chance the Indians have at creating a bond once again between the team and fans, and most importantly gaining their support.

Follow Tony and the Indians Prospect Insider on Twitter @TonyIPI. Also, his latest book the 2011 Cleveland Indians Top 100 Prospects & More is available for purchase for $20.95 to customers in the US (shipping and handling extra).
Follow Tony and the Indians Baseball Insider on Twitter @TonyIBI. Also, his new book the 2014 Cleveland Indians Baseball Insider which profiles the Indians' Top 100 Prospects and more is available for sale.
User Comments
No comments currently. Be the first to comment!