Indians Option Huff To Columbus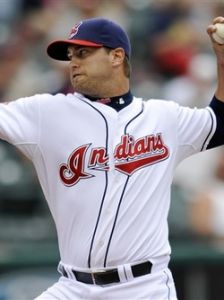 The Cleveland Indians announced this morning that they have optioned left-handed starting pitcher David Huff to Triple-A Columbus. No corresponding roster move has been made yet, but one is expected to be made prior to their game on Tuesday, June 22 against the Philadelphia Phillies in Citizens Bank Park.
So far this year Huff went 2-9 with a 6.04 ERA (70.0 IP, 88 H, 53 R, 47 ER, 30 BB, 34 K) in 13 starts with the Indians. On Saturday he suffered his American League leading 9th loss (5.0 IP, 6 H, 5 ER, 6 BB, 2 K) of the season in a 6-4 loss to the Pittsburgh Pirates in PNC Park and over his last 11 starts since April 21 is 1-8 with a 7.20 ERA (55.0 IP, 78 H, 47 R, 44 ER, 27 BB, 28 K).
The move to Columbus should allow Huff to have a chance to regroup and get his mechanics straightened out and hopefully find his command again. The two likely options to replace him in the rotation are left-hander Aaron Laffey and right-hander Carlos Carrasco. Laffey has been pitching on the same day as Huff since he pitched on Saturday night for Columbus, so would seem the favorite. However, Carrasco pitched yesterday and with an off day today for the Indians he would be on normal rest when Huff's next turn in the rotation comes up.
User Comments
No comments currently. Be the first to comment!