Indians Sign Shelley Duncan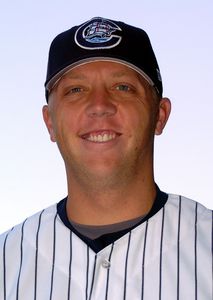 The Cleveland Indians have signed free agent outfielder Shelley Duncan to a minor league contract with an invite to major league spring training camp.
Duncan, 30, is a powerful right-handed bat who is likely being brought in as a depth option at first base and a backup plan there if Matt LaPorta is not ready to start the season following offseason surgeries to his toe and hip. If LaPorta is not ready, then Duncan would likely form some sort of platoon at first base with Jordan Brown or even Andy Marte.
It is also possible that he could platoon in the outfield and be the fourth outfielder in lieu of the versatile Trevor Crowe since expected left field starter Michael Brantley already provides versatility with the ability to play all three outfield positions. A Duncan-Brantley platoon in left field would certainly not be out of the question.
More than likely though, Duncan is being brought in just as a depth option and to fill a need at Triple-A Columbus where he would likely be the starting first baseman to open the season (Jordan Brown would be in left field). First baseman Beau Mills is not expected to be moved up to Columbus to start the season, so there is a need to fill in at first base in Triple-A considering Brown and Stephen Head are now considered full time outfielders (though still play first base on occassion).
Duncan earned International League MVP honors in 2009, batting .277 (125-for-452) with 85 runs, 30 doubles, 1 triple, an IL-record 30 home runs and 99 RBI in 123 games with the Triple-A Scranton Yankees. He led the IL in runs, homers, RBI and extra-base hits (61), ranking second in slugging percentage (.546), tied for 10th in doubles and 3rd in OPS (.916). After the season he was named a Topps Triple-A All-Star, Topps IL Player of the Year and was a mid-season and post-season IL All-Star selection. He appeared in 79 games in right field and 5 games at first base. He also appeared in 11 games for the New York Yankees in September (.200, 3-15, 1 RBI).
Duncan owns a minor league career average of .258 (854-3314) with 201 2B, 170 HR and 599 RBI in 905 games and a big league career mark of .219 (32-146, 8 HR, 24 RBI) in 68 games with the Yankees from 2007-09. He was New York
User Comments
No comments currently. Be the first to comment!