Indians Top Prospects: #89 Michael McGuire
89. Michael McGuire - Right-handed Pitcher
Born: 06/29/1986 - Height: 6'7" - Weight: 240 - Bats: Right - Throws: Right


| | | | | | | | | | | | | | | | | | | |
| --- | --- | --- | --- | --- | --- | --- | --- | --- | --- | --- | --- | --- | --- | --- | --- | --- | --- | --- |
| Year | Age | Team | Lvl | W | L | ERA | G | GS | SV | IP | H | ER | HR | BB | K | BB/9 | K/9 | WHIP |
| 2008 | 22 | U of Delaware | C | 6 | 5 | 8.22 | 15 | 13 | 0 | 76.2 | 108 | 70 | 8 | 46 | 71 | 5.3 | 8.3 | 2.01 |
| 2008 | 22 | Mahoning Vy | A- | 3 | 5 | 4.05 | 21 | 0 | 1 | 40.0 | 36 | 18 | 0 | 16 | 47 | 3.6 | 10.6 | 1.30 |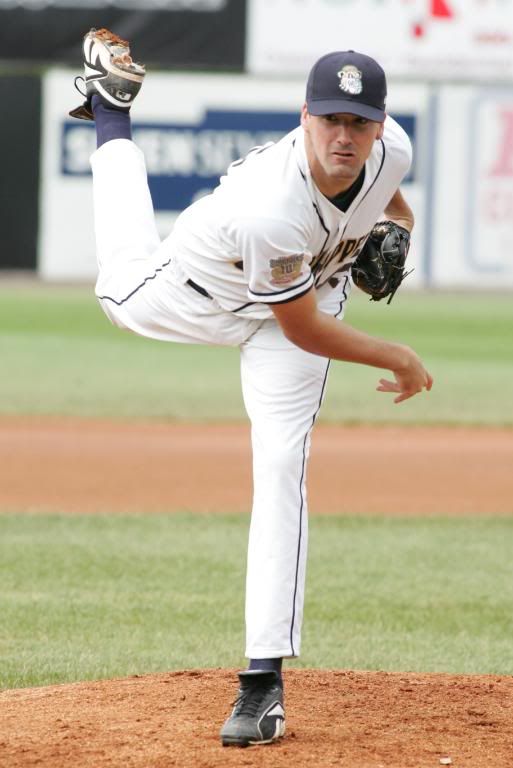 History: McGuire was a 43rd round pick in the 2008 Draft out of the University of Delaware.
Strengths & Opportunities: The early returns on McGuire show he could be a diamond in the rough and one of those late round finds for the Indians. He has a major league body and big frame at 6'7" 240-pounds, and displayed the ability to consistently pound the zone (10.6 K/9) and command his fastball (3.6 BB/9). He throws in the low 90s and uses his size to get excellent leverage on hitters by keeping the ball down in the zone on a downward plane. He is very much a project, and the Indians will continues to work with him on his command and developing his secondary pitches.
Outlook: McGuire had some injury issues with his arm his senior year in college which hurt his draft stock and numbers, but could be a sleeper candidate in the organization this year where he likely will open the season in the Single-A Lake County bullpen.
Photo courtesy of Ken Carr
Michael McGuire's MinorLeagueBaseball.com stats page
Michael McGuire's Baseball-Reference page
Michael McGuire's MinorLeagueSplits.com page
Michael McGuire video:
User Comments
No comments currently. Be the first to comment!