Inside the Numbers: Indians lineup could be strong in 2012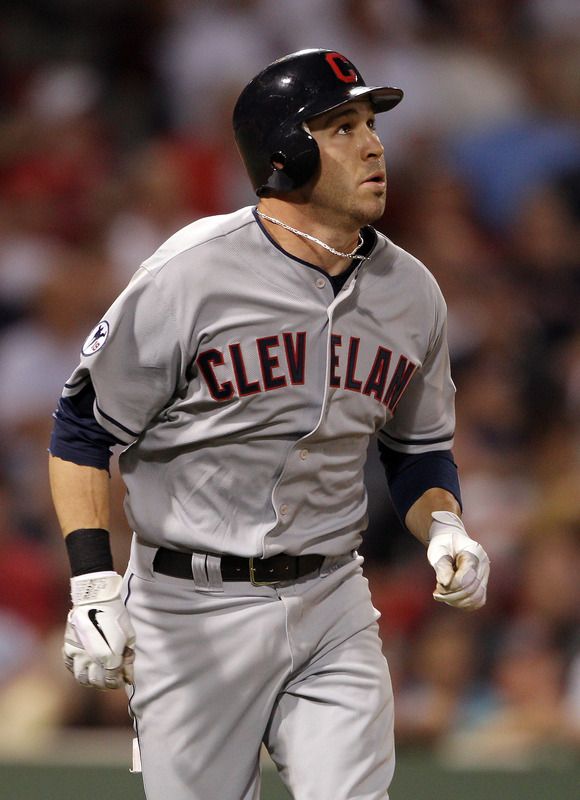 The Indians acquisition of Casey Kotchman gives an answer (unsatisfactory to some) to the off-season-long question: Who's on first?

But what does this move spell out for the rest of the roster? Presumably, Kotchman will be given the chance to play 1B on an everyday basis and Matt LaPorta (proud owner of one remaining option) will be asked to compete in Columbus for ABs (Mills and Canzler will be part of that curious logjam, too).

Let's assume that Casey Kotchman is two things: (A): Good enough to stay at 1B, and (B): Healthy enough to play around 130 games given (A).

Now that we have the disclaimers out of the way, let's move on to the fun part: what will the Indians roster actually look like? (Note: using wOBA which takes into account both OBP and SLG but doesn't overweight SLG like OPS and accounts for all offensive actions appropriately (i.e. a 1B is worth more than a walk because runners can advance more than one base, and reaching base on an error does have some offensive value, etc. please go here for a more complete explanation)


| | | | | |
| --- | --- | --- | --- | --- |
| POS | Player | 2011 wOBA | Career wOBA | *Proj. wOBA |
| C | Carlos Santana | .349 | .357 | .366 |
| 1B | Casey Kotchman | .351 | .321 | .326 |
| 2B | Jason Kipnis | .371 | .371 | .350 |
| 3B | Jack Hannahan | .320 | .302 | .305 |
| SS | Asdrubal Cabrera | .345 | .334 | .342 |
| LF | Michael Brantley | .309 | .301 | .315 |
| CF | Grady Sizemore | .302 | .361 | .330 |
| RF | Shin-Soo Choo | .325 | .374 | .364 |
| DH | Travis Hafner | .353 | .380 | .346 |
| AVG | STARTERS | .336 | .345 | .338 |
*Projections are based on average of ZIPS, Marcel and Bill James projections at www.fangraphs.com

All things considered, this is a pretty darn good lineup. After adjusting for approximately 35% of PA's going to replacement level players and other back-ups, the team could accumulate a wOBA of around .326. In 2011, this would have placed them 7th overall in MLB (ahead of the Royals, behind the Cardinals, Brewers, Tigers, Yankees, Rangers and Red Sox). Furthermore, when we look at the projections going into 2012, we can be somewhat optimistic of getting close to a repeat aggregate performance.

However, there are a few big things to temper our optimism:

1. Bounce back seasons are being counted on by Sizemore, Choo and Santana (Santana had abnormal K% and low AVG).
2. Kotchman (career-year) and Kipnis are expected to perform at last-year's levels. It is likely that Kotchman will regress.
3. Youth: Kipnis, Santana, Brantley are unknowns and could just flat-out struggle, more likely for Kipnis, less so for Santana and Brantley who have longer track records.
4. Old Age/Health/Regression: Hafner, Sizemore, and Choo are either old or injury-prone or both. It is unlikely all remain healthy and productive for 400-500 PA each.

There are a couple reasons to have a positive outlook as well:

1. Prospects: Chisenhall and Brantley could easily outperform their projections (.312 and .315 resepctively).
2. Sizemore is still relatively young (29) and if he actually is healthy, could exceed the projections which naturally hedge for injury and deterioration. He seems tobe boom/bust: if he is healthy he will perform at a high-level most of the season, and if not: more of 2010 and 2011.

The overall team has some reason for optimism and, as an aggregate unit, the Indians have an outside shot at getting a bunch of breaks (health and prospect maturation) to compete with the Tigers.

Up next, I'll take a look at possible lineup construction and how an under appreciated player could be a very valuable piece if used correctly.
User Comments
steve
February 14, 2012 - 11:55 AM EST
Charlie, good stuff.


I haven't done the plug and chug on Asdrubal's numbers yet but I will suggest to you that if you look at the 2 years that carry his overall career #'s 2009 and 2011 you'll find a luck dragon in both.


In 2009 it was a .360 BABIP, well above his career norm.

In 2011 it was HR/FB% at +13% well above his career norm.


So, in 2012, plug hin a .300 to .320 BABIP and a 7.5% HR/FB and we'll see what shakes out.

GB/FB ratio also his lowest of his career.
Charlie
February 13, 2012 - 11:50 PM EST
Matt, the point is not to say this WILL happen (it likely won't given the # of things that need to happen in unison), but that the potential is there.

In my next article I am going to try and show the importance of back-ups to the Indians potential and when some strategic times would be to deploy bench players who typically aren't seen as valuable.
Charlie
February 13, 2012 - 10:53 PM EST
Steve, you are correct regarding Kotchman: I should have made another descriptor: regression. He is very unlikely to have that performance again and, unless he figured something out after 2,000+ PA's, will likely regress back to his career norms, his projection bears this out. I guess I just grouped him in with the others because he's on the wrong side of 27, and had an anomalous season, but health and age are not concerns according to his history.

Santana having a "bounce back" season could also be classified as regression due to his low BABIP, though his extremely low AVG and career high K% (20.2%) rates are correlated and are what I was operating on as far as a "bounce-back" is concerned. Though you could quibble and say he is still a young guy figuring things out and classify it as "prospect maturation"...doesn't matter in the runs department, it's all gravy!

Cabrera might see some regression in his power, but if you look at his offensive production in aggregate: he looks like a safe bet to repeat close to 2011. He has a career .334 wOBA and saying either his .345 wOBA in 2011 or his projected .342 wOBA (entering his age 26 season) are out of line or due for regression is just ignoring the data. He changed in 2011, but was not worth that much more at the plate, just a little more highlight-reel worthy.
Matt
February 13, 2012 - 10:35 PM EST
Is this Larry Dolan writing in disguise? This is the same lineup as last year that struggled to score runs. We are tired with all the "what ifs" such as "if" Hafner and Sizemore stay healthy; if Choo learns to use a GPS, etc. This team claims it has a 2 year window but did nothing this off-season that tells me they are going for it.
Jersey Wahoo
February 13, 2012 - 9:17 PM EST
Sounds wonderful- Sign me up for playoff tickets. Great post as always.
Steve
February 13, 2012 - 1:45 PM EST
A few comments:

1. Bounce back season from Santana?

2. Old Age/Health: Kotchman? He'll be 29 on February 22 and hasn't been injury prone. You mention injury issues with Kotchman twice in the article. I'm a little confused. I believe he's been on the disabled list 2x in his entire career.


3. No mention of a regression by Asdrubal Cabrera?