Instructional League Notebook: 10/14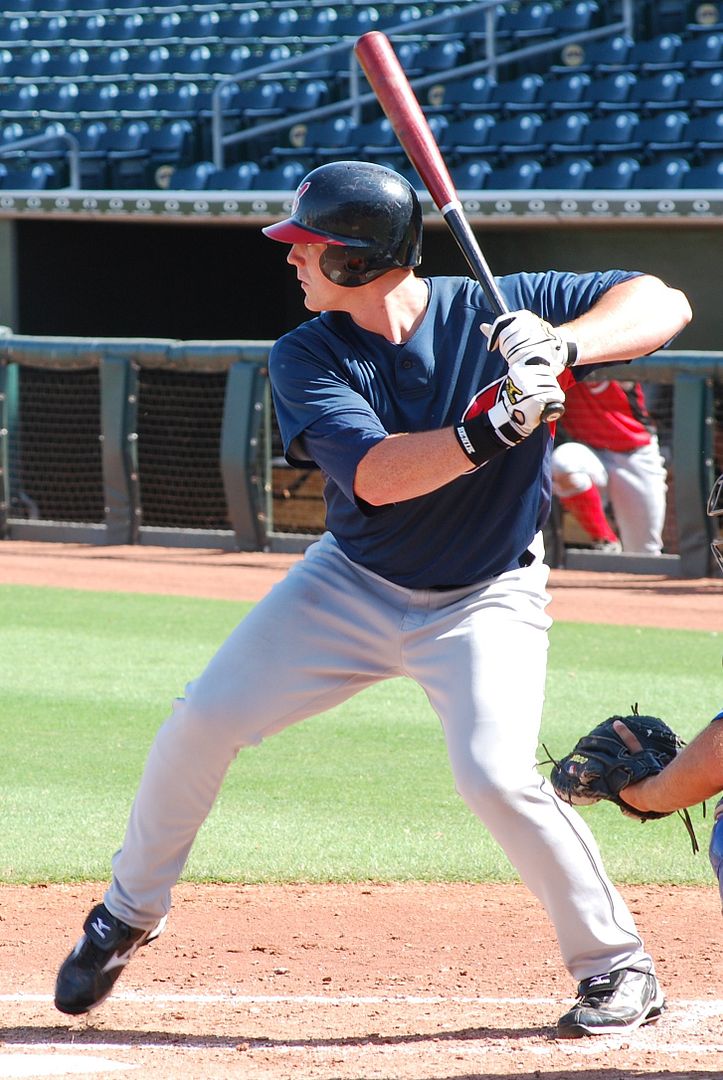 Not only am I out in Arizona to cover the Instructional League and the happenings at the Indians new complex in Goodyear, but I am also out here to get a taste of the Arizona Fall League (AFL) and see what our young future Indians' hopefuls are up to in such a high level league. With the exception of shortstop Carlos Rivero, I had a chance to speak with all the Indians participants in the AFL on Tuesday night. Here is a rundown of what I saw in my visit to the AFL as well as what the Indians players are up to.



Consistency Is Weglarz's Focus
The Arizona Fall League (AFL) kicked off on Tuesday, but of the eight Indians players that were sent to participate in the high level league one player was noticeably absent from the opening night festivities. That player was outfielder Nick Weglarz.
Weglarz is still recovering from a stress fracture he suffered in his left shin area back in early August. Instead of joining right up with his AFL team this week, the Indians instead took precautionary measures to make sure he was good to go for AFL action by having him get some time in Instructional League and the new Parallel League.
After playing in Wednesday's Instructional League game, Weglarz feels he is ready to go.
"I feel good," said Weglarz. "My leg feels good enough to play and I am just down here [in Goodyear] a little longer to get a couple of extra bats before I head over [to the AFL] on Thursday. It's an honor to get asked to go out there. It's the best minor league players on the cusp of breaking through. To be a part of that league and face that kind of pitching can only help you."
Even though he looks ready to go to the AFL, it is not without some reservations. After coming down with the shin injury in early August he missed the rest of Akron's season and is still experiencing slight pain in the shin area in what he calls a "two" on a scale of one to ten. He has been told he cannot injure it any further by playing on it, so at this point he just needs to play through the minor pain.
"I think I went down in the middle of August and it has been two months now," said Weglarz. "It just takes time to heal. It is still there a little bit but it is healthy enough to play through it and not be bothered by it. In the offseason I will get a lot of time to kind of stay off the leg and let it fully heal before coming back down for spring training. The main thing is just the stress from running on it and putting a lot of weight on it everyday for so many hours. That's what hurts it."
During Instructional League action Weglarz often was the designated hitter and when he did get a hit he would get a courtesy runner to run for him. The relaxed rules of the Instructional League allow teams to do that so as to get at bats for players while also protecting them from injury. In the last few days Weglarz was able to get out and play in the outfield and run the bases on his own, and should be good to go to play outfield in the AFL.
"I am now pretty much good to go," said Weglarz. "I played five innings yesterday in the outfield and ran the bases myself. I think what will happen is that I will play a couple games in the AFL and maybe DH. You don't play every game out there anyways with the taxi roster, so I will use those as recovery days. I should be out there full time when I get in there on Friday."
While out in the AFL, Weglarz plans to work on a few adjustments to his hitting mechanics which he feels will help him become more consistent at the plate.
"I have been working a little bit as far as mechanics go changing my hand placement to try and be more consistent with my swing path," said Weglarz. "This year in Akron I was up and down to extremes. I never hit as bad as I have in my career, and I never hit as good as I have either. So we think a lot of it had to do with my back elbow, and if I can just get a consistent swing path and put backspin on the ball I will be better. It is just trying to find a place for my hands that is consistent."
Weglarz is not kidding in how he was terrible one month, but then red hot the next. In April he hit .089 with a .386 OPS, but followed that up with a .329/1.055 May and .281/1.007 June, and then dropped to .217/.806 in July before bottoming out in August to .100/.425 in 11 games before being sidelined for good with his shin injury.
"I don't want to make excuses, but in July that is when my back started tightening up and right after that my leg got sore and was getting worse and worse," said Weglarz. "But May and June were unbelievable. I have never hit that well. I try to go back and think about what I was doing. I think it was just being consistent with my bat path, and a couple of drills I did helped me with that. So we have been working on that here, and over the offseason I will just try to do that and get my muscle memory to remember my swing. I just have to be consistent at the plate."
With the offseason in full swing, Weglarz is using the AFL season as a chance to not only get healthy, but also build a solid base for next season.
"I don't want to look at the Fall League and the offseason as trying to get healthy," said Weglarz. "I would like to try and maintain where I am at right now with my leg and play through it, and if the offseason comes and I am not healthy by then just keep going through it and hopefully it will heal on its own. But I am going to work out hard this offseason and take a lot of swings, and probably February 1st I will be back down here a few weeks early [before spring training].


McBride Trying To Catch On Again
One of the more interesting bits of news in the offseason has been the announcement that the Indians will have Matt McBride catch in the Arizona Fall League. After he had offseason shoulder surgery two years ago, McBride came into the 2008 season on the mend but just did not have the arm strength to catch, so this season they moved him to first base and left field.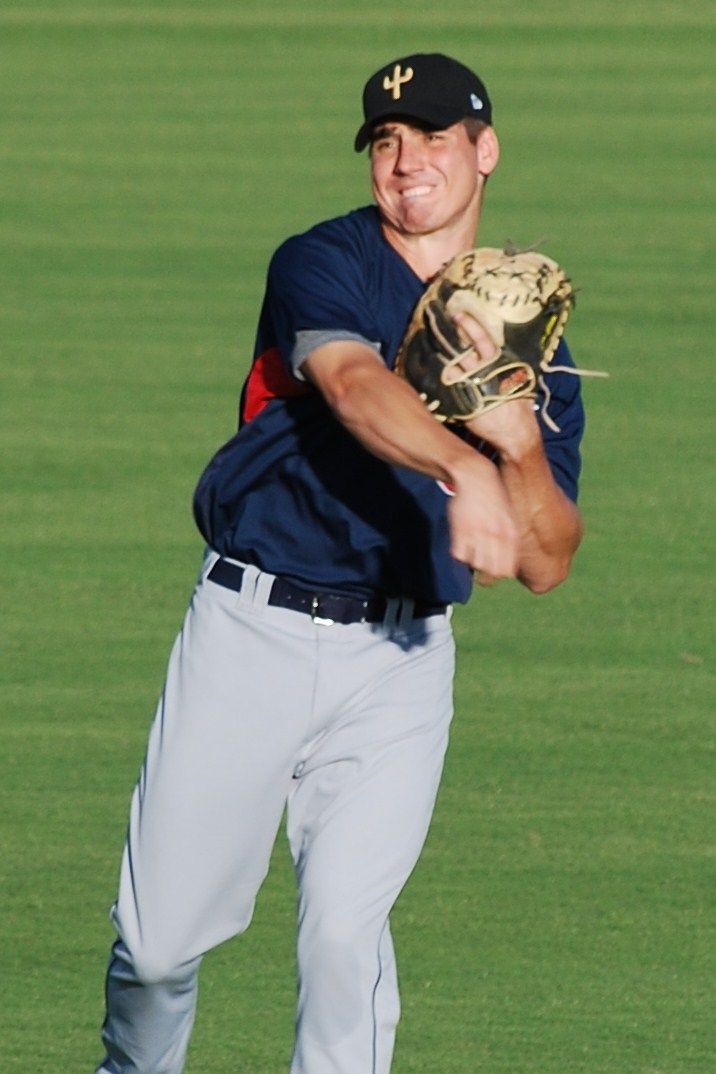 With his arm strength seemingly now returned, the Indians are taking a look to see how he responds moving back into the catcher's role, much to the delight of McBride.
"They let me know in August, and let me know that I will be catching down here," said McBride. "In August I started catching some bullpens in Akron to just try and get back into it a little bit. At Instructs I was there for a week or so before we started up here, and I worked on some things with our Catching Coordinator Tim Laker to go over things like blocking and footwork to get ready for this."
The question on everybody's mind is can McBride handle it and will he be comfortable going back to his more natural position of catcher? Talking to McBride, he looks up to the challenge.
"Yeah, I am actually really excited about it," said McBride. "My arm feels great. I am very confident when I throw to second, and it is the first time it has felt like that in a very long time. I am really excited to get out there and play, especially back behind the plate."
Even so, the biggest thing for McBride will be to demonstrate that his arm strength is back, and in the process exorcize any feelings of doubt with how strong his arm really is.
"Basically before they moved me to the outfield I was always subconscious about it because it was noticeably different [from what it used to be]," said McBride about his arm strength. "I think it is just one of those things where you just have to keep building your arm strength up and it takes time. Now I am feeling like I am confident that when I am back behind the plate I can get the job done."
In addition to catching, McBride is working on using the whole field as a hitter. He is often categorized as a dead-pull hitter, so one of the things the Indians would like to see him do is work on hitting the ball more up the middle and driving the ball gap to gap.
"With my hitting out here I am just going to work on seeing the ball," said McBride. "I am a pull hitter so I am just going to try and work on letting the ball get deep a little bit and work on staying back and driving the ball gap to gap. Hitting-wise that is going to be a big thing for me. I will probably always have the tendency to pull the ball as there are a lot of hitters like that, but as long I can prove that when they are going to flip a curveball or something else out there I can just poke it the other way they will be a little more hesitant and it will give them one more thing to think about when they are pitching to me."
This is a big offseason for McBride as he is up for roster protection from the Rule 5 Draft, and playing in the AFL will not only give him a chance to prove himself to the Indians, but also increase his stock in the eyes of other teams for possible selection in the Rule 5 Draft if the Indians choose to not protect him. However, none of that is on his mind at the moment, as once the AFL season ends he plans to rest and then get ready for another season as part of the Indians next year.
"After this I don't really have any plans," said McBride. "I guess I will just go home, relax and rest. That's about it. It's been a fun year, and it was a great time in Akron. I am just glad to be here and am ready to go."


Rodriguez Making Up For Lost Time
The Indians had several highly valued players affected by the injury bug this year. One of those was infield Josh Rodriguez.
Rodriguez got off to a very good start in a return trip to Double-A Akron hitting .314 with an .831 OPS and a nice 15 walk to 13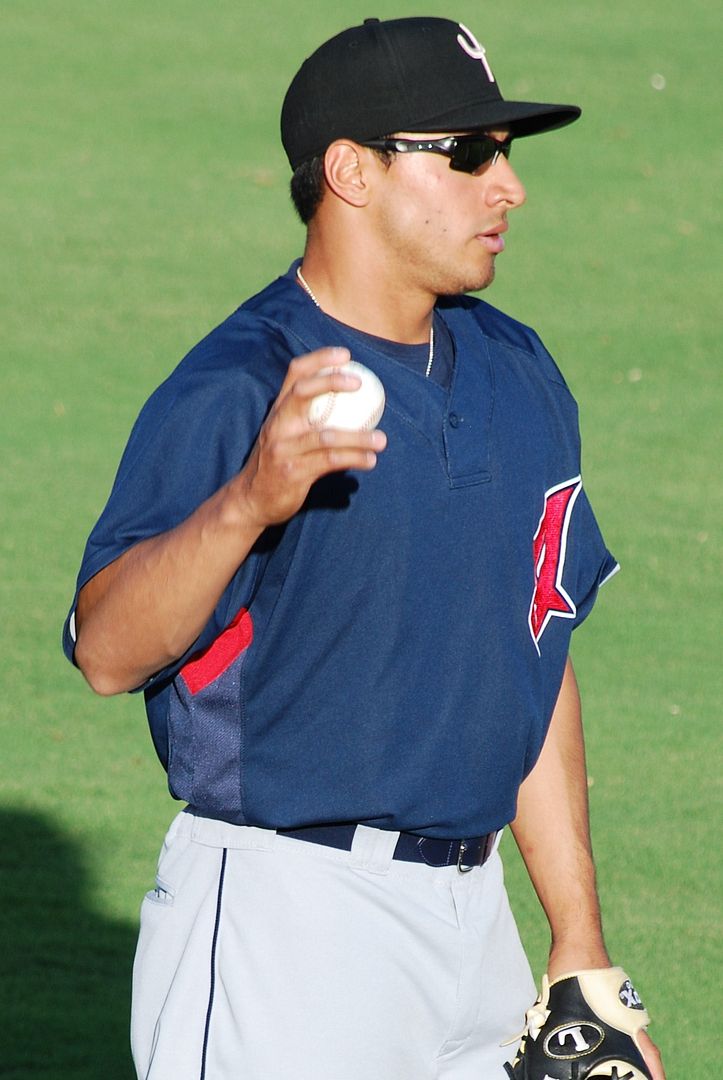 strikeout ratio in his first 18 games of the season. Unfortunately, that's when he pulled a hamstring while running the bases, and after going out to Arizona to rehab the injury he had setback after setback to where when he returned to Akron in August he had missed over 100 games.
The injury and inability to get over the hump with it and get back to Akron was very frustrating for Rodriguez this year.
"Yeah, definitely," said Rodriguez. "I mean you don't expect it to happen or want it to happen, but when it does you just gotta go with it and roll with the punches. You just have to work through it and stay positive as you can't let it get you down."
Rodriguez is on the taxi squad in the Arizona Fall League, which means he will play on Wednesdays and Sundays for the time being. He also participated in the Indians Instructional League program up until about a week ago to get him ready for the AFL. His time in Arizona in Instructional League and the AFL will help him make up some of those lost at bats from this season.
"I am going to supplement some of those at bats I lost this year," said Rodriguez about being in the AFL. "I missed three months and over 100 games, so I came out here for Instructs to help me get some more at bats. That's basically what I am out here for is just to get some of those at bats back that I did miss, and while I am out here of course I am going to keep working on what I need to do. I just need to focus on my plate discipline and strike zone management and try and stay with what I had going before I got hurt."
While Rodriguez was drafted as a shortstop, since about the midpoint of the 2008 season he has noticed he has been groomed more as a second baseman. The Indians know he can play shortstop, and he has experience playing third base in college, so he could also end up a utility player down the road with the Indians. At this point it looks like he will be the second baseman in Triple-A Columbus next year when the season starts.
"I think I will primarily play second base out here," said Rodriguez. "That's basically what I assume they will have me do this year. Last year I was splitting between shortstop and second, but towards the end of the season I was mainly at second. I believe that is what they will have me do out here also."
When the AFL season ends in a few weeks, Rodriguez plans to get back into the gym and get stronger so to better prevent another serious injury in the future.
"I want to just try and get stronger with my legs," said Rodriguez about his offseason plans. "They are not where I want them to be, but when I got hurt I did lose a lot of strength. I was down for three months and couldn't really do a lot of weight lifting because I was trying to let it heal. I just want to get my weights in along with running and conditioning to get my legs back underneath me and get them back so I can go to work."


Putnam May Not Stay In The Pen
Right-hander Zach Putnam has had a whirlwind of a first full season of professional baseball. He started out the year in spring training seven months ago getting worked up to be a starter with High-A Kinston, but after just four starts in Kinston he was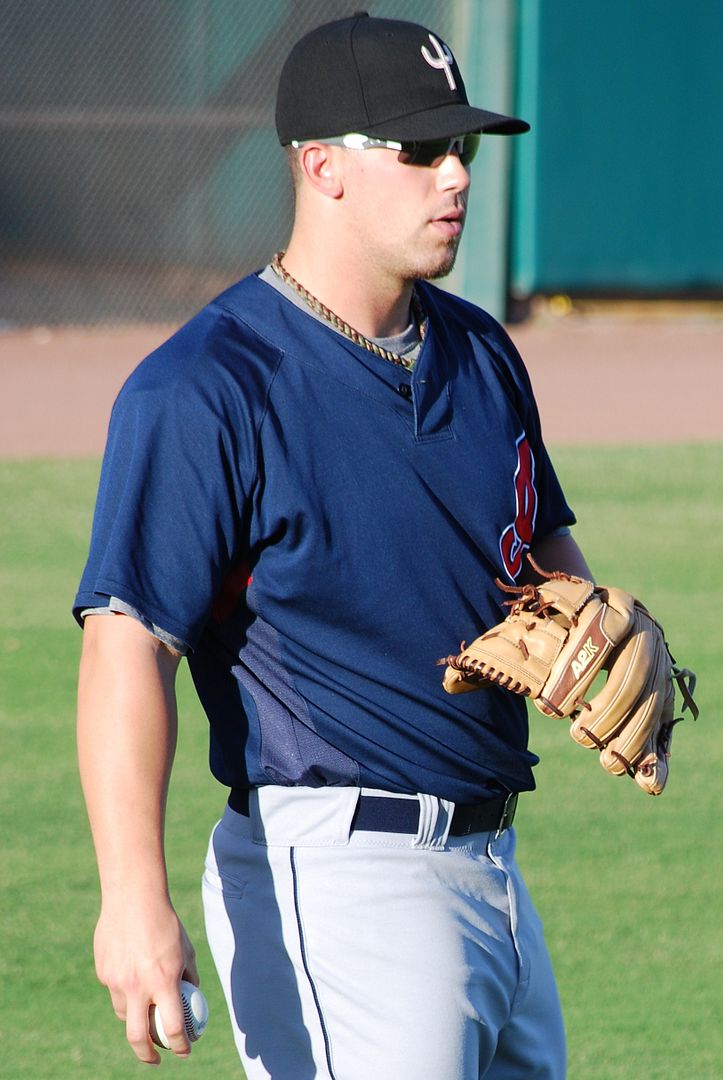 quickly moved to Double-A Akron in early May where he was put in the bullpen with the idea of developing him as a late inning reliever. Instead of shutting him down after a long season in Akron, he was sent out to the Arizona Fall League to make up some lost innings because of that transition to the bullpen.
When Putnam was announced as part of the AFL roster most thought he would continue to work on that transition to the bullpen; however, the exact opposite is happening as he will start in most of his appearances in the AFL.
"I am actually starting here," said Putnam. "I think it is more to pick up some innings as the transition to the bullpen kind of killed my inning total for the year. So I am trying to make up for lost time a little bit. I have the same primary focus though which is to develop my breaking pitch a little bit and just continue to work on some finer points to pitching."
In his season ending interview with Farm Director Ross Atkins, it was made clear that in no way have the Indians settled on him as just being a reliever. The organization likes him as either a starter or reliever, and depending on their needs next season and beyond he will be put in a role that they feel can best supplement the major league team in the near future.
"I think it is up in the air," said Putnam about being a starter or reliever. "The last time I talked to Ross he kind of said not to get too comfortable either way. Things could change next year depending on the needs at the big league level."
In any case, Putnam is excited to play in the AFL and show his stuff no matter what role he is in. He will also enjoy the great weather in Arizona before returning home to the cold of Michigan for the offseason.
"I am just going to try and relax," said Putnam about what he will do when he comes home for the offseason. "It was a learning process for me this season just learning how to stay in shape but not work out too hard where it interferes with my play. I lost a little bit, so I am just going to try and hit it really hard in the offseason and try and get into really good shape. I am not going anywhere and will just stay in Ann Arbor and enjoy the cold weather (laughs)."


The Rest Of The Field
In addition to the four players above that I spoke to, I also talked briefly with the other four Indians players participating in the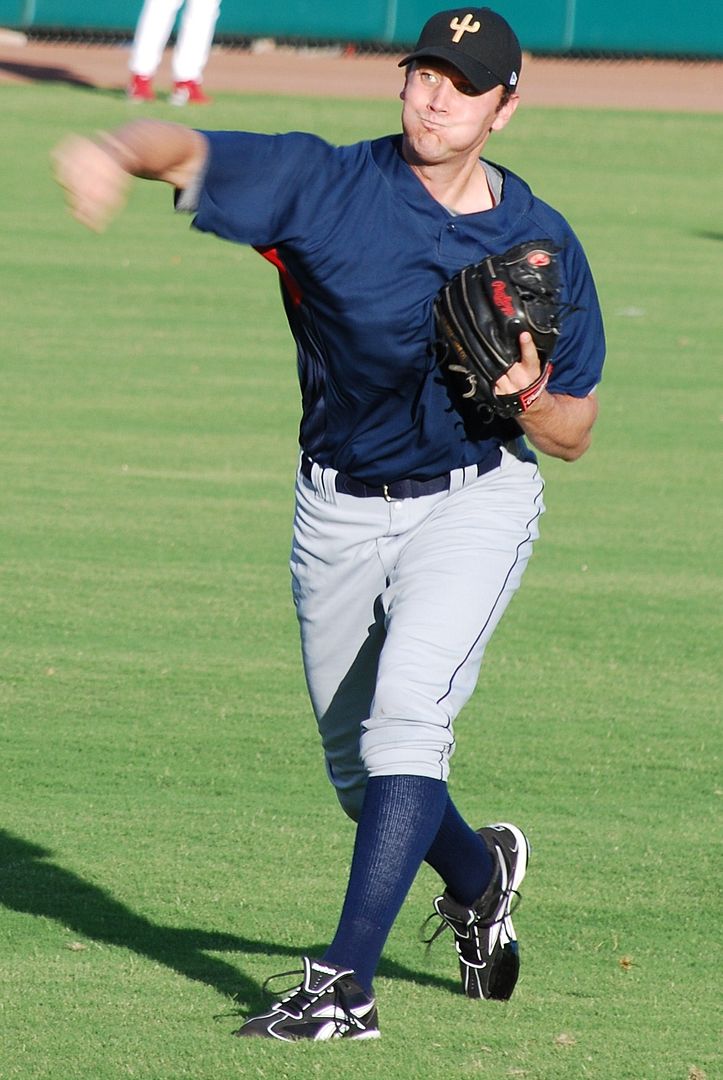 Arizona Fall League. Here are some quick quotes on how they feel about playing in the AFL and also what their main focus will be while playing in such a high level league:
Josh Judy (RHP):
"It's kind of like a big All Star game out here. The best of the best from every organization is out here and they just throw you into the fire and see how you come out. It is a great honor to be selected by your organization to be out here. My plan is to get better at repeating my delivery. Also to get better with my fastball command and command my slider a little better than I did during the season. I also just want to have fun."
Connor Graham (RHP):
"It's great to be out here and it's a great group of people. I definitely have some stuff to work on like working on my fastball consistency and being able to command both sides of the plate. Also, I need to work on my slider consistency as well. I am bringing my split-finger back now so I am getting comfortable with that again since it has been a few years since I have thrown it."
Carlton
Smith (RHP):
"It feels good to be out here, and it is better than being out in New Jersey [where it is cold]. It was fun
and a good learning experience [converting to the bullpen this year]. Every outing I just took it like it was a start. That's what got me to where I was, so I just stuck with the same game plan. Out here I am just going to work on my secondary pitches and get them all better. Command the sinker better and just make myself better. I am working my tail off out here, and [when we are done here] I will go back home. I will take a week off or so, then get back in the gym and then start my throwing program and everything. I have a lot of goals for myself."
Carlos Rivero (SS):
The only player I was unable to talk to during my visit to Scottsdale to see the Indians in action in the AFL was Rivero. This was solely due to the fact there was no Spanish translator available to conduct an interview with him since he doesn't speak English well enough to do an interview, and I don't speak a lick of Spanish. In any case, Rivero is out in the AFL to get more at bats and continue to add onto a solid finish to his season. Since he is not the priority shortstop on his team, at times he will play third base in order to get at bats. Some people may have noticed in the box score after the game on Tuesday that he started and played third base. I myself was somewhat alarmed at this when I got to the field on Tuesday and saw he was in the starting lineup and playing third base, but after a call to the Indians was told he is just playing third base to get the at bats. No position change is in the works and he is still considered a shortstop. He will go into next season as the starting shortstop at Triple-A Columbus or Double-A Akron.


Notebook
The Lee Trade:
This has nothing to do with the AFL or Instructional League, but while out here in Arizona I got to talking to some people in the organization about the Cliff Lee trade. I had originally reported way back at the end of July that the Indians
offered Lee to the Red Sox for Clay Buchholz straight up and were turned down only to have the Red Sox counter and offer Buchholz straight up for Carlos Santana (which the Indians declined). That information was provided to me at the time by a very reliable source connected to the organization. Well, on Monday I got to talking about the deal and that story in the papers about how Victor Martinez and Cliff Lee were part of some mega-deal with the Red Sox and found it was very inaccurate. The specifics I had originally provided about the deal being a one-for-one of Buchholz/Lee was confirmed by another source, and an impeccable source at that. No mega deal ever came to fruition as the Red Sox were very unwilling to part with Buchholz. By them saying no to Lee for Buchholz, even with Victor included to sweeten up the pot the Indians likely would have only received Buchholz and one other high level player. This doesn't take the Indians off the hook for what looks like a questionable trade at the moment, but it is important to set the record straight. Also, I still am of the belief that this trade will look better by the end of next season. It won't be the heist Shapiro orchestrated in the Bartolo Colon or Casey Blake deals, but I still think it will be a solid trade (meaning both teams benefit) when all is said and done.
Speaking of the Indians:
While waiting to talk to some of the minor leaguers after their morning workouts on Wednesday, I had the pleasure of stumbling upon Grady Sizemore working out on the agility field. It was good to see him out in Goodyear in the middle of October working hard to get back to 100% next year. He looked good, though it was all running, agility and conditioning oriented and involved no throwing.
AFL Game 1:
I was out in Scottsdale, AZ on Tuesday night for the opening of the Arizona Fall League schedule to see the Indians team - the Peoria Saguaros - in action in Scottsdale. It was my first taste of the AFL, and I must say it is a unique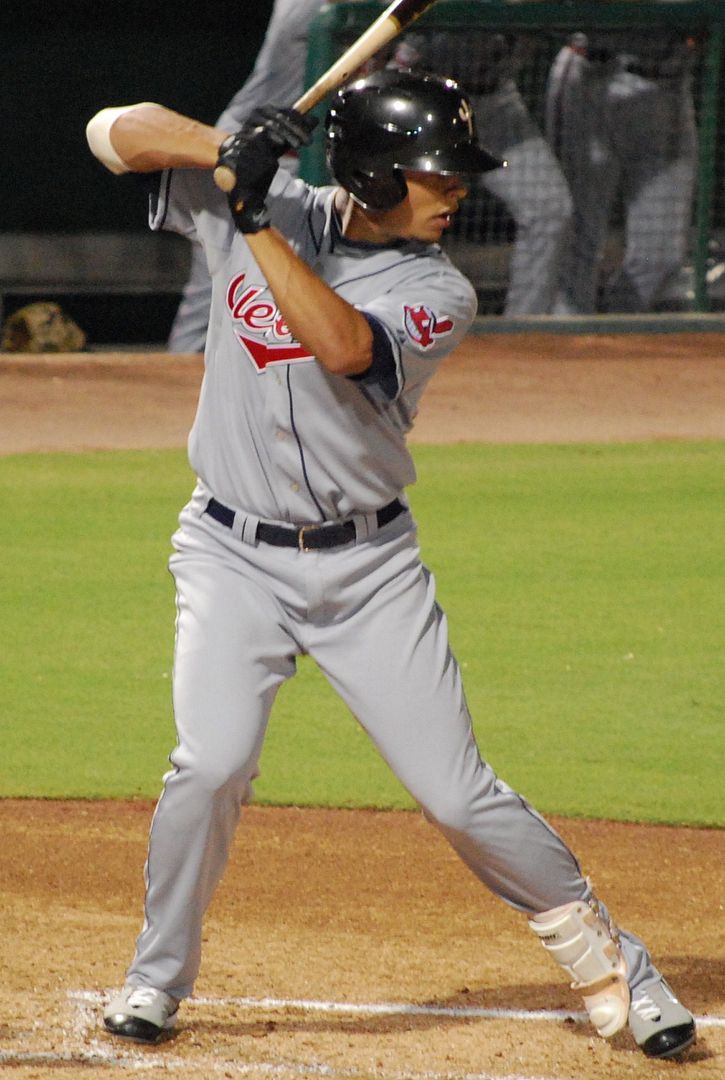 atmosphere as about half the crowd is actual fans while the other half constitutes of scouts, baseball executives, and autograph seekers. When Braves outfielder Jason Heyward walked over to sign before the game it was like a flock of seagulls flying to a dropped bread crumb. Insane. Speaking of Heyward, that kid is the real deal. The Braves have something special there. Anyway, much to my dissatisfaction only Carlos Rivero started for the Indians. He went 1-for-5 at the plate with a strikeout and made an error at third base on a ball he had to come in on. The only other Indian to play was right-hander Connor Graham who pitched one inning of relief in the 6th inning and allowed one run on one hit, one walk, and had one strikeout.
AFL Game 2:
I missed Game 2 of the AFL schedule for the Peoria Saguaros because I was in Goodyear watching the Instructional League game against the Reds on Wednesday. Lots of Indians played in this game, as Josh Rodriguez started at second base and Matt McBride started at designated hitter. Rodriguez finished the day 2-for-4 with a double, and McBride went 2-for-3 with a triple, RBI and walk. On the pitching front, right-hander Carlton Smith pitched a shutout inning of relief allowing a hit while striking out one. Right-hander Josh Judy was tagged with the loss as he went 1.2 innings and allowed two runs on three hits, one walk, and had one strikeout.
AFL Roster Note:
Each team in the AFL has a 35 man active roster every game, and on Wednesday and Sunday's there is an additional set of players on what is called a taxi-squad that are active only on those two days (Josh Rodriguez is a taxi-squad guy). Five organizations make up each team, and each organization sends at least seven players. Organizations are allowed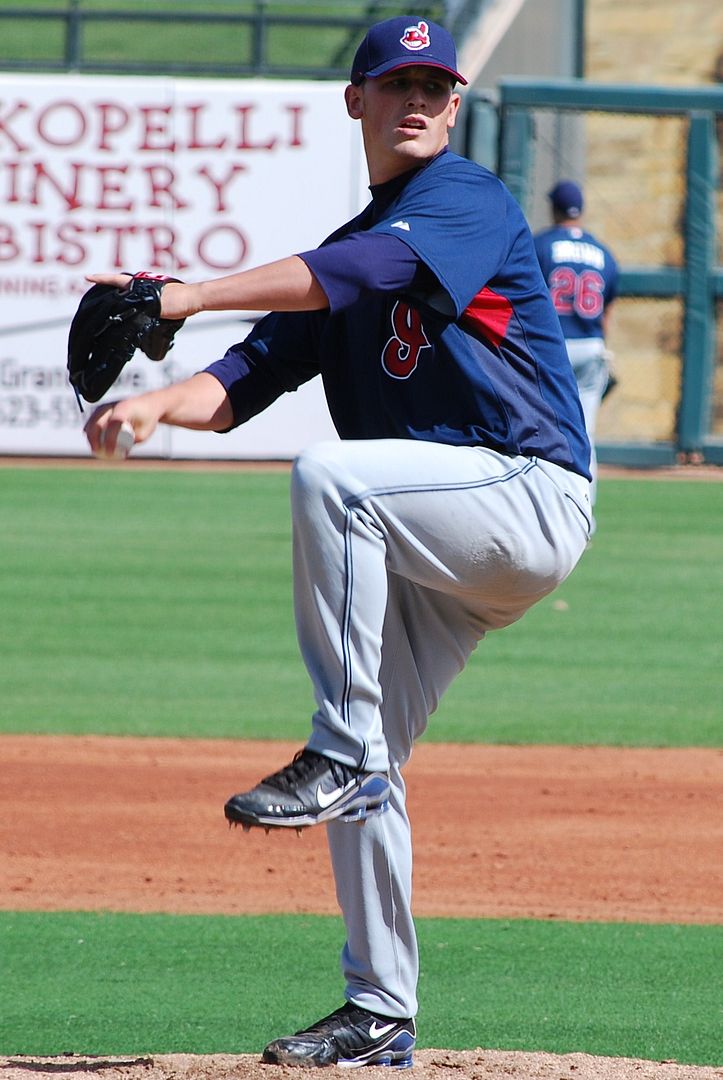 to send more than seven players, though they have to pay for each extra player and that player (or some combo of their extra players) is put on the taxi-squad.
Parallel League Action:
On Tuesday afternoon I also ventured over to Surprise, AZ - which is the spring training complex for the Texas Rangers and Kansas City Royals - and took in some action in the new Parallel Fall League (AKA Advanced Instructional League). They played in an empty stadium, well aside from about a dozen scouts in attendance and yours truly. Two organizations make up each Parallel League team, and there are four teams in all with eight organizations participating. In the game, the Indians/Reds team (Goodyear) won 10-4 and cranked out 17 hits in the process. Most of the hits came from the Reds players, but Indians outfielder Matt Brown led the way going 1-for-5 with three RBI. First baseman Beau Mills chipped in with two hits and an RBI in four at bats. Right-hander Rob Bryson shined on the mound going two shutout innings allowing one hit and one walk while striking out two. He threw 30 pitches in all, and first pitch strikes to five of the seven batters he faced.
Up Next:
I leave the wonderful weather out here in Arizona today and travel back to the much colder weather in Ohio. I will be back with a final installment of the Instructional League Notebook on Friday covering all I saw in my last day of camp on Wednesday, plus interviews with Alex White, Joe Gardner, Greg Folgia, and Kelvin De La Cruz.
User Comments
No comments currently. Be the first to comment!