Instructional League Notebook: 10/16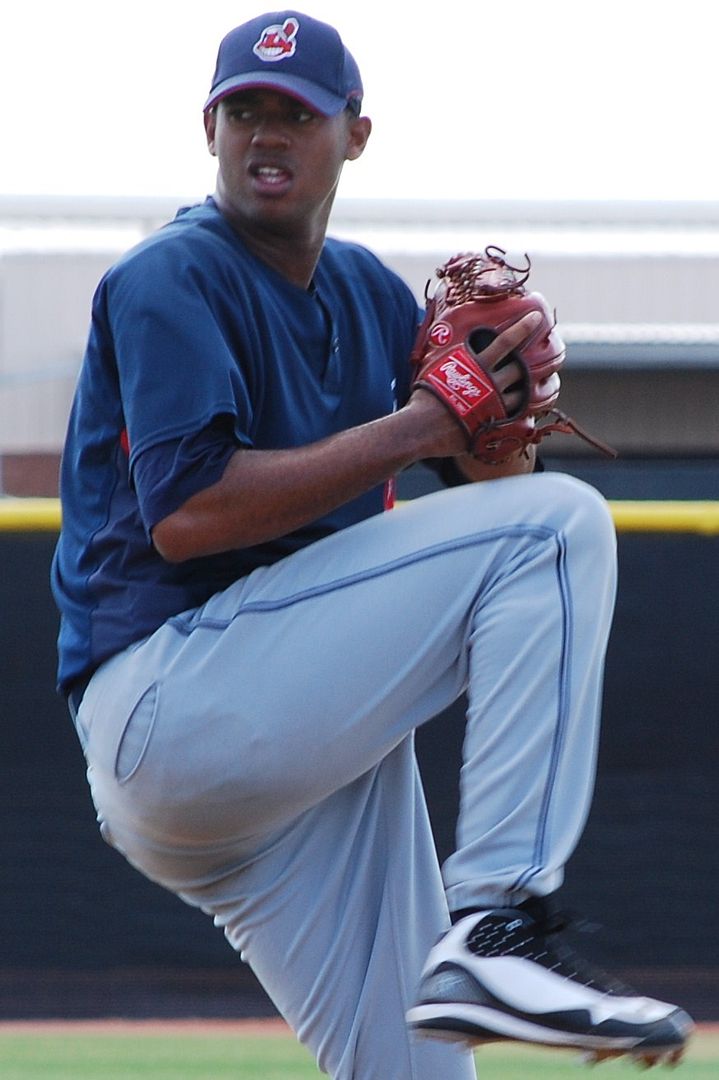 I'm back from Arizona (unfortunately) and have one final notebook to talk about all the things I saw my last day in camp at the Indians Player Development Complex in Goodyear, AZ. Oh the joy of getting on a plane at 11am in Phoenix where it was 90 degrees, sunny, and nothing but blue skies only to step off the plane four hours later in Cleveland to temperatures barely in the 40s, rain and grey skies. I love this town.
Anyway, during that final day of camp I finally had a chance to see 2009 3rd rounder Joe Gardner pitch for the first time, talk to 2009 1st rounder Alex White, check in on young gun Greg Folgia, get injury updates on Kelvin De La Cruz, Matt Brown and others, and get a final look at some intriguing infielders in the lower levels of the system. I initially was going to include pieces on White and Gardner in this notebook, but because of the length and not to take away from some of the other players highlighted, I will post their articles separately on Monday and Tuesday.
Also, a quick note, I will be posting the final Instructional League and Parallel League box scores on Sunday.
And with that, onto the happenings in Instructs...
De La Cruz Still Finding His Way
One of the biggest blows to the Indians farm system this season was when highly regarded left-handed starting pitcher Kelvin De La Cruz went down with a serious elbow injury the first month of the season. He was off to a great start for High-A Kinston where in two starts he was 2-0 with a 1.50 ERA (12.0 IP, 6 H, 2 BB, 19 K) and had just been named Carolina League Pitcher of the Week for his efforts in his first two starts.
But during that second start De La Cruz started to feel some discomfort in his elbow and it increased a lot over the coming days to where he had to eventually be shut down for most of the rest of the season. He eventually did make his way back to pitch some games on rehab with the Arizona League Indians at the end of August, but was a long way from the pitcher he was pre-injury. He participated in Instructional League to make up some of the lost development time, and he has slowly started to put things together as his velocity is up to 92 MPH and his feel for pitching is starting to return.
"I feel pretty good," said De La Cruz. "I am working hard on all of my stuff in the training room and in the gym. I feel way better than I did a couple of weeks ago. It was a hard year."
A hard year indeed.
After a breakout season last year in Low-A Lake County and Kinston where he went a combined 12-6 with a 2.98 ERA in 27 starts, a lot was expected of De La Cruz this year and it was hoped he would continue to progress and spend a majority of the season with Double-A Akron. But his elbow had other plans, and he came down with the dreaded UCL strain which shut him down for several months.
"In my last game [at Kinston] I was feeling a little bit of stress in my arm and elbow," recalled De La Cruz. "The next day when I woke up I couldn't even wash my face. They gave me a seven day rest to see what happens as it could of just been a sore muscle. When I threw my bullpen they asked me if I was ready to go in few days and to tell them how I felt. I didn't feel good at all, so I asked for an MRI to see what happened and they found I had a strained UCL ligament."
While there was bad news that the UCL had been strained, the good news was that there was no tear. Had he torn the UCL it would have required Tommy John surgery and he would currently be at the midpoint of his rehab and his 2010 season would likely be a complete wash. Instead he is pitching again and his arm is feeling a lot better, though still not 100%.
"I feel like I am still trying to find my way back," said De La Cruz. "In the game I feel really good when I am throwing, but I am very sore the next day. Sometimes [it is frustrating], but I know that I will be back and that it is a step by step process."
With Instructional League over, De La Cruz will likely remain in Goodyear for awhile longer to continue rehabbing his elbow and throwing off the mound a few times a week so the Indians can evaluate his progress. His goal is to be back at 100% and ready to go once spring training starts up in March, and then go to Kinston or Akron and have a great season.
"We'll see what happens," said De La Cruz. "I will go home or stay here for a couple of more weeks. I'll do whatever they say. I am just prepared for everything right now."
Pestano Begins To Throw
Vinnie Pestano was on top of the world about three months ago.
Back at the beginning of July the right-handed closer for the Indians Double-A Akron affiliate was locking down victories night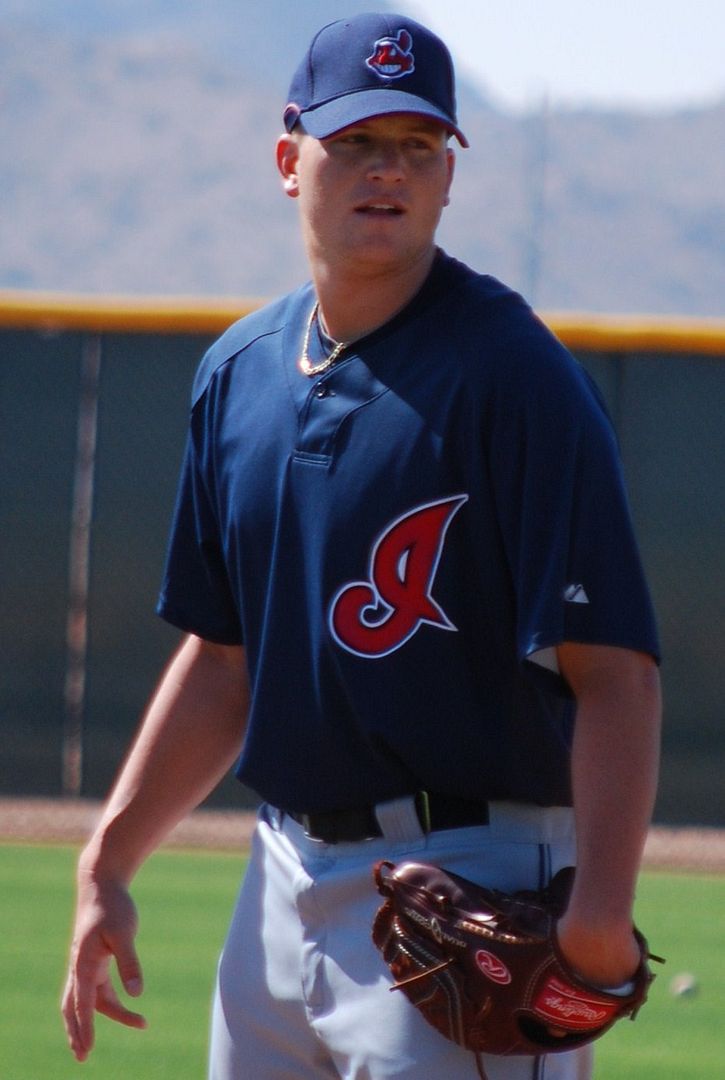 after night and was leading the Eastern League in saves - and just about all of baseball for that matter. In 34 games through July 9th he was 2-3 with a 2.86 ERA with 24 saves and in 34.2 innings had allowed 30 hits, 13 walks, and had 31 strikeouts. He was named to the Eastern League All Star team and was primed to smash Randy Newsom's 2008 club record of 29 saves in a season.
That's when elbow soreness settled in with Pestano and he had to be shut down. Initially he remained with Akron for about a month getting treatment on his arm while more tests were done, but his condition did not improve. After an MRI was done it was determined his elbow injury was serious enough where he would be shut down for the rest of the season and head out to the Goodyear complex to rehab and get ready for the 2010 season.
In the blink of an eye Pestano went from having probably his most memorable season as a baseball player, to one of the most disappointing and frustrating seasons he has ever been through.
It was an encouraging first half of the season for Pestano as he hit 93 MPH a few times and up until his elbow injury his arm had felt great and his average velocity was up to where he was sitting mostly 88-92 MPH. The increased velocity was a big step for him as coming off Tommy John surgery in 2006 he was only throwing 87 MPH in his first year of professional ball in 2007. But since his surgery he has worked hard to build up his arm strength and get back to the low 90s he consistently threw in college.
"It was pretty good and I got a lot of opportunities [in Akron]," said Pestano in a recent interview. "I got a lot of work and got my feet wet and got into a little bit of a groove. I can't say I am happy with what I have done, but I have to be content with the [year] I had and I got a lot of opportunities and did well in a few of them and [didn't] do well in a couple of them."
Pestano has been out in Arizona rehabbing the arm and last week started throwing off the mound for the first time since the injury first came about in early July. He is still in the early stages of a throwing program and he is still feeling his way through his arm issue as it still is not 100%. Barring any setbacks, he is expected to be ready to return to action full-go next spring and this offseason he may even get a few innings in with a winter league team somewhere.
Pestano has put the same tenacity and effort into his rehab that he does when closing games out on the mound, which is why he has been so successful in recovering from arm injuries in his career and also closing games out when he pitches. He may not profile as a big league closer with his stuff, but when healthy his sidearm arm slot and amazing mental makeup could make him valuable down the road to a big league team in some kind of bullpen role.
"I like [closing] because I can prepare for the game better," said Pestano. "I know what my role is and what I am going to throw. Being in the bullpen is tough as you don't know if your number is going to be called that day. For me it is a lot better because I have my routine, but I like it. I have always said whatever the Indians need me to be - be it a right-on-right guy or a 7th or 8th inning guy - I am comfortable doing whatever gets me to the big leagues. If that is closing I am all for it, but if I have to take a different route there then that's okay too."
For now, the injury is just another obstacle for Pestano to climb over. He has proven an ability to overcome such adversity in the past, and so far has shown he is well on his way to overcoming it again. Even with the injury and sudden end to his season, there are still a lot of positives to build off of as he had an excellent first half of the season.
"I'm always going to want to make strides," said Pestano. "No matter what throughout the course of the year my goal is to pitch in the big leagues as my goal is not to be a Double-A or Triple-A closer. If I take a step forward in trying to achieve that then that year as a whole was successful. Last year in Lake County and Kinston I felt like I took a step forward, and this year in spring training I had a good spring training and took another half step forward. But obviously it is a long road and there are a lot more steps to be made. It's tough to know what people think of you, but you just have to worry about yourself and keep doing the things you know you need to do to keep getting better."
Greg Folgia: Gun For Hire
While the move of Jason Kipnis to second base may be one of the bigger stories of Instructional League, one of the more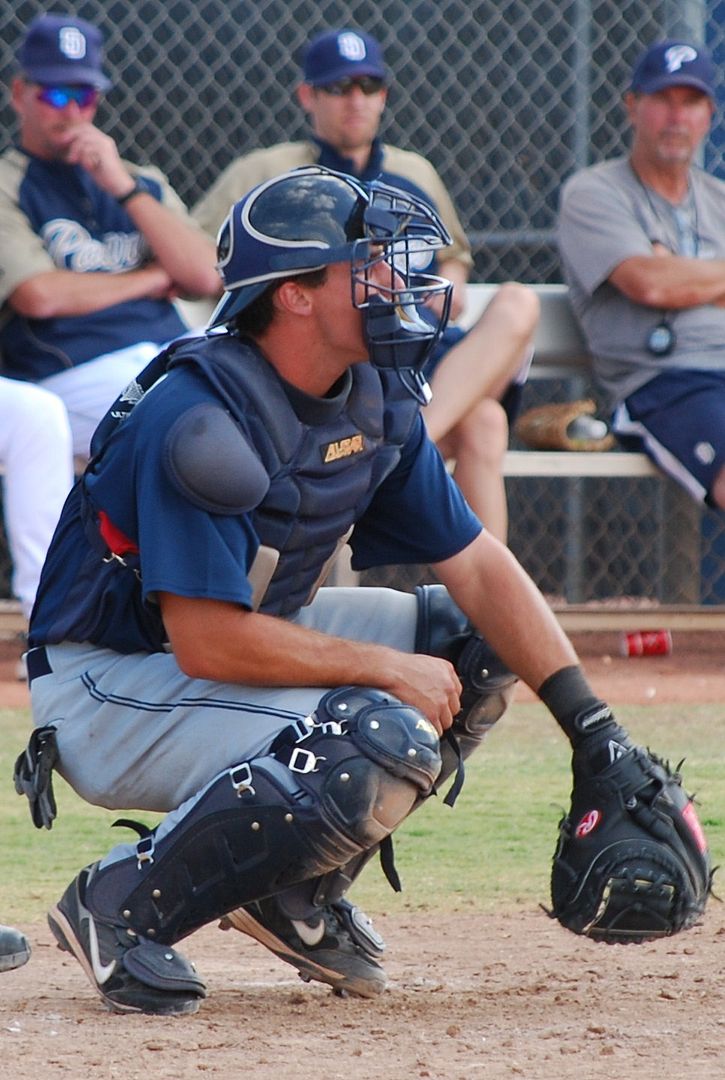 interesting developments has been the transition Greg Folgia has made to catcher.
Drafted as an infielder in the 40th round of the 2009 Draft out of the University of Missouri, the Indians had him play in the outfield during his first taste of professional baseball this year at short-season Single-A Mahoning Valley. The move to the outfield was not a big deal as he primarily played there this season for Missouri, but he also came in with experience as a second baseman as he primarily played that position his sophomore year in college, and he also brought some pitching experience to the table as he pitched mainly as a freshman and also a little bit as a sophomore and junior.
With the move to catcher the Indians appear to be playing off the versatility Folgia has shown in being able to play any position on the field, but they also appear to be maximizing what is probably his best asset: his arm.
As a pitcher in college Folgia topped out at 95 MPH, and that arm strength was on display during Instructional League as he fired the ball all over the field with exceptional velocity and good accuracy. He has a long way to go with picking up the nuances of the catching game, handling a pitching staff, blocking balls, and his footwork, but his arm is without a doubt an absolute howitzer. One NL scout in attendance during morning workouts came away very impressed and said it is easily a plus plus arm for the position.
Clearly the Indians are intrigued with Folgia's arm strength. Their experiment with him at catcher may be a way to add more value to him as a player, but worst case it will just add more versatility in how they can use him.
"Catching is good, and it is kind of fun to work on as the days go quicker," said Folgia. "It is difficult, but at the same time I like it. I am just trying something new and feeling it out I guess for next year. I think that is mainly what happened [is they like my arm]. I am not exactly the fastest outfielder, so a lot of negative and positive factors probably coincided with each other."
With Instructional League now over, Folgia will continue to work this offseason on adapting to and learning about the new catching position. In addition to catching, he will continue to work on his swing as he showed some promise as a hitter this season hitting .272 with 3 HR, 36 RBI and a .792 OPS for Mahoning Valley.
"Mainly I am working on more consistency at the plate and a more level bat swing," said Folgia about his focus this offseason on improving as a hitter. "Just get stronger and just mainly keep trying to develop as much as a I can in the offseason. Get more fit and a more consistent bat path. Just working on catching a little bit as it looks like it will be a position I will be put at next year."
Notebook
Brown Out:
Outfielder Matt Brown participated in Instructional League, playing mainly in games for the Parallel League team.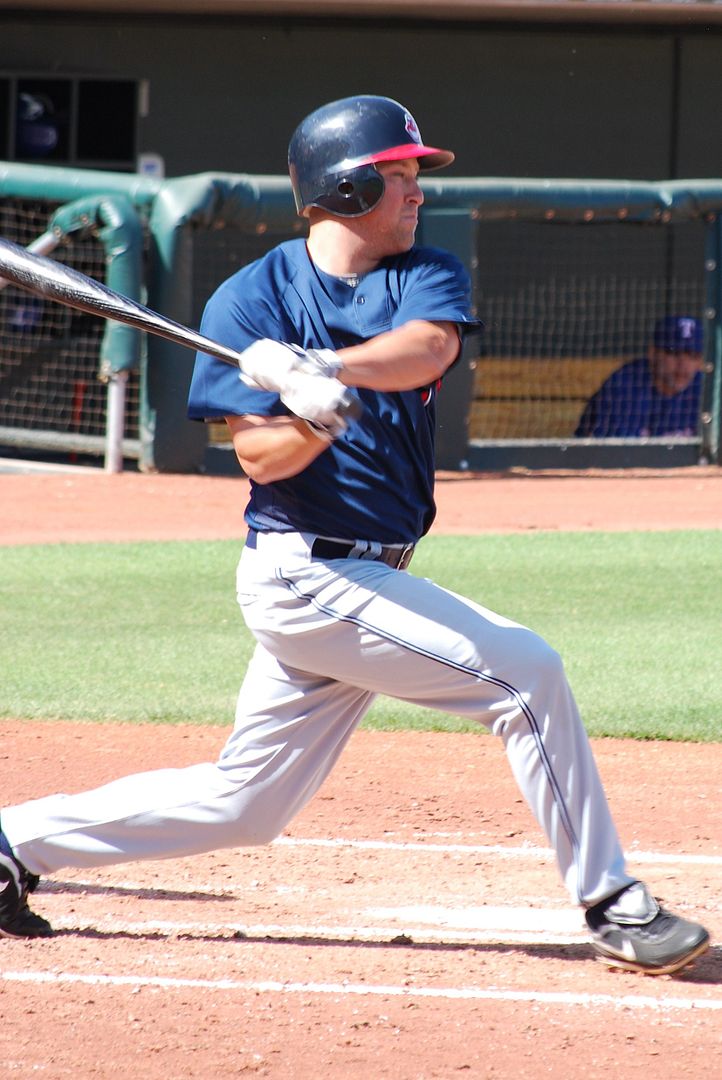 He missed most of the season with patellar tendonitis and a patellar tear to his right knee, an injury which came about in spring training. He was never 100% all season, even when the season started in Kinston, though he tried to play through it before eventually having to shut it down in May. He is still not 100% and is still experiencing discomfort in his knee to the point where he is likely going to have to have the knee checked out this offseason to see if surgery is required.
Kipnis at Second Base:
The Indians are full steam ahead with the move of Jason Kipnis to second base. They were very encouraged with what they saw out of him in Instructional League at second base and he will go into spring training as a second baseman and likely open the regular season as the everyday second baseman at High-A Kinston. In addition to what the Indians think, two scouts from other organizations commented that it is a great move as he was nothing special as an outfielder and just a regular guy, but as a second baseman his bat and ability there makes him a potential elite level prospect at the position.
The Defensive Wizard:
Arguably the best defensive middle infield prospect in the Indians organization may be Argenis Martinez. He has very good speed but a suspect bat; however, there is not a player in the system that can pick the ball batter than him or who shows more athleticism at shortstop or second base. He is flashy at times, shows excellent range, and is a definite plus defender. Kevin Fontanez is another interesting defender in the organization at shortstop.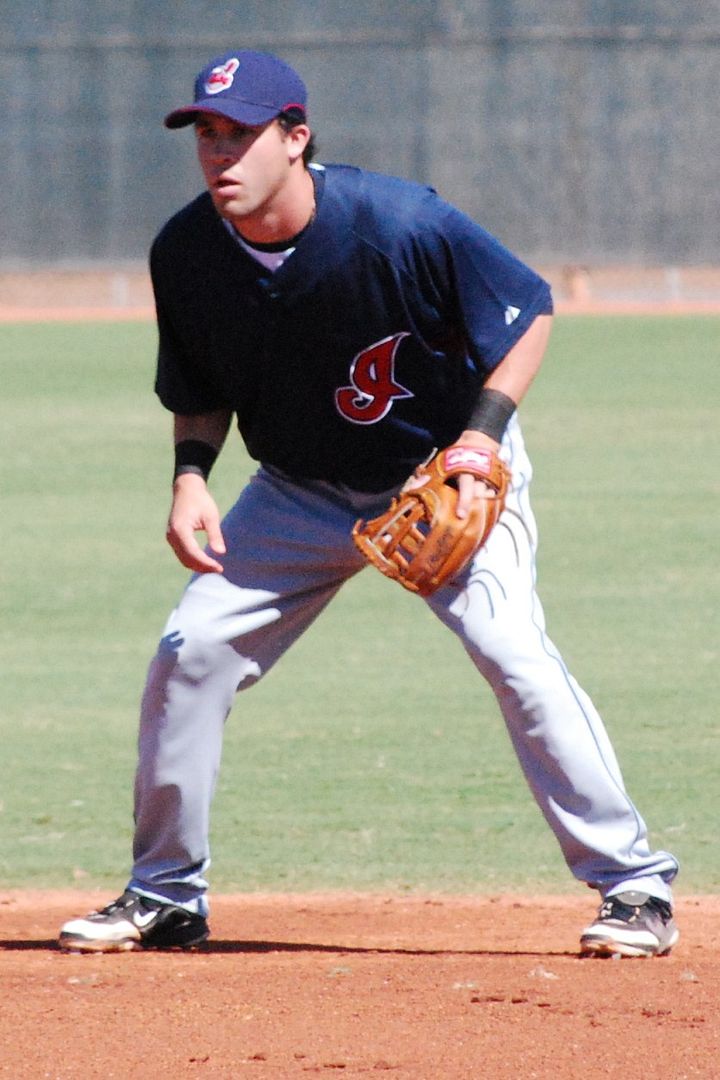 The Other Martinez:
While Argenis Martinez regularly put on a fielding display in camp, 16-year old Latin newcomer Jorge Martinez really had an excellent first showing in Instructional League. After signing with the Indians out of the Dominican Republic just two months ago, he showed the maturity and moxie at shortstop of a 20-21 year old (yes, he reportedly did pass the age tests!). He is just an average runner at best, but his long frame and quickness makes him an intriguing shortstop prospect because not only does he have good range and can pick it, but he projects well with the bat. Even though he is only 16 years old he already shows a good grasp of how to handle a wood bat and has shown the ability to drive the ball.
Third Power:
One of the more impressive offensive performers in camp was third baseman Kyle Bellows. He displayed some very nice raw power, and the position change from playing shortstop in college to now third base in the pros looks like a great fit. He shows a good arm at third base, comes in on balls well, and shows very good athleticism, accuracy and arm strength on balls hit deep down the line.
Aguilar! Aguilar!:
I got a first ever look at 19-year old first baseman Jesus Aguilar, a 6'3" 240-pound behemoth. He had the best season of any hitter in the Dominican Summer League this year, hitting .305 with 5 HR, 46 RBI and an .872 OPS in 55 games, all while exhibiting some impressive plate discipline with 31 walks to 24 strikeouts. At just 19 years of age he is very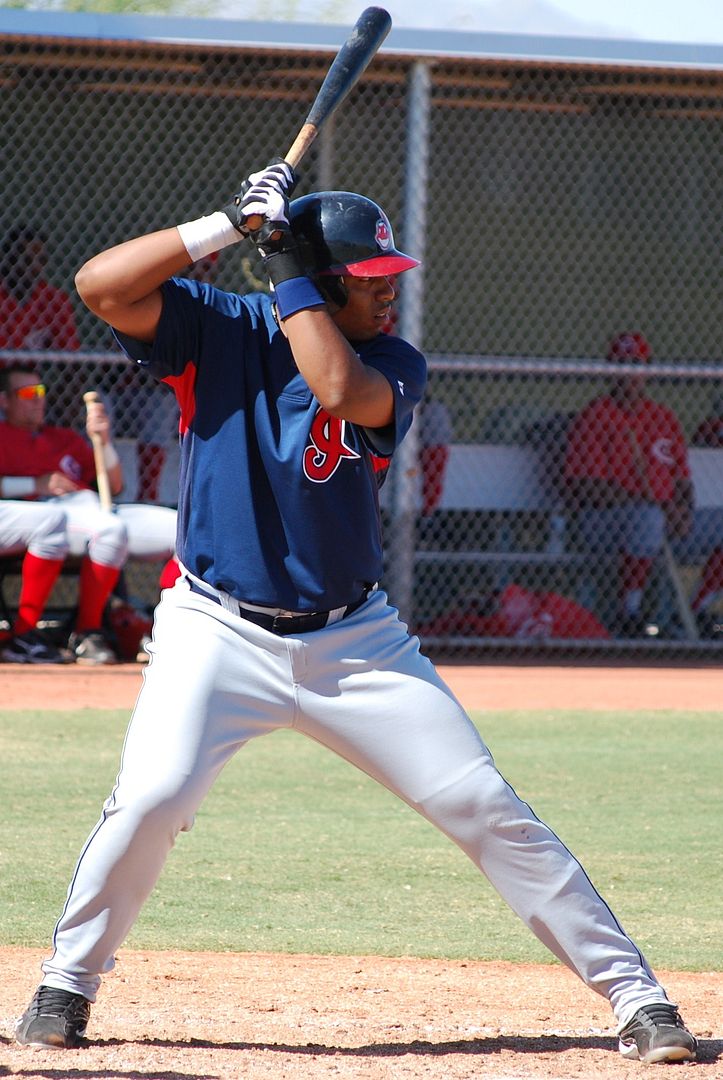 big and strong and showed some impressive power in batting practice and absolutely tattooed a ball over the left field wall in Wednesday's Instructional League game. He should be the first baseman next year for the Arizona League team, and is someone to keep an eye in down the road.
Parting Shots:
Giovanny Urshela was impressive defensively at third base, showing a very strong and accurate arm. He also displayed soft hands and looks to be a good defensive third baseman in the making. The question with him is his bat. He is not very big, and he still lacks much punch with the bat. ... Catcher Rolando Petit worked out a lot at first base, and it looks like the Indians are trying to add a little more versatility for him. He has a long way to go at the position as he looks very raw at the position. ... Trent Baker, Diori Robles and Jordan Henry showed some above average arm strength in the outfield. Henry is a center fielder, but he also worked out some in left field. ... Second baseman Casey Frawley is a scrappy player who does not have a lot of power, but he squares the ball up well at the plate and plays solid defense at second base. ... Catcher Moises Montero's bat did not impress much, but scouts liked his throwing arm a lot. ... Lake County manager Aaron Holbert managed the Parallel League team and do-everything player Adam Davis played almost exclusively at shortstop there.
User Comments
No comments currently. Be the first to comment!