Instructs Spotlight: Danny Salazar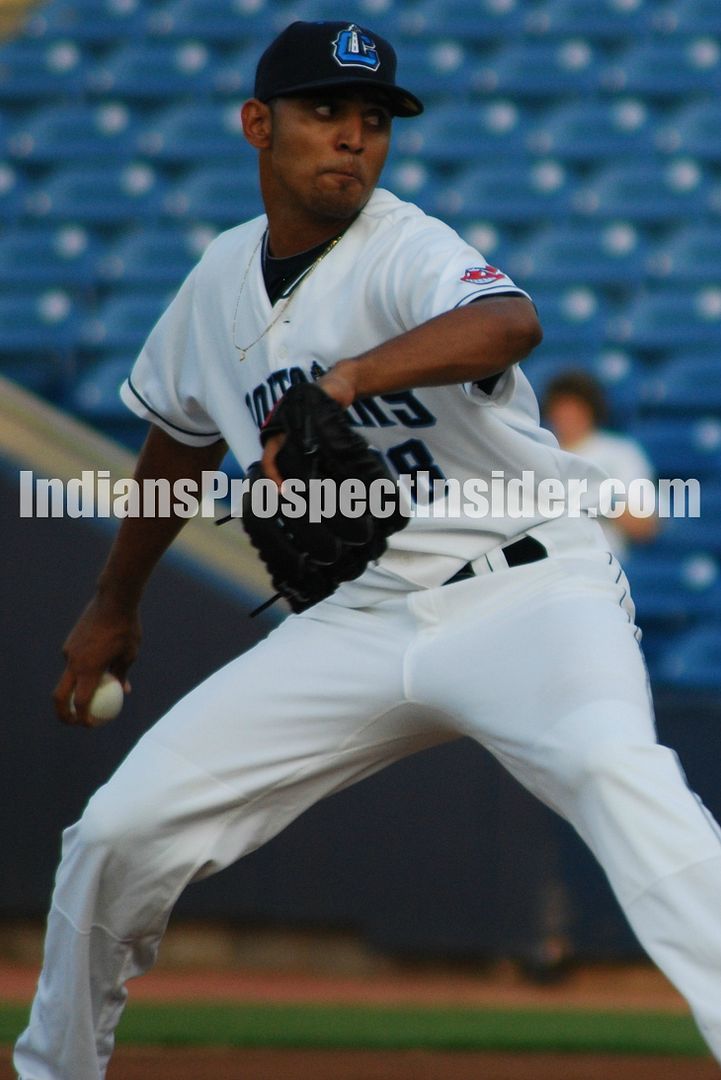 Danny Salazar (Photo: IPI)
The "Instructs Spotlight" is a weekly feature piece on a player from the Cleveland Indians farm system that is participating in the Fall Instructional League out in Goodyear, Arizona from September 14th to October 14th.
About a week and a half remains in Instructional League out in Goodyear, Arizona and some players like outfielder Tyler Holt have already gone home for the offseason. But a great many players remain.
One of the most impressive performances so far in Instructional League has been that of right-handed pitcher Danny Salazar. He is coming off of Tommy John surgery which was performed in August of last year so is still in the early stages of his initial return to the mound, but so far he has pitched very well.
Salazar returned to the mound for the first time in over a year back on August 3rd when he pitched in a game for rookie level Arizona. He made five appearances there and went 0-0 with a 2.70 ERA (6.2 IP, 6 H, 1 HR, 2 BB, 11 K) before being shuttled up to Low-A Lake County. He finished the last two weeks of the season in Lake County and made three starts going 0-2 with a 3.38 ERA (8.0 IP, 8 H, 0 HR, 2 BB, 7 K).
Performance is usually not something people put a lot of stock into when a pitcher returns to the mound for the first time from Tommy John surgery. A pitcher usually suffers from lots of fastball command issues and inconsistency with their secondary pitches as they work to regain the form, strength, and ability they had prior to the elbow injury.
But so far in Salazar's return he has been a little ahead of the curve and has performed better than expected. In Instructional League he is pitching lights out as in four games he has a 0.84 ERA in his 10.2 innings of work (7 H, 1 R, 0 HR, 0 BB, 7 K). He is still not a 100% but his performance along with his fastball sitting at 93 MPH and touching 95 MPH is very encouraging.
Salazar is happy to be done with the whole rehab process and back on the mound pitching in games.
"I went through a long, hard program, but I am thankful and now I know how to take care of my body better," Salazar said in a recent interview for the IPI. "I still don't feel a 100%, but with the job strength and conditioning has done with my rehab program I feel my strength is returning and I am close."
Salazar has actually split time this fall in the regular Fall Instructional Program and the advanced Fall Instructional Program (aka Parallel League). Once the fall league wraps up he hopes to continue pitching this offseason with a winter ball team in the Dominican Republic so he can get in some more innings before shutting things down for the rest of the offseason in order to let his body recover.
Salazar's main goal is to come into spring training next year 100% and ready go so he can win a job with one of the full season affiliates to start the season. He was one of the Indians higher rated prospects in the lower levels of the minors prior to his injury, so if he is healthy he surely will get another opportunity. Whether that is as a starting pitcher or reliever remains to be seen, but all that matters at this point is he is pitching again and doing well.
Another Spotlight: Felix Sterling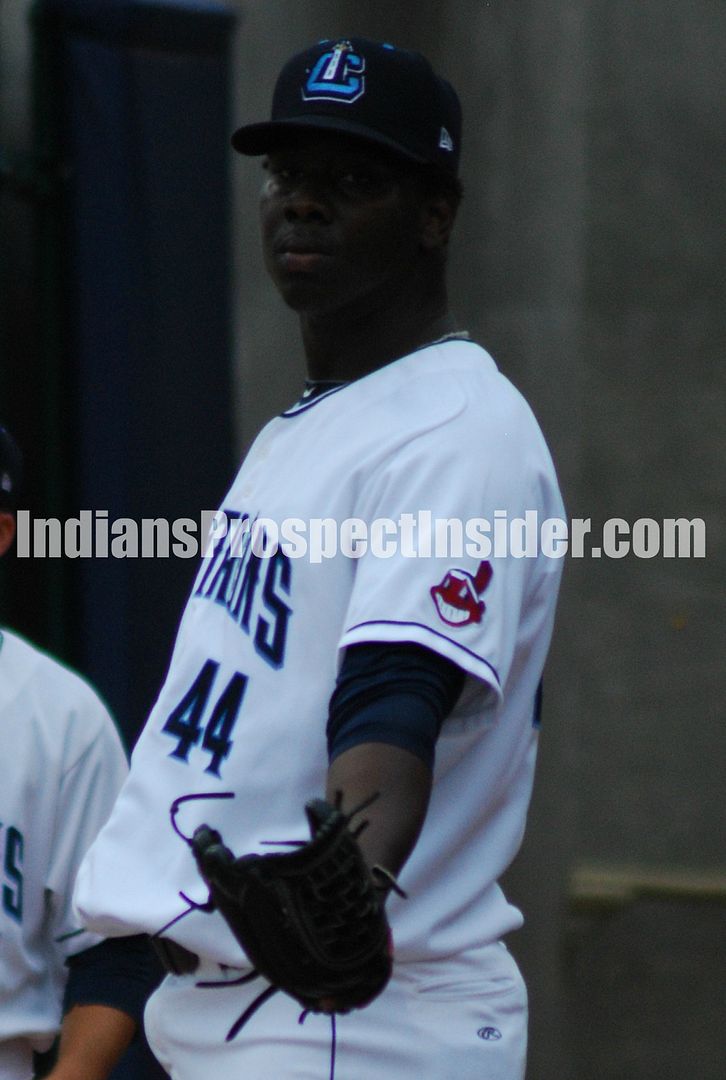 Felix Sterling (Photo: IPI)
Another pitcher who is pitching out in Instructional League who is continuing to work is right-handed pitcher Felix Sterling.
The big 6'3" 200 pound 18-year old Sterling had another good season this year going 4-6 with a 4.12 ERA (67.2 IP, 57 H, 7 HR, 33 BB, 66 K) in 15 combined starts between rookie level Arizona and Low-A Lake County. He finished the year at Lake County at a very young age and held his own, which shows how promising he is as a prospect and how highly the Indians think of him.
Sterling felt good about his season, but this fall in Instructional League he wants to continue to work on improving as a pitcher and getting in better shape.
"The good thing about my season is I was able to remain healthy and strong and felt pretty good," Sterling said in a recent interview for the IPI. "I am trying to improve as much as I can every single day. I have been working on my fastball command and getting leaner with my body by doing lots of strength and conditioning."
Once Instructional League wraps up late next week Sterling will go to the Indians' new academy out in the Dominican Republic and continue his offseason workouts. He has the raw tools to be a very good pitching prospect, but getting him in better shape and developing that fastball command could help him take a leap next year where he likely opens the season by returning to Lake County.
Follow Tony and the Indians Prospect Insider on Twitter @TonyIPI. Also, his latest book the 2011 Cleveland Indians Top 100 Prospects & More is available for purchase for $20.95 to customers in the US (shipping and handling extra).
User Comments
No comments currently. Be the first to comment!