Instructs Spotlight: Dillon Howard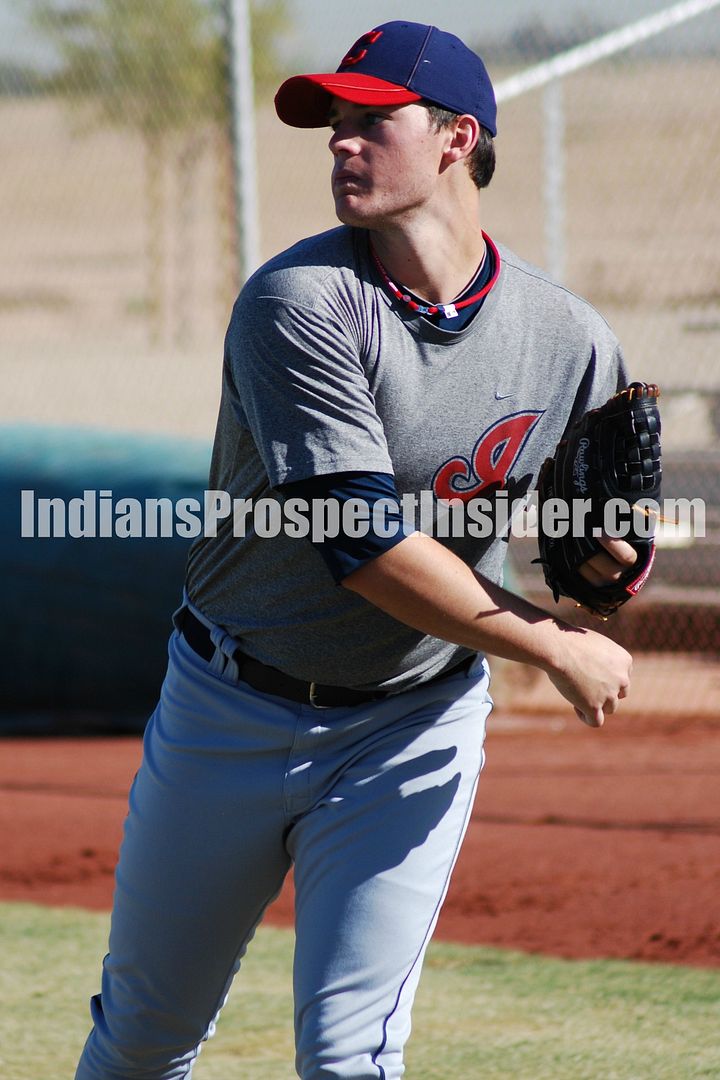 Dillon Howard (Photo: IPI)
The "Instructs Spotlight" is a weekly feature piece on a player from the Cleveland Indians farm system that is participating in the Fall Instructional League out in Goodyear, Arizona from September 14th to October 14th.
Another year of Fall Instructional League ended yesterday and it will officially come to a close today when the advanced Instructional League team (AZPL) plays their final game at 12:30p.m. in Glendale, Arizona.
All of the players involved in the fall instructional program are heading home with the 2011 season in their rearview mirror, but with thoughts of 2012 already starting to take hold.
One player especially anxious about 2012 and what it brings is right-handed pitcher Dillon Howard. He will make his professional debut at some point next season, possibly at Low-A Lake County, so there is certainly a lot for him, the Indians, and fans to be excited about next season.
The Indians selected Howard in the 2nd round of the draft this year out of Searcy High School in Arkansas. Contract negotiations carried on throughout the summer until he was finally signed minutes before the draft signing deadline on August 15th. It was the first and last time he went through the signing process, and he has no regrets with how it all played out.
"It was quite eventful, but I am glad to be here and glad to get it done," Howard said on Wednesday. "There is a lot of talk and a lot of stuff that goes on before you do hear your name called. I just tried to handle that stuff and put it in the back of my mind by just staying busy and not letting it consume me. It was an exciting time and I did enjoy going through it."
There were a lot of people who thought that Howard would be a tough sign because he had a very strong commitment to the University of Arkansas, which is why he fell to the second round even though he had first round talent. But the Indians did their homework prior to selecting him and always felt that there was a very good chance they could sign him. It also helped that Howard was very open to signing and was not completely locked into going to school.
"It was a tough decision," Howard said. "I have been around that campus [at Arkansas] for a long time and got to know all the coaches pretty well. They did not pull me either way as they wanted what was best for me, and I really appreciated that throughout the whole process. I just felt like this is where I wanted to get started and where I needed to be and I think I ended up in the right spot."
Howard pitched over the summer for the Midland Redskins, a juggernaut high school travel team which won the Connie Mack World Series in early August. Even though he signed late he pitched over the summer, so it was felt that he would be ready to come in and pitch a few games at the end of the season for one of the Indians' affiliates. But his health had other plans, so he did not end up pitching until Instructional League.
"Right after I signed I had my wisdom teeth taken out so I was down for about a week with that," Howard said. "Then I got sick, so I did not have much time to prepare. But I got in here and settled in and I just worked into it nice and easy."
Instructional League has been Howard's introduction to pro ball. While it is still a far cry to what he can expect with the craziness that is spring training and what real games will be like in front of real fans and when the stats count, it still helped orientate him to the game.
"Instructs is going well," Howard said. "It is a good way to get your feet wet and get a taste of what pro ball is like and how you go about your business. I feel good and comfortable, and I am getting to know the guys who are catching me."
It is still early on in the process and the Indians are getting to know Howard so they have yet to make any adjustments with his pitches or mechanics. Right now it is mostly about him just picking up all the nuances of pitching and becoming a pitcher rather than a thrower. He needs to learn the cerebral part of pitching and also all the other parts that go into it like fielding your position, controlling the running game, reading swings, and so on.
"Pro hitters are different from high school hitters as they have a different approach and you have to attack them differently," Howard said. "I am just kind of learning and picking the pitching coaches brain to learn how to pitch. I am trying to make everything that I do a little bit better. There is just so much more to pitching than you really know before you get here. Holding runners on and all of that, it is a lot more in depth than people realize."
In addition to learning what it takes to be a pitcher, another thing that Howard has quickly picked up on is what it takes to be a professional.
"It is definitely eye-opening just the way all of these guys go about their business," Howard said. "That is what I am here learning is how to be a professional."
Now that the offseason is officially here Howard will go home and visit family and attend some Razorback football games. But soon he will get right back after it as he gets set to begin his first full season as a professional baseball player and finally make that minor league debut.
"I will do a lot of strength and conditioning stuff [this offseason]," Howard said. "I will pick up a ball in late December and just do the same thing I have been doing out here and work my way back into it to get ready for spring training."
Notebook
The Indians recently signed Taiwan right-handed pitcher Shao-Ching Chiang to a minor league contract. He turns 18-years old next month and is a young player out of Taiwan that the Indians think has some good upside, particularly as a starter. He throws a fastball that ranges from 88-92 MPH and complements it with a slider and splitter, but he is also working on a changeup. He is athletic as he also played outfield as an amateur in Taiwan, but he is raw and the Indians will likely be patient with him. He probably will initially be developed as a starter.
Another pitcher who is interesting in Instructs is right-handed pitcher Estevenson Encarnacion. He had a very good season in the Dominican Summer League where he made 27 appearances out of the bullpen and went 7-2 with 9 saves and a 2.70 ERA (43.1 IP, 26 H, 0 HR, 28 BB, 47 K). He is tough to hit and throws hard (up to 96 MPH), but he is also very raw and still lacks much command of his fastball so he walks and hits a lot of hitters. Even still, he is an interesting power arm to monitor going forward.
Third baseman Jordan Smith connected on his first homer of Instructional League yesterday and in fact his first home run as a professional. He showed his power potential by taking a letter high fastball out deep to right center. He hit a lot of doubles this past season at short season Single-A Mahoning Valley but did not hit a home run, and with more maturity and time there is a general belief the home runs will come. He is a guy that is tough to get a true read on right now but is very intriguing and will be a lot of fun to monitor his progress next season.
Left-handed pitcher Shawn Morimando and right-handed pitcher Manuel Carmona had a two inning stretch to forget yesterday. It will go into the books as two innings, but what actually happened is Carmona started the 6th inning and just could not throw a strike. After a few hits and some walks he was pulled because of pitch count and only recorded one out. Morimando came in and finished the inning by recording the final two outs but also struggled with his command. Morimando came back out in the 7th inning but he did not record an out and his pitch count was ultimately reached so the inning was "flipped". This is often done in Instructional League and spring training minor league games so as to not overexpose pitchers. In the end Morimando and Carmona combined to throw just 1.0 inning (even though it was two innings) and gave up 9 runs on several hits and walks (including at least two homers). It was definitely a learning experience for both.
Right-handed pitcher Cody Anderson was impressive yesterday. It was my first time seeing him, but he has nice size and the first impression that I got was that he really overpowers hitters with his size and 94-96 MPH fastball. He is very raw as a pitcher as he just transferred to the mound two years ago, but there is something to work with there. While he may or may not be a starter I think he is another power arm to keep an eye on next year and should open the season at Low-A Lake County.
Follow Tony and the Indians Prospect Insider on Twitter @TonyIPI. Also, his latest book the 2011 Cleveland Indians Top 100 Prospects & More is available for purchase for $20.95 to customers in the US (shipping and handling extra).
User Comments
No comments currently. Be the first to comment!