Instructs Spotlight: Jake Lowery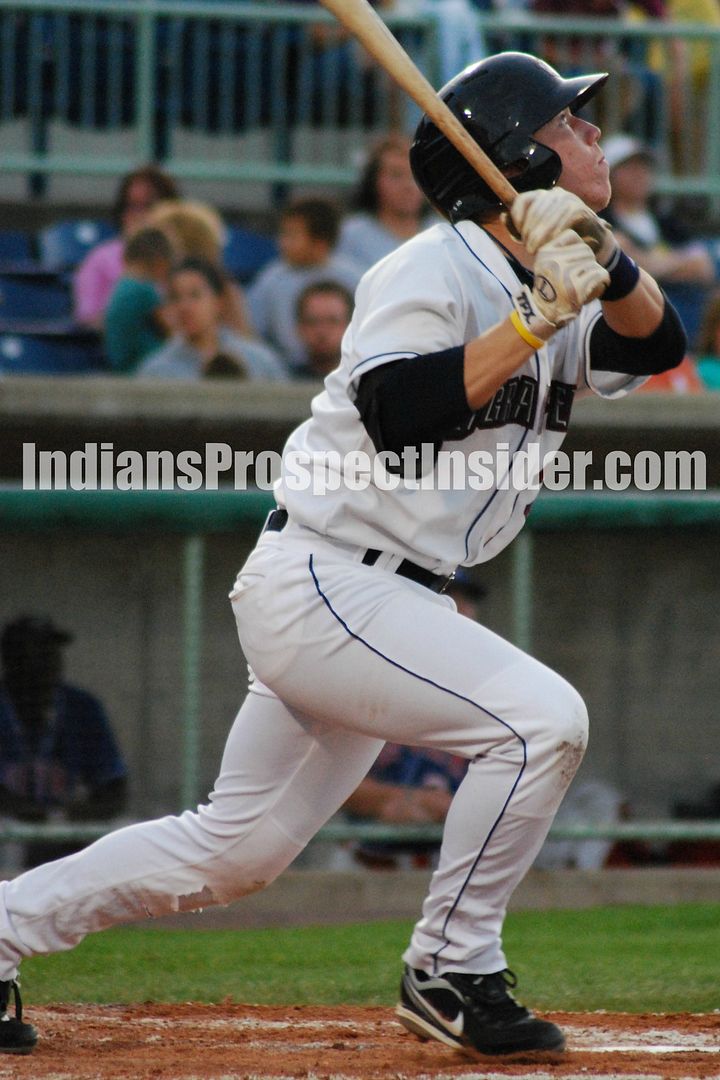 Jake Lowery (Photo: IPI)
The "Instructs Spotlight" is a weekly feature piece on a player from the Cleveland Indians farm system that is participating in the Fall Instructional League out in Goodyear, Arizona from September 14th to October 14th.
Week number three starts today for the month long Instructional League out in Arizona. Right about now some of the players will be departing that are attending just for strength and conditioning or to get a few games in will.
One player who is likely to stick awhile longer is catcher Jake Lowery. He had a nice professional debut this year at short season Single-A Mahoning Valley where in 69 games he hit .245 with 6 HR, 43 RBI and .792 OPS. His year at Mahoning Valley was a very nice debut, and he needs to use this time in Instructional League to continue his adjustment to the pro game and also get him more at bats.
"Yeah, I think I am starting to settle in and feel like I fit in," Lowery said in a recent interview for the IPI. "I am just getting used to the hours. Baseball is baseball. What happens between the lines is the same thing as in college just these guys are better. It has been fun."
One of the things that was endearing to the Indians about Lowery going into the draft was his makeup. He no doubt had some impressive tools with the bat and throwing arm, but his makeup and the way he approaches each at bat and every game is something not often found in players.
"I try to go out and take every at bat serious and not take at bats off," Lowery said. "Just play the game the right way and play hard and everything else will take care of itself. Just play hard and help my team win any way I can."
Lowery is a strongly built catcher who had a breakthrough season at the plate this year at James Madison University. In 61 games he hit .359 with 24 HR, 91 RBI and 1.239 OPS, which was a sizable increase from his performance in 2010 when in 48 games he hit .285 with 8 HR, 41 RBI, and .867 OPS. As a freshman in 2009 he hit .243 with 1 HR, 17 RBI and .703 OPS in 46 games.
The big bump in Lowery's performance this year in college is even more impressive considering that a lot of numbers for players dipped across the board thanks to the new composite bats used for the first time this year. It resulted in him being slotted as a third to fifth round pick going into the draft, and the Indians ultimately took him in the 4th round.
"I was slated to go right where I got picked, so I was fortunate that it worked out," Lowery said. There was not a lot of stress involved or anything like that. I was just looking for a team to pick me up, and luckily for me it was the Indians."
Lowery split time this season between first base (11 games), catcher (25 games) and designated hitter (33 games). While he exhibits a nice, patient approach offensively where he draws walks (54) and piles up the extra base hits (30), it is his defense which will need to show the most improvement as he continues to march his way through the Indians minor league system.
The Indians will continue to play him at first base from time to time in order to keep his bat in the lineup and also to keep that as an option for him in the future, but they are committed right now to developing him as a catcher.
"Jake shows a lot of promise both behind and at the plate," Indians catcher coordinator and Mahoning Valley manager Dave Wallace said. "He led the league in extra base hits and walks. I know his average wasn't where he wanted it to be, but we stressed to him to keep doing what he is doing and stay within himself and his approach and not get caught up in the numbers. There are adjustments that he is going to have to make at the plate and behind the plate, but we have no doubt that he is going to be able to make them."
One area that Lowery and Wallace worked on this season in Mahoning Valley and have continued to work on in Instructional League is blocking balls in the dirt.
"We have been concentrating on blocking the ball," Wallace said. "When he goes down to block he wants to glove everything instead of keeping the ball down to cover up the hole and controlling the ball with his chest protector. He gets away with it most of the time because he is a good athlete and has good hands, but there is going to be that one time where he stays low and it skips underneath and it may cost us. It is one of those things he has done his whole life and it is just going to take time to break the habit. We have plenty of time in Instructs to work on it."
Lowery has a good understanding of what kind of player he is, which is one of the things the Indians really like about him. A lot of times first year players will try to do too much in order to impress front office personnel and ultimately it hurts them, but with Lowery the Indians know he is not going to try to do too much and that he will stay within himself.
"I think I am a guy who gets on base and can score runs," Lowery said. "I don't try to hit home runs or anything like that as I have been fortunate to hit some home runs this year, but the power will come. I just like to drive the gaps, get on base, and throw runners out."
Lowery knows where his strengths and limitations are as a player, and will use these final two-plus weeks of Instructs to continue to improve areas in need of improvement and to fortify areas of strength.
"I just want to put good at bats together every day and not worry about the next day or the day before," Lowery said. "Just focus on the task at hand whether I am playing first, DHing, or catching or hitting in a big spot. I just want to put good at bats together and hit the ball as hard as I can."
Notebook:
Outfielder Bo Greenwell has been playing first base in the Parallel League, but from what I have heard he is playing there more because that is where the at bats are and not that a position switch is in order. The Indians still view him as an outfielder.
Shortstop Tony Wolters has been playing exclusively at second base in games so far in Instructs, a move that is expected to occur next season with the presence of shortstop Francisco Lindor. He and Lindor are expected to be the opening day keystone combination at Low-A Lake County next year. It won't be the first time for them as they were the keystone combo on Team USA's junior team last summer.
There have been a few professional and season debuts by pitchers this fall. On Saturday 2nd round pick right-handed pitcher Dillon Howard pitched in his first game as a professional. Also, right-handers Hector Ambriz and Alexander Perez made their first appearances in a game this year since Tommy John surgery last year. Howard is pitching in Instructional League while Ambriz and Perez are both pitching in the Parallel League.
On the subject of fall league action, the players the Indians will send to the Arizona Fall League are still unconfirmed. Left-handed Matt Packer and right-hander Austin Adams were both originally scheduled to take part, but the Indians decided that due to their workload this season that they would be shutdown and not go to the AFL.
The Indians plan to send three position players to the AFL. Outfielder Tim Fedroff and catcher Roberto Perez are two of them, but the third is still undecided. Outfielder Thomas Neal was expected to be the third, but his injury prevents him from being an option for now.
Follow Tony and the Indians Prospect Insider on Twitter @TonyIPI. Also, his latest book the 2011 Cleveland Indians Top 100 Prospects & More is available for purchase for $20.95 to customers in the US (shipping and handling extra). Use discount code 2Z6F362B to receive 40% off the book through the site store!
User Comments
No comments currently. Be the first to comment!