Instructs Spotlight: Jordan Smith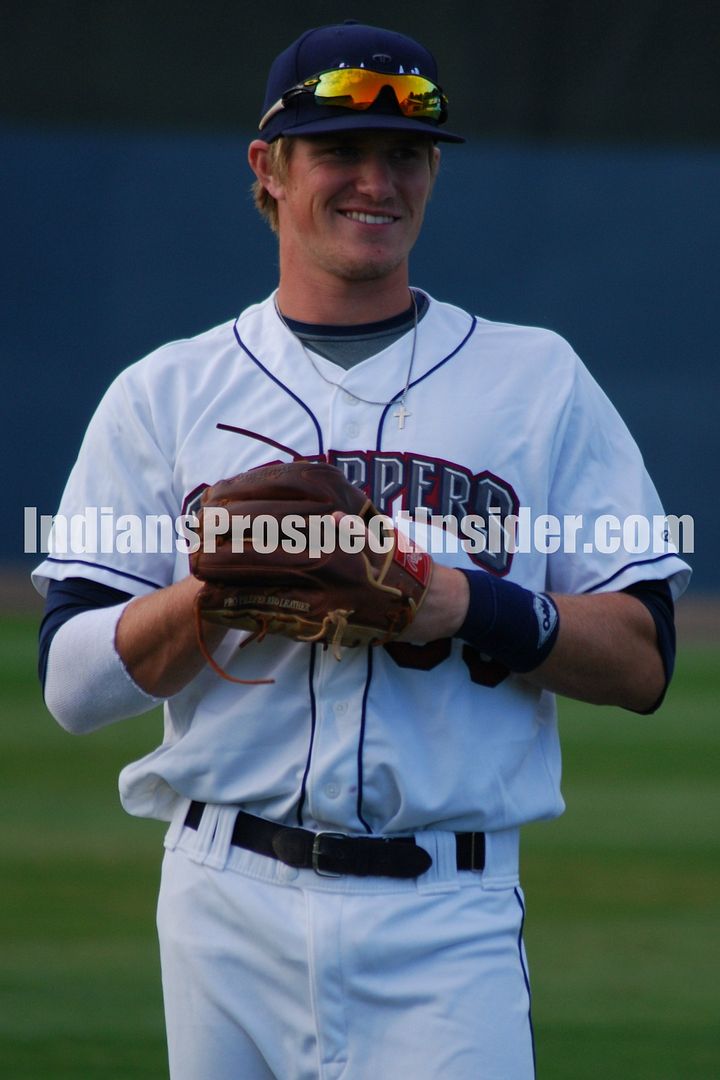 Jordan Smith (Photo: IPI)
The "Instructs Spotlight" is a weekly feature piece on a player from the Cleveland Indians farm system that is participating in the Fall Instructional League out in Goodyear, Arizona from September 14th to October 14th.
Instructional League wraps up today as the final game in the Fall Instructional League for Indians players is today at 9:00am here in Arizona. The advanced Instructional League team will play one final game tomorrow before wrapping up their fall league play. Aside from those players rehabbing from injuries, by 4:00pm on Friday all players in the Fall Instructional League program will depart home for the offseason.
With this being the final spotlight piece in Instructional League, what better way to end it than to put the spotlight on a player who really had a good season this year at short-season Single-A Mahoning Valley and is a promising prospect. That player being third baseman Jordan Smith.
Smith, 21, was the Indians' 9th round pick in this year's draft out of St. Cloud State in Minnesota. He hit close to .350 all season at Mahoning Valley, but he hit just .197 in his final 17 games and finished the season hitting .300 with 0 HR, 47 RBI and a .794 OPS in 65 games. In addition to the good run production, where he also impressed was with his eye as he had more walks (35) than strikeouts (30).
Smith hits the ball well to all fields and really shows good patience at the plate and an ability to make consistent, hard contact. He did not hit any home runs at Mahoning Valley, but with his size (6'4" 200 pounds) he has the frame and strength to start turning some of those doubles into home runs once he better adjusts to wood bats and starts filling into his body more.
Smith played both outfield and third base in college, and he played both in his pro debut at Mahoning Valley this year as he played 45 games at third base and 19 games in the outfield. For now the Indians appear intent on developing him as a third baseman as that is where he is getting all of his work in Instructional League. He shows good athleticism and a strong arm at third and his bat certainly looks like it will play there.
"I have played a lot at both positions," Smith said in a recent interview for the IPI. "I am comfortable at both so it doesn't really matter where I play. Third is where I will be, but to just give me a little break or a breather they may play me in right as an off day type thing."
At this time about four months ago Smith had no idea he would be playing pro ball, much less what team he would be playing for. As a draft eligible sophomore his future was pretty much in his hands as he could go back to school and still be eligible in next year's draft and even the 2013 Draft if he did not sign as a junior.
Even still it was an excruciating experience for Smith on draft day. Going into the draft he felt that if he were picked before the 15th round that he would sign, and that is exactly what ended up happening.
"I was actually at practice in the Cape Cod League and I tried to keep my phone on me," Smith said. "Then I got a call from the Indians that they picked me. I looked at my phone as I did not know what round I went in. I had like a 100 texts so I was trying to figure it out, and then my sister called and told me."
With Instructional League wrapping up Smith will go home to Minnesota and continue to work out and get ready for his first full season next year. As a player from a cold weather state he will be challenged with how he goes about getting in the required reps in the cages and on the field to stay on top of things, but his former college has the facilities to accommodate him.
"I will go home and work out and practice with the local teams to stay in shape," Smith said. "We have a dome that is on our football field so we practice in there. It works out well for practices and batting cages and whatnot."
Smith certainly impressed this season with his good eye, approach, and developing power and size at the plate. It is what makes him such an interesting prospect to watch next year to see what he does in his first full season. The focus for him this offseason will be to get stronger, continue to work on his consistency, and to hone in on his defense at third base.
"There is always room for improvement," Smith said. "I will just continue working on the small things. I am trying to go out there and be consistent and just have the same approach every day and play good defense. I want to hit over .300 and keep the errors down and keep doing what I need to do to climb the ladder."
Notebook
I'm currently out in Arizona for the final few days of Instructional League and to see some of the Arizona Fall League action. Here are some notes from Instructional League:
Left-handed pitcher Scott Barnes is in Arizona rehabbing from surgery on his left knee to repair a torn ACL that he suffered back in early July. He is about 12 weeks into his rehab and it is going well, and he will remain in Arizona for most of the rest of the offseason to continue his rehab. He is expected to be ready to go by the start of spring training, although it remains to be seen how conservative the Indians will be with him when he returns.
Outfielder Nick Weglarz is in Arizona rehabbing his left elbow. It is getting better, but the rehab process is still ongoing. The best thing for him this offseason will be to get some much needed rest and use the time wisely to come into spring training 100% healthy and in the best shape of his career as next year is a big year for him.
Right-handed pitcher Jason Knapp is in Arizona rehabbing from right shoulder surgery. Things are going well for him and he is still expected to be ready for the start of spring training. He threw soft toss yesterday from about 30 feet.
Chad Huffman is in Instructional League this week to get him ready for the Arizona Fall League. He is expected to join up with his Arizona Fall League teammates sometime this weekend or early next week and when he does he will play first base. He spent a good amount of time with coach Anthony Medrano after practice yesterday taking a lot of groundballs at first base.
The Indians top two prizes in the International market this July - shortstop Dorssys Paulino and outfielder Anthony Santander – spent a lot of extra time after practice working with Latin America Field Coordinator Minnie Mendoza on bunting and other hitting fundamentals.
Follow Tony and the Indians Prospect Insider on Twitter @TonyIPI. Also, his latest book the 2011 Cleveland Indians Top 100 Prospects & More is available for purchase for $20.95 to customers in the US (shipping and handling extra).
User Comments
No comments currently. Be the first to comment!