Instructs Spotlight: LeVon Washington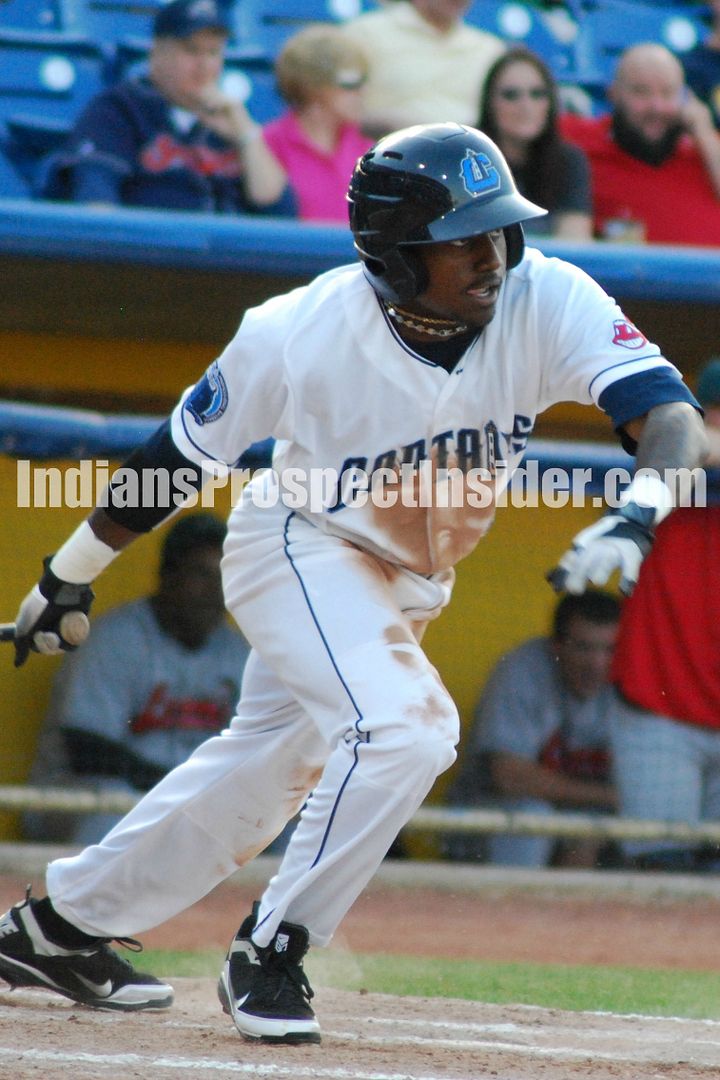 LeVon Washington (Photo: IPI)
The "Instructs Spotlight" will be a feature piece once or twice a week featuring one player from the Cleveland Indians farm system that is participating in the Fall Instructional League out in Goodyear, Arizona from September 14th to October 14th.
The 2011 Fall Instructional League gets underway today out in Goodyear, Arizona. For some of the 50-some players participating in it they are finishing the season where it all started back in March. For the newer players it is a chance to get acclimated to a spring training environment as well as get in a few more games and instruction as they finish out their first season as a professional.
The Instructional League program also provides an opportunity for some players who missed significant time over the course of the season to make up some at bats and innings pitched. Such is the case for outfielder LeVon Washington.
Washington, 20, was only able to play in 79 games this year for Low-A Lake County and ended up hitting .218 with 4 HR, 20 RBI, 15 stolen bases, and a .647 OPS. It was a disappointing year from a performance standpoint as so much more was expected from the 2010 2nd round pick in his first full season, though the injury bug really had a hand in affecting his play all season.
Washington had hip surgery last offseason and was slowed by it some in the spring, and a minor knee injury affected him most of the season. He is probably the most disappointed of anyone by the year end numbers, but he knows he can play better.
"My season [was] alright," Washington said in a recent interview for the IPI. "I have just been trying to stay healthy, get better, and get a lot of at bats. I am not trying to make excuses as my numbers [were] not where I wanted them, but I know I can play and I guess I just have to prove it."
Washington also suffered from heat exhaustion in July. It happened during the hot spell that draped most of the Eastern part of the United States in mid-July which saw the heat indexes reach well over 100 degrees along with suffocating humidity. After the game on July 17th he started cramping up really bad and had to be admitted to a hospital and have an IV put in and several blood tests were done to ensure he was okay.
The heat exhaustion incident came about at a bad time as Washington was just starting to get things going. He was 7-for-15 at the plate in the four games prior to going down for almost four weeks.
"I did not drink anything," Washington recalled. "It was an early game at 12 o'clock and a 115 heat index and I played the whole game. I did good as I had two hits and I think I stole two bases, but by the end of the day I started cramping up really bad."
While Washington was out it gave his body a chance to rest and for his nagging minor knee injury to go away. It also was a lesson learned in how to properly prepare his body before games with what he eats and to hydrate well.
"I definitely learned a lot on and off the field this year," Washington said. "Everything with how to eat, sleep, and just stay in a routine."
The injuries were not the only thing to affect Washington this past season. Some of his struggles at the plate this season can be attributed to a new stance he incorporated in the offseason.
"Nothing really changed with my approach as I try to see a good fastball and hit it," Washington said. "But my stance has changed since college as my hands [are higher]. This is my first year with my hands [up there] and it is getting better. I used to have my hands down low and crouched, kind of like Carlos Moncrief but lower."
Washington is also still learning how to play the outfield. His athleticism plays well in the outfield, but he is also a converted middle infielder who has now played just two years in the outfield, and one of those two years was mostly in junior college last year. While his hitting will certainly get some work during Instructional League, it is his outfield play which will likely get the most focus.
"I have been trying to get better out there," Washington said. "It has been rough and I am trying to learn to play the outfield as I have not played out there that much. I just need work getting reads and getting more comfortable out there. That's about it. I am sure I am going to get better in Instructs at it because last year I went to it and we did a lot of routine stuff and I got better. I am going to get worked out there I already know it (chuckles)."
Once Instructional League finishes up in about four weeks, Washington will go home and work out and use the new batting cage he recently built at his home.
"I am getting a cage built in my back yard and I am just going to work out every day and hitting off the tee and doing soft toss," Washington said about his offseason plans. "It is going to be a different offseason as I know what to expect now."
Washington's first full season as a pro was definitely a struggle, but it is something he hopes he can learn from and come back next season and be the kind of player he knows he can be.
"I did not accomplish my goals this year that's for sure," Washington said. "Next year I want to come in healthy and ready to play the whole season and play better."
Follow Tony and the Indians Prospect Insider on Twitter @TonyIPI. Also, his latest book the 2011 Cleveland Indians Top 100 Prospects & More is available for purchase for $20.95 to customers in the US (shipping and handling extra). Use discount code 2Z6F362B to receive 40% off the book through the site store!
User Comments
No comments currently. Be the first to comment!