Instructs Spotlight: Trey Haley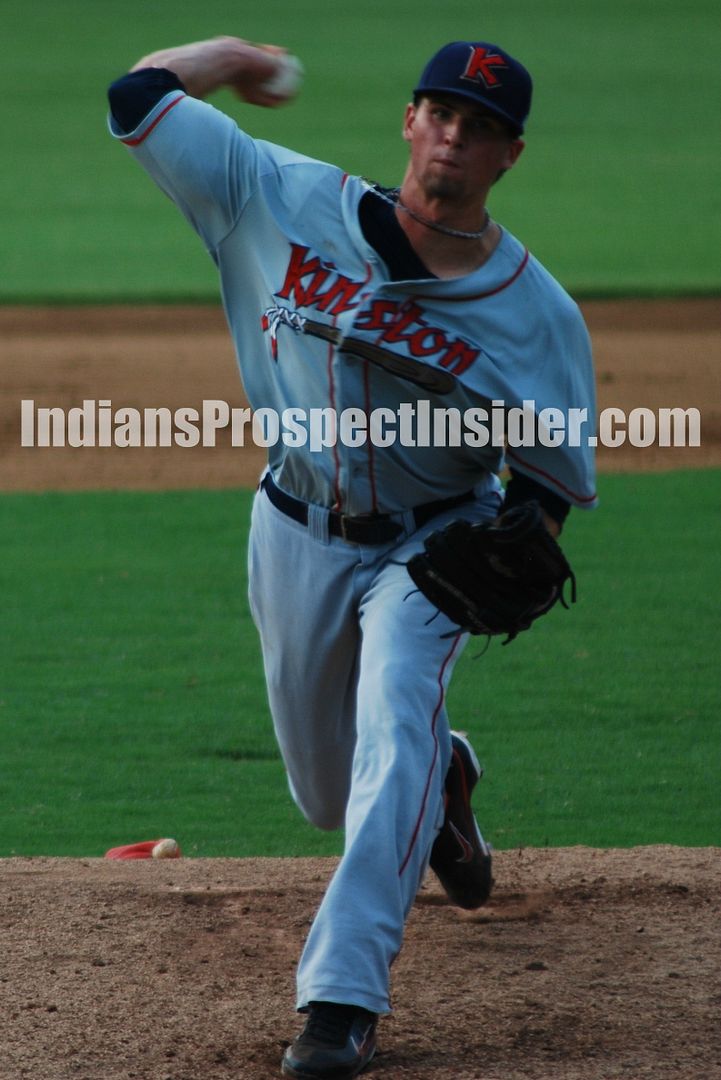 Trey Haley (Photo: IPI)
The "Instructs Spotlight" will be a feature piece once or twice a week featuring one player from the Cleveland Indians farm system that is participating in the Fall Instructional League out in Goodyear, Arizona from September 14th to October 14th.
Week two of the four-week Fall Instructional League program out in Goodyear, Arizona kicks off today. Some players taking part in the two-week strength and conditioning program will already be packing their bags and heading home for the offseason by the end of the week while others stick around for a few more weeks.
One player who may depart earlier than the October 14th end date is right-handed pitcher Trey Haley. He is making up some innings and getting some additional instruction for a few weeks, but is expected to depart for home by the end of the month.
Haley, 21, had his best year as a pro this season where in 29 combined appearances (3 starts) at Low-A Lake County and High-A Kinston he went 1-1 with a 3.25 ERA. In 44.1 innings he allowed 30 hits, 25 walks, and had 48 strikeouts.
"Other than the groin injury everything feels great," Haley said in a recent interview for the IPI. "I am [out here] for a couple of weeks to get some more innings in. I will do that and then go home and work out this offseason and see my family."
Haley needs to get those extra appearances in because of nagging groin injury which affected him all season. When spring training started he was being built up to be in the starting rotation at Lake County or Kinston to start the season, but the groin issue popped up early in camp which resulted in him missing some time intermittently throughout the season. Even with the injury he still managed to pitch through it and had a good year.
"It was pretty tough as it [affected] my push off leg," Haley said. "When pushing out [in my delivery] it stretched it and in the follow through it stretched it again. Earlier in the year I went out to Arizona and worked with James Quinlan and he got me healthy. It still gets sore probably once a week, but other than that it feels good."
Even with the nagging groin injury Haley's performance spiked this season as all of his rates improved dramatically. Coming into the season he had a 9.0 H/9, 0.9 HR/9, 7.3 BB/9, and 7.2 K/9, but he improved on all those rates this year with a 6.1 H/9, 0.2 HR/9, 5.1 BB/9, and 9.7 K/9. The walk rate is still high, but there is noticeable improvement there and in addition to that he is missing more bats by allowing less hits and home runs as well as getting more strikeouts.
"I feel really good," Haley said. "My velocity has been very good and I started throwing a slider this year, so I am mixing in that along with the curveball. I topped out at a 100 MPH this year and have been upper 90s for the most part. Some games I will be 95-98 MPH and some nights 97-99 MPH. It just depends on how the arm feels on any given night."
The spike in Haley's performance is not necessarily the result of any big mechanical changes in his delivery, but more just the constant work over the past few years with implementing the delivery changes the Indians asked him to do. Initially there was a lot of thinking involved which affected his performance, but now things are more natural which has allowed him to concentrate on doing what he does best....throwing a baseball.
"I just think that over the years things are finally starting to come together as a whole," Haley said. "Instead of working on mechanics everyday, now I can leave those alone and not think about it so much and just pitch. My first couple of years I worked on mechanics everyday and I think it is just finally starting to come together and be more natural and I am able to maintain what I am doing."
Kinston pitching coach Mickey Callaway had Haley all of last season in Lake County and for most of this season in Kinston and agrees that Haley is just becoming more focused and comfortable with his mechanics.
"I think for him he is really focusing more than he did last year," Callaway said. "He has done some things not necessarily to change his mechanics but to make him focus more on what he is trying to do and keep him from worrying about what is going on externally. He has done some really good things there."
Haley's temporary shift to the bullpen may have also had something to do with his performance spike as he looked more at ease pitching in relief and just letting it air out one or two innings a night. The bullpen role is still considered temporary because the Indians have not given up on him as a starter, but after his performance spike pitching in the role they may have to reconsider putting him back in the starting rotation next year.
"I enjoy the bullpen," Haley said. "I started off the year as a starter in spring training, but when I injured my groin and kept injuring it I couldn't really start. I like either role. Coming out of the bullpen I can throw all of my pitches from the get go instead of maybe saving something for the later innings."
Even though it was a frustrating year for Haley with working around the groin injury it was still a very encouraging year with his improved performance.
"I think it was a pretty good year," Haley said. "Obviously I wish that my groin had not gotten hurt, but other than that it was a pretty good year being able to command my fastball and mentally just being able to slow the game down. I feel like this year everything we have been working on the past couple of years has been coming together. I think it has been showing out on the field and it has just become a lot easier to go out there. Another thing we have worked on is trying to slow the game down and pitching at my pace, and that has helped a lot too."
With the offseason almost officially here for Haley he just wants to continue to workout this offseason to add more weight and get stronger. He came into the organization at 175 pounds and has added 30 pounds of weight over the last three years and wants to add more this offseason. If he can get healthy and continue to get stronger he hopes that he can carry over his success from this season to have an even better season next year.
"I think I am going to try to add some more weight and just continue to get stronger and better physically this offseason," Haley said. "Just come into spring training and continue to show that I can throw strikes. If I can show that, everything else will take care of itself."
Follow Tony and the Indians Prospect Insider on Twitter @TonyIPI. Also, his latest book the 2011 Cleveland Indians Top 100 Prospects & More is available for purchase for $20.95 to customers in the US (shipping and handling extra). Use discount code 2Z6F362B to receive 40% off the book through the site store!
User Comments
No comments currently. Be the first to comment!