IPI Inbox: Will the Indians consider long term extensions?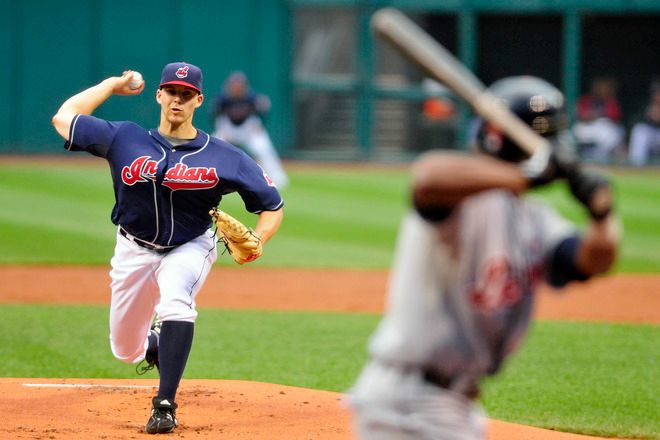 The Indians look like they will just continue to
go year to year with players like Justin Masterson.
(Photo: AP)
It is time for another IPI Inbox to talk about some of the questions from the minors to the big leagues that Indians fans have asked of late. It has been awhile since I did one of these, so I felt with the holidays fast approaching that now would be a great time to clear out the IPI Inbox and answer some of the popular questions surrounding the Indians these days.

If you have a question on anything pertaining to the Cleveland Indians from the minors to the big leagues that you would like answered in a future inbox, feel free to contact me. I also pull from questions in the comments sections in articles, and also from Twitter, so you can post your questions there as well.

Merry Christmas and Happy Holidays.

To the IPI Inbox we go.....

Jeff N. wrote: The Tribe got burned on the last round of contract extensions to their core (Hafner, Westbrook, Grady, Peralta, Carmona). Do you think they'll try to extend this current crop of youngsters or flip them for parts rather than take the risk of injuries/underperformance that killed the '08 and '09 teams?

Me: I think the days of the long term pre-arbitration contracts for the Indians are a thing of the past. At one point it made sense for the Indians to sign their core young players to long term deals as it was very cost beneficial for the team, but with the rising cost of these long term deals and with how snake bitten they have been with long term contracts the last few years, they will continue to be rare going forward. You used to be able to lock up a young star for five to six years for $10-13 million total, but now it takes double or even triple that amount.

The Indians have not said so, but it really looks like the new plan of attack with players in their pre-free agency years is to just continue to go year to year with them. It is the only way to ensure that they are paid a correct amount on a yearly basis since what they did the previous year has a strong bearing on how much they make the next year. If a guy has his contract balloon in his arbitration years because he goes bananas with his numbers then so be it because at least he would be paid year to year what he is worth.

Now there will still probably be a few long term extensions doled out, likely to someone like Carlos Santana or a Jason Kipnis if both are healthy and perform the next season or two. Or even Justin Masterson this offseason. But the days of those contract extensions to try and buy out a free agent year or two appear to be gone because of so many contracts that have bombed on them of late. Thank guys like Jake Westbrook, Fausto Carmona, Grady Sizemore, and Travis Hafner for that. Those are four of their most recent contract extensions that were unfavorable because of either significant injuries or poor performance after the players signed their extensions.

Pete P. wrote: I read the Angels may potentially trade Mark Trumbo. Obviously, the Angels need a closer and there is a match there; however, I know Kendrys Morales is coming off an injury but he's a right handed bat and cheap. Thoughts?
Me: The Angels GM Jerry Dipoto keeps saying publicly that they are not trading either Trumbo or Morales, though this is probably just GM-speak in order to try and inflate both players' values when both are in fact very available. If the Angels get a good Major League player or two offered to them in return for either Morales or Trumbo, they would probably jump at the opportunity.

Given Morales' questionable health status, I see no way the Indians consider trading for him. There is talk that he will not even be ready for the start of the season, and with clubs not being able to scout him for almost two years or know his health situation, I find it unlikely anyone trades for him. I don't see the Angels need to trade him at the moment as they will get pennies on the dollar for him right now and he is not a player they have to dump as he is very inexpensive. I believe they look to get him back playing again to re-establish his value and then potentially trade him around the July deadline, if they even need/want to trade him at that time.

Trumbo is a guy that I think could find a new home before the start of next season. DiPoto said he could maybe play third base or the outfield for them, but I am not sure they can really go with him in either role as a full time option. But if you can hit then teams will find a spot on the field to get you into the lineup, and with the power he displayed last season with 29 homers it should get him regular playing time once again in 2012 somewhere in the Angels' lineup. Whoever acquires him will get a very inexpensive, cost-controlled player as he will make league minimum the next two seasons and is not free agent eligible until at least after the 2016 season.

If a team like the Indians considers trading for Trumbo they have to weigh how productive of a hitter he really could be for them. There is no doubt he has very good power as demonstrated by his minor league home run numbers and his 29 homers last year in his first full big league season. But beyond the home run power, would he really be that much of a lineup upgrade for the Indians or would he just be another free swinging strikeout prone hitter that will hit 30 homers but in his other 670 plate appearances be able to be pitched to? With just 25 walks and 120 strikeouts last year to go along with a poor .291 on-base percentage, the cost to acquire him at this point just would not be worth what production he could ultimately give the Indians. I say they should pass (for now).

Loran H. wrote: Give Matt LaPorta a chance. I don't care who agrees with me, no ballplayer's potential can be tapped into when he is benched every time he gets a couple of hits. Let him play 30 games without benching him and give him a little bit of consistency. I have a feeling if given a CHANCE with a little bit of coaching and patience LaPorta could surprise.

Me: I think the Indians are doing the right thing with LaPorta by not guaranteeing him an opening day roster spot next season. He got an extended look last season and played almost every day for most of the first half of the season, and while he showed flashes as a productive player he was just too inconsistent and as the plate appearances piled up his warts showed more and more.

LaPorta got off to a solid start in April with an .818 OPS for the month, but he followed that up with a .701 OPS in May, .641 OPS in June, .629 OPS in July, and .627 OPS in August before bouncing back with an .874 OPS in September. With such a long drought in performance for four months last season and with two inconsistent seasons in 2009 and 2010 before that, the Indians absolutely can no longer have a long leash with him as the focus is now on winning.

At the moment LaPorta is an unreliable player and he may just be what he is: a Shelley Duncan-typer role player with power off the bench. It will do him good to go into the season with no pressure as the everyday first baseman and with the knowledge that he is likely going to Triple-A Columbus to start the season. The Indians should give him two to three months in Columbus and see if any adjustments take hold and things improve, and most importantly if he can find some confidence again at the plate.

LaPorta is probably going to be needed at some point next season as injuries or poor performance by other players could occur, so he will get another opportunity and when he does he has to capitalize on it. Setting him up for success by letting him iron out some things in the minors may be the best solution.

Brian M. wrote: You have written about how we should be willing to trade Chris Perez, but we have talked about our other bullpen arms as if they are untouchable. Do you believe the front office would be willing to take a chance and part ways with some of our young, cost controlled bullpen arms if the result was a right-handed bat that we need to contend? What is your personal opinion on the matter, and how highly should we value a Pestano or a Sipp?

Me: I do not think any bullpen arm the Indians have is untouchable. Unless a guy is a top five setup man, left-on-left guy, or closer in the game, then he should be very available. Relievers are fungible and their performance from year to year is usually volatile except for those select few in the backend of a bullpen, so if the Indians get a good offer for any reliever in their bullpen they should strongly consider it.

The only bullpen arm that is a borderline untouchable should be right-handed setup man Vinnie Pestano. He established himself last season as one of the best setup men in baseball, is under control another five seasons, and has the goods and potential to be very good closer in the big leagues.

But beyond Pestano the Indians should no doubt consider dealing any of Chris Perez, Rafael Perez, Joe Smith, Frank Herrmann, and Tony Sipp from their Major League bullpen. This does not mean they should just look to dump them and get rid of them. It just means if an opportunity arises where one or a combination of them and another player can net them a Major League bat then they should seriously consider it, especially with the internal options they have waiting at Triple-A Columbus.

This also means the Indians should consider trading their top three bullpen prospects lefty Nick Hagadone and right-handers Zach Putnam and Chen-Chang Lee. But again, considering their potential and contract control, any of them should only be in a deal involving a significant upgrade to the big league roster.

Peter A. wrote: What are stars like Asdrubal Cabrera and Ubaldo Jimenez really trying to accomplish in winter ball other than conditioning? Is Cabrera working on some new batting techniques, things he might employ in the upcoming season? I assume Ubaldo may be working on some of the pitching advice given to him during the offseason. I ask because I assume we shouldn't be looking at our stars' statistics the same way we would during the regular Major League season.

Me: Great question. You are right in that the statistics in winter ball do not mean a whole lot. Teams do not put much stock into winter ball performance, and instead use it as a way to work on some things with some of their fringe Major League players or to seek out depth options for the upcoming season. In some cases players participate so they can get extra reps because they missed some time during the season for injury reasons or because the team wants to iron out some pitching or hitting issues.

In the case of Cabrera and Ubaldo, like a lot of Major League veterans who participate in the winter leagues, they simply just want to play a few weeks for their home country. The Latin players take a lot of pride in playing for their hometown teams and they are treated like gods.

For a guy like Cabrera he is simply just playing and not really working on anything, but for a guy like Jimenez – who actually pitches tonight - it is more about getting him on routine as he had always pitched in winter ball prior to last offseason when he did not. The Indians and Jimenez hope that by pitching him a few games in winter ball that it will get him back in sync. I'm sure some mechanical adjustments have already been implemented this offseason, so winter ball will also serve as an opportunity to see how those adjustments look in advance of spring training.

Aaron H. wrote: I don't know if anyone has suggested this name, but would the Indians be willing to acquire Mark Reynolds? He is in the last year of his three-year $14.5 million deal. He strikes out often, but as a right-handed power hitter, he's a perfect fit. I am sure he can play first base.

Me: I don't see it as a good fit. Like with Trumbo above the home runs are nice, but Reynolds just adds to what is already the Indians' biggest problem with their lineup in that he can be pitched to as he has lots of holes in his swing, is very strikeout prone, and has poor bat to ball ability. He has averaged over 200 strikeouts a season the last four years and is a career .238 hitter, and while the 35 homers he has averaged the last four seasons is very intriguing, he just looks like a Russell Branyan-esque pickup (but better obviously) for the lineup.

Beggars can't be choosers, so if Reynolds could be had for cheap and would be an option at first base, then the Indians should consider acquiring him. But I'd rather sign or trade for someone who maybe does not hit a lot of home runs but who can be a more consistent, productive hitter. I am of the belief that a big home run bat would be a nice addition to the Indians' lineup, but I do not believe it is the biggest need in the lineup. They need to find a good hitter that can run into his fair share of homers but consistently puts the ball in play and can spray the gaps. That would be a bat that is an ideal fit, even if that player is left-handed.

Follow Tony and the Indians Prospect Insider on Twitter @TonyIPI. Also, his latest book the 2011 Cleveland Indians Top 100 Prospects & More is available for purchase for $20.95 to customers in the US (shipping and handling extra).

Follow Tony and the Indians Baseball Insider on Twitter @TonyIBI. Also, his new book the 2014 Cleveland Indians Baseball Insider which profiles the Indians' Top 100 Prospects and more is available for sale.
User Comments
No comments currently. Be the first to comment!