Jim Thome officially retires as a Cleveland Indian
The Tribe's all-time home run king goes out on top during statue ceremony
Not even Jim Thome envisioned a day like this.
For him, being immortalized at the top of Indians record books and among some of the game's greats was an accomplishment already.
Playing 22 years in the big leagues, 12 of them with the Tribe, he first became a household name in Cleveland during the mid-90s, and soon, an iconic baseball legend across the country.
On Saturday, the Indians honored their former left-handed slugger in the best way possible, unveiling a statue of Thome outside Heritage Park.
"I don't think anyone could be comfortable getting a statue, and I mean that respectfully," Thome said. "You play the game as a kid, you progress and go to high school, you get drafted and you go through the minor leagues. Nobody ever dreams of a statue. I certainly didn't."
Five All-Star appearances and 612 home runs later, the eight-foot tall bronze statue of Thome is now forever enshrined in Progressive Field, the one place he always called home.
"One thing Eddie Murray told me awhile ago is that longevity is the key to being a good player," Thome said.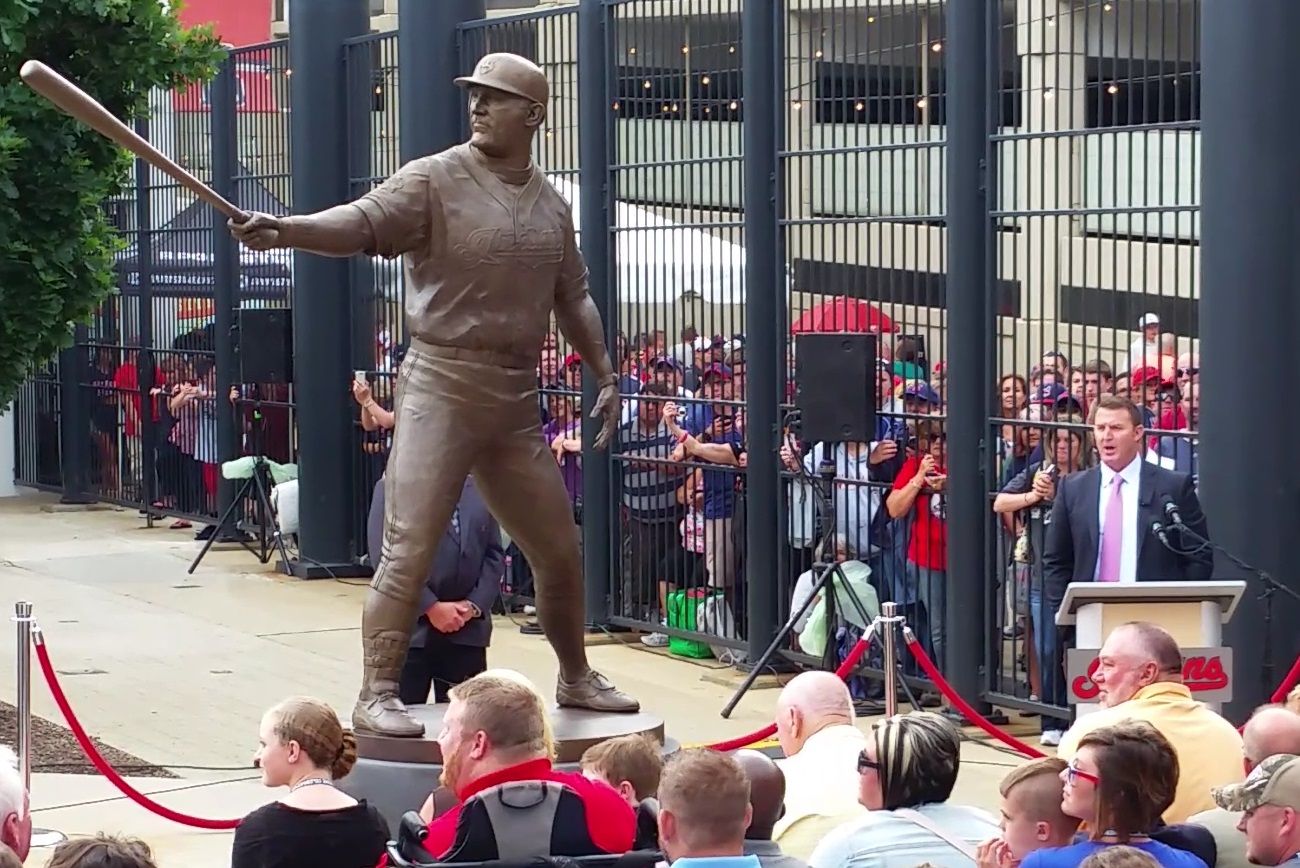 "Longevity in this case maybe helped that. You don't really ever think of getting a statue at all. It's humbling, it's honoring and it's something I think my family will live every day the rest of their lives."
Drafted by Cleveland in the 13th round of the 1989 draft, Thome ranks first in team history in both home runs (337) and walks (1,008), while also ranking second all-time with 937 RBI.
He is one of eight players in major league history to hit 600 home runs in a career, where his 612 long balls rank seventh on baseball's all-time home run list.
A statue couldn't be more fitting.
"Sculptor David Deming was tremendous," Thome said. "I hope that he's able to do more of future Cleveland Indians that deserve it. What David did was just absolutely incredible, his work speaks for itself."
The resemblance to the statue couldn't be more exceptional of the Peoria, Illinois native, having Thome in his most exemplary pose pointing his bat.
"I love it, I absolutely love it," he said. "I love pointing the bat, I love how they wrapped the bat with my tape, and I think there's pine tar on the helmet. It's got all the unique things that I liked when I played. The socks were up and it's for sure bigger than me, so it's pretty cool."
Sitting with Thome's family and friends to support him during the ceremony were many of his former managers, coaches and teammates. Among them, Indians former managers Mike Hargrove and Charlie Manuel, general manager John Hart and former teammates Carlos Baerga, Richie Sexson, Mark Clark, Travis Hafner and Sandy Alomar Jr.
"Words can't describe it," Thome said. "I think I got a little emotional, I don't even remember during the speech it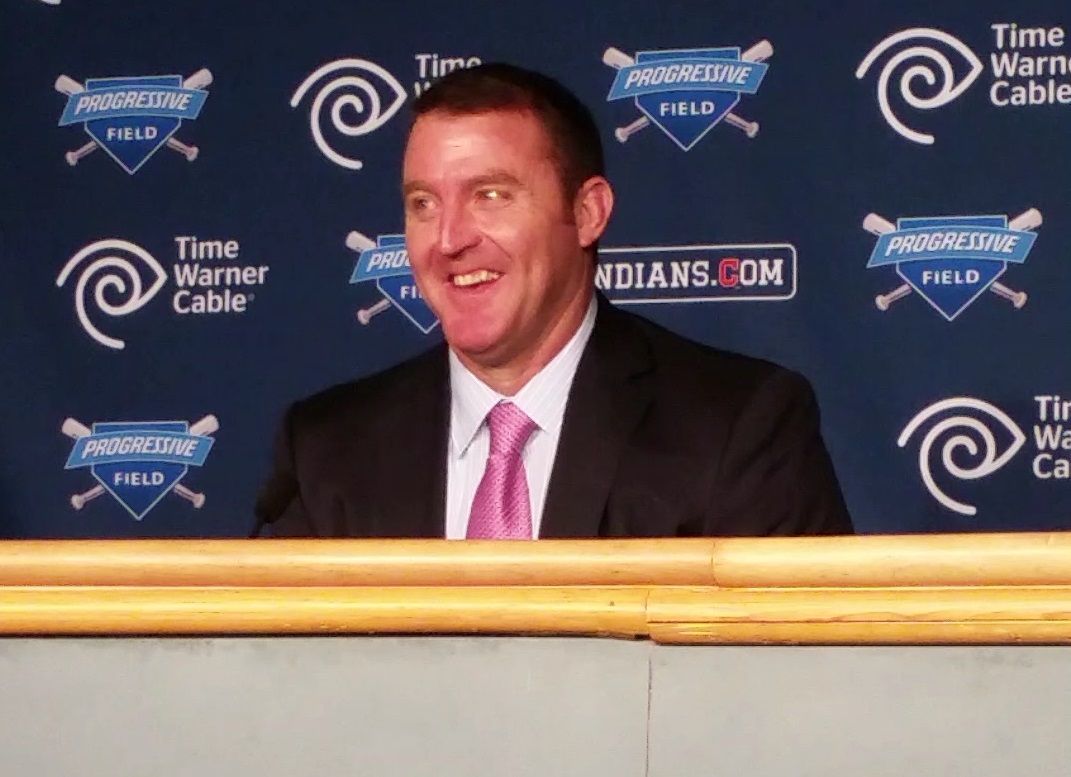 just all kind of went so quick."
He would get the most emotional talking about Manuel, who he spent the better part of his career with him in both Cleveland and Philadelphia.
"I feel like you should be in bronze here with me," Thome said choking up when talking to Manuel during the ceremony.
The Tribe's home run king also reminisced about the time he came back to Cleveland in 2011, accepting a trade that sent him from the Minnesota Twins back to the place it all started.
"When everything went down and I knew I was going to get to come back, there was a lot of anxiety," Thome said. "That first night when I got introduced and the crowd cheered me, it's something I'll never forget. You leave a place and ultimately you want to be accepted back. I appreciate the fact that they did accept me back and give me that opportunity and cheered."
Yes, he did trade in Chief Wahoo for Philly pinstripes in the winter of 2002, but it's safe to say he changed the tune of many doubters at the end of his ceremony speech.
Impacting the game of baseball for so many years in the City of Cleveland despite never winning a championship, one could say Thome decided to go out on top.
After an illustrious 22-year career, he decided to officially retire from the game he loved as a member of the Cleveland Indians, signing an honorary one-day contract. It was a perfect window of timing that made the left-handed slugger even more ready finally hang up his cleats and high socks for good.
"The timing was right," Thome said. "I had thought a lot about this. The hardest thing is to pick a time when you're ready to walk away. When I did not retire, it's because I didn't know. The reality was, I'm very comfortable where I'm at being at home with my family."
"It feels good to know that you can finally do this, but the Dolans made this big for me. When the statue got closer, it was important for me to do this during this time. I wanted to retire an Indian. It's a dream come true."
But he made it clear he wouldn't turn down an opportunity to dig his feet in the dirt of the batter's box one last time.
"That'd be fun," he said laughing. "I'm always ready for one more at-bat."
When asked what he hopes fans will remember most about him 50 years from now when walking past his statue, Thome like always, was quick to shy away from the limelight.
"I think all the special times in the mid-90s," he said. "That was a reflection not only individual, but more on the group. I mean the front office, the coaches, the manager, the players and the people that work here. I think that's the most exciting part all those people that you remember,"
"That's what I want the statue to reflect, not just the individual, but everybody involved. I want people to walk by in 50 years and say, 'Those Cleveland Indians teams in the 90s were really, really good.'"
To make the night more special, current Indian Jason Giambi gave up his No. 25 jersey and delivered it back to Thome out of respect.
"It was all last minute," Giambi said. "Nobody even knew that he was going to retire today and sign the one-day contract. That was kind of my cue to do something and to never have anybody wear that uniform again."
The current Tribe designated hitter autographed and personally inscribed one of his Indians No. 25 jerseys to Thome. On it read, "Jim, it was an honor to be the last person to wear your uniform number in Cleveland Indians history."
"I had thought about it," Giambi said. "Anytime you erect a statue of somebody you've done something pretty special not only on the field, but off the field. What he's meant to this organization, I don't think you can say enough about Jim Thome. That's why I had gotten the number in the first place because he hadn't retired."
The 43-year-old Thome may be not be comfortable being in bronze, but the slugger better get used to it. Sitting among some of the games greats on the history charts, Thome will soon be enshrined in bronze again, this time at the Baseball Hall of Fame.
And yes, he will also wear Chief Wahoo on the hat of his plaque in the halls of Cooperstown just like his new statue.
"I agree 100 percent," Thome said. "That's why all of this happened today, and I chose today to retire an Indian. I hope in a couple years we can celebrate a little more here, that would be wonderful."
Between the lines, Thome became one of the most feared hitters the game has ever witnessed. But off the field, it's his character and genuinely good personality as a person that ultimately transpired him to baseball's elite status.
"I think when you leave the game, that's ultimately what you've got," he said. "They'll remember a few of the home runs, but they'll remember the man. I was blessed and fortunate to be around wonderful people in this organization that taught us how to act, and how to be that man."
Many of us honestly will never see a player like Thome again.
Take away the bronze statue, and the Silver Slugger award he won along the way, there's no question what sticks out the most when it comes to Thome is his true heart made of gold.
And for that, he will always hold a special place in the hearts of Indians fans forever.
Follow Jim on Twitter @JBirdman27 or he can be reached via email at jberdysz27@gmail.com.
User Comments
Rich S.
August 3, 2014 - 2:20 PM EDT
A classy gesture by Giambi and Thome couldn't be a nicer man. I hope in the future he finds a place in the Indians organization.
Richard
August 3, 2014 - 1:14 PM EDT
When Jim left for Philadelphia, I had mixed feelings about him, to say the least. But I survived, and so did the Indians. The ceremony yesterday did help provide some closure. No question a HOF'er.
Heck, if Lebron can be welcomed back, why not Jim?
shy
August 3, 2014 - 12:47 PM EDT
Very cool. Thome was bigger than life as a baseball player, and the statue captures it for eternity. The only other Indian w a similarly iconic batting stance was Rocky Colavito.
LeaguePark
August 3, 2014 - 11:29 AM EDT
A great evening for the Cleveland Indians and their fans with a win over Texas the icing on the cake.