Josh Is No Punch And Judy Pitcher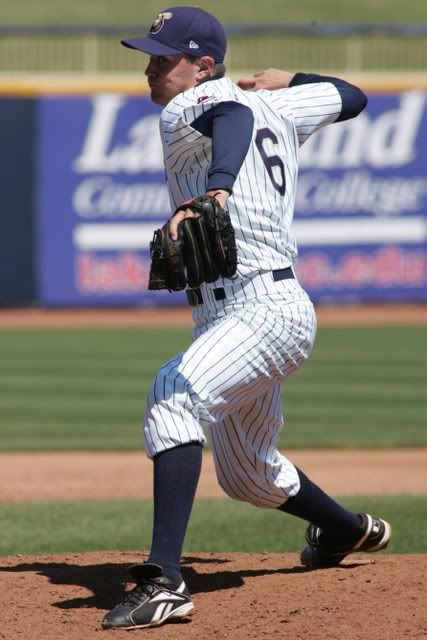 Practically every pitcher in the bullpen at Single-A Lake County this year emerged and put themselves on the prospect map as far as reliever pitchers go. Right-hander Rob Bryson was the most publicized because he came in the C.C. Sabathia trade, right-hander Vinnie Pestano racked up a ton of saves on the year, right-hander Mike Pontius got off to a sensational start early in the year and can throw a ball throw a brick wall, and left-hander John Gaub was a strikeout machine all year.

One pitcher that was a part of the Lake County bullpen for almost the entire year who has turned out to be a hidden gem is right-hander Josh Judy, and he just may end up being the best of the bunch.

Hidden gem is not the word. Judy is from the small town of Morgantown, WV which is known mostly as the home of West Virginia University. As a diehard Mountaineers fan growing up, Judy was all set to go to school there, but not to play baseball. Judy was not scouted much out of high school, and at the last minute decided to go to school at the Indiana Institute of Technology to play baseball.

Raise your hand if you have ever heard of that school.

"Actually, Indiana Tech got a hold of me through a showcase with a guy I was working with in the offseason out of high school," said Judy. "It was pretty much the only place I got an offer to play."

Players at big time programs obviously get more exposure, but baseball has proven over time it doesn't really matter where you go to college to play baseball because if you have talent the scouts will find you. And that is exactly what happened with Judy at Indiana Tech, and he has become a great find since being taken in the 34th round of the 2007 Draft by the Indians.

"That is definitely how baseball is, and if you have what it takes someone will see you," said Judy. "My sophomore year we had a new coach come in who actually played in the minors with the Reds organization for awhile and played in Double-A, so he had some connections. He would usually hold a Scout Night in the fall and 20 to 30 guys would come out and then we would go out and throw. They would have the guns up and sit behind us and stuff like that, so I guess that is how I [was found]. It was definitely awesome [to get drafted] and one of the greatest feelings on Earth. Just coming from a small town and going to a small college and being able to get that opportunity is overwhelming."

The 6'4" 200-pounder is yet another power arm in the system as his fastball has great life and consistently sits around 92-94 MPH and has topped out as high as 96 MPH when he was in college. He complements his plus fastball with a very good slider that has a nice sharp break to it and late movement. Judy used to throw a curveball for his third pitch, but that was tabled for a changeup that he spent a lot of time this year working on between outings.

"They actually bagged my curveball that I used to throw," said Judy. "So we no longer throw that and just go fastball-slider. I started to work on a changeup this year too so that I have that third pitch. It has come a long way because I never threw one in college as I just threw fastball-curveball-slider and occasionally threw a two-seamer. If I can get that changeup going it will be a solid [addition to my pitch mix]."

Lake County Pitching Coach Ruben Niebla was really impressed with what he saw from Judy this season. Niebla spent time with Judy this year teaching him how to sink the ball better, which down the road is really going to help him attack left-handed hitters and get easier outs. He also worked with Judy on tightening up his slider as it has a tendency at times to flatten out which gets him in trouble.


"Judy has the makings of a plus slider that hitters just have a tough time picking up" said Niebla earlier in the season. "He has been able to use it as a weapon this year. He came in and was not throwing a changeup and we started to introduce it to him and throwing it in games this year, and I think it is a pitch he can develop. He has two plus pitches for this league that he has gone to so the development of the changeup has taken a backseat. We want him to solidify that slider first before we move forward with those offspeed pitches."

In addition to his outstanding fastball-slider two pitch mix, Judy has also displayed very good composure on the mound by being a bulldog in tight situations.

"I would say [my biggest strength is] mental toughness," said Judy. "Just being able to go out there in any situation and be able to come through and not have the game speed up on me. Being able to stay calm and stay within myself and go out and pitch. I think my fastball command needs a little tweaking, but I think everything else is doing good. [As far as an area of opportunity goes], I would say pickoff moves and changing the running game up. Also, definitely finding that third pitch."

During his two year professional career, Judy has pitched out of the bullpen. Although he signed late last year he pitched well in limited time with the Indians as he was 1-2 with a 0.36 ERA, and in 25.1 innings allowed 18 hits and 11 walks while striking out 21 in 13 combined appearances at Mahoning Valley and the GCL. This year in 42 combined appearances at Lake County and Kinston he went 12-1 with a 3.26 ERA, and in 88.1 innings he allowed 72 hits, 26 walks, and had 97 strikeouts.

Any pitcher who has two very good pitches and commands them well is going to have a lot of success, but in order to be able to face a lineup multiple times in a game they need a third pitch to have success. Judy has been a starting pitcher all throughout his high school and college career, but since coming to the Cleveland organization he has pitched out of the bullpen. Judy still would like to start, so this offseason and next season he will spend a lot of time working on his changeup to see if he can get back into the starting mix.

"All the way up until pro ball I have been a starter, and I am still trying to get acquainted with the bullpen and how it works," said Judy. "I like the bullpen, but I miss starting because you always know when you are going to throw and you have a set routine you follow. Being a bullpen guy it jumbles around a little bit, but it has all worked out well. It's all how the organization sees you and what they want to use you for and what they see you getting to the big leagues as. Whatever role they give me that's the one I am going to go out and do my best in."

One of the things that really got Judy noticed this year is how he had a penchant for piling up strikeouts. Seemingly every time he showed up in the box score he had three or four strikeouts in one to two innings of work. Whether or not Judy was deceiving hitters with his delivery, hiding the ball well, or just flat out overmatching hitters with his stuff, his high strikeouts rate (9.89 K/9) was impressive.

"Me and [John] Gaub actually had a strikeout race going on and we had a little bet going to see who would have more by the end of the season," laughed Judy. "He actually slipped by me by three as he finished the season with 100 and I had 97. But yeah, it is
just being able to go out and attack hitters and identify what their weaknesses are and attack and put them away when they are setup. It is mostly just going out there and sticking to your gameplan."
Now that the season if over, Judy has the experience of his first full season to build on and the instruction and knowledge he has gained from several Tribe staffers to take his game to another level next season. One of the main focuses for him as he gets ready to move to Kinston to start next season will be getting better attacking left-handers and also pitching inside more to right-handers.

"Yeah, when I was in Kinston the pitching coach [Greg] Hibbard made some pointers of what to work on this offseason," said Judy. "I need to be able to throw inside a lot more and be able to command the inside to a right-hander. You are going to hit guys, but you have to be able to throw inside that way you can setup your offspeed stuff on the outside. I am better inside to a lefty than to a righty armside. It is more of a visual thing where I need to get used to visualizing where I have to throw it. Hibbard talked about the plate back there where it is more for the umpires to call balls and strikes and that the pitcher doesn't need to worry about that. Just body up and center in on the catcher and trust him back there and your command will come through."

Judy will certainly be talked about this offseason and will find his way on many Indians Top Prospect lists that extend to 30-40 players. His big year, durability, talent and ability have taken him from an unknown small town kid to a potential big time relief prospect.

"I just tried to finish up strong," said Judy about his season.

With a little punch too.

Photos courtesy of Ken Carr
User Comments
No comments currently. Be the first to comment!