Judy Awaits His Roster Fate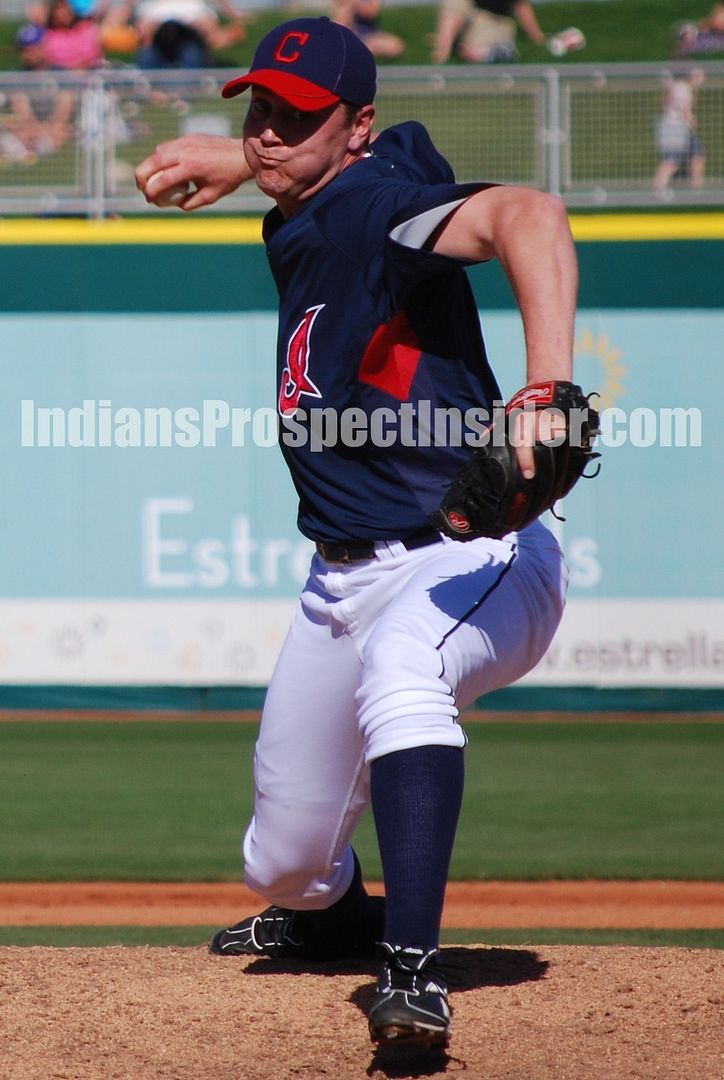 Will he or won't he be rostered? Judy
finds out Friday. (Photo: Tony Lastoria)
Teams all throughout Major League Baseball are having meetings to finalize their plans on who to add (or remove) from the 40-man roster by the deadline this Friday night. Decisions are up in the air for several players, and with that the careers of many lie in the hands of front office executives around the league.
Not being rostered in November is hardly a death blow to a career as players get added all the time during the season. But the majority of players deemed to have immediate value and importance to an organization are often rostered in November because a team does not want to lose any player of value potentially to the Rule 5 Draft.
One such player who is anxiously awaiting his November roster fate is right-handed reliever Josh Judy.
Judy, 24, has been one of the Indians best relief prospects since being drafted in the 34th round of the 2007 Draft out of the Indiana Institute of Technology. Since being drafted in June of 2007, he has been an exceptional performer at every level all the way from rookie-level Gulf Coast League in 2007 to Triple-A Columbus in 2010 where in 136 career appearances he is 20-6 with a 2.74 ERA and 18 saves (216.2 IP, 183 H, 13 HR, 69 BB, 245 K).
Judy has even performed well in winter ball. Last year in the Arizona Fall League he went 2-2 with a 1.59 ERA in 11 appearances (17.0 IP, 13 H, 8 BB, 20 K), and so far this offseason in nine appearances in the Dominican Winter League he is 0-1 with 4 saves and a 2.00 ERA (9.0 IP, 10 H, 0 BB, 6 K).
But Judy is not just a performer. He is also a pretty talented and projectable relief pitcher armed with two plus pitches, a fastball that sits 91-93 MPH and touches 96 MPH and a wicked slider. He has all the makings of a big league bullpen arm, potentially in the backend because of his aggressiveness and bulldog mentality.
Judy certainly has the resume to be added to a big league roster this winter, whether it be the Indians doing it or another team via the Rule 5 Draft. In any case he is just trying to take it in stride and see how things go.
"I am going to let it play out," Judy said in a recent interview. "I think at this point it is kind of whatever happens, happens, but my goal is to get to Cleveland."
Back in March it was expected that this would be a moot discussion as by this time Judy was expected to already be on the 40-man roster. He was invited to big league spring training, performed well, and by the time he was sent to minor league camp in mid-March he had left an impression on the major league coaching staff and front office.
The thought was that Judy would be one of the first non-rostered relievers
User Comments
No comments currently. Be the first to comment!