Kinston Indians 2011 Season in Review: The End of the K-Tribe Era
It's been a great
25 years Kinston!
(photo: Jim Pete/IPI)
On a rainy night on September 17th in Kinston, North Carolina, a baseball season came to an end. It was a nondescript play, as Casey Frawley swung at a pitch outside the strike zone, popping out to the catcher in foul territory. Losing a championship on a foul-out isn't how you write the script to end a season, let alone a franchise. For the Carolina League, it was an end to their 66th season of play. For the K-Tribe, it was a grand finale to 25 years in Kinston.
But what a season it turned out to be....
Don't get me wrong, this wasn't a perfect baseball club. In a system full of top prospect, the K-Tribe skipper, Aaron Holbert, wasn't given the cream of the Indians' organization by any stretch. Still, Holbert led the Baby Indians to their second straight playoff appearance, and nearly won a championship for a team decimated by promotions.
While the overall talent was down, Kinston started off the season with perhaps their best pitching prospect in Drew Pomeranz, and one of their top outfield prospects in Tyler Holt. Holt would finish the season with the team, but Pomeranz would go the way most top prospects do in High A, promoted to Akron in July, before he was ultimately traded to Colorado. While Kinston proved to be a way-station for several prospects, Holbert was able to get this rag-tag team playing hot when it counted.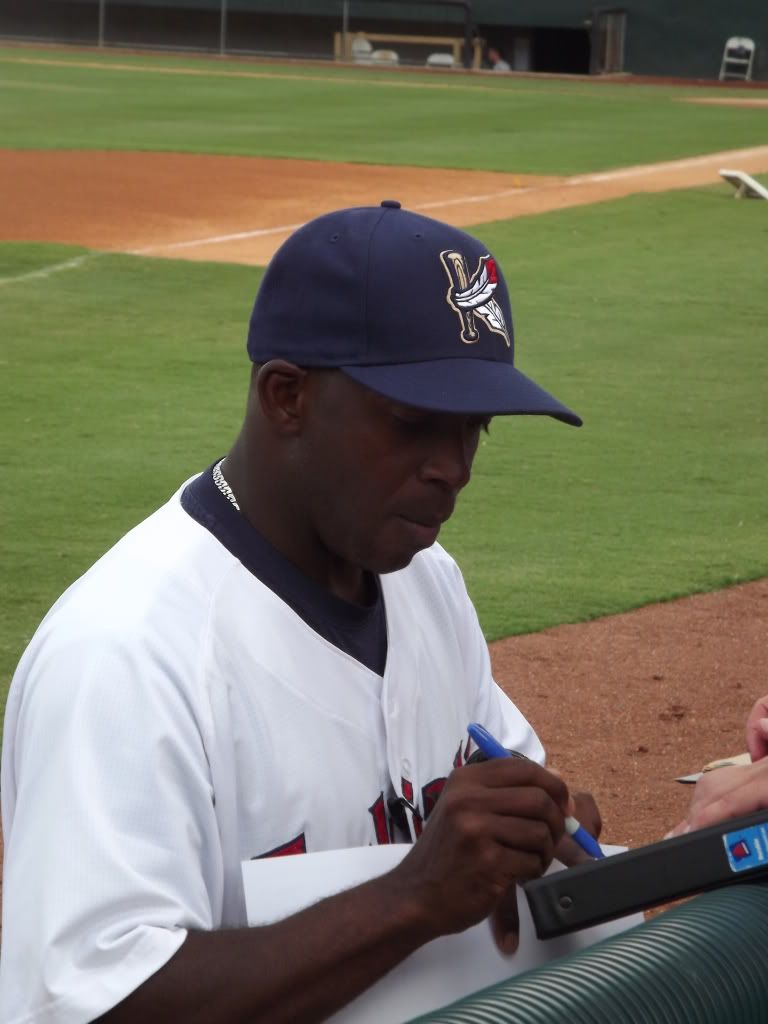 Aaron Holbert
(photo: Jim Pete/IPI)
The best part of Kinston's line-up was the pitching staff. The Carolina League is a notorious pitching league, and Kinston has rode that wave for two straight seasons. Still, the only clear top ten pitching prospect to appear on the roster was Drew Pomeranz. With that said, the starting rotation always seemed to find someone to get the job done. At one time or another, Brett Brach, T.J. House, Clayton Cook, Marty Popham and Francisco Jimenez would take the reigns as the ace of the staff. None were as good as closer Preston Guilmet, as the crafty righthander led a bullpen that was the clear highlight of the team.
The offense never could get on track. The top average on the team was .260, and in a league with barely any offense to begin with, Kinston was dead last in nearly every major category, including runs, hits, doubles and RBI. Holbert was able to find the hot bats when he needed to though, and Kinston's pitching kept them in nearly every game.
Yes, the highlight of the season was Kinston's run to the Mills' cup. No, they weren't able to bring the city of Kinston a championship in their final season, but the run to the championship series was certainly greater that a weak fly-out to a catcher on a rainy Friday night in September.
Drew Pomeranz
June 1st, 2011
(photo: Jim Pete/IPI)
Starter of the Year: Drew Pomeranz, Starting Pitcher, Kinston Indians
(3-2, 15 GS, 1.87 ERA, 77 IP, 56 H, 16 ER, 32 BB, 95 K)
Drew Pomeranz was everything that the Indians hoped he would be when they drafted him with their top pick in 2010. He threw an overpowering fast, and was actually a bit handcuffed with Kinston, as they began immediately working on his secondary pitch repertoire. Pomeranz still dominated the league during the first two months of the season with a dazzling 1.87 ERA.
Pomeranz wasn't perfect. The Indians had him working on his secondary pitches for a reason. In nearly every start, his fastball was virtually untouchable thanks to it's pop and movement. Still, when he moved to his offspeed stuff, he became an ordinary Joe. While many (including me) were screaming for a promotion from mid-May on, the Indians stayed patient with their top prospect, knowing that to be an effective starter in the bigs, he'd need more than two pitches.
The big lefty was THE highlight for Kinston during the first half of the season, and that carried him to the top pitching honors in 2011. Keep this in mind: not only was Pomeranz the best pitcher for the K-Tribe, but he's likely now the best starter for the Colorado Rockies. Interesting indeed.
The Rest:
Clayton Cook:
SP, Kinston: 9-9, 4.56 ERA, 25 GS, 122 1/3 IP, 124 H, 62 ER, 10 HR, 53 BB, 106 K:
While Cook isn't in the upper-echelon of starters in the Indians' organization, he's certainly at that next level. After a more-than-solid 2010 campaign in Lake County, the front office was likely hoping for a jump in 2011. While Cook didn't give them that jump, he certainly provided solid outings throughout the season. While there was no consistency to speak off, there were glimpses of a guy that could provide some service at the upper levels of the organization. In May, Cook went an impressive 6-1 with a 1.77 ERA, and he followed that up with a 1-1 June (2.66 ERA). With a promotion in sight, Cook went 0-4 with an 8.55 ERA in July. He would rebound in August with a 3-0 record and a 3.55 ERA, but you can see that inconsistencies really broke up what could have been a big season. Look for Cook to start the year off in Akron next year.
T.J. House
June 8, 2011
(photo: Jim Pete/IPI)
T.J. House:
SP, Kinston: 6-12, 5.19 ERA, 24 GS, 130 IP, 133 H, 75 ER, 12 HR, 66 BB, 89 K:
House spent his second straight season in Kinston trying to show off a power arm that many have been salivating over since he was drafted out of high school in 2008. He had a plus fastball that can hit 95-96, and a projectable plus slider, but clearly hasn't yet been able to find any sort of consistency to speak of. He started off the season struggling, before finally showcasing some promise in June when he went 3-1 with a 2.01 ERA. That all went out the window though during the July/August stretch, when he went 1-6 with a 6.60 ERA. House still struggles with control, and he saw his ERA jump a point-in-a-half from last season. While I can't imagine House plays a third season in High A next year with the Carolina Mudcats, he hasn't done anything to deserve a promotion. I have to wonder if the Indians aren't ready to try him out in the bullpen in 2012.
Brett Brach
July 8, 2011
(photo: Jim Pete/IPI)


Brett Brach:
SP, Kinston: 6-9, 3.60 ERA, 19 GS, 115 IP, 97 H, 46 ER, 8 HR, 37 BB, 72 K:
Brach may have been the most consistent K-Tribe starter in 2011. While his record was only 6-9, his 3.6 ERA was the best among starters nearing that 20 start plateau. Still, Brach likely isn't considered one of their top prospects. He doesn't possess one of those live-arms that makes T.J. House so enticing, and overall, it's hard to see Brach eventually making it to the majors. Still, the guy knows how to pitch, and while House was struggling through much of the season, Brach found himself pitching in both Columbus and Akron this year. It's his make-up that makes him valuable. He'll be in the Aeros rotation in 2012, which is where he ended in 2011.
Marty Popham:
SP, Kinston: 6-2, 4.19 ERA, 16 GS, 96 2/3 IP, 92 H, 45 ER, 17 HR, 19 BB, 95 K:
Popham clearly didn't start the season off figuring much as a starter in the organization. He struggled in Kinston initially in that role, until he was bumped up to both Akron and Columbus for spot appearances in May. He returned to the K-Tribe in June as a starter, and he came firing out of the gate, going 1-0 with a 2.63 ERA. He would win three more games in July, but would struggle a bit in the second half of the season with a 4.96 ERA. Popham gives up a ton of home runs, but his BB/K ratio is impressive. If he could just find some more velocity, I really believe Popham could be a top ten prospect in the organization. Look for Popham to start the 2012 season as a starter in Akron. It could be a leap-off point for the righty, if he can manage to be a consistent performer.
Giovanni Soto:
SP, Kinston: 4-4, 3.23 ERA, 15 G, 11 GS, 3.23 ERA, 64 IP, 56 H, 23 ER, 5 HR, 21 BB, 64 K:
Soto would have been this club's top starter had he managed to stay healthy. Soto started off the year with a tough-luck 1-3 record with a 3.05 ERA. Then the weather started to warm up, and so did Soto, who went a near-unhittable 3-0 in May, with a sparkling 2.03 ERA. He would only make one start in June because of a strained elbow, and wouldn't make another start. Soto is only 20-years-old, but when you watch him pitch, he has the look of someone who's been doing this their entire life. He has a confounding wind-up, and still may prove that Jhonny Peralta deal to be a good one in the future. This kid can pitch, and he's got "Bigs" written all over him. Look for Soto to spend about a half a season with the Mudcats next year, and a half in Akron. I firmly believe this kid will be talked about with the Indians in 2013.
Mike Rayl:
SP, Kinston: 1-3, 4.61 ERA, 8 GS, 41 IP, 48 H, 21 ER, 6 HR, 13 BB, 37 K:
Rayl is another one of those lefties that have the Indians' front office excited. Rayl had a solid season going in Lake County (5-5, 2.83 ERA) before his late-July promotion to Kinston for the stretch. Thus began the roller coaster ride, as Rayl couldn't really gain any momentum. He was able to roll out two spectacular starts for Kinston. The first was a five-inning, 11 K, shutout appearance on August 15. Then, on August 31, he followed that up with seven-innings of shutout baseball, giving up five hits and a walk, while striking out four. Of course, those two starts bookended nine-innings in which he gave up 12 runs and lost both games. The story of Rayl's life. If this kid figures things out though, he could move up quickly. Look for Rayl to play most of the 2012 season with Kinston.
Other starters in the mix:
Toru Murata (5 starts), Steven Wright (4 starts), T.J. McFarland (2 starts), J.D. Reichenbach (1 start), Michael Goodnight (1 start): Murata will be an interesting watch next season, as he possesses some good stuff. I'm not sure where the Wright, knuckleballing experience will go next season. He played at every level, and in every role, so who the hell knows. McFarland will be starting in Columbus, after another solid year in the organization, and only showed up in Kinston during the first two weeks of the season. Goodnight will be a starter in the early Carolina rotation in 2012. He didn't make his first start until the Lake County season closed shop, then threw up a 5 1/3 inning gem, in which he only gave up three hits and six K's. The kid can pitch, so keep your eye on what should be an incredible Carolina Mudcats' rotation in 2012.
What's to come in 2012? The Rotation could be an interesting one, starting with two potential top-five picks from the 2011 draft in Dillon Howard and Jake Sisco. Both differ from the Alex White/Drew Pomeranz tandem of the past two seasons, in that both are extremely young. Howard is coming straight out of high school, while Sisco only played a season in college. Both COULD find themselves starting for Carolina, but I'm not yet convinced that either will happen. A best-case scenario will find Howard starting the season off in the rotation, but more likely, he'll find his way to Lake County first, so the Indians can keep close tabs on him out of the gate. Still, I'm going to take a risk and say he ends up in Kinston.
2012 rotation: Giovanni Soto, Dillon Howard, Mike Rayl, Michael Goodnight,Cole Cook
Player of the Year/Reliever of the Year: Preston Guilmet, Closer, Kinston Indians
(1-1, 35 saves, 2.16 ERA, 52 games, 58 1/3 IP, 43 H, 14 ER, 4 HR, 11 BB, 60 K)
We thought we had it good with Cory Burns last year, but as it turns out, the top closers keep finding their way to Kinston. Guilmet was nothing short of spectacular last season. How good was he? Versus left-handers, his ERA was a stellar 2.08, and they hit only .226 against the right-handed stopper. While his ERA was slightly higher against right-handers at 2.21, they only hit .186 against him.
In April, Guilmet's ERA was decent. In seven appearances, he maintained a 0.00 ERA. His offense sputtered, and he could only manage two saves during those seven outings. While he gave up two earned runs in May (1.54 ERA), five earned runs in June (3.97 ERA) and three earned runs in July (2.25 ERA), he saved his best for last in August. He pitched the most innings of any month (13), giving up only eight hits and two walks, saving eight games, and didn't give up an earned run. All this while in the midst of a playoff stretch drive. While he did get touched up in a late appearance, he still proved to be the best pitcher, and player, on the team.
Clearly, the only thing holding up Guilmet on his progression through the system is Burns, who had an equally stellar season in Akron. With a boatload of relievers stocking the Clippers pantry, neither could make a move in 2011. I wouldn't be surprised to see both in Columbus next season.
The Rest:
Chris Jones:
RP, Kinston: 7-1, 3.36 ERA, 72 1/3 IP, 65 H, 27 ER, 6 HR, 30 BB, 66 K:
Jones started off the season right where he ended a stellar 2010 campaign...in Kinston. He's certainly not at the top of the Indians' bullpen plans, but after putting up good numbers last year, he could have been one to watch in 2011. Then he came out of the gate with a 7.62 ERA, and off the radar list he went. What was surprising, however, was how resilient he really was. After the rough April start, his ERA hovered right around 2.00 during the May, June and August months. He had a 4.66 blip in July, but overall, he turned in a performance near the equal to his 2010 season. The righty is durable, pitching in nearly 90 innings in 2010, and following that up with 72 1/3 in 2011. He'll get his chance in Akron next year, and if he can get out of the gates, could be one to watch as a bullpen filler in the future.
Jose Flores:
RP, Kinston: 4-5, 2 Saves, 6.02 ERA, 55 1/3 IP, 72 H, 37 ER, 19 BB, 49 K:
Flores managed to stick with the club for the entire season, but I'm not sure that's exactly a trumpeting statement for his future with the club. His best month was May, in which he went 2-2 with a 3.95 ERA, but he didn't have a month in which he went better than 4.50 before or after. I'm guessing Flores either ends up getting released, or finding his way into a Carolina Mudcats jersey in 2012. In a system deep in bullpen arms, there isn't much room for a guy that gets lit up nearly every time out.
Kyle Landis:
RP, Kinston: 9-2, 3 Saves, 2.15 ERA, 50 1/3 IP, 33 H, 12 ER, 2 HR, 9 BB, 61 K:
Does a story get much better than Kyle Landis'? Here's a guy that missed the entire 2010 season with what seemed to be mystery ailment after mystery ailment. Alls he does in his return is dominate in every aspect of the game. From May-July, his ERA never went above 1.42, and while he struggled a bit in August (if you'd call 3-2 with a 4.02 ERA struggling), you can give the kid a bit of a break, since stamina was likely an issue after missing an entire season. Against left-handers, Landis had a 2.70 ERA, but held them to a .150 average. Against right-handers, his ERA dropped nearly a full point to 1.78, and held them to a .209 average. He was absolutely dominant, and while the Indians really watched him this season, keeping him at High A Kinston, I could see him regain his status as a top reliever, and find himself in Columbus quickly in 2012. This kid was outstanding, and very much overshadowed by Adam Miller's return.
Tyler Sturdevant:
RP, Kinston: 4-2, 1.98 ERA, 41 IP, 31, 9 ER, 3 HR, 8 BB, 44 K:
Sturdevant is everything you want in a reliever. He's got the arm (mid-upper 90's fastball), the make-up (eight walks vs. 44 K's) and the durability (41 IP in 21 relief appearances) to become something special in the big leagues. Sturdevant made quick work of both Kinston and Akron, and found himself in Columbus at the end of the season. This kid will be in Cleveland at some point in 2012, if there's not an overload of talent that is.
Trey Haley:
RP, Kinston: 1-1, 3.77 ERA, 28.2 IP, 12 ER, 1 HR, 17 BB, 27 K:
Haley may have figured things out, and if he did, look out. The kid has a special arm, and special talent. The key has always been if he could harness it all. His season wasn't perfect in Kinston, but he did have some pretty brilliant outings, including a stretch of seven games in which he only gave up one earned run over 11 innings to end the season. If he continues to progress, he could be a potential closer of the future. I have to believe he starts the season off in Kinston, with an eye on perhaps moving him to Akron in July.
Rob Bryson:
RP, Kinston: 0-0, 1 Save, 0.64 ERA, 14 IP, 6 H, 1 earned run, 3 BB, 20 K:
Bryson is THE top relief pitcher in the system. I don't care what the ratings say, or what anyone says for that matter. When this kid pitches, the ball just sounds different popping into the glove of the catcher. He was as dominant a reliever as I've ever seen in Kinston, and the only question that Bryson has right now is stamina and healthy. If he has a healthy 2012 season, he'll be primed for a spot in the pen for Cleveland as their premium set-up guy, or perhaps even closer. He's that good.
Other relievers in the mix:
Francisco Jimenez, Toru Murata, Adam Miller, Steven Wright, Nickolas Sarianides, Joey Mahalic, J.D. Reichenbach, Cody Allen: I've already mentioned Jimenez, Murata and Wright in the starter query, but they are equally relevant here. I believe Jimenez will find himself as a first option, long reliever in the future, and will ultimately find himself in the majors. Murata should likely be a starter, and may find some options in 2012. I figure Jimenez has earned himself a spot in Akron, while Murata will find himself with Carolina for a bit next year. Wright doesn't change at all from what I said about him as a starter, who knows. Sarianides will find himself in Carolina next year, but doesn't figure into many future plans as of now. Mahalic is trying to make it back to Carolina, after struggling in Kinston in 2010, and again to start 2009. Reichenbach is an interesting relief/starter option going forward, and Allen is a stud in waiting.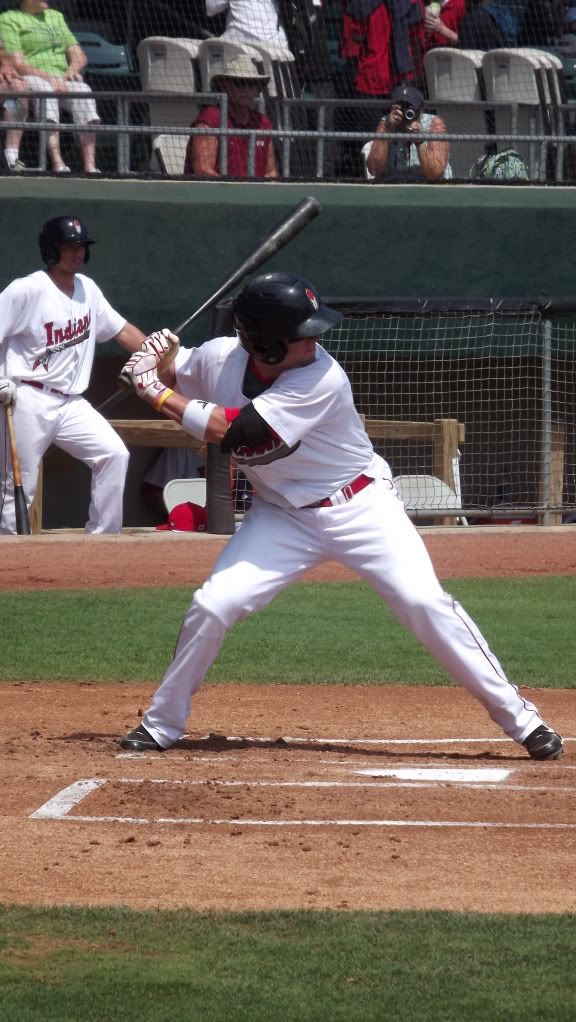 Adam Abraham
June 1, 2011
(photo: Jim Pete/IPI)
Offensive Player of the Year: Adam Abraham, 3B, Kinston Indians:
(130 G, 456 AB, 63 R, 115 H, 31 2B, 17 HR, 72 RBI, 70 BB, 114 K, 5 SB, .360 OBP, .432 SLG, .252 Avg)
Having an offensive player of the year is almost a misnomer since there really wasn't anyone on this club who lit it up over an extended period of time. You could make a case that Abner Abreu was heading there before he was traded, but that's just it, he was traded. What that leaves us with is an intriguing group of players led by the K-Tribe's third baseman, Adam Abraham.
Abraham led the Indians in every major offensive category except for average.
While he only hit .252 on the year, it's good to put it a bit into perspective. Only one player in the entire Carolina League hit over .300 (Andrelton Simmons--.311...trade for him now), and Abraham ended up tied for 19th in the league in hitting, and only two points behind club leader Tyler Holt. You combine that with his 17 homers (sixth in the league), 72 RBI (tied for fifth in the league), 63 runs (tie for 11th in the league), his .360 OBP (tied for sixth in the league), his .432 SLG (ninth in the league) and his .792 OPS (8th in the league), and you have an incredible season.
What's most frustrating about Abraham is that he can completely disappear for weeks at a time. Ultimately, he'll rebound with big numbers a solid streaks, but to be a factor in the future, he's got to put it all together. Next season will be a big one for the third-sacker. He COULD be a major player in this system over the next two years if he can make the step towards consistency, and see a jump in production once he's out of the Carolina League. As it stands, I don't think we'll hear from him for two more years in the bigs, but if he figures it out, it could be sooner.
The rest:
Casey Frawley
(Jim Pete/IPI)
Casey Frawley:
SS, Kinston Indians, 127 games, 465 AB, 54 R, 100 H, 20 2B, 4 3B, 11 HR, 59 RBI, 44 BB, 11 K, .291 OBP, .346 SLG, .215 AVG:
Frawley really is the scrappiest player on this team. I've called him a poor-man's Adam Abraham all season long, and stick to it. He plays the dirtier position at short, and is the blue collar to Abraham's white color. He's covered in dirt BEFORE the first inning, and always seems to look like he's been through a 15-round fight the night before a game. He unfortunately plays at a very deep position in the Indians system, and won't likely ever find himself in the majors for the Tribe, but I wouldn't be surprised to see him show up somewhere playing the middle infield in a few years...he's just that kind of player. He'll find himself in Akron next season.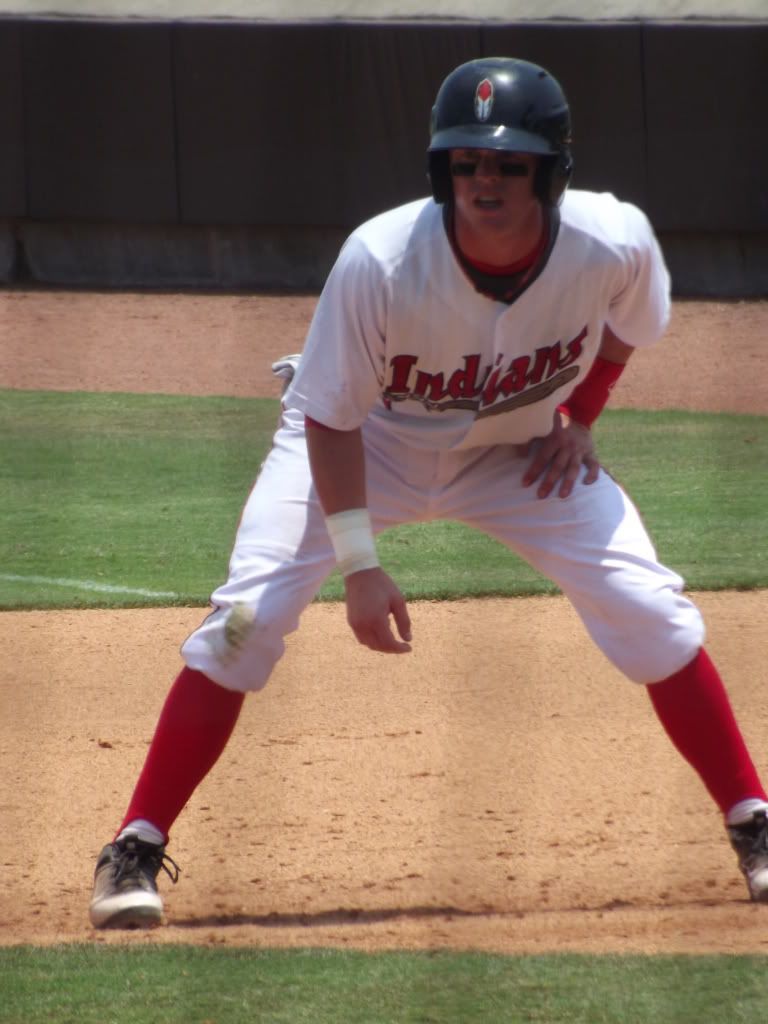 Tyler "Havoc" Holt
(photo: Jim Pete/IPI)
Tyler Holt:
CF, Kinston Indians, 123 games, 449 AB, 66 R, 114 H, 18 2B, 4 3B, 2 HR, 26 RBI, 78 BB, 106 K, 34 SB, .365 OBP:
Holt came as advertised, and led this team in hitting (for those that qualified). What does he bring to every team he's ever played for? He's absolutely tenacious, and brings a bit of that "Ty Cobb" mentality to playing baseball. No, the kid isn't hated, but he plays with a fire that not many players bring onto the field. He works hard, and plays hard. He's every bit as dirty as Frawley most nights, but with a bit of anger mixed into it all. He is the straw that stirs the drink, and on an offensive club, would like score 20-30 more runs on in High A. As it stands now, his 66 runs led the team, as did his 34 steals. He will be the leadoff hitter in Akron next year, and don't be surprised if you see him hitting near .300 for the season. If he can stop striking out in massive amounts, he could be another in the long line of potential Tribe lead-off hitters (Trevor Crowe, Jordan Henry) to climb up through the system.
Justin Toole:
2B, Kinston Indians: 99 G, 329 AB, 39 R, 85 H, 20 2B, 1 3B, 26 RBI, 16 BB, 51 K, .258 AVG:
Toole is your basic utility guy with a decent stick and no power. He'll slowly progress throught the system, and ultimately be the guy that comes up for a week here or there, if he ever gets that kind of chance. He struggled with injury during the middle of the season, and came back and struggled at the plate during the second half of the season.
Roberto Perez:
C, Kinston Indians: 94 G, 30 R, 64 H, 16 2B, 1 3B, 2 HR, 30 RBI, 62 BB, 79 K, .365 OBP, .225 AVG:
Roberto Perez will play in the major leagues. Sure, he's never going to hit over .250. Sure, he's never going to be anyone's top catching prospect because he can't hit. But, he can call a game, rarely makes errors that are costly, and is about as scrappy as they come. He'll be the starting catcher in Akron in 2012.
Tyler Cannon:
2B, Kinston Indians: 92 G, 36 R, 76 H, 17 2B, 4 3B, 6 HR, 39 RBI, 36 BB, 81 K, 246 AVG:
I almost want to talk about Cannon's days in Lake County exclusively, because like everyone else, his bat struggled to find baseballs with the K-Tribe. In Lake County, the kid went off to start the season, hitting .366 in 30 games, with 10 doubles, two triples, three homers and 17 RBI. No, don't expect a season that big in Akron next year for Cannon should he move up, but you can expect this 24-year-old to put up some decent offensive statistics. In a short stint with Akron, he hit .278, so he can absolutely translate his game to the upper levels. Will he start the year off in Kinston? Likely, but don't be surprised if you find him in Carolina for a brief period in 2012.
Delvi Cid:
CF, Kinston: 79 G, 31 R, 46 H, 5 2B, 1 3B, 2 HR, 9 RBI, 28 BB, 64 K, 28 SB, .197 AVG:
Cid was an interesting watch this year after stealing 71 bases in Lake County in 2010. In 2011, he started the season on the DL, and never really recovered after that. He did manage to steal nearly 30 bases, but his sub-.200 average may be the stark reality for Cid as he moves forward in the organization. I firmly believe he'll start the 2012 season off in Kinston, and likely will stay there until there's room somewhere else. As for the speed? Well, it can take you places, but he needs to show that he can be something more than the fast guy who can't hit.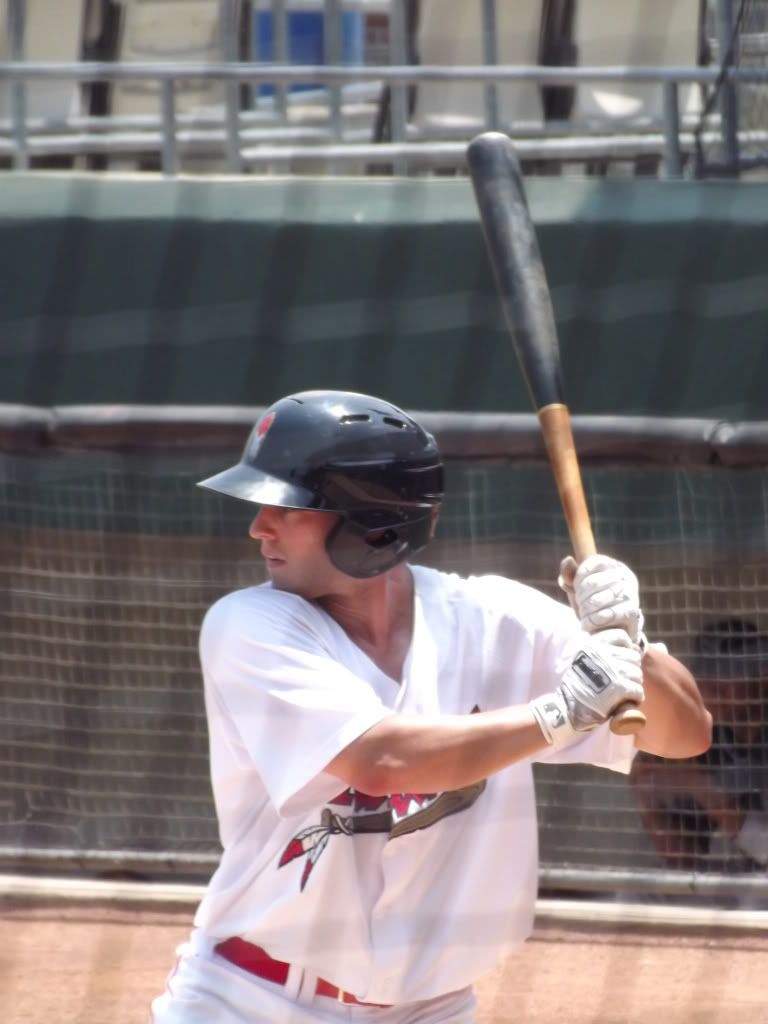 Bo Greenwell (photo: Jim Pete/IPI)
Bo Greenwell:
LF, Kinston: 65 G, 27 R, 61 H, 12 2B, 2 3B, 3 HR, 23 RBI, 20 BB, 30 K, 5 SB, .260 AVG:
A case could be made that Greenwell was the best player for the K-Tribe in 2010. Splitting time between Lake County and Kinston, he hit .301, scoring 78 runs and stealing 25 bases. In 2011, it just wasn't meant to be. He got out of the gates hot, hitting .304 in April, but as the months warmed up, Greenwell's bat cooled off, as he hit .232 in May, and .242 in June, before going on the DL. He returned in late August, and hit .250 the rest of the way. Was it a lost season for Greenwell? It sure was. If he can have a hot fall and winter performance, I could see him starting the year off in Akron. If not, he may find himself back in Carolina, having to rebuild the momentum he lost in 2011.
Jesus Aguilar:
1B, Kinston Indians: 31 G, 12 R, 29 H, 3 2B, 3 HR, 13 RBI, 11 BB, 28 K, .257 AVG:
Aguilar may be the most promising prospect to come through Kinston in a long time. As a matter of fact, it's highly likely that he could be something that the Carolina League Indians won't see for very long in 2012, if at all. The righty brings an interesting power game to the Indians system, and he could turn into a player that has #1 prospect written next to his name in the near future. In Lake County, he hit .292, with 27 doubles and 19 homers, driving in 69 runs. While he certainly didn't have that sort of impact during the regular season in Kinston, he DID have that kind of impact for Kinston in the playoffs. He hit six homers in the eight playoff games, including a stretch in which he hit four in four games. If he were to play a full season for Carolina next year (he won't), he could be the guy that ends up north of 30. With that said, look for a fun spring from Aguilar next year, on his way back to Ohio.
Other offense in the mix:
Jeremie Tice DH, Jordan Casas OF, Abner Abreu OF, Chase Burnette 1B, Argenis Martinez 2B, Anthony Gallas, Doug Pickens: Abreu is long gone, and the mercurial outfielder ended up hitting .244 in Daytona. What did he hit in Kinston? .244. Yeah, if Abreu ever figures things out, he'll be a superstar, but the trade in and of itself could throw him into a two-year tailspin. It should be interesting for Cubs fans to see what he does next year (could it be a third straight year in High A?). Other than Abreu, there really isn't much offensive talent listed above. Instead, keep your eyes out for an interesting crew in both Lake County and Mahoning Valley.
Alex Monsalve
already saw some time at catcher in the playoffs, and will be the starter there next season for the Mudcats.
Bryson Myles
will likely find himself skipping Lake County, and leading off for Carolina next year as well, just as Tyler Holt did this year. Myles is another guy in the top ten of the system, and batten down the hatches. This kid is a player. It could be an interesting offensive year in 2012, as the K-Tribe moves to Raleigh.
Projected starting lineup: C-Alex Monsalve, 1B-Jesus Aguilar, 2B-Tyler Cannon, SS-Ronny Rodriguez, LF-Bo Greenwell, CF-Bryson Myles, RF-Jordan Casas (of course, this could go a million different ways)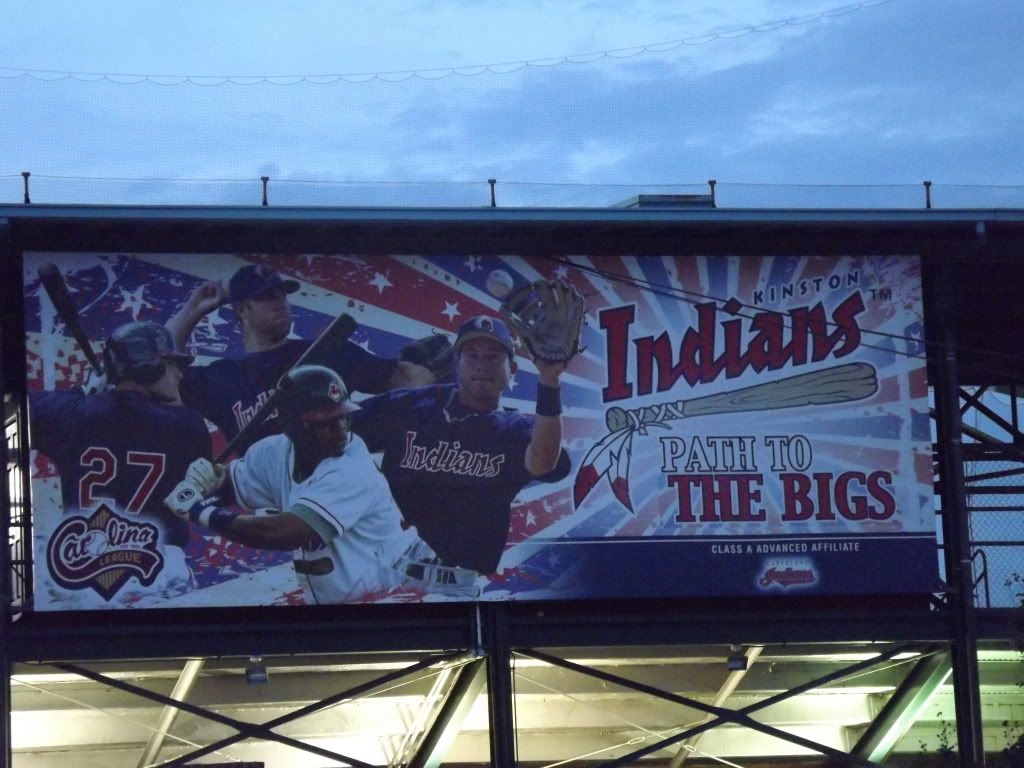 Historic Grainger (photo: Jim Pete/IPI)
The end of an era:
Baseball leaves Kinston, and with it, I have mixed emotions. I've attended at least 100 games over the past ten years in Kinston, and have really grown fond of the small-town feel that Historic Grainger stadium has. It's typical High A baseball, with a ballpark mixed right into the Kinston downtown neighborhoods. Five County Stadium, the K-Tribe's new home in 2012 just doesn't share that same charm. Still, as a resident here in Raleigh, I'm pumped for a new start a few minutes from my home. Not only will my coverage be more encompassing, but I'll be at nearly every home game (season tickets, here I come). The stadium there is an interesting story in and of itself, and one that I'll be telling during the offseason as we head to 2012. Cleveland enters the Raleigh market, and with a ton of potential big time prospects heading are way.
With that said, here's my last rearviewmirror for the city of Kinston, and Historic Grainger Stadium! Thanks for the memories Kinston...
Historic Grainger Stadium (Jim Pete/IPI)
Jim is currently the senior editor and Columnist, as well as the host of IBI's weekly online radio shows, Smoke Signals and Cleveland Sports Insiders. You can follow Jim on Twitter @Jim_IBI, or contact him via e-mail at jpete@indiansprospectinsider.com.
User Comments
No comments currently. Be the first to comment!