Kipnis may be on verge of a callup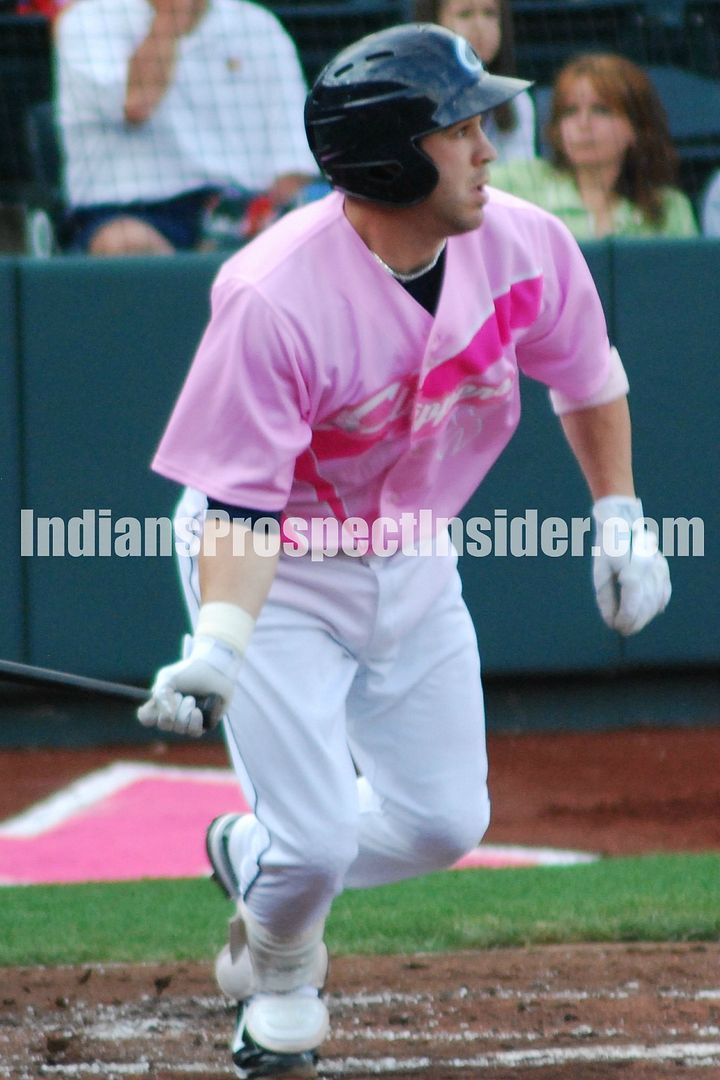 Jason Kipnis (Photo: IPI)
There are a lot of reasons that the Cleveland Indians should not callup Triple-A second baseman Jason Kipnis to the big league club. He is not even up for roster protection until after the 2012 season, and he is still very green at second base since this is his second full season playing the position.
If the Indians were not contending and simply going through another sub par season as they have the past few years, there would be no chance at a callup of Kipnis for these exact reasons. But winning changes everything, and desperate times call for desperate measures.
The Indians surprisingly are in a heated AL Central battle as at the end of June they find themselves in a first place tie with the Detroit Tigers, something many people – even the Indians themselves – did not expect at this point in the season. With winning now the priority and development taking a backseat, we are seeing several of their young heralded prospects such as right-handed pitcher Alex White and third baseman Lonnie Chisenhall getting called up much earlier than expected.
Kipnis, 24, could be the next highly touted prospect to join the team.
General Manager Chris Antonetti and Director of Player Development Ross Atkins were both in Triple-A Columbus this week to see Kipnis and several other players in action to get firsthand reports on them. Maybe it was just a routine scheduled trip to see the Triple-A club, but it certainly looks like with the Indians' top two decision makers being in town together that some assessments are being made as to who may be called up next, possibly as soon as game time on Friday night in Cincinnati.
Kipnis put up a great showing this week in front of the Tribe bosses going 7-for-12 with two homers and four RBI in the three games they were there. Overall, he is having a very good season where in 76 games he is hitting .302 with 11 homers, 48 RBI, and a .909 OPS. He also has nine triples and ten stolen bases.
"Things are going good actually," Kipnis said in an interview this week. "The team is playing great and I am really learning a lot about this level. I only got about a week to ten days here last year so I was just kind of playing to help the team win, but this year I have kind of really developed and learned who I am as a player. I think it has gone well so far and I think it is only going to get better."
There is no doubt that the Columbus roster is filled with a lot of options for the Indians to pull from who could help the big league roster to varying levels. Almost every player on the roster has or will play in the big leagues someday, and they could almost be a Major League expansion team with all the talent on the roster and would probably hold their own.
"Whether we can or not, we do kind of believe that as we joke around that we think we might be a mediocre Major League team or something like that," Kipnis said. "The best part is that it is not just one guy standing out every night, it is always two or three guys every other night or a great pitching outing by someone. It is a very hard team to beat when everyone is chipping in. We expect to win everyday and when we don't win it is a shock to us. When that's the environment you have in the locker room, it is a real productive one."
For a player like Kipnis who is knocking on the proverbial door to the big leagues, it can be hard to block out the distraction of waiting for a callup. Players often talk about controlling only what they can control and letting all the roster decisions take care of themselves, but it can be hard to ignore and sometimes players will try to do more to get noticed, which hurts them in the long run.
"I think when you are this close and knocking on the door you are doing what you can to get noticed to make it up there," Kipnis said. "But at the same time we have a great group of veterans on this team who have been there who know and tell us our time will come and don't try to force it and do something you are not used to doing."
Kipnis got off to an okay start in April where in 21 games he hit .253 with 2 homers, 11 RBI and a .820 OPS, but since May 1st is hitting .319 with 9 homers, 37 RBI, and a .942 OPS in 55 games. His performance at the plate has been consistent almost all season, and he feels a lot of his success is the result of him maturing as a player.
"Not even talking about numbers, I think I am maturing a lot on and off the field," Kipnis said. "I wanted to work on becoming a better all around player and teammate. People like Travis Buck who I am sure don't want to be down here, but when they are they have been fantastic in helping me out with being a better teammate and handling slumps. I think in terms of evaluating my season I have matured a lot more than I could have hoped for so I am happy about that."
Kipnis has a unique routine when he steps to the plate where he will setup in the box and then while holding the bat will lay it sideways in mid-air parallel to the ground so he can better wrap his fingers around it and then move it up to his shoulder area. It looks a lot like what Mickey Tettleton used to do, and while it may look silly he is not about to change what is working for him.
"I have no idea where it came from," Kipnis laughed. "I wanted the bat in my fingertips and I didn't know how to get it there and I didn't want the bat wrap so that is what I came up with. As long as it keeps working I am going to stick with it. I know it looks dumb, but as long as it keeps working I can't change it."
There is no question that Kipnis' bat is Major League ready. Even more ready than Lonnie Chisenhall's was before he was called up on Monday. The question with Kipnis is whether he is ready to handle playing second base everyday at the big league level, and there is still some uncertainty with that since he has only played the position now for a year and a half.
"I am loving the competition out here as there are a lot bigger and smarter guys and the groundballs come faster," Kipnis said. "I am enjoying it now and having a lot of fun [at second base]. It is something I have had to keep after everyday. The more groundballs you take and the more reps you get, the easier it is going to be on you. You can never take too many. They have me out for early work a lot and it really may not be to work on something but just to keep getting used to it so it doesn't get too far away from me."
Kipnis continues to work hard and is making strides at second base, but probably needs more time. The Indians, however, don't have time and may have to finish him off at the big league level as his bat is too valuable and could really help a struggling offense.
"I have really worked hard with the coaches here about double plays, turns, my arm slot and everything," Kipnis said. "I am starting to get the hang of it where it is starting to be more instinctual rather than me being a robot out there. Once instincts take over is when you really start to play the position."
If the Indians do decide to call up Kipnis they will need to decide what to do with both Cord Phelps and Orlando Cabrera. Phelps and Kipnis are almost strictly second base options for the time being, whereas Cabrera could play almost anywhere in the infield. Kipnis was an outfielder in college and Phelps has played some third base and shortstop in the minors, but those do not appear to be options for either player at least for this season.
Though, again, when a team is desperate for answers, anything is possible.
In the meantime Kipnis continues to plug away and impress his bosses with his electric bat.
"This season I just think it is a maturing process where I am finding out who I am as a player," Kipnis said. "I want to just keep getting better. What that means in terms of stats or a callup is nothing; it is just to keep getting better this year. I'll let the other stuff take care of itself. For me it is just one of those things where they say that if you are going to get up there you want to stay up there, you don't want to be going up and down. That's the goal, to become a better player so I'll know when I am ready and will be ready to go."
But Kipnis would by lying if he did not admit he was excited for the opportunity to make his Major League debut.
"I always joke with Ross, my phone is always on."
Follow Tony and the Indians Prospect Insider on Twitter @TonyIPI. Also, his latest book the 2011 Cleveland Indians Top 100 Prospects & More is available for purchase for $20.95 to customers in the US (shipping and handling extra).
User Comments
No comments currently. Be the first to comment!