Kluber Starting To Settle In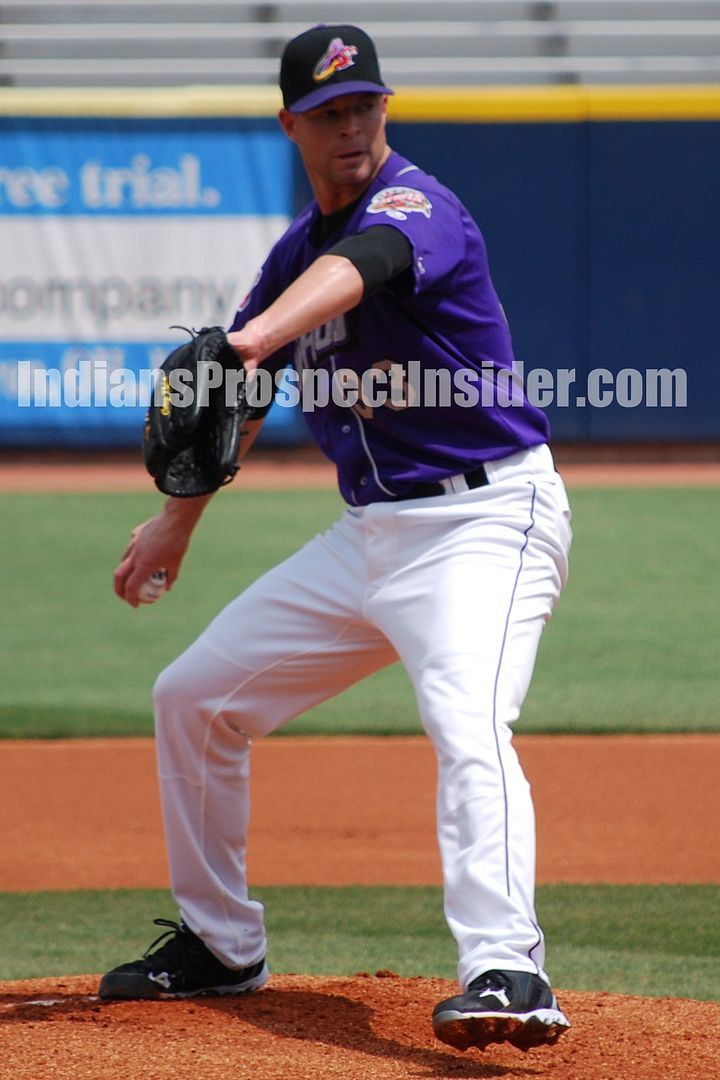 Some time has now gone by since the July 31st trade of veteran right-handed pitcher Jake Westbrook which brought back right-handed pitching prospect Corey Kluber to the Indians from the San Diego Padres. A little over three weeks to be exact.
During that time, the newly acquired Kluber has had to make the quick adjustment to a new organization, league, and teammates all on the fly. In his first two starts with Double-A Akron he lasted just four innings each outing and was hammered for a total of 19 hits and nine earned runs while walking six and striking out nine batters. In the two starts since he has been much better going a combined 11.1 innings and allowing 11 hits, one earned run, and three walks while racking up seven strikeouts.
In four starts with Akron the 24-year old Kluber is 1-2 with a 4.66 ERA (19.1 IP, 30 H, 9 BB, 16 K), and overall this season between his time with the Indians and Padres he is 7-8 with a 3.61 ERA in 26 starts (142.0 IP, 151 H, 49 BB, 152 K).
"I feel good," said Kluber in an interview for the IPI on Sunday at Canal Park. "I have not had any problems getting adjusted or anything as I think really it is just the same as moving from teams in an organization where you meet new guys. I am starting to get back into a good routine. For a couple of weeks there it was really hectic moving around and getting adjusted, but I am starting to get in a routine and comfortable again."
His increased comfort level and being back on a routine has shown as Kluber has been much more effective in his last two outings and has pitched exactly like the pitcher he was thought to be since being acquired by the Indians. He is an innings eater who won't dominate a game with his stuff or overpower hitters, but he knows how to pitch, command the zone, compete, and pitch deep into games.
Kluber has had a lot of success over the years with amassing a large amount of strikeouts even though his fastball sits in the low 90s and he doesn't have a truly devastating secondary pitch. The large strikeouts are a result of his ability to control the ball and also create some deception and swing-and-miss with his four pitch mix.
"I think it is just working ahead of guys and staying on top of the hitters and keeping them uncomfortable," said Kluber about his success to date as a pitcher. "I throw a two and four seam fastball, changeup and slider. I try to just pound the strike zone and keep the pressure on hitters and stay aggressive. Working ahead is big for me, and my slider is my out pitch."
The Indians view Kluber as a starting option for the big league team as soon as next year. However, before he can seriously be considered at the big league level he needs to hone in on and refine his changeup. His fastball-slider combination is his bread and butter, which is why some feel he may be more effective in a bullpen role down the road. That said, for him to be considered a true starting option it will be the development of that much needed second offspeed pitch, his changeup.
"I feel I need to improve on my changeup," said Kluber. "It has come a long way since I have gotten into pro ball, but there is still a lot more I can do to improve it. It's a big pitch for anybody. Fastball command is always another thing to improve as you can never be too good at."
Already at 142.0 innings on the year and coming off a 154.0 inning campaign last year, Kluber will likely finish up around 160 innings this year. Because of the high workload he will not pitch anywhere this offseason and take time off for the second offseason in a row. Considering he is still new to the Indians organization it won't be a complete several month long vacation from baseball as he will likely be required to attend the Winter Development Program in January and also potentially participate in offseason workouts in Goodyear, Arizona.
At the moment the organization is still just evaluating Kluber due to their 30-day rule which calls for the Player Development Department to simply observe and take notes on new trade acquisitions or draft signings. No changes to his pitching repertoire or mechanics will be implemented this year, but there could be a few tweaks in the offseason or next spring.
For now, with just two weeks left in the regular season and likely three starts left, Kluber is just focused on the task at hand and finishing the season strong.
"They are just kind of letting me do what I am used to and staying in a routine so it doesn't get too out of whack," said Kluber. '"I am just continuing to keep my normal routine going and just trying to finish on a strong note and keep building some momentum for next year."
Follow Tony and the Indians Prospect Insider on Twitter @TonyIPI. His new book the 2010 Cleveland Indians Top 100 Prospects & More is also available for purchase on Amazon.com or his site.
User Comments
No comments currently. Be the first to comment!