Lindor thoughts and more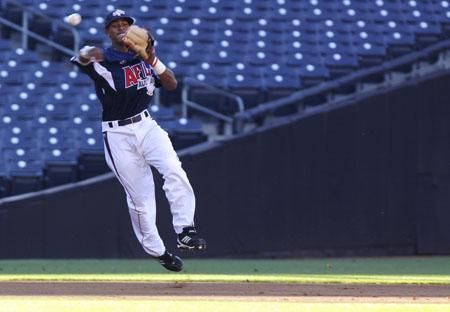 Francisco Lindor (Photo: AP)
Last night the Indians selected shortstop Francisco Lindor out of Montverde Academy High School in Florida with their first round pick. Here are some quotes from Indians Amateur Scouting Director Brad Grant as well as some thoughts from me.
Director's Cuts
On Francisco Lindor:
"Francisco is a switch-hitter and very good from both sides of the plate. He has a line drive, gap type approach, but also has some power in the bat at the same time. He won the Aflac home run hitting contest last summer, so there is a little bit of power in there, but more hit ability which is what we are looking at this time on the offensive side. And then on the defensive side he is a premium [player]. He has plus hands, plus feet, easy range, very good instincts and has a true ability at shortstop which is something you don't often find with a high school player. It is not often that we go and scout high school players that we have the ability to say this guy can play shortstop at the Major League side of things. Often times we go with the phrase that we think he can stay at short, and in this case this guy can play shortstop. The intangibles and instincts and the way he plays the game are pretty special, and something you can't teach and a natural thing for him."
On how long they have been watching him:
"He came over from Puerto Rico and to the states at the age of 12 and started switching hitting as well at [that age] and then played for the junior national team. So we have been watching him for about two and a half years now, and really started to bear down on him [last] summer at Team USA. He played with Tony Wolters on that team so we watched him a lot. He did all the showcases and all the national showcases and we saw all the games he played in this spring and did not miss one [game]."
On how things unfolded and why they took a prep player over a college player:
"We had a thought he would be there. With the top of the draft there was some uncertainty with how the draft would go. But we had a feeling there was a chance he would be there, and is a guy we targeted from the beginning of last winter. He has the ability to stay at short, and to get a premium position athlete like Francisco. He is a player we feel has the true ability to stay at short and bring offense with it at the same time and we felt like we were in a good position to do that."
On the risk of taking a prep player:
"Yeah, there is certainly more of a risk. He is still 17 years old, and when you look at that the development path it is going to be a little bit longer for a 17 year old. At the same time to enter a shortstop into our system it is something that was too good to pass by at this point."
On his growth potential:
"He has grown a lot between his junior year and senior year. He really did a lot strength and conditioning-wise this past offseason, and actually improved his running as well. So he has already started to hit that growth and add that strength, but obviously at 17 years old he still has the chance to get a little bit stronger and fill out a little bit more."
On which one of offense or defense stands out more:
"They both stand out for us, but obviously his defense is what makes him special in our eyes with his ability to play shortstop. But this guy has offense too as a switch hitting shortstop."
On his throwing arm:
"He can make the throw in the hole and has no issues whatsoever. If you put him on our scale he has an above average arm and he can easily make the throws from the hole."
Random Thoughts
- Lindor is a nice pickup for the Indians. There are some very interesting high upside/ceiling position players in Low-A Lake County and below, but as has been seen so far this year there is a considerable gap in position player talent between Triple-A Columbus and Lake County, so the Indians could definitely use an influx of premium position player talent. Lindor is an excellent start.
- Lindor's biggest strength is as a defender where he has very good range, instincts, and hands that should allow him to stay at shortstop and be a plus defender. In addition to his very strong defensive abilities, he is a promising hitter. He is a gap type hitter with a line drive approach and works his best when he is working the ball back up the middle. He has some developing power and already has the ability to drive the ball into the gaps and over the wall pull side. He will never be an above average power hitter as that is not his game, but he certainly has the tools and approach to be a guy who hits for average. He is an above average runner that is aggressive and has good instincts so should be a solid base stealer in the future. He has excellent makeup and is considered a baseball rat. He also speaks English as he learned that in boarding school when he came to the states, and there is some baseball in the family genes as his father played semi-pro baseball in Puerto Rico.
- One of the things that makes Lindor so attractive is how he has played so well when matched up against the best competition. He has played against the best players in showcases all over the country and played for the junior national team where he faced top talent in other countries such as Canada and Japan. He performed very well in those showcases and tournaments, and is what attracted the Indians to him offensively as he held his own against a lot of elite pitchers.
- If you were following the IPI yesterday morning and throughout the day, then the Lindor pick was not much of a surprise. Contrary to what the national pundits were saying that the Indians would take a college arm, based off some things I had learned through my own sources the last 24-48 hours I had a very good feel they were going to take a prep player. Assuming that some of the top names would not be there when they picked, it really in the end probably came down to right-handed pitcher Archie Bradley and Lindor. There were other players in the mix too, both prep position players and college pitchers, but when it came time to pick and Bradley was off the board already they chose Lindor as expected.
- The Indians have not commented and will not comment on who else they may have picked, but as noted above Archie Bradley was strongly considered and likely would have been the guy had the Diamondbacks not scooped him up at #7. In addition to Bradley and Lindor, the Indians were also in on guys like high school shortstop Javier Baez who went one pick later to the Cubs at #9. Had Lindor and Bradley both been gone, Baez likely would have been the pick, and I believe there was some consideration even as they prepared to select Lindor to take Baez instead. Again, as you can see, the stuff about the Indians in on college arms with the first pick was completely off as they were almost certainly going to go with a prep player.
- Now comes the hard part, which is signing Lindor. Folks, I am going to be brutally honest here and tell you this is going to be one TOUGH sign for the Indians. He is going to command big bucks and will be one of the hardest in the Top 10 to sign. You can pretty much take it to the bank that he will not sign until just before the midnight deadline on August 15th. His agent got Detroit Tigers prep third baseman Nick Castellanos a record $3.45 million last year as a first round supplemental pick, so if you ask me $3.5 million will be Lindor's floor to sign. I'm just speculating, but don't be surprised if it takes something over $4.0 million to maybe even $5.0 million to sign him. I believe they will sign him, but if I had to be a percentage on that likelihood, I'd say 60%.
- The Indians took Lindor completely with the intention of signing him. They love his talent and potential and love the fact they are bringing in a high upside/ceiling guy. That said, if things do not work out with him there is always a chance they let him go to Florida State and just take the compensation next year where they get a first round pick in the same slot in the draft, similar to the Diamondbacks who selected 7th this year after they lost out on 2010 draft pick Barret Loux. Also, in addition to getting the first pick compensation next year the Indians could then shift gears on August 15th to use some of Lindor's money to sign some high-priced later round picks.
- Speaking of the later rounds, even with the risk the Indians are taking with the Lindor pick do not expect them to take their foot off the gas pedal. The Indians plan to continue to be extremely aggressive on Day 2 and 3 of the draft all the way up and through their 50th round selection. With Lindor not a sure thing, they are surely going to take some fliers on some high risk signability guys to help cover his loss in the event they are unable to sign him. Even if they sign him, they plan to be aggressive with some later round picks and still sign them anyway.
- It is almost impossible to predict what the Indians may do today, but look for them to select two or three re-drafts of guys they have taken in previous years whom they like, such as Oklahoma right-handed pitcher Burch Smith who could be an option with their 2nd or 3rd pick. There are also some intriguing guys who have fallen because of injury concerns, players like Oregon State catcher Andrew Susac and TCU lefty Matt Purke. This is a pitching heavy draft, so I would expect a great many of the picks through the top ten to be pitchers.
- As for today, the Indians will make selections in the 2nd through 30th rounds. It will be one heck of a busy day, and be sure to check back here at the IPI all throughout the day as the moment picks are made I will have information up instantly as I get it including scouting reports, ranks, video, and more.
Follow Tony and the Indians Prospect Insider on Twitter @TonyIPI. Also, his latest book the 2011 Cleveland Indians Top 100 Prospects & More is available for purchase for $20.95 to customers in the US (shipping and handling extra).
User Comments
No comments currently. Be the first to comment!