Lofgren's Season Is On The Rebound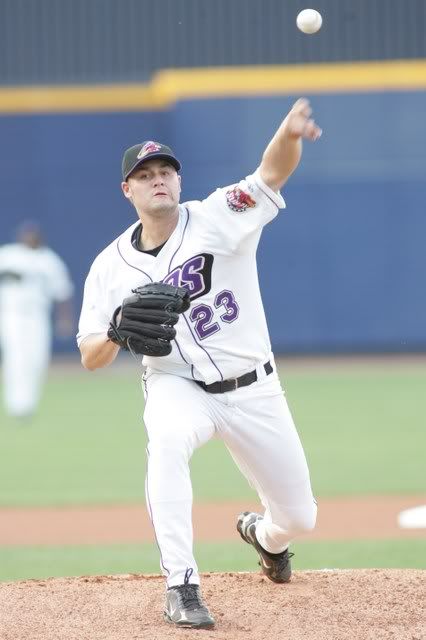 It would be an understatement to say Indians left-handed prospect Chuck Lofgren got off to a slow start year.

Lofgren was a 4th round pick out of high school in the 2004 Draft. Rated as the #2 prospect in the Indians organization by Baseball America, and #5 in my Top 50 List, the poor numbers for Lofgren early in the season in April were disappointing. For the month of April, in five starts Lofgren went 0-2 with an 8.24 ERA and opposing batters hit .316 with five home runs off him. More alarming was how he allowed 14 walks in 19.2 innings (6.4 BB/9), but walks have always been an issue with Lofgren.
Last year at Akron, Lofgren put up a solid year going 12-7 with a 4.37 ERA in 26 starts. It was his first experience in Double-A, and at age 21 the numbers were very good. Going into this season, however, the Indians wanted to see him make some adjustments and take a step at getting back to the dominating pitcher he was in 2006 at advanced Single-A Kinston when he went 17-5 with a 2.32 ERA in 25 starts. So far that has not happened, but there is still a long way to go this season.

Some may wonder if Lofgren's return trip to Akron affected him early in the season and led to a hangover effect from having to return to Akron for the second straight year. After spending a full year at Akron last season, many people (including Lofgren) probably had Lofgren pegged as one of the five starters at Triple-A Buffalo to start the season. But, given Lofgren's so-so season last year and many development opportunities still needing attention, the Indians for now are keeping Lofgren in Double-A to work on those things rather than have to make them on the fly at a higher level and in a new environment for him. Lofgren understands the situation, and will be ready when he is called upon to move up.

"I can only control what the Indians say and want me to do," said Lofgren. "If I am here, in Buffalo, or in Cleveland, it doesn't matter as I am going to work as hard as I can to eventually be where I need to be and that's in Cleveland. I just need to work hard and keep my head on my shoulders and stay healthy."

Lofgren typically has displayed great mound presence and is a fierce competitor on the mound, and that has not changed. According to Lofgren himself as well as various Indians staff members, he is healthy and his velocity is about the same as it has always been. Right now he is working on some adjustments with his delivery, and has remained upbeat even with the gaudy numbers hitters have put up against him early in the season.

"I feel good," said Lofgren in an interview last week at Canal Park. "Coming out of spring my arm did not feel all that great. It was starting to feel a little dead, but now it is starting to heat up and I am feeling better. I also have been working on a couple different things. I am working on new grips with my fastball and slowing down my mechanics a little bit. Right now it is a work in progress and I feel like every week it is getting a little bit better."

The Indians have worked extensively with Lofgren's mechanics since spring training to get him on track. During bullpen sessions between starts, one of the biggest problems they have worked on with Lofgren is getting him to maintain a consistent release point. Last year at Akron and early this year Lofgren has had trouble with his release point which has hurt his command and led to a lot of walks and also him leaving many pitches up in the zone that opposing hitters have hammered.

"Early here in the season he is struggling a little bit with the fastball command," said Akron manager Mike Sarbaugh. "Against Bowie he threw two really good innings, we got rained out, and then the other night he threw three good innings and then left some balls up, walked some guys and just got into a little bit of trouble. He is throwing the ball well, and the velocity is about the same. He just has to get that confidence knowing he can go out there and attack hitters and know he can get them out."

Lofgren has been working hard with Akron pitching coach Tony Arnold to correct his issues, getting out to the field early everyday to work on his mechanics and practice out of the stretch and try to get his delivery down.

"It mainly was my delivery to try and get out more with my front arm and follow through a little bit better than I have in the past," said Lofgren. "In the past I have been just kind of throwing and standing upright as opposed to bringing my back leg around and really firing it and following through. So throughout spring training we were out working on it, and things like that take time and it can't be fixed overnight. I feel like start to start I am feeling strong and my velocity has been good, so I will keep on working on it until I get it."

In Lofgren's last two starts, it looks like he has turned the corner. A flip of the calendar from April to May might have been all he needed as he has started off May with a bang. In two starts so far this month Lofgren has been sensational and is 1-1 with a 1.38 ERA and opposing batters are only hitting .204 off him and he has lowered his walk rate to 3.46 BB/9 for the month. His improved location has also led to an increase in strikeouts as he has a total of 16 in the two starts, with one game a nine strikeout performance. The nine strikeouts were one shy of his career high, and were the most he has struck out in a game in almost two years.

The turnaround is a credit to the hard work he has put in after his April 25th start when he hit rock bottom by going 4.2 innings and giving up seven runs. After that poor outing, Lofgren went through some of his video archives and compared video from this season to that of his great 2006 season and found he has been rushing his delivery. Ever since then he has made a conscious effort to be much more deliberate with his move to the plate, and the results in his last two starts show the hard work has paid off.

His performance early on in the season shows how mentally strong you have to be to play baseball. This is also why teams pay so much attention to players learning to develop a routine and learning how to quickly wipe the slate clean after a good or bad start to better focus for the next outing. This is one of the things they concentrate on with players who take part in their Winter Development Program in January every year at Progressive Field.

While Lofgren returns to his home every winter in the San Francisco, CA area, the last two off-seasons he has participated in the Indians Winter Development Program. As a returning player this year, Lofgren was only there for a week, where first-timers usually are there for two to three weeks. Lofgren raved about the program and feels it helps him and many of the other young players in the system get a better understanding of who they are, their abilities, and what they need to do to get to the majors.

"It is a great experience," said Lofgren. "They have front office people of all types from Robby Thompson to Tim Belcher to Mark Shapiro to Mr. Dolan the owner come in and talk to you about being a true pro and what it takes to get up to the [majors]. How you go about your day. Then they bring in players like Jake Westbrook to talk to you and you hear how they came up and they made it, and the different beliefs they have. It is a real honor to get to listen to them speak, and it really makes you want it that much more."

In addition to hearing several people speak and getting some work in, the players also get a thorough psychological workup with Indians Sports Psychologist Dr. Charles Mayer and his staff.

"We do lots of work," said Lofgren. "From the sports psychologist side of it, Charles Mayer has us fill out forms to basically see where we are at in our lives. Also to see the different mental ways from a pitching aspect of how we are attacking the zone, what we are thinking on different counts and how we are going to approach different situations."

With his strong mental approach to the game, it looks like Lofgren's hard work is starting to pay off and his season is on the rebound. At some point this season Lofgren should find himself at Buffalo, and he is still very much in the Indians short-term plans as a starting pitching option in the next year or two.

Photo courtesy of Ken Carr
User Comments
No comments currently. Be the first to comment!