Looking Back at the Draft: 1988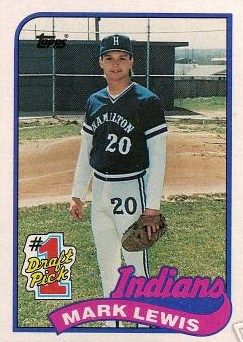 The year is 1988.
The Soviet Union begins
perestroika
...it leaves much to be desired. US Army Lt. Col William R. Higgins is kidnapped and killed in Lebanon. The Soviet Union commits to withdraw combat troops from Afghanistan. Enzo Ferrari dies at the age of 90. Kirk Gibson hits his game-winning HR on one leg to clinch the 1st game of the World Series for the Dodgers. George H. W. Bush is elected president of the United States. The first B-2 "Stealth" bomber rolls off the assembly lines. Benazir Bhutto is sworn in as Prime Minister of Pakistan. Beanie Wells is born, and runs over the doctor on his way out of the delivery room. Pappy Boyington, American WWII hero, dies. Greg Swindell goes 18-14 for the Doc Edwards led Indians, who finish the season with a record of 74-84 and choose 2nd overall in the June draft.
Indians 1st round pick:
With the 2nd choice in the June draft, the Indians selected Ohio HS shortstop
Mark Lewis
out of Hamilton High School. Lewis never lived up to expectations, and had his best year with the Tigers in 1996 when he hit .270 with 11 home runs. Andrew pretty much covered the "career" of Lewis with his
"Ghosts of Prospects Past"
feature last June.
Best 1st round pick:
A few solid players, but no real hall of famers in 1988's 1st round. The best of the bunch was probably 1st baseman
Tino Martinez
, drafted 14th overall by Seattle. Martinez hit 339 HR's and posted a lifetime .815 OPS, primarily as a Mariner and Yankee.
Honorable mention:
Steve Avery
(3rd overall to Atlanta) won 18 games twice before having his career derailed by injuries...In addition to getting beat up by
Nolan Ryan
,
Robin Ventura
(10th overall to the White Sox) managed to hit 294 HR's and win 5 Gold Gloves.
Indians best pick:
Fortunately for the Indians, they had more than one 1st round pick in 1988. They also had the 17th overall pick in the 1st round, acquired from the Giants for losing type A free agent
Brett Butler
. The team used this pick wisely, selecting righthanded pitcher
Charles Nagy
out of the University of Connecticut. Nagy went 129-103 in an Indians uniform, winning 17 games for a team that only won 76 overall in 1992. Nagy made 3 all-star teams as an Indian (starting the 1996 game in Philly), and finished as high as 4th in the Cy Young voting (1996 again). Nagy was a competitor on the mound who always got the most out of his stuff, and is back in the organization as a coach. Just for fun, check out the
sponsor of Chuck's baseball reference page.
Honorable mention:
Lewis was probably the 2nd best player selected by the Indians in 1988, so that should pretty much sum up the quality of the club's draft. Only five players signed by the club ever appeared in the majors, and three of those were chosen before the 2nd round began. Lewis was the only position player who ever made the show, and the pitchers combined to win 165 career games. Chuck Nagy owns 129 of those 165 victories. Outside of Nagy, this draft was a disaster, especially considering they were picking 2nd overall.
Best early round picks:
Atlanta snagged relivers
Turk Wendell
and
Mark Wholers
in the 5th and 8th rounds, respectively; they would both finish their careers with ERA's under 4...Baltimore picked up future Omar Vizquel nemesis
Arthur Rhodes
in the 2nd round; Rhodes finished with an 80-62 career record to go along with his 32 saves...Boston chose Nomar Garciaparra's predecessor at SS in the 5th round when they picked up
John Valentin.
Just one of many examples of how irrational some Sox fans are, there was an outcry when Nomah supplanted Valentin at short in Fenway in 1997...Gold Glove slugger
Jim Edmonds
was a great selection for the Angels in the 7th round. Edmonds won eight Gold Gloves in addition to hitting 382 HR's...Houston took
Luis Gonzalez
as a first baseman in the 4th round. Gonzalez did most of his damage as an Arizona Diamondback, including his World Series heroics over the Yankees in 2001...The Dodgers took future Rookie of the Year
Eric Karros
in the 6th round. Karros hit 30 or more HR's in five of his 14 seasons...Montreal's 3rd round choice of
Marquis Grissom
was a good one and they made another good decision in having him stick to the OF as he was also a highly regarded pitcher coming out of Florida A&M...Pittsburgh selected knuckleballer
Tim Wakefield
in the 8th round. Wake has 189 career victories, and made his first ever all-star team last season...Texas picked up lefty
Darren Oliver
in the 3rd round. Oliver is still pitching pretty well, having gone 5-1 with a 2.71 ERA last season for the Angels.
Best late round picks:
The Los Angeles Dodgers made probably the best value pick in the history of the draft when they chose future Hall of Fame catcher
Mike Piazza
in the 62nd round. Piazza went on to make 12 all star teams, win 10 Silver Slugger awards, and finished with a .308 lifetime batting average and hit 427 career HR's...Houston made a great choice when they picked up speedster
Kenny Lofton
in the 17th round. Fortunately they would later deal him to the Indians where he would go on to win four Gold Gloves and lead the league in stolen bases five straight seasons en route to finishing with 622 for his career...The Yankees took dual sport star
Deion "Prime Time" Sanders
in the 30th round. Neon Deion was a better football player than baseball player, but he did manage to steal 186 bases in his baseball career.
The ones that got away:
The Yankees failed to sign both
Chad Ogea
(41st round) and
Fernando Vina
(51st round)...Minnesota couldn't come to terms with
Aaron Sele
after selecting him in the 37th round out of high school...Cincy took future Tribe draft pick
Paul Byrd
in the 13th round, but they were unable to sign him.
Other interesting picks:
The best example for steroids alone not making a bad player good, catcher
Tim Laker
was chosen in the 6th round by Montreal...Lefthander
Jim Poole
was chosen in the 9th round, and will forever be ingrained into the memories of Tribe fans as the guy who gave up David Justice's HR in game 6 of the 1995 World Series...Kansas City took
Bob Hamelin
in the 2nd round. He would go on to win the AL Rookie of the Year Award as a DH over Manny Ramirez in 1994, and then be out of baseball by 1999...St. Louis took future Tribe pitcher
Mark Clark
in the 9th round. Clark went 11-3 for the Indians in a solid 1994 season.
Indians June draft:
1. Mark Lewis, SS
1. Charles Nagy, RHP
1s. Jeff Mutis, LHP
2. Brian Johnson, C
3. Clyde Pough, RHP
4. Daren Epley, 1B
5. Ty Kovach, RHP
6. Don Young, OF
7. Greg McMichael, RHP
8. Olonzo Woodfin, LHP
9. Brett Merriman, RHP
10. Tom Duffin, 3B
11. Jorge Fabregas, C
12. Keith Millay, RHP
13. Tommy Boudreau, RHP
14. Josh Lowery, SS
15. Charles Alexander, LHP
16. Joey James, OF
17. Barry Blackwell, C
18. Darrin Paxton, LHP
19. Sean Baron, 1B
20. Zeonard Leger, RHP
21. Jason Geis, OF
22. Darin Campbell, 3B
23. Bob Kairis, RHP
24. Rick Falkner, OF
25. Javier Murillo, 2B
26. Martin Eddy, OF
27. Lawrence Smith, 2B
28. Randy Mazey, OF
29. Kraig Constantino, 1B
30. William Scarborough, RHP
31. David Keating, OF
32. Rouglas Odor, SS
33. Alex Ferran, OF
34. Andrew Baker, RHP
35. Troy Eklund, OF
36. Cecil Pettiford, RHP
37. Dan Williams, C
38. Lenny Gilmore, OF
39. Mark Tepper, 1B
40. Keith Bevenour, LHP
41. Brad Hebets, RHP
42. John Abercrombie, C
43. Teryl Morrison, RHP
44. Jeff Bonchek, 3B
45. Steve Harrell, OF
46. Todd Mraz, C
47. Brian Cofer, SS
48. Douglas Egloff, RHP
49. Greg Fowble, 2B
50. Deam Meddaugh, OF
51. John Eierman, OF
52. Michael Ashworth, RHP
53. Bill Kull, OF
54. David Ferrell, 2B
55. Jason Pfaff, 1B
56. Michael Bonetto, LHP
57. Erik Young, OF
58. Mark Smith, RHP
User Comments
No comments currently. Be the first to comment!