Looking Back at the Draft: 1989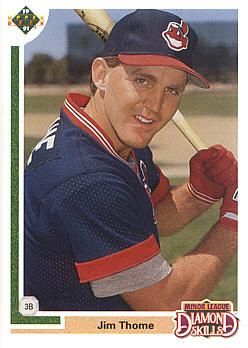 The year is 1989.
The Revolutions of 1989 begin in Poland, signifying the beginning of the end of the Soviet Union. Two
Lybian
MiG-23's are shot down by two U.S. F-14's. Ted
Bundy
is executed in Florida. The Los Angeles City Council bans the
possession
or sale of semi-automatic firearms; no one in LA ever carries a gun again (right?). Ayatollah
Kohmeini
issues a fatwa ordering Muslims to kill author
Salman
Rushdie. The Exxon Valdez runs aground in Alaska, spilling 11 million barrels of oil. Chinese students protest in
Tienanmen
Square. The Mendez brothers kill their parents. Seinfeld premiers. Rain Man wins the Oscar for Best Picture. The first full length episode of The
Simpsons
premiers on Fox. The Nintendo Game Boy and Sega Genesis are released. Pete Rose is given a lifetime ban from baseball. The World Series is delayed when an earthquake hits just before Game 3 was scheduled to start. The Indians finish 73-89, including a stretch of 8-11 under interim manager John Hart. Buddy Black, John Farrell, Tom
Candiotti
and Greg
Swindell
all throw over 180 innings with
ERA's
under 4, but the offense couldn't support them, with only Joe Carter hitting more than 18
HR's
and no starter finishing with a batting average over .300.
Indians 1st round pick:
Pretty much everyone knew that Texas high
schooler
Calvin Murray
was going to attend the University of Texas. He was considered a top talent, but virtually
unsignable
. That didn't stop the Indians from selecting him 11
th
overall. Murray didn't sign with the Indians, went to college and was eventually selected 7
th
overall by the Giants in 1992. Murray never lived up to the hype, finishing his brief career with a .231 batting average and 8 home runs. Murray's claim to fame is that he was the batter facing Randy Johnson in the 2001 spring training game when Johnson hit and killed a
pigeon
with a pitch.
Best 1st round pick: Frank "Big Hurt" Thomas
had by far the best career of anyone selected in the 1st round of the 1989 draft. Thomas was selected 7
th
overall by the White
Sox
, and went on to hit 521 career home runs and finish with a .301 lifetime batting average. His career was extended by the fact that he was primarily a DH, but that doesn't
diminish
the run he had as one of the most feared hitters in the major leagues. Thomas won back-to-back AL MVP awards in 1993-1994, and made 5 career all-star teams.
Honorable mention:
While he never lived up to the #1 overall billing due to injuries,
Ben McDonald
had several solid seasons in Baltimore. McDonald was also responsible for unleashing Scott
Boras
on us, as he was the first major client for the
superagent
. "You can't expect Ben to sign for a figure comparable to what high school kids are getting. It's more like an NBA or NFL situation because he's so close to being an impact player in the big leagues. He's a very, very unique talent." While it sounded impressive at the time, you can pretty much substitute the name of any of the many subsequent
Boras
clients, as we hear the same rhetoric from him every June about his "unique" clients...
Mo Vaughn
, the 1995 AL MVP, was selected 23rd overall by the Red
Sox
...the Twins took all star 2B and headcase
Chuck

Knoblauch
25
th
overall.
Knoblauch
won the 1991 rookie of the year award and made 4 all star teams before his wits deserted him and he could no longer throw the ball to 1st base...Closer
Todd Jones
saved 319 games after being selected 27
th
overall by the
Astros
.
Indians best pick:
This is a pretty easy choice, as the Indians only drafted one future hall of
famer
in the 1989 draft. "Shortstop"
Jim

Thome
was chosen in the 13
th
round out of Illinois Central
JC
.
Thome
would of course outgrow the SS position, starting his career at the hot corner before moving over to 1B after the Indians
acquired
Matt Williams.
Thome
currently has 564 career
HR's
, and will likely add to that with Minnesota this year. In addition to those 564 regular season round trippers,
Thome
has hit 17 post season home runs, including 16 in an Indians uniform. His last season in Cleveland was his best, when in 2002 he went for a line of .304/52/118 and led the AL in OPS with his 1.122 mark. Although he spent time in Philly, Chicago, LA and now Minnesota,
Thome
will wear an Indians hat in Cooperstown someday.
Honorable mention:
This is the kind of draft that championship teams are built on. In addition to
Thome
in the 13
th
round, the Indians took all star OF
Brian Giles
out of a California high school in the 17
th
round. Giles hit 35 or more home runs 4 straight years for the Pirates after being dealt for reliever Ricardo
Rincon
. The club also picked up three solid relief pitchers in
Jerry

DiPoto
(3rd round),
Alan

Embree
(5
th
round) and
Curtis

Leskanic
(9
th
round). All this despite not signing their 1st round pick and losing their 2
nd
round pick to the Dodgers because they signed type B free agent Jesse
Orosco
. The 1989 draft is far and away the best Indians draft we've looked at so far.
Best early round picks:
The Braves took OF/1B
Ryan

Klesko
in the 5
th
round.
Klesko
hit 278 career
HR's
, including a career high 34 in 1996...Boston selected future rookie of the year and MVP
Jeff

Bagwell
in the 4
th
round.
Unfortunately
for the Red
Sox
, they dealt him to the
Astros
for Larry Andersen before he ever had an at bat in the majors...Minnesota had a solid draft as well, taking steady starters
Denny

Neagle
and
Scott Erickson
back to back in the 3rd and 4
th
rounds, as well as future Indian
Marty

Cordova
in the 10
th
round...The Yankees chose defensive whiz
JT

Snow
in the 5
th
round. Snow won 6 Gold Gloves and had several solid years with the bat as well, posting a career best line of .281/28/104 in 1997...Toronto took 1st round talent
John

Olerud
in the 3rd round after the
LHP
/1B
underwent
a six-hour procedure to fix a near-fatal brain aneurysm just six months before the draft. Despite the near death experience,
Olerud
was the first player from the 1989 draft to debut in the major leagues and finished his career with three Gold Gloves, two all star selections and one
great (albeit false) Rickey Henderson story.
Best late round picks: Trevor Hoffman
would go on to record 591 career saves (so far), but he was initially drafted as a shortstop by the Reds in the 11
th
round...With their 20
th
round pick, Toronto took all star 2B
Jeff Kent
out of Cal. Kent was one of the most consistent offensive second basemen in history, hitting 20 or more home runs 12 times and winning the 2000
NL
MVP award...
Eric Young
was a pretty good value pick in the 43rd round for the Dodgers.
EY
hit .283 in his 15 year major league career, stole 465 bases and even made an all star team.
The ones that got away:
Cleveland's draft could have been even better if they had managed to sign catcher
Kelly

Stinnett
, who they took in the 11
th
round...The Angels took
Joe Randa
in the 30
th
round, but he didn't sign until the Royals drafted him in 1991...Cleveland wasn't the only team who failed to sign its 1st round draft pick, as catcher
Charles Johnson
and the Expos were unable to come to terms...Los Angeles wanted
Phil Nevin
to play in Chavez Ravine, but they couldn't come to terms with the 3rd round pick out of El
Dorado
HS in California...The Brewers took slugger
Jason

Giambi
as a
shortstop
out of South Hills HS in California but didn't sign him. Maybe it was because he insisted on playing shortstop...San Francisco took future Tribe pitcher
Albie Lopez
in the 46
th
round, but they were unable to come to terms...
Knuckleball
catching
specialist
Doug

Mirabelli
was chosen in the 6
th
round by the Tigers, but they weren't able to sign him.
Other interesting picks:
Boston's selection of catcher
Eric Wedge
in the 3rd round out of Wichita St never panned out due to injuries. Rumor has it he wound up managing after his playing days were done. I'll spare everyone my defense of Eric Wedge manifesto, and just comment that the Indians had problems other than his managing that caused their spotty record over the past several years.
Indians June 1989 Draft:
1. Calvin Murray, 3B/OF
3. Jerry
DiPoto
,
LHP
4. Jesse Levis, C
5. Alan
Embree
,
LHP
6. Mark
Charbonnet
, OF
7. John Martinez, C
8. Curtis
Leskanic
,
RHP
9. Chad Allen,
RHP
10. John Cotton, 2B
11. Kelly
Stinnett
, C
12. Von
Wechsberg
,
RHP
13. Jim
Thome
, SS
14. Nolan Lane, OF
15. Tom
Lachmann
, C
16. Mike Potts,
LHP
17. Brian Giles, OF
18. Stacy
Hamm
, OF
19. Marcus Robertson, OF
20. Dennis
Kluss
, OF
21. Avery Johnson, SS
22. Charles Davis, 1B
23. Miguel Flores, SS
24. Jeffrey Hancock, 2B
25. Robert Person, SS
26. Billy Brewer,
LHP
27. Tommy Tillman,
LHP
28. Joseph Perez, OF
29. Alan Walden,
RHP
30.
Kraig
Constantio
, 1B
31. Bill
Wertz
,
RHP
32. James Hurst,
LHP
33. Andy Sheets, SS
34. Ronald Young, OF
35. Jeffrey
Weibel
, C
36. Jeff Martin, C
37. Michael
Soper
,
RHP
38. Marty
Durkin
, 2B
39.
Gennaro
Mirabella,
RHP
40. David
Norwood
,
RHP
41. Barry Shepherd,
RHP
42. Clarence Brown,
RHP
43. Chris Johnson,
RHP
44. James Walker,
RHP
45. Jonathan Shirley, OF
46. Scott Johnson, 1B
47. Cary
Conklin
,
RHP
48. R.D. Long, SS
49. Ken
Kaveny
, 1B
50. Gavin
Saladino
, 3B
51. Michael
Strobel
, 3B
52. Eric Snell, OF
53. Darrin
Kotch
,
LHP
54. Erik Young, OF
55. Barry O'Neil, OF
User Comments
No comments currently. Be the first to comment!