Looking Back at the Draft: 1991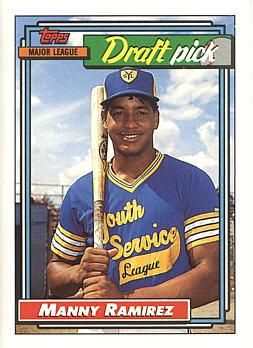 The year is 1991.
Congress votes to allow military force to liberate Kuwait. Operation Desert Storm begins, and Iraq fires SCUD missiles into
Israel
. A month and a half after hostilities begin, Iraqi dictator Saddam Hussein announces he is withdrawing his forces from Kuwait, setting fire to oil wells the entire way. The U.N. Security Council passes the Cease Fire Agreement, Resolution 687. The Resolution calls for the destruction or removal of all of Iraq's chemical and biological weapons, all stocks of agents and components, and all research, development, support and manufacturing facilities for ballistic missiles with a range greater than 150 km and production facilities; and for an end to its support for international terrorism. Iraq accepts the terms of the resolution on April 6, and we never hear from them again (right?) Boris Yeltsin is elected President of Russia. Sega releases its 1st Sonic the Hedgehog game. Mike Tyson is arrested for rape. Jeffery
Dhamer
is arrested when the remains of 11 men are found in his home. Estonia, Latvia,
Lithuania
, Ukraine, Belarus, Moldova, Azerbaijan, Armenia, Tajikistan
Kyrgyzstan
and Uzbekistan declare independence from the Soviet Union. Leningrad is renamed St.
Petersburg
.
IAEA
inspectors discover files on Iraq's hidden nuclear weapons program. Iraqi officials confiscate documents from UN weapons inspectors, refusing to allow them to leave the site without turning over other documents. Clarance Thomas is named to the Supreme Court. Magic Johnson announces he is HIV positive. Queen
frontman
Freddie Mercury announces he has AIDS, and dies the next day. The Soviet Union formerly dissolves and changes its name to the Russian Federation.
Greg
Swindell
goes 9-16 for the 1991 Indians despite a 3.48 ERA and an ERA+ of 120. Albert Belle (28) and Carlos
Baerga
(11) are the only Indians with double digit
HR's
. John
MacNamera
is sacked after the team gets off to a
disastrous
25-52 start, and he is replaced by Mike
Hargarove
. 'Grover has little more success with the 1991 club, as they go 32-53 for the rest of the season under his leadership. They end up 57-105 on the season. Hopefully they find a gem in the 1991 draft...
Indians 1st round pick:
With the lucky 13
th
pick in the draft, the Indians selected a high school outfielder out of George Washington HS in New York City by the name of
Manny Ramirez
. Almost 19 years and 546 home runs (and counting) later, "Manny being Manny" is a common phrase throughout baseball. It can mean a variety of things, from crushing a home run with his teammate's bat; or getting two traffic tickets within 10 seconds of each other because he pulled an illegal U-turn after being issued the 1st ticket. If you don't think that Manny is one of the greatest right-handed hitters ever, allow me to throw some numbers at you. 1.105, 1.154, 1.014, 1.097, 1.014, 1.009, .982, 1.058. Those represent the OPS of Ramirez from the 1999-2006 seasons. Remarkably consistent and remarkably good, Ramirez hit 35 or more
HR's
in 9 different seasons. His career batting average sits at .313, and his career OPS is 1.002. It's a shame he only played 8 seasons in Cleveland.
Best 1st round pick:
Ramirez. The only future Hall of
Famer
chosen in 1991's 1st round, he is a slam dunk choice for this honor. Ironically, Ramirez was one of the cheapest 1st round draft picks that year, signing for just $250,000. Pitcher
Brien Taylor
, selected 1st overall by the Yankees and represented by Scott
Boras
, signed for a record $1.55 million. He never pitched to a batter in the major leagues, topping out at AA ball.
Honorable mention:
The Blue Jays had the Giants' 1st round pick as compensation for losing free agent Buddy Black, and they took advantage of it, selecting OF
Shawn Green
15
th
overall out of a California high school. Green finished his career with 328
HR's
and was both a Gold Glove and a Silver Slugger award winner...Montreal took all star OF
Cliff Floyd
with the 14
th
pick. Floyd hit 233
HR's
in his 17-year major league career...The best pitcher selected in 1991's 1st round was
righthander
Aaron

Sele
, chosen 23rd overall by Boston.
Sele
finished his career with a 148-112 record and a 4.61 ERA.
Indians best pick:
Again, the honor has to go to Ramirez. Its pretty difficult to argue with 12 all star appearances. But the Indians managed to put together a solid draft even after the 1st round in 1991, as you'll see below.
Honorable mention:
In the 2
nd
round, the Indians picked up spectacular defender and solid hitter
Herbert Perry
out of Florida. Perry had trouble cracking the lineup in a crowded and loaded mid-1990's infield, but if given a full year of playing time prior to his injuries could have been a gold
glover
. His best season was with Texas in 2002, when the 32-year old batted .276 and hit 22
HR's
in 450
AB's
...In both the 3rd and 4
th
rounds, the Tribe selected pitchers out of
LSU
.
Chad

Ogea
and
Paul Byrd
both had success at the major league level, Byrd more so than
Ogea
.
Ogea
finished 37-35 in his career, but put on two sterling performances against the Marlins in the 1997 World Series, winning games two and six while giving up just two runs in the process. Byrd went 109-96 over 14 seasons, making an all star team and winning 15 or more games 3 times in the process...In the 20
th
round, they picked up
Albie Lopez
our of Mesa CC; Lopez was never great, but finding a 5
th
starter who can burn up some innings in the 20
th
round isn't bad...In a draft and follow move, the Indians also picked up SS
Damian Jackson
in the 44
th
round. All in all, the 1991 draft was one of the better Indians' drafts we have covered so far here on
IPI
.
Best early round picks:
Kansas City took future Indian-killing 1B
Mike Sweeney
in the 10
th
round. Sweeney never hit more than 29
HR's
in any one season, but would be in the Hall of Fame if only he could have played all of his games against the Tribe...Los Angeles took future Rookie of the Year
Todd

Hollandsworth
in the 3rd round...Minnesota acquired two solid pitchers back to back in the 7
th
and 8
th
rounds with their selections of
LaTroy

Hawkins
and
Brad

Radke
...The Pirates landed a
leadoff
hitter in the 7
th
round when they drafted SS
Tony

Womack
.
Womack
led the
NL
in stolen bases three times...Pitcher
Derek Lowe
was taken by the Mariners in the 8
th
round. Lowe is still going strong, winning 15 games for Atlanta last season...St. Louis had 5 1st round picks including their sandwich picks, the "best" of which turned out to be
Dmitri Young
, who they chose 4
th
overall in the draft.
Best late round picks:
The
Mets
came up with the steal of the draft when they chose hard-throwing
righty
Jason

Isringhausen
out of Lewis and Clark
JC
in the 44
th
round...Milwaukee took 3B
Jeff Cirillo
in the 11
th
round. Cirillo made two all star teams and hit .321 or higher for four straight seasons at one point...Indians
utilityman
Mark

Grudzielanek
was also chosen in the 11
th
round. He made an all star team with the Expos before being traded to the Dodgers in 1998...The Twins took outfielder
Matt Lawton
in the 13
th
round. Lawton made two all star teams before being dealt to the Indians in the ill-fated Robbie
Alomar
blockbuster...Seattle took hard throwing but oft-injured reliever
Matt

Mantei
in the 25
th
round.
The ones that got away:
The Angels took
Aaron Boone
in the 43rd round, but couldn't sign him...The Cubs selected pitcher
Jon

Lieber
in the 9
th
round, but didn't sign him this time around, although he would end up playing for them later in his career...Future Indians reliever
Bobby

Howry
was chosen in the 32 round by Houston, but they were unable to come to terms...The fate of Red
Sox
Nation was nearly altered forever, but Milwaukee was unable to sign 5
th
round pick
Nomar

Garciaparra

.
I wonder if he had signed, would
Sox
fans somehow be any less annoying? Something to ponder...Texas almost hit big time on their 54
th
round choice, but they were unable to sign outfielder
Raul

Ibanez
out of a Miami high school.
Other interesting picks:
Penn State and
Hawken
HS outfielder
O.J.

McDuffie
was chosen in the 41st round by the Angels, but he didn't sign. Rumor has it he could play a little football as well...The Angels took
RHP
Browning

Nagle
in the 51st round out of Louisville, but he too spurned
SoCal
for a life on the gridiron...Sticking with the Angels, their 1st round pick was 1B
Eduardo Perez
, who the Indians were able to trade for current SS
Asdrubal
Cabrerra
, in a deal that looks like it will rank with Shapiro's best as a GM...Current Blue Jays GM Alex
Andreopoulous
was selected in the 26
th
round by the San Diego Padres...The
Astros
selected a whopping 101 players in the June 1991 draft. The "quantity over quality" approach didn't exactly pay off, as just 3 of the players signed by Houston ever reached the major leagues, none for more than a cup of coffee.
Indians June 1991 Draft:
1. Manny Ramirez, OF
2. Herbert Perry, 3B
3. Chad
Ogea
,
RHP
4. Paul Byrd,
RHP
5. Kevin
Logsdon
,
LHP
6. To,
Vantiger
, OF
7. Pep Harris,
RHP
8. Chris
Coulter
,
LHP
9. Paul Meade, SS
10. Scott
Sharts
, 1B
11. Brad
Kantor
, 2B
12. Jeff Whitaker, SS
13. Ryan
Martindale
, C
14. Mike Jewell,
RHP
15. Tommy Bates, SS
16. Rod
Koller
,
RHP
17. Wade Key,
RHP
18. Michael
Burritt
, 3B
19. Chris
Maffett
,
RHP
20.
Ablie
Lopez,
RHP
21. Jed Hansen, SS
22. Grady Davidson,
LHP
23. Greg
Knapland
,
LHP
24. Andre White, OF
25. Brandon
Bluhm
,
LHP
26. Rufus
Boykin
, OF
27. Denny
Vigo
, 1B
28. Warren
Frierson
, 2B
29. Patrick Maxwell, 2B
30. Rodd
Hairston
, 1B
31. Ian Doyle,
RHP
32. Jeff
Seale
,
RHP
33. Dave
Duplesis
, 1B
34. Dave
Majeski
, OF
35. Gary
Tatterson
,
RHP
36. Jorge Santiago, 3B
37. Michael Moore, C
38. Robert Sherwood, C
39. Jason Elders,
RHP
40. Michael Taylor, C
41. Brian
Buzard
,
LHP
42. Erik Lane, SS
43. Damien
Crabtree
,
LHP
44. Damian Jackson, SS
45. Greg Sinner,
RHP
46. James
Gatlin
, C
47. William Duffie, C
48. Shannon Jones, SS
49. Steve Bourgeois,
RHP
50. Ryan Post,
RHP
51. Jonathan
Stephany
, OF
52. Jay
Giardina
,
RHP
53. Dale
Dolejsi
,
RHP
54. John Waters, OF
55. Jamie Hanson, C
56.
Erasmo
Velasco
, OF
57. Robert Augustine,
RHP
58. Damon Sims,
RHP
59. Brian
Holter
,
RHP
60. Ryan
Stover
,
RHP
61. Andy
Stemler
,
LHP
62. Tim Thompson, SS
User Comments
No comments currently. Be the first to comment!