Matt Whitney
Matt Whitney - First Baseman
Age: 24 Height: 6'4" Weight: 200 Bats: Right Throws: Right


| | | | | | | | | | | | | | | | |
| --- | --- | --- | --- | --- | --- | --- | --- | --- | --- | --- | --- | --- | --- | --- | --- |
| | AVG | G | AB | R | H | 2B | 3B | HR | RBI | BB | K | SB | OBP | SLG | OPS |
| 2007 Lake/Kinston | .299 | 128 | 512 | 95 | 153 | 30 | 0 | 32 | 113 | 53 | 122 | 1 | .364 | .545 | .909 |
| Career | .258 | 406 | 1521 | 227 | 393 | 80 | 3 | 63 | 242 | 173 | 449 | 6 | .339 | .439 | .778 |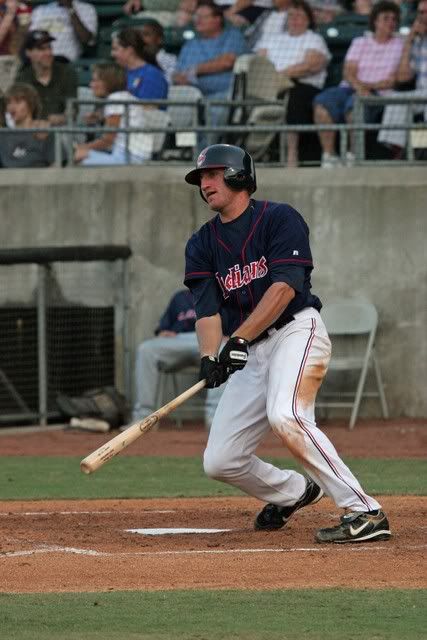 History: Whitney was taken in the first round of the 2002 Draft out of high school, and was a supplemental pick at the end of the first round the Indians obtained when Juan Gonzalez (Type-A free agent) was lost in free agency after the 2001 season. Whitney immediately had Indians scouts excited when at 18 years of age he showed exceptional power in rookie level Burlington where he hit .286 with 10 HR and 33 RBI in 45 games. Last year, Whitney was named the starter at first base for the Northern Division team in the South Atlantic League All-Star Game. Also, he finished the 2007 season tied for fourth in home runs (32) among all minor leaguers.

Strengths & Opportunities: Several years ago, a much younger Whitney was a top prospect in the system who many scouts thought would zoom through the ranks and provide the Indians with a potent right-handed bat for years at third base. Whitney has a powerful, productive bat that according to Baseball America the Indians often considered had "Manny Ramirez" potential after his impressive debut as an 18-year old in the Indians system at Burlington in 2002. Whitney generates tremendous power to all fields, and the ball jumps off his bat.

Unfortunately, a freak leg injury in spring training 2003 seriously sidetracked his career to where he missed the entire 2003 season, and spent all of the next three seasons from 2004-2006 working his way back before his resurgence last year. While he pretty much lost four years of development coming back from his serious leg injury, in some ways he has benefited from it in that he has gained tons of experience dealing with adversity. The reason it took him so long to come back from the injury is because of a myriad of things, such as complications from the surgery, other injuries that cropped up (back) because he compensated for the injury, and he also had a significant decrease in mobility.

Whitney's struggles to regain his mobility to effectively play third base and his nagging leg injuries resulted in the Indians moving him to first base last year. The move to first base was long overdue, and the move seemed to rejuvenate him and helped him concentrate more on his hitting since first base is a much less demanding position. Whitney was no stranger to first base, as he had played there mostly in high school. For his first year at the position in a long time, Whitney moved well around the bag and proved to be an adequate defender at first base.

In addition to the position switch, Whitney's resurgence last year was also greatly helped by him getting his lower half strong and his legs under him again. He had taken a significant step back in his lower body strength the previous three seasons because of the initial leg injury and then the complications that went along with recovering from the injury. He was also much healthier last year, and as a hitter he was shorter to the ball and recognized pitches better.

There is no question Whitney has a potent bat, but in addition to the injury woes throughout his career, he has also had a hard time with his plate discipline. From 2004-2006, he had 276 strikeouts in 817 at bats which was good for a strikeout every three at bats. In 2006, he led the Carolina League in strikeouts with 131, and endured one stretch where he was 0-for-44 at the plate. Last year he improved in this area some, striking out 121 times in 521 at bats which was good for about a strikeout every 4.3 at bats.

Going into the offseason, the Indians wanted to see Whitney shore up his approach at the plate against right-handers. Whitney absolutely hammered left-handed pitching last season (1.031 OPS), but he had some troubles with right-handers and staying away from breaking pitches in the dirt (.883 OPS). He also tends to fly open a lot against right-handers and get pull happy. Before being lost to Washington in the Rule 5 Draft this past December, Whitney had continued to receive instruction in recognizing and laying off the breaking ball in the dirt as well as just his overall pitch recognition.

Outlook: After last season, the Indians organization feels Whitney is finally back to being the outstanding hitting prospect they saw in 2002. Whitney was the healthiest he had been in years, and it showed in the box scores. He reclaimed his position as a top prospect and as one of the top power hitting prospects in the game. It took a lot of hard work, a lengthy rehab, extreme patience, incredible resilience, and a drive to come back. Many players would have given up long ago with the physical problems he dealt with the previous four seasons and the performance issues on top of it, but that is what makes Whitney special. He is a fighter, a great young man, and most of all a gifted hitter. It remains to be seen what happens to him now that he is with the Washington organization by way of the Rule 5 Draft, but there is a strong likelihood he is returned to the Indians at the end of spring training. If he returns to the Indians, he should open as the everyday first baseman at Akron.

Video: Whitney hits a home run in Kinston.
User Comments
No comments currently. Be the first to comment!