McBride Ready For A New Challenge In Akron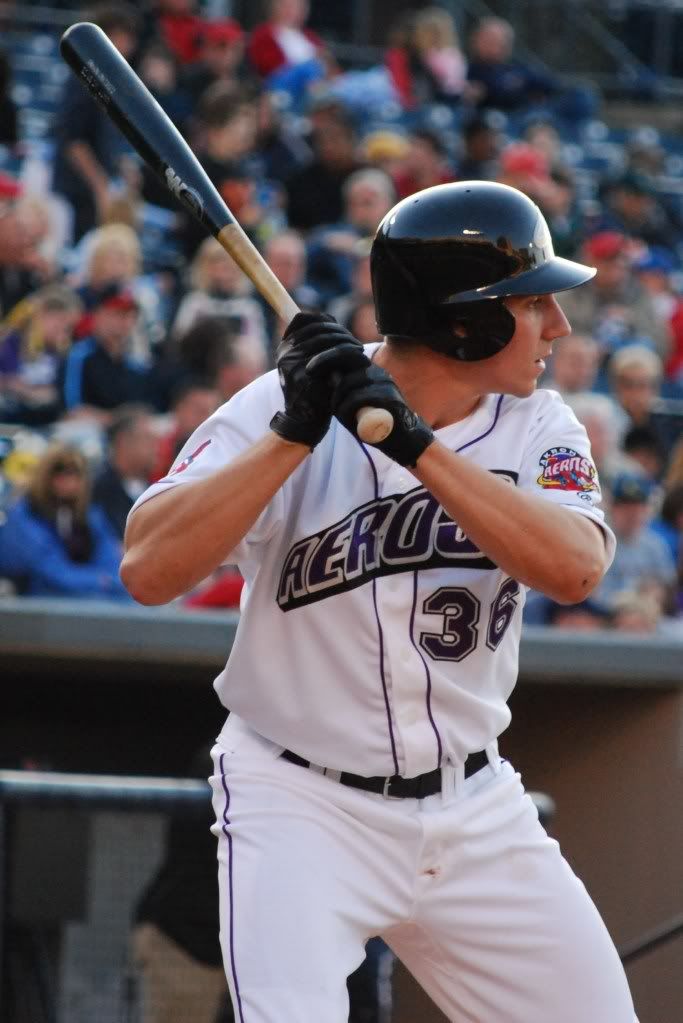 One of the hottest hitters in the Cleveland Indians system the first two months of the season has been outfielder/first baseman Matt McBride. In 31 games with High-A Kinston to start the season he hit .405 with 6 HR, 36 RBI and a 1.120 OPS, and also enjoyed a 23-game hitting streak. For his efforts, the Indians rewarded him by promoting him to Double-A Akron on May 12th.
"It feels great, and I am excited to be here," said McBride in a recent interview at Canal Park in Akron. "I got the call at 2pm on Monday (May 11th), then I packed my stuff up and made the [12 hour drive] up here."
McBride's unbelievable hot streak at Kinston had him first or second in just about every offensive statistic imaginable in the Carolina League. While the production itself was a pleasant surprise, the ability has always been there. Before his shoulder surgery almost two years ago, he was always viewed as one of the top catching prospects in the game. He was one of the more well-rounded catching prospects, and what made him exciting were the tools at the plate along with a propensity to hit a high rate of doubles.
McBride's success in Kinston this year was more a result of him being healthy for really the first time since 2007, although even then he often experienced issues with the shoulder throughout the 2006 and 2007 seasons. Finally healthy he has been able to settle in and put up the numbers at the plate he always felt were possible.
"Everything seemed to be clicking well [in Kinston]," said McBride. "I was just trying to put some good swings on the ball and trying to hit it hard and I ended up getting some nice hits and kept on rolling. I was just really feeling good at the plate. I really just tried not to get ahead of myself and look a week down the road. I just focused in on each game, each at bat and really just went from there and did not think about what I did in the previous game even if it was a good game or bad game. I'm really just trying to take each at bat and each game day by day."
Getting McBride out from behind the plate to protect his ailing shoulder may have been the best decision the Indians could have made for him. Last fall, the Indians sent him to the Instructional League to learn how to play the outfield, and then he went out to the Hawaii Winter League to get some reps in the outfield. Things were changed up some on him in spring training as he spent half the camp in the outfield, but then with about two weeks left in camp they moved him to first base and had him get a quick crash course on the new position.
"The move to first base late in spring is because that was where the at bats were," said Indians Farm Director Ross Atkins recently. "You have Roman Pena, Matt Brown and Tim Fedroff in the outfield, and we like those guys too. We have always known he has had the ability to hit. He was injured and out for about a year. I don't want to say catching is done as we could re-open that case. He is an emergency guy for sure, but if the arm strength came back to where it was before then it might be something we talk about again, but most likely not."
McBride's assault on the Carolina League at the plate forced the Indians to move him up to a greater challenge in Double-A, and with highly regarded first base prospect

Beau Mills firmly planted at first base in Akron the Indians moved McBride back out to the outfield to ensure he could get regular at bats when promoted. In all, the move to the outfield and first base has gone well for McBride, and he has taken all the changes in stride.
"It has gone really well," said McBride on the position changes. "Just going from spring training everybody has worked with me really well and I am just trying to learn as much as I can at first base and the outfield. I think it is just one of those things where the more you learn the more comfortable you will become at that position. It seems like everyday something will come up that we did not talk about previously, so I am just trying to learn from that and go from there. I am still just trying to read just a little bit just because I was primarily at first base for most of the time down there [in Kinston]. I think it is one of those things where after you see some balls off the bat in game situation and in BP you just sort of get used to it a little bit more each day."
McBride has now been in Akron for two weeks, and in 15 games is hitting .212 with 0 HR, 10 RBI and a .530 OPS.
Like at first base, he is also getting a crash course on how much tougher the pitching is in Double-A.
User Comments
No comments currently. Be the first to comment!