Mills is back on the radar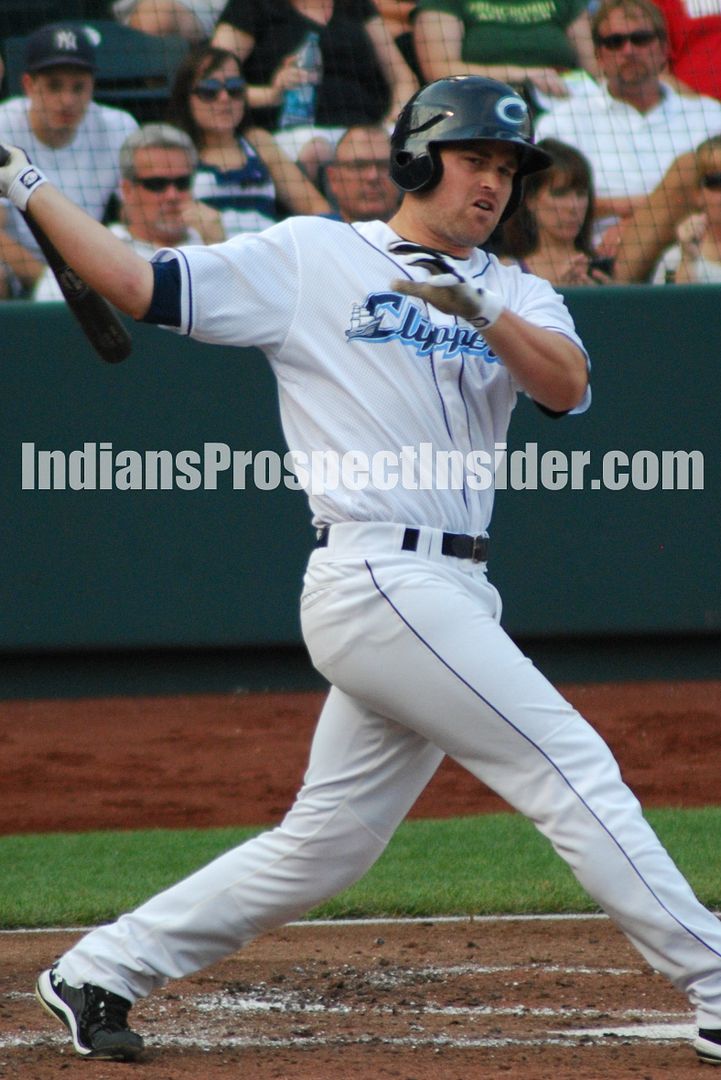 Beau Mills (Photo: IPI)
One of the best stories of the season in the Indians' minor league system has been the renaissance of Triple-A Columbus first baseman Beau Mills.
Mills, who turns 25-years old next week, is hitting .294 with 14 HR, 56 RBI and a .870 OPS in 77 combined games between Double-A Akron and Columbus. After a promotion in late July he is enjoying his first exposure to Triple-A and has already adjusted well hitting .269 with 3 HR, 7 RBI and a .826 OPS in 16 games.
Mills has really come on of late going 10-for-21 in his last six games with 2 HR, 5 RBI and a 1.370 OPS.
"I feel really good," Mills said in a recent interview for IPI. "It has been a different year for me as I never had to sit in Arizona for a couple months and watch the teams leave, but I am here and feel really good and am swinging the bat well. I feel good physically and mentally."
While Mills' teammates shuffled off to Columbus and Akron at the end of spring training, he remained in extended spring training to rehab an Achilles heel injury to his left foot. The injury originally came about the last week of last season, but it happened so fast and was not considered something major that he and the Indians felt the offseason would take care of it. When spring training started up in March it flared up on him again, so he was shut down and was not activated until May 18th when he was assigned to Akron.
The injury is still there as Mills feels it a little from time to time, but after consulting with doctors they do not believe it will get any worse by playing on it. When the offseason comes he may have minor surgery to correct the issue, but as of now that has not been discussed.
"I'm not a doctor so I don't know exactly what the exact term is, but the fibers are tearing off the bone a little bit," Mills said. "The doctors said they don't think it will tear all the way, so that is why I am playing. We haven't talked about [surgery]. I won't know the answer to that until I see a doctor and we evaluate it again. I really don't know."
Mills has been an iron man in the Indians organization since being selected in the first round of the 2007 Draft. Aside from a day here and there to rest from some bumps and bruises, he has never had a significant injury which prevented him from playing.
"That was the first time ever in my life I have missed time to injury as I never missed time in college, high school or anywhere," Mills said. "It was really hard. I am a guy who loves to play the game and be on the field. Just watching them leave [at the end of spring training] and having to check box scores without my name in it was tough. It was hard but it was something I had to do and it allowed me to stay focused out in Arizona to get back here as quickly as possible."
As Mills sat around and went through the tedious rehab process in Arizona the time away really helped him hone in on his approach and focus.
"Oh yeah, it really did," Mills said. "It got me hungry to want to play the game. I think sometimes people don't understand how hard this game is with how long we play and how the everyday grind gets to you. I think that little time away really made me realize how much I love this game, that I love to play it, and I really want to do everything I can to succeed at it. You try to turn a bad situation into a great one, and I think I did that."
While Mills was rehabbing he often talked with first baseman Nick Johnson who was also in Arizona rehabbing from wrist surgery. Johnson's knowledge and experience as a nine-year Major League player immediately impressed upon Mills.
"I was out there figuring some things out and talked to some great guys like Nick Johnson," Mills said. "We just kind of talked approaches with each other and what he has done and thinks about, and I gained some stuff off that. It helps for a veteran guy like that who is willing to sit down with you and talk to you while a game is going on or you are icing in the training room. I took it to heart, and I have gone out there to try to do it."
Johnson has been highly regarded in the past for his advanced approach at the plate which is something Mills has struggled with in recent years. Some adjustments Mills made last season to improve his plate discipline showed with an improved walk and strikeout rate but he struggled with maintaining consistency with his power. This year he is once again showing better pate discipline, but along with that the power has been much more consistent.
Whether that is a result of hard work paying off or from talking to Johnson remains to be seen, but either way it is good to see.
"[Johnson] is a good guy to talk to," Mills said. "Not necessarily with mechanics but just approach and the mental stuff on how to make contact. That's the goal, to get a good pitch you are looking for and that is what we talked about."
Mills seemed to be the heir apparent at first base in Cleveland after his 2008 Carolina League MVP season for High-A Kinston when he hit .293 with 21 HR, 90 RBI and a .880 OPS. He was a top ranked prospect and had the pedigree as a former first rounder and the son of a former player.
But Mills followed up that great 2008 campaign with two disappointing seasons at Akron. In 2009 he hit .267 with 14 HR, 83 RBI and a .724 OPS, numbers which were not awful but were not up to his standards. He followed that up with a poor season last year in a return trip to Akron hitting .241 with 10 HR, 72 RBI and a .689 OPS.
After being a first round pick one year and then an MVP the next a player can feel like nothing can go wrong. But things can change quickly in the game, and when it does it can be a humbling experience.
"It is not an easy game," Mills said. "It makes you really appreciate those guys you watch in the big leagues. It is humbling and is a game that makes you want to go out there and succeed again because you know that feeling, know what you can do, and know what is inside of you."
After two years of disappointment everything seems to be coming together for Mills now. His defense at first base continues to be solid and he has become very comfortable there, and now that his approach has improved the power has returned. He is a much more confident player and feels like he is back.
"I honestly really do [feel like I am back]," Mills said. "I feel ready both mentally and physically, and I feel like I have grown a lot in the game of baseball on and off the field. It is just taking that approach day in and day out, at bat to at bat and pitch to pitch. I have really learned that. My numbers were not where I would like the past few years. They were not horrible by any means, but they just were not there. Now I am going out and trying to do my job which is to help the team win a ball game by driving in runs and be that guy in the middle of the lineup."
With less than four weeks left in the season, Mills has reestablished himself as a prospect at first base for the Indians. With his success this season in showing a better approach at the plate while remaining consistent with his power he could be in the first base mix with the big league team as soon as next season.
Mills is not concerned about that as he can't control what decisions the Indians make. He knows all he can do is go out and perform and improve, and if he does that things will take care of themselves.
"I am just trying to focus on each day," Mills said. "My goal is to control what I can control, and let them decide what happens."
Follow Tony and the Indians Prospect Insider on Twitter @TonyIPI. Also, his latest book the 2011 Cleveland Indians Top 100 Prospects & More is available for purchase for $20.95 to customers in the US (shipping and handling extra).
User Comments
No comments currently. Be the first to comment!