Mills Is Rock Steady At First Base
Kinston Indians first baseman Beau Mills is in the midst of his first full season in the Indians organization after being taken in the first round of the 2007 Draft out of Lewis-Clark State (ID).

After a slow start to his season when he hit .222 with a .714 OPS in April, Mills has been one of the best offensive performers in the Indians minor league system since the beginning of May. In May he hit .299 with an .888 OPS, in June he hit .274 with an 874 OPS, and so far in July he is hitting .349 with a 1.075 OPS.

Most notable, his well-renowned power stroke has returned. He hit a total of five home runs his first 52 games through the end of May, but in June and July combined he has hit ten home runs in 35 games. Overall, on the season Mills is hitting .278 with 15 home runs, 60 RBI and an .862 OPS.

Coming into the season Mills was viewed as the Indians top prospect by several other organizations, and so far he has not disappointed and has strengthened that standing. Even with all his success this season, Mills is still learning to adapt to the professional game and learning how to handle playing everyday. This is one of the parts of the development process a prospect goes through that often goes unnoticed by fans and most media, the part where players need to learn to develop a routine and get their bodies ready to handle the rigors of a 162-game major league season.

"[My season] is going well," said Mills in a recent interview in Frederick, MD. "My biggest thing this year is getting used to playing everyday. The day and day out grind and how to take care of my body. That is kind of what I am learning about this year compared to college ball where we play every weekend and maybe once during the week. You practice everyday, but it is just different preparing yourself for a professional game and waking up and doing the same thing over and over. That is something I am learning this year, but I feel great overall."

The Indians feel Mills' makeup, presence, demeanor, and level of intensity are off the charts amazing. He did a very good job of easing into the professional environment last year at three different levels in the organization, hitting .261 with six home runs, 42 RBI and a .761 OPS in 62 games.

Mills has an electric bat with excellent power and strength. He has very good hitting skills, and hits the ball hard and has a nice line drive stroke where he gets good loft to hit balls a long way and punish mistakes. He covers the plate well, and hits the ball well to all fields, and is good at making adjustments at the plate. When he is able to get good extension, he crushes balls.

Even with how accomplished Mills is as a hitter he is still working on things every day in the batting cages, and in the games he is honing in on improving his at bats and trying to become more consistent day to day.

"There are definitely some things I am trying to get adjusted to," said Mills. "I think my biggest thing right now is being consistent. Taking the same approach every day and every at bat and every pitch, instead of maybe every other pitch or every other bat which is not going to work out when you are playing pro ball. That is my biggest thing to get consistent at the plate and trying to have a swing I can repeat."

Mills breezed through three different levels last year, playing in short-season Single-A Mahoning Valley, Single-A Lake County, and advanced Single-A Kinston for the last few weeks of the season. This year he started the season where he left off last year in Kinston, and has played there all year. Having now played almost a full season in the Carolina League with Kinston, Mills notices several differences between the much tougher advanced Single-A level and his two previous stops lower in the system last year.

"Definitely the pitchers are around the zone a lot more here, they are more consistent and throw more pitches for strikes, and they learn the hitters quick," said Mills. "If they see a fault, they are going to attack that. That is definitely something I see. The talent is better on the field where you can crush a ball in the gap and an outfielder is there making a diving catch or something. Other than that, baseball is baseball wherever you go but people are going to mature in the game and with their bodies as you move up."

There is no question that Mills is an excellent hitting prospect, but it is his defense which has always been questionable. He moves around well and shows good agility and footwork to where he could be an average corner infielder someday, but he has been hindered by a bad shoulder which has hurt his throwing. The injury is an impingement in his arm which resulted from inflammation in his shoulder, which he had surgery on over a year ago to correct. Drafted as a third baseman, the Indians initially had a plan after they drafted him to move him over to first base right away because of the arm issue, but as last season played out they decided to leave him at third base.

But, that all changed this season. Mills played a handful of games at third base early in the year (eight), but has spent the majority of the year at first base (66 games). The Indians feel he has the agility and athleticism to play first base, and some of the offensive struggles he experienced last year were a result of him making the transition to first base.

Now that he has stuck at first base for most of the season, he has been making strides not only at the plate but defensively as well. Several of the Indians top instructors have visited Kinston to work on Mills' defense at first base, namely Minor League Infield Coordinator Ted Kubiak and Special Assistant Johnny Goryl. The improvement he has made at first base from the start of the season to now has been extraordinary, and he now looks like he may stick at first base and at worst be league average there defensively in the major leagues.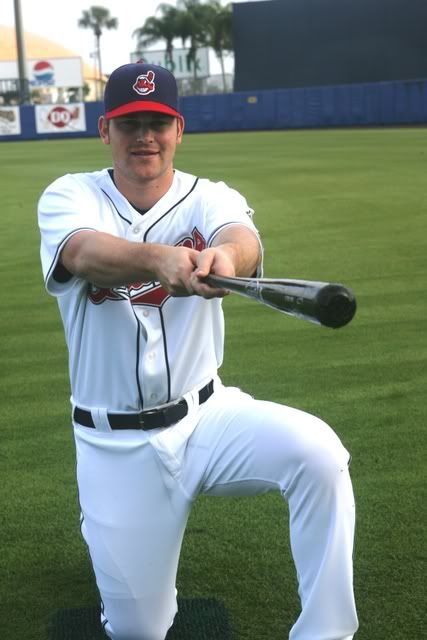 "I am trying to get as comfortable as I can over there," said Mills. "[Manager Chris] Tremie has worked with me. Almost every other day we go out there during batting practice and he will hit me short hops and work with me on my picking and footwork around the base. Kubiak has been up a couple times, and Johnny Goryl has been up once. Just stuff like that and trying to learn as much as I can because I have never been over there before being drafted. I just need to take what I have learned into the game and just keep doing it over and over. I just feel a lot more comfortable and everything is getting set in where I can make almost every play now."

Mills is the son of Brad Mills, the bench coach for the Boston Red Sox. It made for an interesting dilemma for him last postseason when the Indians and Red Sox squared off in the ALCS. Would Mills root for his new family the Cleveland Indians, or stick with his father? Mills played it safe and just enjoyed the experience and was happy with whoever won for obvious reasons.

"It was one of those things where you want your family to do well, and you want your organization to do well too," said Mills. "It was just watching baseball and whoever won was going to be the team I rooted for in the World Series. It ended up being my dad, and I actually got to go to the World Series. But I thought it was a good series and fun to watch. So I just kind of approached it like that and tried not to cheer and be a fan and watch the game of baseball. Whoever won was who I was going to cheer for."

Mills played it safe and did not attend any games in the Red Sox and Indians series. After seeing the reaction LeBron James got when he wore a Yankees hat at Game One of the Indians and Yankees series in the ALDS, it was probably best Mills not give the fans that kind of ammunition. Not that he would have wore a Red Sox hat at Progressive Field or anything, but if he attended the game word has a funny way of traveling and it could have easily been misconstrued he was there rooting for his father.

So, Mills was a smart man to stay away from all of that.

"No, I stayed away from Cleveland and Fenway," laughed Mills. "I stayed away from all of that."

Just more evidence of the type of player the Indians think they have in Mills. A special one at that.

Photos courtesy of Ken Carr
User Comments
No comments currently. Be the first to comment!