Minor Happenings: A Lot Of Crowe-ing In Akron
"Minor Happenings" covers the important developments and news in the Indians farm system. While most of the information in this report is from my own research and through interviews I have conducted with organizational personnel, some information in this report is collected and summarized from the various news outlets that cover each team.

In case anyone missed it, earlier in the week I did a feature on Lake County first baseman Dustin Realini.
I had a blast in Frederick, MD and Washington D.C. over the weekend. Kinston absolutely destroyed Frederick in the game on Friday night, with Beau Mills hitting two moon rockets for home runs. Speaking of Mills, I had a chance to speak to him, Nick Weglarz, Brian Juhl, Mike Pontius and Josh Tomlin at length, so be on the lookout for feature pieces on them throughout the month.

For anyone wondering, I plan to go to Buffalo on Sunday to see lefty David Huff pitch, and then sometime mid-week will visit Akron for the first time in about a month to hopefully see Scott Lewis in action for the first time.

Indians Minor League Player of The Month
(for June)

Trevor Crowe (Outfielder - Akron)
.400 AVG (42-for-105), 32 R, 10 2B, 1 3B, 4 HR, 24 RBI, 16 BB, 13 K, 5 SB, 1.100 OPS

Akron outfielder Trevor Crowe had an incredible month, capping a remarkable turnaround to his season and resurrecting his fading prospect status. Finally healthy from the herniated disc that plagued him in spring training and the first two months of the season,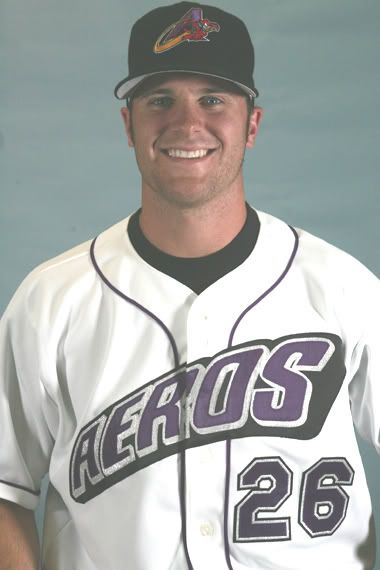 Crowe put together one of the most impressive months seen by a hitter in the Indians minor league system in awhile. His play has more than earned consideration for a callup to Buffalo, which should be coming really any day. Crowe is now very much in the plans in the Indians outfield next year, possibly even later this year.

Crowe was also named Bank of America Eastern League Player of the Week on Monday for the week ending June 29th, the second week in a row he has won the award. Crowe is the first player to win back-to-back weekly awards in the Eastern League since Harrisburg's Dee Haynes in 2005, and is believed to be the first Akron player to ever do it. Crowe hit .464 (13-for-28) for the week with two doubles, a triple, two home runs, 10 RBI, and 11 runs scored in seven games. Crowe had four multi-hit games and led the Eastern League in batting average, RBI, runs and on-base percentage (.531) for the week. He also slugged .821 on the week with a 1.352 OPS. Over his last 23 games, Crowe is hitting .417 with 15 extra-base hits, and has raised his batting average 144 points from .181 on June 4th to .325 today. On the year, Crowe is hitting .325 with 4 HR, 26 RBI, 9 stolen bases, and a .921 OPS.

Crowe was 4-for-6 with a game-tying RBI double in Akron's 11-10 comeback win last Monday, and went 4-for-5 with two RBI and two runs scored in Akron's 9-7 loss last Wednesday. On Friday night Crowe went 3-for-5 with four runs, four RBI, and a grand slam that highlighted a six-run seventh inning in a 16-6 win. Crowe hit a leadoff home run in the eighth inning Sunday afternoon that proved to be the difference in Akron's 7-6 win, and he also banged an RBI triple off the wall in right-center in the third inning to score the first run of the game.

For those wondering why Crowe has been out of the lineup in two of the last three games, he is battling a bruise on his chest that bothers him when he swings. It is nothing serious, and he should be in there on a more regular basis again starting tonight or tomorrow.

Honorable Mentions:

Hector Rondon (RHP - Kinston): 4-0, 5 games, 1.29 ERA, 28 IP, 10 BB, 34 K
J.D. Martin (RHP - Akron): 3-0, 0.56 ERA, 7 games, 16 IP, 10 H, 4 BB, 19 K
Lucas Montero (OF - Lake County): .318, 4 HR, 12 RBI, .961 OPS
Luis Perdomo (RHP - Kinston): 3-0, 6 saves, 0.71 ERA, 11 games, 12.2 IP, 6 H, 8 BB, 18 K

Previous Winners:

May: Kelvin De La Cruz - Lake County
April: Ryan Miller - Lake County

Director's Cuts

Indians Farm Director Ross Atkins took some time this week to talk about Double-A Akron and the hot performances to date there:

On Trevor Crowe: "Trevor has been healthy. He had a herniated disc and he has worked extremely hard to get back quicker than we expected. He got off to a relatively slow start this year and we think the injury had something to do with it. Since then he has
picked up to where he was a year and half ago. He has been absolutely on fire and is driving the ball all over the place. He is really making a hard case for us to get him out of the Eastern League. He can play all three outfield positions very well, and I think he can definitely be an everyday player in a major league lineup."

On J.D. Martin: "J.D. is going to be one of those great stories in the game. He has already been a potentially sad story because he was highly touted and then injured and he is not in the major leagues yet. I just believe in my heart that he is going to be one of those great stories like a Joe Borowski that just ends up being an integral part of a major league team somehow. Because of his drive and his courage he has probably the best baseball makeup in the organization, but unfortunately he does not have the best physical makeup as he has been injured a lot. His stuff is major league average some days. It is not across the board above average and some of it is below average, but he just has those intangibles."

On Randy Newsom: "He has been unbelievable. I don't think he has given up many hits at all to right-handed hitters. He must have more 1-3s than anyone in minor league baseball as anytime I see him pitch they are hitting a groundball back to him. The biggest test for him will be getting left-handed hitters out. There are not many right-handed specialists in the game and it is hard to carry that type of guy on your team at times, but they are there and they exist. For him to transition, he really needs to focus in getting the left-handed hitters out."

On Wes Hodges: "Wes is one of my favorite guys to talk about, be around and watch play. He is the kind of player you grew up watching on "This Week in Baseball" as he is that All-American, strong, athletic, powerful, very smart and great guy to be around. He is going to be a major league player for a very long time, and I think the Cleveland Indians' fans are going to get to know him well very soon."

On Josh Rodriguez: "He has power and speed. He is showing at least average ability at second base with the ability to play shortstop. I think he probably is more suited for major league second base, but he can play shortstop. Josh has settled in nicely. The more we play him at second base, the more natural that becomes. Offensively he has always been a guy who gets on base, gets his walks, and drives a few balls out of the park. He is very much on his way."

On All Star selections: "I think it is an affirmation for them as they were voted in by other managers at the minor league level. That is what's great about the minor league All Star game, as it is not just your statistics it is the other managers that watch you play and you stand out to them. It is a great experience for them to be in and around those caliber of players and start to experience the game on that level."

Indians Minor League Player Of The Week
(for games from June 26th through July 2nd)

Stephen Head (Outfielder - Akron)
.400 AVG (12-for-30, 8 R, 4 2B, 4 HR, 9 RBI, 1 BB, 6 K

Akron outfielder Stephen Head has quietly been having one of the better seasons no one is talking about. After he began the season in extended spring training to continue rehabbing from offseason shoulder surgery, he was moved up to Akron about a week
into the season. After a few games, he went back on the disabled list on April 16th with a broken bone in his right wrist (non-throwing hand). Surgery was not required, so Head only missed about two weeks and returned to action on May 3rd. Since his return, Head has been one of the most consistent performers in the Indians minor league system.

On the year, Head is hitting .320 with 7 HR, 29 RBI and an .860 OPS. His consistency is best demonstrated by his monthly numbers where he hit .357 in April, .303 in May, and .307 in June (in two July games he is hitting .556). In his last 14 games, he is hitting .421 (24-for-57) with 13 extra base hits (5 HR) and 14 RBI. He has split time at first base and outfield, playing 27 games at first base and 20 in the outfield. Head is considered the best defensive first baseman in the system, but was moved to the outfield late last year because of his athleticism and to give him more flexibility to play in Akron, Buffalo and even Cleveland. For a more detailed scouting report on Head, go here.

Honorable Mention:

Jordan Brown (1B - Buffalo): .458, 2 HR, 3 RBI
Ryan Edell (LHP - Akron): 1-0, 1.50 ERA, 12 IP, 10 H, 1 BB, 11 K
Lucas Montero (OF - Lake County): .360, 3 HR, 7 RBI
Lonnie Chisenhall (SS - Mahoning Valley): .480, 1 HR, 4 RBI
Josh Tomlin (RHP - Kinston): 1-0, 0.00 ERA, 6 IP, 1 H, 0 BB, 5 K
Josh Rodriguez (SS - Akron): .385, 0 HR, 7 RBI

Previous Winners:

6/19 to 6/25: Trevor Crowe (OF - Akron)
6/12 to 6/18: Chris Gimenez (C - Akron)
6/5 to 6/11: Jim Deters (RHP - Kinston)
5/29 to 6/4: Steven Wright (RHP - Kinston)
5/22 to 5/28: Chris Archer (RHP - Lake County)
5/15 to 5/21: David Huff (LHP - Akron)
5/8 to 5/14: Steven Wright (RHP - Kinston)
5/1 to 5/7: Jeremy Sowers (LHP - Buffalo)
4/24 to 4/30: Jose Constanza (OF - Akron)
4/17 to 4/23: Hector Rondon (RHP - Kinston)
4/10 to 4/16: Wes Hodges (3B - Akron)
4/3 to 4/9: Kelvin De La Cruz (LHP - Lake County)

Columbus Move Still Not Confirmed
There is nothing new to report on the potential move of the Indians Triple-A affiliate to Columbus next season. The National Association of Professional Baseball Leagues have sent memos to all minor and major league teams reminding them that any
comments about affiliation changes could be viewed as tampering and the team would be subject to fines. As a result, the Indians are not permitted to negotiate with other cities until mid-September, and in the meantime they will not comment on the situation. Obviously, this does not preclude the Indians from doing things behind closed doors and reaching a handshake deal with Columbus already. You this kind of thing all the time in sports these days with teams reaching handshake deals with players to sign them before free agency even officially starts.

That said, as has been mentioned several times, the move to Columbus is a foregone conclusion. Columbus is looking to make a big splash with the opening of their new park, and the move of the Indians Triple-A affiliate into their home-state would be a coup for both them and the city of Columbus. It is a perfect match. A move to Columbus will help the Indians tap into the central-Ohio market that has otherwise been dominated by the Cincinnati Reds and even the New York Yankees who formerly had Columbus as their Triple-A home for many years. The loss of the Yankees was a big blow to the franchise, and they want the next best thing (the Indians) to help ease that loss. SportsTime Ohio could also use it as a way to move into the Columbus market and expand by offering up Columbus Clipper games on regular cable broadcasts, or even woo Ohio State University programming onto the network or the NHL's Columbus Blue Jackets away from Fox Sports Net.

It should be noted that when Toledo built their new field in 2002, Buffalo feared that the Indians would leave them to move in-state to Toledo. The Indians used the new ballpark in Toledo as leverage and sent a list of needed improvements to Buffalo's Dunn Tire Park which Buffalo agreed to in spending over $200,000 to improve and expand the clubhouse, coaches offices, weight rooms, batting cages, and family rooms. The Indians at this point have made no such requests to Buffalo to make any enhancements to the ballpark. Also, the fact neither Columbus nor the Indians have extended their current player development contracts is another indicator that a move is in place. In June, the Indians extended their expiring player development deals in Akron and Kinston. Only the player development contracts with Buffalo and Mahoning valley are set to expire after this season, and Mahoning Valley and the Indians are expected to announce an extension sometime this month.

Hodges Working On A Routine

Third baseman Wes Hodges has been the most consistent offensive performer at Akron this year. In April he hit .265 with 6 HR, 20 RBI and an .822 OPS, in May he hit .347 with 1 HR, 21 RBI, and an .860 OPS, and in June he hit .314 with 2 HR, 21 RBI, and
an .823 OPS. Overall, Hodges is hitting .307 with 9 HR, 64 RBI and an .831 OPS, and is ranked 13th in the Eastern League in hitting and 1st in RBI.

As consistent as he has been with that bat, Hodges appears to be wearing down some of late. Hodges has played in 82 of Akron's 84 games, and even though he hits fourth in the lineup he has amassed 306 at bats which is 6th in the Eastern League. One way to tell a player is tired is when they start to make more than their usual share of mental and physical errors in the field, and of late he has been making a lot of them. Hodges had just seven errors the combined in April and May, but in June he made eight.

This is one of the things a young player like Hodges is working on in the minors. It is not just about improving as a hitter and fielder, but also in developing a routine to handle playing everyday, which is something players are not used to coming out of college or high school when they played at most two to three times a week and for only about three months. And this is also why teams sometimes do not push a guy up through the system because he is having a monster two weeks or a good half season. There is usually more at play, and this is the case with Hodges.

Rondon Is The Future

Kinston right-handed starter Hector Rondon is racing up the prospect rankings, and is firmly establishing himself as one of the Indians best up-and-coming right-handed starting pitching prospects. The 20-year old is flat out dominating the Carolina League and has scouts buzzing about him. On Sunday, Rondon was impressive in throwing six great innings allowed just one run on two hits,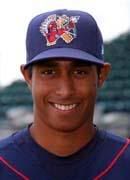 three walks, and string out six. The performance gave Rondon a win in his six of his last seven starts after he was winless in his first nine starts of the season. Overall, Rondon is 6-3 with a 3.31 ERA and is ranked 1st in the Carolina League in strikeouts (89).

The key to his resurgence has been his ability to throw his offspeed pitches for strikes. Early in the season Rondon battled with the command of his curveball and changeup, but after a lot of work in bullpen sessions with Kinston pitching coach Greg Hibbard his fastball command has improved and his secondary pitches are much sharper. His confidence has also steadily increased now that he can more consistently locate his fastball and that the life in it has returned.

Earlier in the week, Rondon got a well deserved selection to the World Team in the Futures Game which takes place on Sunday July 13th at Yankee Stadium as part of Major League baseball's All Star celebration. Rondon was the only Indians minor leaguer who was hand chosen to play in the Futures Game, and this is the third straight year a Kinston player has been selected to play in the game. Last year, catcher Max Ramirez (now in the Texas Rangers' system) played for the World Team, and in 2006 left-hander Chuck Lofgren pitched for the U.S. team.

Indians Focus On Cabrera At Shortstop

When infielder Asdrubal Cabrera was originally optioned to Buffalo on June 11th, he was to split time at second base and

shortstop. Those plans have changed. Recently, the Indians revised those plans and have put Cabrera on a plan to play eight of every ten games at shortstop. The change is so they can get a deeper look at Cabrera playing shortstop and evaluate his arm strength and accuracy throwing from the third base side of shortstop. The Indians also sent him down to Buffalo to regain his confidence as a hitter, and in 22 games at Buffalo is hitting .333 with 1 HR, 6 RBI and an 827 OPS.

The change in plans is a clear indication that the Indians are getting Cabrera ready for everyday play at shortstop and that incumbent starter Jhonny Peralta may be on the move. What that "move" of Peralta entails is unknown at this time, as it could mean a move to third base or possibly him being moved in a blockbuster trade to help change the makeup of the team. Either way, Peralta or Casey Blake should be on the move soon, and when that happens Cabrera will likely be inserted as the everyday shortstop in Cleveland for the remainder of the season and potential beyond.

Cabrera was involved in an incident last night in the ninth inning where he struckout and did not handle it well. Reportedly, Cabrera briefly raised his bat above his head while disputing the called third strike to the home plate umpire, and while walking back to the dugout he threw his batting gloves in disgust and accidentally hit the first base umpire. He will likely get a suspension handed down to him from the International League.

Perdomo Promoted

As expected, last week Kinston right-handed closer Luis Perdomo went straight from the Carolina League All Star game on
Tuesday where he earned a save to Akron on Thursday. Perdomo's flight actually landed in Akron at 11:30 a.m. on Thursday and by the time he got to Canal Park and changed into his uniform and made his way to the Akron bullpen it was the middle of the third inning. Barely having a chance to settle in, Perdomo was summoned in the sixth inning to warmup and he promptly entered the game in the seventh inning. Perdomo was unphased by the craziness of the last 24 hours and threw two scoreless innings, and ended up being the pitcher of record and getting the win when Akron battled back late from a 2-0 deficit to win 3-2.

Perdomo has impressed with a fastball in the mid 90s and a wicked slider. He hasn't skipped a beat since his called from Kinston to Akron, and in two appearances since his callup is 1-0 throwing four scoreless innings and allowing two hits, two walks and striking out five. With right-hander closer Randy Newsom getting the promotion to Buffalo on Tuesday, Perdomo will likely assume the Akron closing duties. Perdomo is a little guy at 6'0" 170 pounds, but what he lacks in size he more than makes up for with his aggressiveness and not being intimidated with any situation he faces. In 31 games at Kinston, Perdomo was 3-1 with an 0.92 ERA and a league-leading 18 saves and opponents hit just .146 against him.

Chisenhall Heats Up

Indians 2008 first round pick infielder Lonnie Chisenhall is starting to heat up. After a slow start to his season where he hit .139 (5-

for-36) in his first eight games, he has picked it up a ton by hitting .550 (11-for-20) in his last five games. Chisnehall's burst started on Saturday night when he went 3-for-5 with a triple and hit a walk off game-winning two-run home run in extra innings for an 8-6 Mahoning Valley win. The home run was his first professional home run in a promising career that has just gotten started. On the season Chisenhall is now hitting .286 with 1 HR, 5 RBI and an .839 OPS.

Chisenhall credits his recent success at the plate to him finally getting comfortable and adjusting to the better pitching he is facing as well as him being able to pick up pitches a little better. The Indians have let it be known that Chisenhall will likely spend the entire season in Mahoning Valley this year. Since he is only 19 years old, Chisenhall will not be pushed this year like previous high round picks in past seasons. It is possible if Mahoning Valley misses the playoffs that Chisenhall will get a callup at the end of the season to Single-A Lake County to participate in the playoffs there.

Young Impresses Early

Left-hander Russell Young had an outstanding game on Tuesday night for Mahoning Valley. Young had a perfect game through 4.1

innings, and gave up a walk and hit in the fifth inning before being taken out after that because of a restricted pitch count. The lone run Young gave up came on a misplay by second baseman Isaias Velasquez with two outs which would have kept the shutout intact. He finished the night going five innings and allowed no earned runs on just one hit, one walk and struckout eight batters.

Young is out of Dartmouth College and was selected in the 28th round of the 2008 Draft just four weeks ago. Young is 6'4" and weighs 205 pounds, and his formula for success early on has been his ability to get ahead of hitters by showcasing good control and keeping the ball down in the zone. In three starts, Young is now 1-0 with a 2.45 ERA. In 11 innings, Russell has allowed 12 hits and three walks while striking out 14 batters.

Kinston Awards Sweep

Right-hander Josh Tomlin took home Carolina League Pitcher of the Week honors this past week. On Saturday, Tomlin was as
good as he has been all season where in a rain-shortened game that was called after six innings, Tomlin faced the minimum number of batters through six innings and gave up just one hit. The one batter who got a hit was promptly erased from the basepaths when he was caught stealing. The Carolina League All-Star is now tied with the team high in wins with six and is 7-3 with a 3.50 ERA in 22 games (8 starts) on the season.

Outfielder Jason Denham finished the Kinston sweep of the Carolina League awards when he was named the Carolina League Player of the Week. In an All Star break shortened four games, Denham hit .500 (7-for-14) with three doubles and six RBI. His outstanding week finished off a very good June where he hit .329 after hitting just .190 in May. He is hitting .378 (14-for-37) in his last ten games, vaulting his average from .227 to .261 for the season.

Denham and Tomlin join right-handed pitcher Jim Deters and outfielder Cirilo Cumberbatch as the other Kinston players to grab Carolina League weekly awards this season. It is the first time a pair of Kinston Indians have swept the weekly awards since pitcher Frank Herrmann and infielder Matt Whitney took the honors in August of last year.

All Stars Announced

On Wednesday, the Eastern League announced that Akron infielders Wes Hodges and Josh Rodriguez along with relief pitchers Randy Newsom and J.D. Martin were all named to the Southern Division All Star team. The Southern Division and Northern Division

will square off in Manchester, NH on July 16th, and Akron manager Mike Sarbaugh and the rest of his coaching staff will lead the Southern squad as the defending Southern Division champions.

This is the second All Star selection for Hodges and Rodriguez, as both were named postseason Carolina League All Stars last year. Hodges is hitting .307 with 9 HR and 64 RBI, and Rodriguez is hitting .269 with 4 HR and 37 RBI. Newsom is making his second straight appearance on the Southern Division team as he was named an All Star last year. Newsom has 24 saves in 26 opportunities and is 5-0 on the season with a 1.75 ERA. Martin is making his first All Star appearance since 2001 when he was selected to the Appalachian League postseason All Star team. In 21 appearances (including three starts), Martin has gone 7-3 with a 3.26 ERA.

Also on Wednesday, the International League selected Buffalo left-handed reliever Rich Rundles to the 2008 All Star team. The best of the International League will take on the Pacific Coast League's All Star team in the 21st annual Triple-A All Star Game on Wednesday, July 16 at Louisville Slugger Field in Louisville, KY and will be televised live on ESPN2 at 7:05 p.m. Rundles, 27, has pitched well in his second season in Buffalo. In 32 relief appearances, he is 5-4 with a 3.48 ERA and has struck out 36 in 32.2 innings while holding opponents to a .213 batting average (lefties hitting .161).

The Month That Was In Kinston And Akron

What a month of June it was for Double-A Akron and advanced Single-A Kinston. After going 9-16 their first 25 games, Kinston has
gone 34-23 since then and went 17-10 in June which was the second best record in the Carolina League for the month. For the month of June, right-hander Hector Rondon was the top pitcher in the league going 4-0 with a 1.29 ERA, striking out 34 which also led the league. First baseman Beau Mills hit six home runs in June which was second most in the league, and outfielder Jason Denham hit .311 for the month.

Akron capped off an awesome month of June going 21-8, which tied the second-most wins in a month in franchise history trailing only the 22 wins Akron put together in June 2002. No doubt, it was the Akron bats which carried them for the month as they hit .312 as a team and are the only team in the Eastern League to hit .300 or better in any month this season. They also scored 190 runs averaging 6.6 runs per game. Individually, outfielder Trevor Crowe led the Eastern League with a .400 average (42-105) with 4 HR, 24 RBI, 32 runs, and 5 stolen bases. Outfielder Jose Constanza was seventh in the league in batting average at .338 (27-80) and third baseman Wes Hodges was 10th with a .314 average (32-102) with 2 HR and 21 RBI in 27 games. In fact, the top four RBI men in June were all from Akron as Crowe and outfielder Bronson Sardinha led the league with 24 RBI, shortstop Josh Rodriguez was third with 22 RBI, and Hodges was fourth with 21 RBI. On the pitching front, right-handed reliever J.D. Martin made six appearances in the month and did not allow an earned run and only eight hits in 14 innings, and right handed closer Randy Newsom was perfect in eight save opportunities with a 2-0 record and 3.18 ERA. Their 20-win month is just the sixth time they have won 20 or more games in a month in franchise history, and the first time since August of 2005.

Transactions Log

The transactions wire has been busy the last week. Here is a quick rundown of most of the noteworthy transactions for the week:

Akron right-hander T.J. Burton was placed on the disabled list with a strained left calf and right-hander Luis Perdomo was promoted from Kinston to Akron. Burton missed time earlier in the year when he went down to extended spring training to revamp his delivery,
and the results have been positive. In the eight games since he returned he was 1-0 with a 1.23 ERA. This was a "paper" move as Burton really is not injured.

Akron right-hander Randy Newsom was promoted to Buffalo, but no roster move was immediately made to replace him. Burton is expected to be activated to fill the roster spot once his seven day disabled list stint expires here in the next day or so.

Infielder Walter Diaz was promoted to Mahoning Valley on Sunday, taking the place of infielder Jason Rodriguez who retired. Diaz was promoted from the Gulf Coast League Indians where he was hitting .421 in five games. Rodriguez was a 15th round pick in the 2008 Draft and hit only .217 in six games before calling it a (short) career.

Last weekend, catcher Yamid Haad was activated on the Buffalo roster, while catcher Armando Camacaro was placed on the disabled list.

Right-handed reliever Juan Rincon was activated on Sunday, and first baseman Ryan Mulhern was place on the disabled list.

On Thursday, Captains closer Vinnie Pestano was promoted to Kinston. His roster spot will be filled at a later date.

First baseman Dustin Realini was placed on the disabled list with facial injuries and left-hander Kelvin De La Cruz was added to the roster from Akron.

Affiliate Notebook


Buffalo Notes (40-47, 4th place, 14.5 GB): Right-hander Adam Miller (right middle finger) saw Dr. Tom Graham in Baltimore on Monday. Dr. Graham was so encouraged by Miller's progress that if his rehab continues to go well he believes Miller could start a throwing program in less than two weeks. Miller is five weeks removed from ligament reconstruction, and was expected to be out until late July. ... Left-hander David Huff has been solid so far at Buffalo since his callup on June 6th, and in six starts is 2-1 with a 3.38 ERA. Huff has also shown impressive command, posting 38 strikeouts and just 3 walks in 32 innings pitched. ... In Game Two of their doubleheader on Saturday, right-handers Matt Ginter and Brian Slocum combined to throw a one-hit shutout in a 3-0 Buffalo win. It is the 10th one-hitter in Dunn Tire Park history, with right-hander Jeremy Guthrie tossing the last one-hitter in a complete game shutout on July 26, 2006 against Indianapolis. ... Outfielder Jason Cooper keeps moving up in the Buffalo record books. After his home run on Saturday night he now has 49 home runs, which is good for 6th on the all-time list. The players ahead of him: Jeff Manto (79), Russell Branyan (76), Bill Selby (60), Alex Ramirez (57), and Richie Sexson (52). ... Veteran infielder Tony Graffanino is close to being activated on the Buffalo roster. Graffanino is coming off ACL surgery last August and was recently signed to a minor league contract by the Indians almost two weeks ago. He'll likely be activated sometime in the coming week. ... The Buffalo starting rotation has been outstanding in their last 14 games going 7-1 with a 2.44 ERA and ten quality starts. In 85.0 innings they have struck out 63 batters and walked just 12. ... Friday night's game in Buffalo was suspended because of fog. It was the second time in Dunn Tire Park history that fog caused a suspension, with the first time coming in a game against Indianapolis on May 10, 1992 that was suspended in the sixth inning with the score tied 1-1 and was finished the next day.


Akron Notes (52-32, 1st place, 4.5 GU): On Monday, closer Randy Newsom nailed down his league-leading 24th save. The save also broke the season record held by Wilmer Montoya (23) back in 1996. Newsom was promptly called up to Buffalo on Tuesday, and it appears the Indians had him stick around in Akron for an extra week or two as a courtesy since he was close to the record. ... Outfielder Jose Constanza has swung a hot bat over the last two weeks as he has hits in 12 of his last 14 games. Over that span Constanza is hitting .377 (20-for-53) with 13 runs scored and just four strikeouts to five walks. He has increased his batting average by 26 points from .267 to .293. ... On Friday night Akron pounded out 19 hits and 16 runs, which were both season highs. Shortstop Josh Rodriguez tied a franchise record with two triples in the game, and in the seventh inning Akron hit for the cycle in the span of five batters with a Brandon Pinckney single, Wyatt Toregas double, Joe Constanza walk, Trevor Crowe grand slam, and Josh Rodriguez triple. ... Catcher Wyatt Toregas hit three home runs on Wednesday night, and is not hitting .308 with 5 HR, 12 RBI and a 1.152 OPS in 11 games since being reassigned from Buffalo. ... Outfielder Ryan Goleski is hitting .250 with 8 HR, 24 RBI and a .772 OPS. ... First baseman Matt Whitney is hitting .247 with 5 HR, 35 RBI and a .702 OPS. ... Right-hander Kevin Dixon is 6-5 with a 4.42 ERA in 16 starts.


Kinston Notes (8-5, 1st place, 0.0 GU, 43-39 overall): On Friday, first baseman Beau Mills racked up his second multi-home run game of the season. Mills' home run shots were both big blasts I got to see in person, with the second one a booming home run to deep right field that cleared the 30-some foot high fence and went out of the stadium. Mills missed some time on Sunday and Monday because of a rash and allergic reaction to something in both armpit areas that was very painful and effected his swing. On the season, Mills is hitting .267 with 11 HR, 50 RBI and an .822 OPS. ... Left-hander Tony Sipp was added to the Kinston roster on Sunday. Sipp had been pitching with the GCL Indians team in Winter Haven making two appearances and is finishing up his rehab from Tommy John surgery last July. He is not expected to stay in Kinston long, and will likely move up to Akron next as he continues to ramp his way up to Buffalo. He pitched on Monday night going a scoreless inning, and in four combined appearances in Kinston and the GCL he has thrown five shutout and hitless innings allowing one walk and striking out six. ... On Friday, right-handed reliever Vinnie Pestano made his Kinston debut in Frederick, MD. He picked up the win by throwing two shutout innings and recording two punchouts. ... Outfielder Nick Weglarz's modest 10-game hit streak came to an end on Saturday night. It was his second 10-game hitting streak on the season, and on the year he is hitting .257 with 7 HR, 31 RBI and a .794 OPS. ... With right-hander Luis Perdomo being promoted to Akron, no one has been anointed to the closer role (yet) in Kinston. Right-handers Neil Wagner and Vinnie Pestano are the leading candidates to take over the role, but for now it is expected to be the "closer by committee" setup for awhile. ... In their 17-3 blowout loss on Monday night, infielder Cristo Arnal took one for the team and pitched the last inning to save some of the bullpen arms and pitched a scoreless ninth with a strikeout.



Lake County Notes (7-7, 4th place, 2.5 GB, 48-36 overall): Outfielder Roman Pena's 17-game hitting streak came to an end on Sunday. On the season he is now hitting .303 with 7 HR, 53 RBI, and an .807 OPS. Pena is 12th in the South Atlantic League in hitting and 7th in RBI. ... Left-hander Ryan Miller threw six shutout innings on Saturday, but did not figure into the decision. Miller has now gone eight straight starts since his last win on May 18th (two losses, six no-decisions) and on the season he is 7-2 with a 1.97 ERA in 15 starts. ... On Friday, right-hander Joey Mahalic picked up another win by going five innings and allowing two runs on seven hits. On the season, the 19-year old Mahalic is 6-2 with a 4.26 ERA in 10 appearances (8 starts). ... Outfielder Matt Brown's on-base streak ended at 21 games on Friday. On the year, the steady Brown is hitting .297 with 4 HR, 46 RBI, and a .746 OPS. ... Lake County is struggling at home with a 21-24 record, but they have been awesome on the road at 27-12. ... Left-handed reliever John Gaub has been impressive, and in 17 appearances is 0-1 with a 4.11 ERA but has a whopping 43 strikeouts in 30.2 innings and holding opposing hitters to a .206 batting average. ... Infielder Karexon Sanchez is hitting .245 with 8 HR, 42 RBI and a .729 OPS. ... Outfielder Adam White is hitting .238 with 3 HR, 27 RBI, 25 stolen bases, and a .665 OPS. ... Left-hander Kelvin De La Cruz is 6-3 with a 1.74 ERA in 15 starts.


Mahoning Valley Notes (7-9, 5th place, 4.0 GB): Catcher Doug Pickens is hitting .257 with 0 HR, 1 RBI, and a .710 OPS in ten games. Pickens was a 50th round pick in the 2007 Draft out of the University of Michigan, and this is his first professional season as he was a late signing last year and was not assigned to a team. He started the season in Lake County, a level he struggled at and probably was not ready for, and was sent to Mahoning Valley two weeks ago. ... Sunday's game between Mahoning Valley and Auburn lasted only one hour and 57 minutes. ... Mahoning Valley is hitting .244 as a team, which is 6th out of 14 teams in the league. On the pitching front Mahoning Valley has a 3.86 team ERA, which is 11th in the league. ... On Friday, right-hander P.J. Zocchi went five innings and only gave up two runs on Friday. On the season Zocchi is now 0-1 with a 5.60 ERA in four starts. ... On Monday, Brad Hinkle gave up just one run in five innings and allowed five hits, no walks and struckout three. The 6'10" right-hander is now 0-0 with a 3.95 ERA in three starts on the season. ... Third baseman Jeremie Tice is hitting .318 with 0 HR, 6 RBI, and an .831 OPS . ... Left-handed reliever Garrett Rieck is 1-0 with a 1.13 ERA in five appearances.


GCL Indians (5-5, 4th place, 3.0 GB), DSL Indians (16-12, 5th place, 2.5 GB) and Draft Notes: On Monday the Indians agreed to terms with their 8th round selection in the 2008 Draft, signing left-hander Eric Berger from the University of Arizona. The Indians have signed 20 of their 50 picks and 15 of the top 21. The only picks in the Top 21 not signed are: RHP Trey Haley (2nd), 2B Cord Phelps (3rd), RHP Zach Putnam (5th), OF Tim Fedroff (7th), LHP T.J. House (16th), RHP Mitchell Mormann (17th). ... In the GCL, outfielder Delvi Cid is hitting .324 with 0 HR, 4 RBI and a .748. ... Infielder Abner Abreu is hitting .267 with 2 HR, 3 RBI, and an .846 OPS. ... Third baseman Adam Abraham is hitting .222 with 1 HR, 7 RBI, and a .612 OPS. ... Left-handed starter T.J. McFarland is 1-1 with a 3.14 ERA in three starts. ... Right-handed starter Danny Salazar is 2-0 with a 0.90 ERA in two starts. ... On the DSL front, third baseman Kelvin Diaz (yes, that guy again) is hitting .346 with 4 HR, 25 RBI and a .988 OPS. ... Left-hander Elvis Araujo is 1-0 with a 1.96 ERA in six starts. ... Right-handed reliever Rafael Quintero is 4-0 with a 0.44 ERA in 10 appearances, and has 31 strikeouts in 20.1 innings.
All photos courtesy of Ken Carr, Carl Kline, Cleveland Indians, Mahoning Valley Scrappers, Lake County Captains, Kinston Indians, Akron Aeros, Columbus Clippers, and Buffalo Bisons.

User Comments
No comments currently. Be the first to comment!