Minor Happenings: Archer Turns It Around
"Minor Happenings" covers the important developments and news in the Indians farm system. While most of the information in this report is from my own research and through interviews I have conducted with organizational personnel, some information in this report is collected and summarized from the various news outlets that cover each team.

I was in Akron over the holiday weekend and had a chance to talk with a lot of different people, from players, to family members, and to scouts. Some of those conversations will be included in today's piece, and the players I talked to were a trio of right-handed relievers in Jeff Stevens, Randy Newsom, and Erik Stiller who I will have feature pieces on soon.

I was going to go to Buffalo today to see Adam Miller pitch as he was scheduled to start today prior to going on the disabled list, but with him out I decided not to go as there is no one worth seeing pitch tonight. In lieu of going to Buffalo, I will likely be conducting a phone interview with Jordan Brown sometime this weekend, so I will have that coming down the pipeline as well.

Since I am not going to Buffalo tonight, I decided to go to Lake County instead. I'll be there tonight to see Kelvin De La Cruz pitch again, but I'll spend more time focusing on some of the relievers and hitters and interviewing a handful of them for upcoming pieces. And, I still have a piece on left-hander Ryan Miller that is near ready that got put on the backburner because of the busy holiday weekend. The Ryan Miller piece should be up sometime this weekend, likely Sunday. If you missed it last weekend, I did a piece on speedy outfielder Adam White.

Also, one final reminder to mention that the MLB Draft commences this coming Thursday June 5th. Dennis Nosco will be all over the draft with a preview the day before it, a live two-day blog on my site, and then a wrap on this site after the draft. Be sure to check it out, and if you missed it he did a write-up this week on the draft. Also, Director of Amateur Scouting Brad Grant will be in studio on STO this Tuesday at 6pm on the Indians Minor League Magazine show to talk draft. When it comes to the MLB Draft, SportsTime Ohio and The Cleveland Fan have you covered!

Indians Minor League Player Of The Week
(for week of May 22nd to May 28th)

Chris Archer (Right-handed Pitcher - Lake County)
0-0, 0.00 ERA, 2 starts, 11 IP, 0 R, 7 H, 2 BB, 10 K

What a fantastic week for Lake County right-hander Chris Archer who just dominated the competition in the South Atlantic League.

There were many fans who questioned why the Indians have stuck with Archer for so long in the rotation at Lake County given his struggles with walking people before this week (39 walks in 33 innings pitched), but after his performance in two starts this week, I think everyone can now see what the Indians and scouts see in him that make him so highly regarded.

Last Thursday, Archer pitched six strong shutout innings giving up only three hits, striking out five and only walking one. Archer left the game after six innings with a 1-0 lead, but the bullpen was unable to hold the lead to get him the much deserved win. On Tuesday, Archer's follow up act was just as good as he threw five shutout innings and allowed just four hits, one walk and struck out five. He did not factor into the decision as the game was scoreless until the eighth inning, and he was long gone before Lake County put up two runs in that inning to win the game 2-0.

Archer has a live arm and a devastating curveball that many in the organization consider as the best breaking ball in the system. With two plus pitches, good makeup, and still only 19-years old, the sky is the limit for Archer. He is a legit pitching prospect in the organization to follow going forward, and his struggles and successes will be a lot of fun to watch in the coming years as he grows into his body and matures as a player. More later on Archer below in an interview I had recently with Lake County pitching coach Ruben Niebla.

Honorable Mentions: Dustin Realini, 1B, Lake County (.440 AVG, HR, 7 RBI); Jared Goedert, 2B/3B, Kinston (.350 AVG, 2 HR, 8 RBI); Wes Hodges, 3B, Akron (.414 AVG, 0 HR, 5 RBI); Brad Snyder, OF, Buffalo (.471 AVG, 0 HR, 4 RBI); Hector Rondon, RHP, Kinston (1-0, 0.00 ERA, 7 IP, 0 R, 2 H, 1 BB, 8 K)

Previous Winners:

5/15 to 5/21: David Huff (LHP - Akron)
5/8 to 5/14: Steven Wright (RHP - Kinston)
5/1 to 5/7: Jeremy Sowers (LHP - Buffalo)
4/24 to 4/30: Jose Constanza (OF - Akron)
4/17 to 4/23: Hector Rondon (RHP - Kinston)
4/10 to 4/16: Wes Hodges (3B - Akron)
4/3 to 4/9: Kelvin De La Cruz (LHP - Lake County)

Coaches Corner

A week back when I was in Lake County I had the chance to sit down with pitching coach Ruben Niebla and talk about several of the outstanding, promising arms he has had to work with this year there. Here is a rundown on what was said:

On Kelvin De La Cruz: "Confidence has never been an issue with Kelvin. I think he is coming into his own as a pitcher. He is a

three-pitch mix guy and he loves to compete. He is probably the most polished of the starters on the staff as far as three pitches in the zone. He gets after it and does a pretty good job at attacking hitters. He has an understanding on how to attack them and sticks to his strengths well. I think with De La what I have seen is that more than anything at times he tends to lose his focus, and then when he has runners in scoring position he gets his focus back and executes his pitches. For example, I have seen him pitch out of more situations than any of the other guys with runners in scoring position and less than two outs. When he is able to maintain his focus throughout the game I think he is going to be a pitcher to reckon with."

On Mike Pontius: "If he was not on your radar last year, you messed it up (laughs). Mike came up here for the final third of the season last year. We saw the stuff. We knew why he was inconsistent and he was able to apply instruction. So, coming into spring training this year we were able to see he had already made adjustments to get the ball in the zone, throw the ball downhill, and tighten up that breaking ball for strikes. When he came here at the beginning of the season he just took off with it. The thing about Mike is he is able to apply instruction and that is a quality you can't overlook. Also the fact that he throws in the mid-90s and has a plus breaking ball. It has some depth and bite to it. He is special. He is someone I think could definitely help us in the near future at a higher level."

On Ryan Miller: "Bottom line, he has good stuff. He can spin a breaking ball, has good feel for a changeup, and he has good deception to his fastball which is a good combination to have. Some of the things he is working on is polishing those strengths of his and getting more consistent in the strike zone."

On Chris Archer: "I think we are solidifying his delivery right now more than anything. Archer has gone through some adversity during some of his games. That is only going to make him better because when he starts getting consistent in the strike zone - and we are confident he will - he has electric stuff through the zone. It is just a matter of being patient and waiting for it to come."

On Ryan Morris: "He is a strike thrower and sinks the ball well. He pitches to the bottom of the zone, which is a formula for a lot of groundballs. Our infield I think is leading the league in fielding percentage and that is just a good combination for him as it allows him to throw a lot of groundballs and let the defense play behind him."

On Joey Mahalic: "I think what I am trying to do with him is making sure that he stays on top of the ball with consistency. He has a tendency to get under pitches and when he does his ball sails from side to side. He has a nice loose arm with good arm strength and able to sink the ball at 88-89 MPH. But when he stays on top of his pitches he is able to sink it with a downhill angle and get a lot of groundballs. That is what he has done."

Another Scout's Take

When I was in Akron over the weekend, I had a chance to talk to several baseball people outside of the Indians organization. One in particular was a scout for an American League club who I had the chance to speak to for about 15 minutes and run down a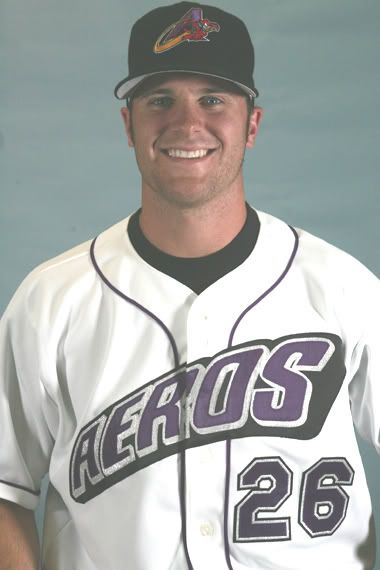 laundry list of players in the system. This was not nearly as in-depth of a conversation as I had with the scout in Akron a month back where we talked for over an hour, but still it was an interesting conversation to say the least. (Note, these opinions are those of the scout and not necessarily mine).

The AL scout said there is not a lot of major league quality guys at Akron as the team is mainly depth guys or players who are complimentary players to a big league club. His job is to look for starters and guys that are an improvement over what they have in their system. He likes some of the arms and a few bats, but aside from that thinks many of the players there are forgettable.

We talked about outfielder Trevor Crowe, and he pointedly said "he just doesn't see it....where is he going to play?". He was not big at all on Crowe and doesn't see a consistent bat to be an everyday player and would not recommend his club trade for him or pick him up. On third baseman Wes Hodges he said that while his bat is impressive, he does not see him sticking at third base. He does not feel like he is good defensively at third and believes he ends up at first base eventually. He said he really likes shortstop Josh Rodriguez in that he moves well at short and has a promising bat. Also, he really, really likes catcher Chris Gimenez's bat. On the pitching front, left-handed starter David Huff and right-handed reliever Jeff Stevens are two guys he would love to have in his organization and are guys he thinks have a lot of value.

We also talked about some of the Indians players, namely third baseman Andy Marte and outfielder Ben Francisco. He is yet another scout I have talked to who claims to love Francisco much more than what he termed as the "over-hyped" outfielder Franklin Gutierrez. He said it is not even close and that "yeah, Gutierrez has more tools. But, those tools have not changed one bit since he was in Double-A in 2004. Francisco on the other hand needs some work on defense, but aside from that has improved every year. It is no contest. I'd take Francisco on my team any day over Gutierrez". He also said that Andy Marte has fallen off the prospect map and that if he were to be put on waivers his club would likely pass. Just too many holes in his game, and defensively he is not very good. He also mentioned that right-handed starter Paul Byrd has more trade value than people think. Many teams would love to have the reliable Byrd to fill a #4-#5 spot in the rotation for the stretch run, and believes the Indians could get a good promising bat or bullpen arm in return for him.

Miller Injured Again

The big news of the week was right-hander Adam Miller going on the disabled list because of a broken callous on the middle finger of his right hand, and then having what very well might be season ending surgery to correct this serious issue. It was a crazy week, as the injury seemingly came out of nowhere as in six starts on the season Miller was looking strong and had a 1.88 ERA. It was a
wild 48 hours from the point he was scratched from his Sunday afternoon start, to being put on the disabled list on Monday, to having surgery on the finger Tuesday. In the span of 48 hours he went from a great trading chip or bullpen option for the Indians to possibly being shelved for the season.

The problem with Miller's middle finger on his pitching hand came about last year, and it was felt with rest the issues he had with his tendon may correct itself on its own. But, the issues with his finger cropped up again, this time because he had developed two calluses on it and between the calluses the skin had become soft and developed into a hole in his skin which put Miller's finger at serious risk of infection. The calluses were a result of Miller's strained pulley system in the finger last year. Team hand specialist Dr. Tom Graham performed the surgery on Tuesday and surgically repaired the pulley system in the middle finger. During the surgery, Dr. Graham found that Miller's tendons in the finger were starting to fray and that the pulley system in the finger was not working properly.

So what is next for Miller? He is expected to be out for about eight weeks, and if all goes well during his recovery he will go on a return-to-throw program sometime in late July. Since he will be coming back late in the season, they could work him back more into a bullpen role which would shorten the throwing program required before he could return to Buffalo possibly by mid-August. While Buffalo's season will be wrapped up by the end of August, it is possible if he performs well in his return that he could pitch the final month of the season in Cleveland.

Time To Make A Pitch For Hitting

The Indians are loaded with pitching at the major league and minor league level. It is an obvious surplus that even with the impending free agency of ace C.C. Sabathia and reliable starter Paul Byrd they have more than enough to turn to and replace those two potential losses. Yes, replacing Sabathia is nearly impossible, but they have quality arms that could step in and not be such a big drop-off from Sabathia. Byrd is replaceable, and would it really be that much of a drop next season to have Aaron Laffey replace
Sabathia and Jeremy Sowers replace Byrd? What I am getting at here, is the Indians need to go one of two directions and either way they go they have to go in one of those directions.

Option #1 should be to seriously consider trading Sabathia and Byrd. According to the scout I talked to over the weekend, Byrd has value as a dependable back of the rotation starter teams look for when they are trying to round out their staff for a stretch run, and that means we could probably get a good prospect for him, particularly one who may be major league ready. Sabathia is a few months away from free agency and almost certain to leave, so why not get as much as you can for him now? By trading Sabathia in no way would it wave the white flag on the season, it actually may be the deal that gets this team going as they Indians could plug in Laffey into his spot in the rotation (when Carmona comes back) and there would be minimal drop in performance, but where it would really pay off is the help we would receive in return for Sabathia. Sabathia could probably net the Indians two to three very good young impact hitters. Maybe two hitters and a bullpen arm, but in any case the Indians should look around for a team willing to part with some major league ready premium talent for Sabathia.

Option #2 calls for Shapiro to go the distance with Sabathia and Byrd, and instead look to trade Laffey, Sowers, or any other young pitcher in the farm system. This is a route that helps short term as it will be easier to land a veteran bat or two to help the lineup, but it could seriously hurt the Indians in 2009 and beyond. The problem here is it will be hard to give up on a Laffey or a David Huff, which are two guys at the top of the list when teams talk to the Indians about trades. Before Adam Miller went on the disabled list, even he would have been considered in a deal.

The Indians have a lot of good young pitching stocked throughout the farm system, and are overstocked with it. On the flipside, the Indians lack many impact bats, so it is time to maybe tip the scales more in the hitting direction to balance the system out and use some of the pitching surplus - be it at the major league or minor league level - and get some bats in here to help this team out in 2008 and beyond. Scouts love our pitching, especially the young arms, but Shapiro has to be willing to take a gamble and start using that pitching as currency to buy some much needed upgrades to a Tribe offense that is holding the team back.

Stevens The Next Callup?

Akron right-handed reliever Jeff Stevens is on the verge of a callup to Cleveland. With the way things are going in the bullpen with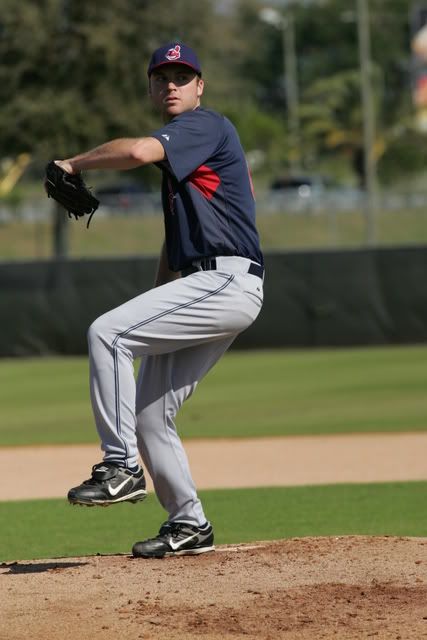 the parent club, there is a need for quality relief pitching and since trade options are limited for at least another month the Indians may look in-house like they did with Jensen Lewis last year to find that solution. Stevens so far this season is 5-1 with a 2.70 ERA, .200 BAA, 10.80 K/9, and 3.03 BB/9.

Stevens went into this season as one of the highly thought of bullpen arms in the farm system, and to date he has not disappointed. While he did get off to a slow start, he has simply been awesome the last month. In April, Stevens was 3-1 with a 4.20 ERA, .259 BAA, 10.2 K/9, and 2.4 BB/9 in nine appearances out of the bullpen. Those were solid numbers, but he was a little inconsistent and was still learning to throw a slider that he just started throwing to give hitters a different look. In May he has been spectacular going 2-0 with a 0.77 ERA, .108 BAA, 11.57 K/9, and a 3.9 BB/9 in seven appearances out of the bullpen. In his last five appearances covering a total of eight innings, Stevens has yielded just one hit, walked three and struck out 11.

Stevens has settled into a grove, is pitching with a ton of confidence again, and is ready to be challenged at the next level. He could be on the move to Buffalo anytime in the next few days, and there is a remote chance he could skip Buffalo altogether and go right to Cleveland. However, the likely course of action will be for the Indians to move him to Buffalo, have him get a few appearances there, and then consider him for a callup to Cleveland by mid-June.

Wild Thing

It has been a rough year so far for Akron left-hander Chuck Lofgren (1-3, 5.94 ERA). After a slow start to the season, he seemed to be getting things going with two excellent starts to kick off the month of May going six one-run innings on May 1st and seven one-run innings on May 6th. But, after a nightmare road trip in early May where many off days and rainouts had the starters go about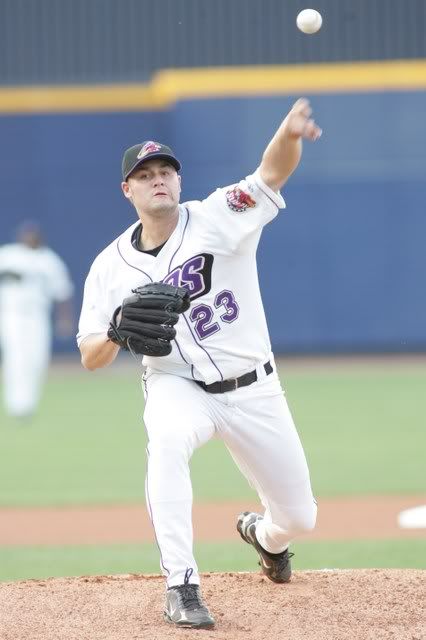 ten days without pitching in a game, the momentum Lofgren had built with those two starts in May was gone.

In his last three starts, Lofgren is 0-0 with a 6.91 ERA and again the alarming numbers are the hits (13) he has given up and all the walks (15) he has piled up in those three starts (14.1 innings). He is walking too many batters this year (6.5 BB/9), and on top of that has hit four batters and thrown several wild pitches. In his start last Thursday, Lofgren was visibly upset to where he had to be removed in the middle of the fifth inning and he walked off the mound steaming the entire way to the dugout where he threw his hat and glove against the wall.

Bottom line, Lofgren is frustrated. He knows he is better than this, the Indians know it, I know it, and so do the scouts. Sometimes it is just one of those seasons a pitcher goes through, as luck has not been on his side so far this year. That said, it is time for him to find a way to get things together and go out there and perform. Lofgren has great makeup and in the past has shown the ability to focus and bear down when times get tough, and there is no reason he can't do it again. Lofgren knows what he has to do, and that is to keep his focus, keep the ball down in the zone and start throwing more strikes.

They Call Him Mr. Clutch

Akron third baseman has had a very good year at the plate so far this season, and to date he is hitting .316 with 7 HR, 41 RBI, and
an .870 OPS. He leads the team in hitting, RBI, and home runs, and he currently ranks 1st in the Eastern League in RBI. Hodges has been extremely hot of late, as he is hitting .421 (16-for-38) in his last ten games. While he has piled up his 41 RBI in just 51 games, which is a pace of 112 RBI over a 140 game season and would destroy the Akron record of 96 RBI in a season set by Chan Perry in 1997.

Digging deeper and looking at his situational stats, Hodges is also having a terrific season in clutch situations. He has been red-hot hitting .386 (22-for-57) and a 1.094 OPS with men in scoring position this year. He has been hot all month, hitting .371 in May and his 21 RBI for the month leads the next closest player by 11 RBI (Gimenez is 2nd in May with 10 RBI). His home run production has dropped this month as he only has hit one in May after hitting six in April, but his RBI production has increased because he has been so clutch with men on base.

Full Season Adjustments

For a lot of players at Lake County, and some at Kinston, this year is their first experience playing a full season. Many of the players on these rosters played on short-season rosters at Mahoning Valley or the Gulf Coast League last year. Both Kinston and Lake County have played over 50 games, and were this a short-season the players would be about two to three weeks from

wrapping up their season. But, as full-season players, they still have over three months to go.

According to Lake County outfielder Adam White it is an adjustment in learning to deal with a much longer season. "It is different playing everyday. Last year playing at Mahoning Valley you only had two and a half months. Now I have five months. In short-season you just get started and then you end, and if you don't get off to a good start you are done for, whereas with a full season you have five months to regroup."

Many of these players are only used to the 40-60 game schedule they played each year in high school, college, and professionally in short-season leagues. Now, they have to get used to a grueling 140-game schedule of a full season.

"Mahoning was basically just a learning thing and to get accustomed," said White. "I don't know what it is going to be like hitting in July or August [after playing for three months already]. I heard from guys in spring training it is a grind. Just stay completely focused and you should not have a problem with it."

Getting On Track With iTrac

Stephanie Storm of the Akron Beacon Journal had a nice piece on the iTrac system the Indians have setup in their batting cages at Progressive Field as well as other places like Winter Haven and Akron. The Indians are one of five major league organizations who are using the machine, and it is a machine which helps train the vision of hitters to where they can better recognize pitches and their location. As Storm wrote, "The system is designed to improve a player's vision and ability to track a ball by conditioning and strengthening the eye muscles. In doing so, players improve their depth perception, enhance hand-eye coordination and improve reaction time. This happens as the system breaks down the ball path into three sections: the recognition zone, the decision zone and the attack zone."

According to studies, hitters lose sight of a pitch about six to eight feet from home plate, which means they are guessing the final location of the ball as they make contact. The iTrac system helps train the eyes of the hitters to follow the ball all the way up until the point of contact and eliminate this blind spot. The system has become a tool to help minor league hitters become better adept at keeping their head down and looking through the ball and also keep their front side in as they swing. The past few years the Indians have integrated the iTrac machine into the daily routines of the minor leaguers during spring training, and they continue to use it when available throughout the season.

Transactions Log

It was a busy week for transactions, particularly in Buffalo. On Monday, the Indians signed outfielder Todd Linden and infielder Jorge Velandia to minor league deals and assigned them to Buffalo. Linden hit .333 (26-for-78) with 3 HR and 12 RBI in 22 games with Triple-A Sacramento (Athletics), and Velandia hit .287 (27-for-94) with 3 HR and 12 RBI in 28 games with Triple-A Syracuse (Toronto) before playing in a brief two-game stint with Toronto (0-for-7). To make room for Linden and Velancia, outfielder Bronson Sardinha was re-assigned to Double-A Akron and infielder Danny Sandoval was transferred to extended spring training. In addition, the Indians optioned right-hander Jensen Lewis to Buffalo on Saturday and right-handers Eddie Mujica and Scott Elarton were called up to Cleveland.

With right-hander Adam Miller going on the disabled list on Monday, right-hander Joanniel Montero was promoted to Buffalo but quickly reassigned to Akron. Montero's stay in Akron should be short-lived as right-hander Bubbie Buzachero is expected to move back down from Buffalo to Akron in the next few days. Also, with Sardinha being sent from Buffalo to Akron, Akron outfielder Nathan Panther was transferred to Mahoning Valley.

Infirmary Report

Some quick news on the injury front. When I was in Akron over the weekend I learned that several pitchers in extended spring training are very close to being activated or sent on rehab assignments. These timelines are always fuzzy and setbacks can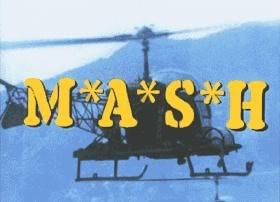 always crop up, but three of the Indians top pitching prospects should be in action by the end of June.

Left-hander Tony Sipp (Tommy John surgery) is expected to begin his rehab assignment in Kinston sometime in mid-June, and if I had to guess he'll be rostered there right after the Carolina League All-Star break (June 23-25). Right-handed reliever Michael Finocchi (broken leg) and left-handed starter Scott Lewis (strained lat) both are expected back in Akron sometime in the next two to three weeks.

Affiliate Notebook

Buffalo Notes (25-29, 4th place, 8.5 GB): Former Buffalo Mayor Jimmy D. Griffin passed away at the age of 78 on Sunday morning. Griffin was a huge supporter of the Buffalo Bisons, and through work with city leaders and using his own money, the city purchased a struggling Jersey City Double-A team and moved them to Buffalo in 1979. He was also instrumental in the construction of the downtown ballpark Dunn Tire Park. ... Outfielder Jason Cooper is setting many Buffalo hitting records this season. On Saturday, Cooper hit his fifth home run of the season and his 45th as a Bison tying him for 7th on the all-time list with current manager and former player Torey Lovullo. On Tuesday, he racked up his 200th career RBI as a Bison, good for fourth on the all-time list. The only other Bisons in the modern era to collect 200 RBI are Bill Selby (245), Jeff Manto (207) and Russell Branyan (202). ... First baseman Jordan Brown has shown no lingering affects from being on the disabled list for three weeks (5/1 to 5/19). Since being activated, Brown has hit well by hitting .322 (10-for-31) in eight games. On the season he is hitting .283 with 0 HR, 11 RBI, and a .742 OPS. ... On Tuesday, left-hander Jeremy Sowers tossed another gem going six shutout innings with five strikeouts and one walk. On the season he is 3-3 with a 2.18 ERA in nine starts. ... The Buffalo pitching staff has made a steady climb up the International League rankings. Buffalo is now ranked 7th in ERA (3.84), 3rd in fewest home runs allowed (38), and 6th in strikeouts (380). ... Hitting-wise, Buffalo has been just as inconsistent and painful to watch at times as the parent club. Buffalo is ranked 13th in the International League in hitting (.247), 9th in home runs (36), and 12th in runs (207).


Akron Notes (27-24, 3rd place, 3.5 GB): Outfielder Ryan Goleski was out of the lineup for three days last week from Thursday through Saturday to attend to the birth of his first child. After a long labor, Ryan and his wife Rachel gave birth to a baby girl on Friday. Congrats to the Goleski family, and let's hope with the arrival of the little Go-Go that big daddy Go-Go gets going at the plate. ... First baseman/outfielder Stephen Head has had a hot bat of late. Head put up consecutive three-hit games from May 23-24 and in the last ten games is hitting .361 (13-for-36). On the season Head is hitting .321 with 1 HR, 11 RBI, and a .798 OPS in 24 games. ... Catcher Chris Gimenez is still off to a very good start. Gimenez is 3rd in the Eastern League in on-base percentage (.459) and 1st in walks (36). Gimenez had his 11-game hitting streak snapped on Tuesday night when he went 0-for-2 but had two walks. On the season Gimenez is hitting .303 with 4 HR, 16 RBI and a .967 OPS. ... Shortstop Josh Rodriguez has quietly put together a solid season, and has shown much improved plate discipline (30 walks). On the season he is hitting .260 with 2 HR, 13 RBI, 7 stolen bases, and a .711 OPS. ... Left-hander David Huff is 4-1 with a 1.98 ERA in ten starts. ... Right-handed reliever Randy Newsom is 2-0 with 15 saves and a 0.79 ERA in 23 appearances.


Kinston Notes (25-27, 2nd place, 7.5 GB): Outfielder Cirilo Cumberbatch was the Carolina League Player of the Week for the week of May 19th - 25th. For the week, Cumberbatch went 11-for-18 at the plate, with five runs, four RBI and a home run. The Panama native hit .611 with a .889 slugging percentage. ... On Friday, Akron right-hander Frank Herrmann returned to Kinston for a spot start. With Indians right-hander Jake Westbrook pitching in Akron on Friday in his final rehab assignment, the Indians wanted Herrmann to pitch on normal rest, but more importantly with Kinston playing back-to-back doubleheaders on Friday and Saturday they needed an arm for a spot start. ... Outfielder Nick Weglarz continues to rack up the walks. While his walk-rate has slowed down some since the ridiculous pace he was on the first few weeks of the season, he now has 45 walks on the season which leads the Carolina League and is 2nd in all of Minor League Baseball. On the season, Weglarz is hitting .264 with 5 HR, 20 RBI, and an .843 OPS. ... On Sunday, right-hander Hector Rondon was brilliant going seven shutout innings and allowing only two hits and one walk while striking out eight batters. It was Rondon's first win since July 14, 2007, a span of 18 winless starts where he gave up three or less earned runs 14 times. On the season Rondon is now 1-3 with a 3.88 ERA in ten starts. ... Kinston pitchers lead the Carolina League in most home runs allowed with 43 on the season. On the flip-side, Kinston hitters are 5th in the league in home runs (29).



Lake County Notes (34-20, 1st place, 4.5 GU): With 16 games left before the end of the first half, Lake County's magic number is down to 13. The 140-game Single-A season is broken up into two halves of 70 games each where the winner of the division from each half qualifies for the playoffs in September. In the event a team wins both halves, the second place team in the second half qualifies for the playoffs and plays the division winner of both halves and does not play a home game. ... On Saturday, right-hander Joey Mahalic put up his best effort as a professional going five shutout innings allowing three hits, no walks and three punchouts. On the season he is 2-1 with a 4.15 ERA in four starts. Left-hander John Gaub followed him out of the bullpen and was sensational, throwing two shutout innings and striking out six batters. Gaub has 24 strikeouts in 14.2 innings, and is 0-1 with a 4.30 ERA in eight appearances. ... Infielder Dustin Realini has been swinging a hot stick of late. After playing very little the first month of the season, Realini has been a regular in the lineup the last few weeks and he has made the most of it. In May he is hitting .329, and has reached base in 16 straight games. On the season, Realini is hitting .314 with 3 HR, 25 RBI, and an .859 OPS. ... On Sunday, left-hander Kelvin De La Cruz tossed six scoreless innings scattering two hits, walking three and striking out seven. On the season he is 4-2 with a 1.57 ERA. ... On Monday, left-hander Ryan Morris pitched five scoreless innings scattering three hits, walking one and striking out five. On the season he is 6-0 with a 2.01 ERA. ... Lake County starters have been on a role all season and been the backbone of the team, but this past week they have been spectacular. In their last ten starts, the starters have pitched 45.1 innings and allowed just one earned run. ... Lake County has been in 1st place all but ten days of the season and have had sole possession of first place since April 22nd.

Photos courtesy of Ken Carr, Lake County Captains, Kinston Indians, Akron Aeros, and Buffalo Bisons.
User Comments
No comments currently. Be the first to comment!