Minor Happenings: Aubrey To Cleveland?
"Minor Happenings" covers the important developments and news in the Indians farm system. While most of the information in this report is from my own research and through interviews I have conducted with organizational personnel, some information in this report is collected and summarized from the various news outlets that cover each team.

I'll be kicking up my next round of minor league pitstops this weekend as I will be visiting Lake County twice (Sat 5/17 and Tues 5/20), go to Akron over Memorial Day weekend, and then round out the month in Buffalo on Friday May 30th.

For those who may have missed it, I did a piece on the release process in the Indians farm system earlier this week. It is a pretty raw piece, and it gets right down to it and sort of provides an inside look at the process and what the players do after they are released. I also posted a feature piece on left-hander Chuck Lofgren last weekend.

Indians Minor League Player Of The Week
(from May 8th through May 14th)

Steven Wright (Right-handed Pitcher - Kinston)
1-0, 0.82 ERA, 2 starts, 8 H, 1 R, 3 BB, 8 K

Last Thursday, right-hander Steven Wright picked up his first win of the season. It was Wright's best outing of the year where he
threw six shutout innings and allowed only four hits and no walks whiling striking out five. He followed that up with another very good outing on Tuesday, going five innings and allowing one run on four hits and three walks while striking out three. On the season, Wright is now 1-2 with a 2.41 ERA in seven starts.

Wright is a former 2nd round pick in the 2006 Draft out of the University of Hawaii. His good start to the season is light years better than the season he endured last year when he split time at Single-A Lake County and Kinston, going 7-9 with a 5.67 ERA in 27 combined starts between the two stops. Wright throws a low 90s fastball and compliments it with a curveball, slider and changeup. In the offseason and in spring training the Indians worked with Wright's delivery and made some minor adjustments that seem to be paying off. The biggest adjustment was his mental approach where they got him to focus less on his mechanics and more on just attacking hitters and getting his fastball located in the zone. Wright also looks a lot more confident on the mound, which is good to see.

Honorable Mentions: Ryan Mulhern, 1B, Buffalo (.524 AVG, 2 HR, 5 RBI); Michael Aubrey, 1B, Buffalo (.440 AVG, 0 HR, 2 RBI); Roman Pena, OF, Lake County (.407 AVG, 1 HR, 7 RBI); Chris Nash, 1B, Lake County (.435 AVG, 2 HR, 8 RBI); Kelvin De La Cruz, LHP, Lake County (2-0, 0.82 ERA, 9 H, 8 BB, 9 K)

Previous Winners:

5/1 to 5/7: Jeremy Sowers (LHP - Buffalo)
4/24 to 4/30: Jose Constanza (OF - Akron)
4/17 to 4/23: Hector Rondon (RHP - Kinston)
4/10 to 4/16: Wes Hodges (3B - Akron)
4/3 to 4/9: Kelvin De La Cruz (LHP - Lake County)

Director's Cuts

Indians Farm Director Ross Atkins was in Buffalo this week, and offered up some comments on the following players:


On Jeremy Sowers: "He has been very similar to how he was before when he was in the big leagues. He has been extremely consistent, he puts the ball on the plate, his command has been good, his stuff has been crisp, he has used all of his pitches, and he has been almost identical to how he was in April. He is definitely bright and extremely confident."

On Adam Miller: "His last start was the best one he has had since at least when he was in the Arizona Fall League. Certainly the best one in 2008. He was up to 95 MPH again, he was using his lower half better, and he was getting some punchouts with his slider. We were as encouraged with that last outing as we have been all year."

On Michael Aubrey: "He has picked it up since he came to this environment (Triple-A). He feels just that much closer to the major leagues, and he has really been great since he has been here. He has been good defensively, he has been running the bases hard, and he has been putting the bat on the ball as his batting average is up over .300. He has been awesome and we are fired up about him and his health. As excited as we are, I can't imagine how much fun he must be having seeing his name in the lineup for an extended period of time. He is now potentially a major league option."

Aubrey Cleveland Bound?

I got a tip last week from an informed source that Buffalo first baseman Michael Aubrey is being seriously considered for a callup to Cleveland. With the offensive woes the Indians have been going through they are looking at every alternative. With trade options
limited since it is still so early in the season, the only option for the Indians is to look down on the farm for help. With Aubrey's penchant to hit for average and also make consistent contact, he would be a welcomed addition to the Cleveland roster that is filled with many guys struggling and who strike out at an alarming rate.

Also, with this being Aubrey's last option year, the Indians need to get a good look at Aubrey in Cleveland at some point this season to make a decision on him this offseason. There is no better time than now to do that as Aubrey is the healthiest he has been since he was drafted and the Indians are in desperate need of a spark offensively. Injuries have taken their toll on Aubrey physically to where he is no longer the elite prospect he was once considered to be, but even still he is a good hitter and much better defensively than Ryan Garko at first base.

In fact, don't be surprised if Aubrey is called up sometime over the weekend. With Jeremy Sowers slated to pitch tonight (Friday) and the Indians in Cincinnati, Aubrey could be called up right after the game and Sowers sent back to Buffalo (outfielder Jason Tyner was sent to Buffalo for Sowers yesterday). By optioning out Sowers for Aubrey, it would provide the Indians an extra bat off the bench for the final two inter-league games and Aubrey would essentially fill Tyner's role (except that he would play a lot more).

On the season, Aubrey is hitting .299 with 2 HR, 21 RBI and a .795 OPS in 147 combined at bats between Akron and Buffalo. In just 11 games at Buffalo, Aubrey is hitting .350 (15-for-44) with an .815 OPS. Also, first baseman Jordan Brown (patella tendonitis in left knee) is about ready to come off the disabled list, but with Aubrey and Mulhern in Buffalo there is no room for Brown at the moment. That could change real soon.

The Save Man

On the year, Akron right-handed reliever Randy Newsom is 9-for-9 in save opportunities and is 1-0 with a 1.23 ERA in 15 appearances. Combined with his 18 saves in Akron last season, Newsom now has 27 career saves at Akron which passed Mike
Soper (24 saves) on the all-time list a week ago Wednesday. This is not a record that came with him sticking around at Akron for many seasons as it came in just 67 career Akron appearances, and he essentially broke the record in less than a year at Akron as he was called up from Single-A Kinston in late May last year.

Saves in the minors are usually hard to come by, as usually a team will not groom a reliever to be a closer in the majors. The reason for this is many of the top late inning candidates tend to get more work in middle relief in the 7th and 8th innings to either stretch them out or ensure that they experience more intense game situations since many times a game is decided or still in doubt in those innings. Also, since minor league relievers rarely ever throw on back-to-back days, a "closer" never really gets all the save opportunities since the main goal is to make sure all pitchers are getting their work in and no one is being over-extended.

Newsom has been untouchable since his first appearance of the season when he allowed two earned runs and walked two, but still managed to protect a four-run ninth inning lead in the game for the win (non-save). Since that game, Newsom has not allowed an earned run in 14 appearances, and has allowed just eight hits, one run, and six walks while striking out nine in 13.2 innings pitched. Going back to last season, Newsom has not blown a save opportunity since July 25th, 2007.

Choo-Train Back On Track

Outfielder Shin-Soo Choo has begun his rehab assignment at Buffalo in preparation of his return to the Cleveland Indians. The rehab assignment in Buffalo is the last step in his return from Tommy John surgery to his left elbow that he underwent last September.

Near the end of spring training, Choo got some work in major league games as a designated hitter and when camp broke he stuck behind in extended spring training to continue to get in work. By the end of April, he was playing a few innings a game in the outfield and ramping up his workload to where he could play nine innings in the field every day.

Choo's bat speed is supposedly all the way back, and he is moving well in the outfield and has not had any setbacks with the elbow. The rehab assignment is more a way to get him up to game speed and to face more advanced pitching before moving on to Cleveland. It also gives the Indians an extra three weeks to sort out the options on their bench on who to option out or release when he is activated. After ten days the Indians will re-evaluate Choo, and over the coming days will have several staff members on hand to watch Choo play live.

Choo is out of options, so after his rehab assignment is complete he must be sent to Cleveland or have to be put on waivers where another team can claim him. A rehab assignment for a position player in the minors can only last for a maximum of 20 days, so by Monday June 2nd the Indians will need to make a roster decision regarding Choo.

Bauer Power

Buffalo right-handed reliever Rick Bauer has pitched a lot like TV character Jack Bauer of 24 fame by being practically invincible on the mound. On the year, Bauer is now 0-0 with 9 saves and a 0.59 ERA, and in 15.1 innings he has allowed 8 hits and 9 walks
while striking out 17. Bauer has held the opposition scoreless in 14 of his 15 appearances, with the only blip coming when he pitched two innings on April 21st and gave up a run on two hits and a walk. The two inning outing on April 21st is the only time this season he has been extended for more than an inning. With Buffalo at 18-23, Bauer has saved half of their wins, and his nine saves are ranked second in the 14-team International League.

Bauer has some major league experience, as he has pitched in five different seasons in the big leagues from 2001-2006 and has an 11-14 record with an ERA of 4.34 in 183 career appearances. The closer's role is new for Bauer as he has never pitched in the role before, but he was thrust into it because right-hander Eddie Mujica has been struggling this season. He has adapted well to the role and along with throwing strikes he has shown a fearless approach on the mound where he goes right after and attacks every hitter.

If the Indians ever decide to dip into the minor league pool to callup a reliever not named Tom Mastny, right-hander Rick Bauer may be that guy. Being that Bauer is not on the 40-man roster, his contract would first have to be purchased, but that is merely a minute detail as if Bauer continues to pitch as he has he is going to get a shot in the Cleveland bullpen or with another major league team at some point this season.

No Hitting For Lofgren
Many people probably do not know this, but Akron left-hander Chuck Lofgren was a very good hitter in high school. When he first signed with the Indians after being drafted in 2004 he had a clause in his contract that called for him to get regular at bats even
though he was a pitcher. It was one of the sticking points to get him signed out of high school, and the Indians eventually obliged where they had him in the lineup as the designated hitter every fourth day.

This arrangement ended up only lasting for ten at bats (14 games). Why the quick change? Well, after a nasty collision on a play at the plate, Indians front office personnel put a stop to the hitting charade quickly.

"I had a base hit and got to second base on a wild pitch," recalled Lofgren in a recent interview at Canal Park. "Chad Longworth was up to bat and he had a single to right field and Burlington third base coach Rouglas Odor was rounding me home. As I was rounding home I saw the catcher get the ball like five feet away from me. I knew I couldn't slide because I would have been out, so I tried to be safe by taking him out and I came up a little too early and my tooth went right through my lip. So I went into the dugout and my mouth was bleeding, and the trainer Teddy Blackwell had me swish water out of my mouth and it was coming out of the hole in my lip, so it didn't feel too good. John Farrell called me the next day and said you are not going to be hitting anymore."

Smith Looking Sharp

Kinston right-handed sinkerballer Carlton Smith was outstanding in his last start on Saturday. Smith wound up going seven shutout
innings allowing just three hits and one walk while striking out three. In all he faced only two over the minimum and threw only 89 pitches on the night. This was easily his best performance of the year so far, which is good to see since he had mostly struggled in his six previous starts.

Smith was consistent all night, pounded the zone, and pitched to contact. His pitch mix was very good as he threw mostly sinkers to induce contact, but kept hitters honest by mixing in his changeup, slider and split-finger. His secondary stuff really setup his sinker well, as it allowed him to mix speeds and change the eye level of the ball while his sinker was staying down in the zone. On the year, Smith is now 1-1 with a 4.97 ERA although he has arguably performed better than his numbers indicate. In seven starts he has allowed 21 earned runs, but 17 of those earned runs have come in four innings, whereas he has only allowed four earned runs in the other 34 innings.

Top Captain


Lake County outfielder Matt Brown is having a good season, and he has been the team's best and most consistent offensive performer through the first six weeks of the season. Brown, a 23-year-old Oklahoma native, is hitting .302 with 3 HR, 26 RBI and a .788 OPS, and currently ranks 8th in the South Atlantic League in RBI.

The batting average has slid some over the past few weeks where after a sizzling April where he hit .326 with an .835 OPS in May he is hitting .243 with a .673 OPS. Still, Brown is one of the most focused players in the Indians system, and that focus has helped pave the way to his success early on this season. He has good tools across the board, and he could develop into a prototype right fielder if his bat starts to show more thunder down the road. He is already gifted with a cannon for an arm. Brown was an outstanding pitcher in high school and threw 92 MPH, and that arm strength has translated well to the outfield.

Frank The Tank

Akron right-handed starter Frank Herrmann continues to show that he is a good pitching prospect in the Indians system. In his last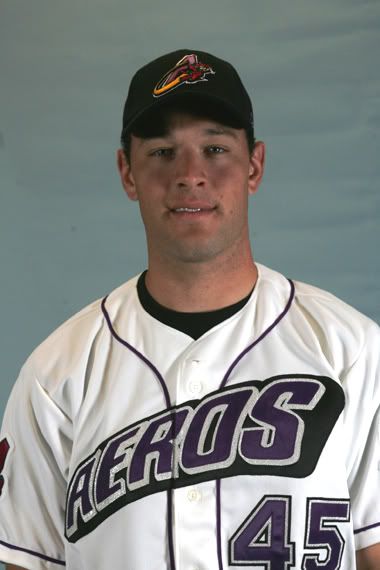 start a week ago Thursday, Herrmann went seven shutout innings and held the opposition to two hits and two walks while striking out three. It was his best performance of the year as he did not allow a hit over his final four innings and only two runners reached second base while no one ever reached third base, and at one point he retired eight in a row in the game. On the year, Herrmann is now 4-2 with a 3.54 ERA in seven starts.

Sure, Herrmann may lack much in terms of stuff, but he throws a low 90s sinker, throws strikes, attacks hitters, is durable, and has shown to be an innings eater. The key to his success is his bulldog mentality and his intelligence in coming up with a good game plan to attack hitters. As soon as next season, Herrmann could enter into the mix for the Indians as a "depth option" in the starting rotation. If Herrmann is able to develop more consistency with his secondary pitches (slider and changeup), he could become a solid middle of the rotation pitcher in the big leagues.

Tseng Regroups In Kinston

After starting the year 0-0 with an 8.80 ERA in nine appearances at Akron, right-hander Sung-Wei Tseng was re-assigned to
Kinston last week to get his mechanics straightened out. Upon Tseng's return, Kinston pitching coach Greg Hibbard found a flaw in Tseng's mechanics which may be affecting his velocity. After watching Tseng's first two appearances out of the bullpen in Kinston, Hibbard found that Tseng was rushing through his delivery which was causing him to leave his arm behind his body. Because of this, it was affecting Tseng's velocity.

Hibbard has never worked with Tseng before, so to better acclimate himself with Tseng, Hibbard is watching video of Tseng from last season so he can better understand Tseng's mechanics. While Tseng has had some problems on the mound, he has had better luck of late off it. Tseng still requires a translator when speaking to people, but he has improved his communication skills greatly since last season and is adapting well to the English language. Supposedly, Tseng has been helped in his quest to learn English by the movie I Am Legend where he watched the movie with Chinese subtitles.

Chaves Fills Utility Void

Akron infielder Brandon Chaves is a tall and lanky middle infielder at 6'3" 181 pounds who was drafted in the 10th round of the 2000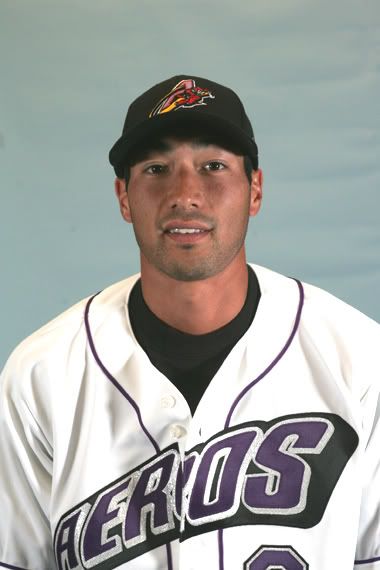 Draft out of the University of Hawaii-Hiloby by the Pittsburgh Pirates. The Indians signed him as a minor league free agent this offseason to fill a gap in the system in the middle infield and to date he is hitting .189 with 1 HR, 5 RBI and a .582 OPS. Prior to joining the Indians, Chaves spent eight years in the Pittsburgh organization reaching as high as Double-A Altoona and hit .237 with 16 HR, 276 RBI and 65 stolen bases in 770 career games.

Chaves, a native of Hilo, Hawaii, has limited upside to where he will probably never be a major league baseball player; however, even players with such a limited future can still be valuable to an organization. Since the Indians have so few options in the middle infield in the upper minors, they went out this past offseason and signed several minor league free agents to fill infield spots at Buffalo and Akron. Chaves was one of them, and he was signed with the idea that he could be a utility player at Akron playing third base and second base. Chaves has also been playing some outfield as injuries to outfielders Trevor Crowe and Stephen Head have left the Akron outfield thin at times and he has filled in as needed well.

The 2008 Draft

The 2008 First-Year Player Draft is coming up on June 5th. The Indians have the 29th pick in the 1st round as a result of their MLB-

best equaling record of 96-66 last season. They will select 76th in the 2nd round, 107th in the 3rd round, 141st in the 4th round, and then will have a selection every 30 picks thereafter. The Indians do not own any free agent compensation picks, nor did they lose any selections as a result of an off-season free agent signing.

Our man Dennis Nosco will be all over the draft this year, so be on the lookout for some draft stuff from him as it nears. There is no specific area the Indians are likely to address early in the draft, but they may look at finding some middle infield talent in the first few rounds.

Affiliate Notebook


Buffalo Notes (18-23, 4th place): Right-hander Adam Miller threw five shutout innings last Friday, scattering three hits and two walks while striking out four. At one point in the game Miller retired nine in a row, and it easily was his best outing so far of the season. In five starts this year, Miller is now 0-1 with a 2.28 ERA. ... Last Thursday, right-hander Brian Slocum pitched 5.2 scoreless innings and scattered four hits and a walk while striking out eight. On the season, Slocum is 3-2 with a 4.17 ERA in eight starts. ... On Monday, left-hander Jeremy Sowers was lifted after 58 pitches in order to keep him rested for a spot start for the Indians against Cincinnati on Friday. ... Outfielder Jason Cooper's mammoth home run to right field on Tuesday night was his third on the season and his 43rd as a Bison. The home run puts Cooper 8th on the Buffalo career home run list and is two shy of 7th place Torey Lovullo. On the season, Cooper is hitting .237 with 3 HR, 16 RBI and a .799 OPS. ... On Sunday, outfielder Jason Tyner was called up to Cleveland. When Tyner was called up, he was hitting .370 in May and was in the midst of a 10-game hitting streak. Right-handed reliever Tom Mastny was returned to Buffalo. ... Infielder Josh Barfield has a 12-game hit streak and is hitting .250 with 4 HR, 14 RBI and a .671 OPS on the season. ... With 11 hits in his last 21 at bats, first baseman Ryan Mulhern has raised his average 63 points in five games from .187 to .250. ... Catcher Dave Wallace has been traded to the Washington Nationals for a player to be named later.


Akron Notes (17-20, 4th place): On Thursday, Akron won 1-0 but the win was preserved with an outstanding play by right fielder Ryan Goleski. With one out in the 9th and the tying run on second, the opposition tried to score on a hit to right field but Goleski threw a seed from medium right field and gunned down the runner at the plate. Catcher Armando Camacaro also made a great block on the play and held onto the ball after a collision at the plate. ... As of Wednesday, Akron has played sparingly in the last week thanks to Mother Nature. They had a scheduled off day on Monday, and their games on Sunday, Tuesday and Wednesday were all rained out. ... Out of 12 teams in the Eastern League, Akron is 8th in the league in team ERA (4.51) and 11th in team batting average (.248). ... Third baseman Wes Hodges is hitting .277 with 7 HR, 32 RBI, and an .820 OPS. ... Shortstop Josh Rodriguez is hitting .254 with 2 HR, 12 RBI, and a .667 OPS. ... Left-hander David Huff is 3-1 with a 2.14 ERA in eight starts, and in 46.1 innings has allowed only 29 hits and 11 walks while striking out 43.


Kinston Notes (15-21, 4th place): Right-hander Joanniel Montero has been called back up to Kinston after making a spot start for Low-A Lake County. He has taken the roster spot of left-hander Heath Taylor who was put on the disabled list with elbow problems. ... Montero has also replaced right-hander Paolo Espino in the starting rotation. Espino struggled in six starts going 0-2 with an 8.78 ERA, and will now pitch out of the bullpen. ... On Monday, right-hander Josh Tomlin made a spot start and went 4.2 innings and allowed a run on two and struck out three. Tomlin was filling in for right-hander Paolo Espino who has been demoted to the bullpen. ... Right-handed closer Luis Perdomo gave up his first runs of the season on Wednesday night when he blew a save opportunity in the ninth inning and allowed two runs on three hits. Coming into the game, Perdomo had gone 15 straight appearances and 21 innings to start the season without giving up an earned run. On the season, Perdomo is now 1-1 with 8 saves and a 0.82 ERA. ... Outfielder Johnny Drennen returned from the disabled list last Thursday. In his first game back he went 1-for-4 and extended his on-base streak to 21 consecutive games and 31 overall when the last ten games of 2007 are included. The streak came to a halt on Friday when he failed to reach base. On the year, Drennen is hitting .298 with 0 HR, 4 RBI, and a .756 OPS. ... Last Thursday, infielder Todd Martin was put on the disabled list with hamstring problems and left-handed reliever Matt Meyer was activated from it. ... Right-hander Mike Pontius had a rough first outing at Kinston last Thursday. After being promoted last Wednesday from Lake County when he threw 21.1 scoreless innings in nine appearances, Pontius was hammered in his Carolina League debut going only two thirds of an inning and allowing three runs on three hits and three walks. Things were much better his second outing as he went pitched two shutout innings on Monday.

Lake County Notes (25-14, 1st place): Last Friday, left-hander Kelvin De La Cruz was effectively wild as he pitched five innings and allowed only one run on four hits, but he walked five and struck out four. On the year, De La Cruz is 3-2 with a 1.77 ERA in eight starts. ... Left-hander Ryan Morris continues to roll along. On Saturday, Morris pitched five scoreless innings and allowed three hits, walked four and struck out five. On the year, in seven starts Morris is now 5-0 with a 2.45 ERA. ... Infielder Ronald Rivas was activated from extended spring training and assigned to Lake County this past Saturday. Infielder Jansy Infante was reassigned to extended spring training, and at Lake County was hitting .083 (3-for-36). ... On Sunday, right-hander Chris Archer continued his struggles with his control on the mound. He went 4.1 innings and allowed seven runs on only three hits, but he walked six. On the season Archer is now 1-5 with a 4.71 ERA, and is leading the South Atlantic League in walks allowed (35). ... On Tuesday, right-hander Joey Mahalic was activated from extended spring training and made a spot start for Lake County. Mahalic went five innings and gave up three runs on seven hits and did not walk a batter while striking out five. ... With Mahalic being added to the roster, right-hander Santo Frias was assigned to extended spring training. Frias was 1-1 with a 6.94 ERA in five starts. ... Right-handed reliever Kyle Landis has not allowed a run in his last ten innings and only five hits and no walks with 16 strikeouts. In ten appearances, Landis is 0-1 with a 2.66 ERA and in 20.1 innings has allowed 17 hits and 10 walks while striking out 27. ... Indians starting pitcher Jake Westbrook and reliever Joe Borowski will be in Lake County over the weekend. Westbrook is scheduled to make a rehab start this coming Saturday May 17th, and Borowski is expected to start and pitch one inning on Monday May 19th.
Photos courtesy of Carl Kline, Lake County Captains, Kinston Indians, Akron Aeros, and Buffalo Bisons
User Comments
No comments currently. Be the first to comment!