Minor Happenings: Chisenhall Is King Of The Valley
"Minor Happenings" covers the important developments and news in the Indians farm system. While most of the information in this report is from my own research and through interviews I have conducted with organizational personnel, some information in this report is collected and summarized from the various news outlets that cover each team.

In case you missed it, yesterday I posted a special edition of Happenings on Lake County. Also, earlier in the week two player features on Bo Greenwell and Ryan Edell were posted.

I was in Akron last night for a final visit to talk to a bunch of the guys I had not yet had a chance to speak with this year like Tony Sipp, Kevin Dixon, Wes Hodges, Josh Rodriguez, Matt Whitney, and even Adam Miller who was in town rehabbing. I also had a 10-15 minute conversation with pitching coach Tony Arnold about some of the pitchers on his staff. So, be on the lookout sometime next week for another special edition of Happenings this time on just the Akron guys. On top of that, I also have some player features on the likes of Joey Mahalic, Stephen Head, and Jonathan Holt which I need to get out there in the next few weeks.

Also, my partner in crime Paul is out of town this week, and without anyone to fill in I'll be going Han Solo tonight for our weekly radio show. Since I will be alone and we are still learning on the fly with this radio stuff, the show will be an hour from 10:30-11:30 pm EST. The show will be devoted 100% to talking prospects. Expects some bugs and issues since this is just the third show and I am by myself, but also expect lots and lots of sound bites and insight from my visit to Akron last night.

http://www.blogtalkradio.com/TheClevelandFan

And please call! It would help me a ton to have someone to converse with other than my imaginary friend tonight. The show is podcasted and archived so you can check it out anytime.

Indians Minor League Player Of The Week
(for games from August 21st to August 27th)

Wes Hodges (Third Baseman - Akron)
.421 AVG (8-for-19), 5 R, 2 2B, 3 HR, 4 RBI, 1 BB, 4 K

Akron third baseman Wes Hodges is going to need to build an expansion wing to his trophy room this offseason considering the rate at which he is racking up awards this year. Hodges picked up two awards this week as he was the only Akron player named to
the Eastern League postseason All-Star team and he was also named the Eastern League Rookie of the Year. Earlier this season he was named to the Southern Division roster for the annual All-Star game, played for the U.S. team in the Futures Game at Yankee Stadium, and was named as the Bank of America Eastern League Player of the Week for the week ending June 15th. His selection as the Eastern League Rookie of the Year was determined by voting from league managers and coaches, beat writers, and other media personnel. Hodges is the second consecutive Akron player to win the award as first baseman Jordan Brown won it last year.

Hodges is hitting .285 with 16 HR, 91 RBI, an .801 OPS, and leads Akron in home runs and RBI. He has also been a rock in the lineup by playing 128 of Akron's 136 games, and leads the club with 138 hits, 38 multi-hit games and 21 multi-RBI games, and his 91 RBI rank second in the league and are the second-most in single-season franchise history. Hodges also ranks second on the team in runs scored (66) and doubles (25), and is third in walks (52).

Can you say team MVP?

Honorable Mentions:

Brian Bullington (RHP - Buffalo): 1-1, 2.08 ERA, 13 IP, 14 H, 3 ER, 5 BB, 6 K
Matt Brown (OF - Lake County): .368 AVG (7-for-19), 2 R, 1 2B, 0 HR, 5 RBI, 1 BB, 2 K
Russell Young (LHP - Mahoning Valley): 0-1, 2.45 ERA, 11 IP, 7 H, 3 ER, 2 BB, 6 K
Tim Fedroff (OF - Mahoning Valley): .364 AVG (8-for-22), 4 R, 1 2B, 0 HR, 3 RBI, 5 BB, 3 K

Previous Winners:

08/14 to 08/20: Beau Mills (1B - Kinston)
08/07 to 08/13: John Drennen (OF - Kinston)
07/31 to 08/06: Carlos Santana (C - Kinston)
07/24 to 07/30: Matt Brown (OF - Lake County)
07/17 to 07/23: Michael Aubrey (1B - Buffalo)
07/10 to 07/16: Niuman Romero (3B - Kinston)
07/03 to 07/09: Nick Weglarz (OF - Kinston)
06/26 to 07/02: Stephen Head (1B/OF - Akron)
06/19 to 06/25: Trevor Crowe (OF - Akron)
06/12 to 06/18: Chris Gimenez (C - Akron)
06/05 to 06/11: Jim Deters (RHP - Kinston)
05/29 to 06/04: Steven Wright (RHP - Kinston)
05/22 to 05/28: Chris Archer (RHP - Lake County)
05/15 to 05/21: David Huff (LHP - Akron)
05/08 to 05/14: Steven Wright (RHP - Kinston)
05/01 to 05/07: Jeremy Sowers (LHP - Buffalo)
04/24 to 04/30: Jose Constanza (OF - Akron)
04/17 to 04/23: Hector Rondon (RHP - Kinston)
04/10 to 04/16: Wes Hodges (3B - Akron)
04/03 to 04/09: Kelvin De La Cruz (LHP - Lake County)

Chisenhall Is King Of The Valley

Mahoning Valley shortstop and 2008 first round pick Lonnie Chisenhall has put forth a very good showing in his professional debut this year. At only 19 years of age, Chisenhall has held up well in the NY-Penn League where most players are 21 to 22 years of

age, and seems poised to break or at least finish in the top five of several Mahoning Valley hitting records. Through 58 games, Chisenhall is hitting .299 with 5 HR, 44 RBI and has an .816 OPS.

"Things are going pretty good," said Chisenhall in a recent interview at Eastwood Field. "I have started to swing the bat good although I am hitting balls right at people. As long as you barrel it up there is nothing else you can really do. I am happy with what is going on."

Chisenhall is still adjusting to the daily grind of being a professional baseball player and adjusting to wood bats. He was supposed to play in the Cape Cod League last year to get some experience with wood bats, but decided not to so this is his first experience in games with using a wood bat. He has messed around with wood bats at times in batting practice in the past, but never really used one in a game until he came to the Indians organization this year.

"Those balls you think you hit hard you really don't," said Chisenhall. "Metal bats sort of give you a false sense of success sometimes. You get jammed with a metal bat you may still hit it hard, but here you'll break it in half. As long as you barrel it up you should be okay. There is a different sweet spot on the bat, so you have to learn how to hit with that and hit balls out front."

Chisenhall did not have to wait long this past June to be taken in the draft as he was taken in the first round by the Indians at the bottom of the round. Still, with the draft's first round now being aired on television it takes several hours longer than it used to get through the first round. The long drawn out first round can be nerve-wracking for a player who expects to go in the first two rounds, and because of how slow it is he did not find out until two picks before the Indians selected that they were going to take him.

"It is kind of nuts," said Chisenhall. "I don't like the first round now. I went through the draft my senior year in high school and they just shot them out every thirty seconds or so. This year was long, and I was kind of more experienced and just waited and didn't get too excited because I know anything can happen on draft day. I just waited to hear my name, and I was excited to go in the first round."

The Indians have Chisenhall playing shortstop for Mahoning Valley, but at this point still have plans to move him to third base in the offseason. To help him with the transition from shortstop to third base, Mahoning Valley manager Travis Fryman is the best teacher Chisenhall could have since Fryman himself went through the same position change.

"It is great having Fryman here," said Chisenhall. "I think they really like that I am here with him. He made the same transition as he was a shortstop all the way until his first day in the big leagues when they told him he was going to play third. He has really helped me and knows a lot. He has been there and knows how it works."

The Indians did not burden Chisenhall with the position move right out of the gates mostly to just allow him to go out and play this year and not make too many changes at once. The transition to the everyday grind of professional baseball is enough for a young player such as Chisenhall to endure, but he has held up well so far.

"Being at the ballpark all day is the toughest adjustment for me," said Chisenhall. "I mean, I get here at lunch time and usually it is a ten hour day and you leave here at 11 o'clock or so. It takes a toll on you, but it is better than a real job though."

Mills Wins MVP

Kinston first baseman Beau Mills was named the Carolina League MVP on Tuesday. Mills' selection as the Carolina League MVP comes off the heels of what has just been an outstanding second half for him. After hitting just .268 with 9 HR, 47 RBI and an .821
OPS in the first half, Mills has been incredible in the second half of the season hitting .327 with 12 HR, 43 RBI, and a .962 OPS. The former 2007 first round draft pick currently leads the league in home runs (21) and RBI (90), is eighth in hitting (.293), and is also second in the league in extra base hits (58), third in hits (141), and fifth in slugging percentage (.506) and runs scored (78). Mills is the seventh Kinston player to win the MVP award, and the first since first baseman Jordan Brown won the award in 2006. Other previous winners are: Victor Martinez (2001), Richie Sexson (1995), Casey Webster (1987), Terry Whitfield (1973), and Jim Price (1963).

Mills has lived up to the hype as one of the best power hitters in the 2007 Draft, and has shown an advanced approach at the plate which will only help him as he moves up the minor league ladder. The problem with Mills will always be his defense. His shoulder issues from last season were enough for the Indians to abandon Mills at third base this year, and while he has shown much improvement at first base since the beginning of the year he still needs a lot of work over there to become even just an adequate defender. He has a below average glove and has had some problems with moving around the bag. His footwork has been sloppy and he has had a hard time getting good jumps on balls. It should be noted, though, that Mills is still learning how to play first base as last year when he came into the Indians organization it was his first experience at the position. So, as he becomes more comfortable the hope is he will improve to where he can be at least a reliable defender there.

Santana California Dreaming

Kinston catcher Carlos Santana was named the California League MVP on Monday. Santana has not played in the California League for over a month, yet his announcement on Monday as the league MVP shows just how ridiculous his numbers were there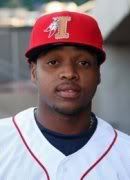 prior to the Indians acquisition of him on July 25th in the Casey Blake trade. Santana had a breakthrough season for former Dodger affiliate Inland Empire hitting .323 with 34 2B, 4 3B, 14 HR, and 96 RBI in 99 games, and has a chance to win the league batting title since he had enough plate appearances to qualify for it prior to being dealt to the Indians. Santana also still leads the league in on-base percentage (.431) and is in the top five in RBI, slugging percentage (.563) and runs scored (88). In 26 games at Kinston, Santana is hitting .354 with 5 HR, 17 RBI and a 1.030 OPS.

Scouts view Santana as an everyday big-league catcher with excellent potential offensively and some upside defensively. Santana has been widely mentioned as just an offensive catcher, but he clearly has the work ethic and untapped talent to become a good defensive backstop. He has an excellent arm, but he needs a lot of work on his throwing mechanics as well as working behind the plate with receiving the ball, blocking balls, and calling games. He is also very athletic and is not a base-clogger, and combined with his offensive talent and upside defensively he is one heck of a talent the Indians were able to pry away from the Dodgers.

Frank The Tank

This past Thursday Akron right-hander put forth one of his best outings of the season retiring 21 of the first 23 hitters he faced while carrying a one-hit shutout into the eighth inning. The native of Rutherford, NJ retired the first nine hitters of the game, got a double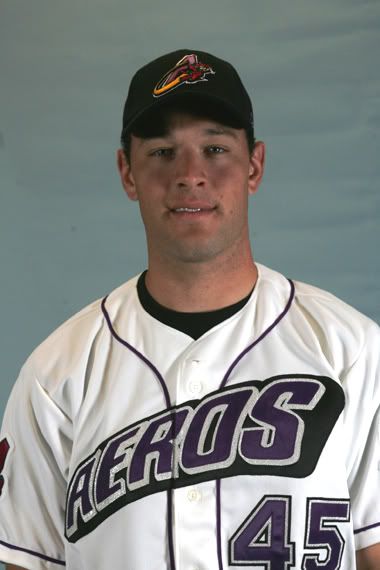 play to get out of a mini-jam in the fourth, and then set down 11 in a row before a one-out double knocked him from the game in the eighth. In all, he went 7.1 innings and allowed one run on two hits, one walk and struck out seven. The win was his 10th of the year and had tied him with right-hander J.D. Martin for the team lead until Martin won his 11th on Tuesday night.

This is the second straight year Herrmann has reached double-digit victories as he won 11 games for Kinston last season. Herrmann turned in his fifth straight quality start, and has allowed just nine runs in his last seven starts since making a pair of spot starts for Class AAA Buffalo July 5th and 10th, going 2-3 with a 1.94 ERA over that span. Opponents are hitting just .207 against him since his return. In Buffalo he was sensational in two starts going 0-2 with a 1.38 ERA, and in 25 combined starts this year between Kinston, Akron and Buffalo he is 10-8 with a 4.06 ERA.

Herrmann is someone I am a big fan of in the Indians organization. He is not sexy on the mound where he throws 98 MPH heat or throws two devastating wipeout pitches, but the guy is smart, durable, and knows how to pitch. He may not have the best stuff, but he is an innings eater and just seems to get stronger in games where his velocity tends to peak in the 6th or 7th inning. He is a legitimate depth starting option for the Indians possibly at some point late next year. That said, he is Rule 5 Draft eligible after the season so it will be interesting to see if the Indians roster him or not. If he is not rostered he almost definitely will be taken by another club.

Finally On The Mark

Lake County shortstop Mark Thompson has enjoyed a late season resurgence which has helped salvage what otherwise was an awful season offensively. The 2007 8th round pick out of Lewis-Clark State College got off to a rough start in April hitting just .096 (7-for-73) and only hit .177 with a .543 OPS in 56 games in the first half of the season. Since the All-Star break things have slowly
started to trend upward for Thompson where he is hitting a more respectable .269 with a .707 OPS in 60 second half games. In 116 games overall Thompson is hitting .227 with 5 HR, 43 RBI, has 19 stolen bases and a .632 OPS.

Thompson has really caught on lately since being inserted into the leadoff spot in the batting order. There was really no rhyme or reason why Lake County manager Aaron Holbert inserted the struggling Thompson into the role earlier this month, but he is looking like a genius because since the move Thompson is hitting .341 in his last ten games and .290 in the month of August. Holbert rationalized the move by saying that Thompson's at bats had been consistently improving over the course of the season, was making solid contact, and was doing a very good job working counts. It appears this may just be a case of Thompson being moe comfortable hitting leadoff as that was where he hit all throughout college.

Many fans probably wondered why given his offensive struggles he continued to be in the everyday lineup and was given a much longer leash than most other prospects would be given to perform. The reason for that is simply due to the fact that Thompson is an incredible defensive middle infielder. He is without a doubt the best fielding middle infielder on the team if not in the entire Indians system. At only 5'9" and 165 pounds Thompson has little to hang his hat on, but his hallmark will always be his defense. There have been several comparisons made between him and John McDonald, and they are definitely there with the run through a wall play style, extraordinary defense, but questionable bat.

Aubrey Finally Healthy

Buffalo first baseman Michael Aubrey is finishing up what has been a monumental season for him health-wise. With just five games
to go in the season, Aubrey has now played in a combined 103 games this year at Akron, Buffalo and Cleveland. Had he not been called up to Cleveland and sat out a few games, he could be up to 115 or so games played right now. This is big news because he played in just 107 games in the last three seasons combined. To date Aubrey is hitting .275 with 11 HR and 54 RBI in those 103 games.

Proving he can stay healthy was something the Indians really wanted to see out of Aubrey this year, and he has more than done that. The problem going forward is Aubrey has a limited opportunity to play in Cleveland after this year. Since he will be out of options next year, it is very unlikely they would go into a contending year with the inexperienced Aubrey as the starting first baseman, and he lacks any versatility to be a bench player.

Unfortunately, this is the way it goes for a player whose entire time on the 40-man roster is spent in the trainer's room while options are used up. The Indians appear to have just run out of time on Aubrey, although there is an outside shot the organization could remove him from the roster this offseason and retain him if he clears waivers. If that were to happen, they could sign him to a minor league contract and have him next year as a non-rostered player. This is what they did with right-hander J.D. Martin this past year.

AFL Participants Announced

On Tuesday, the Indians officially announced the players that they will be sending to the Arizona Fall League (AFL) this October. The AFL is arguably the most popular of all the fall and winter leagues as it typically showcases several of the top players in every organization deemed a year or two away from the big leagues. Play begins on October 7th, and the following players will be on the Surprise Rafters roster: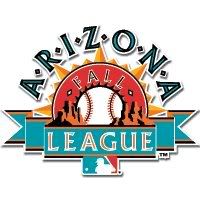 Wes Hodges (3B)
Beau Mills (1B)
Josh Rodriguez (SS)
Chuck Lofgren (LHP)
Tony Sipp (LHP)
Erik Stiller (RHP)
Neil Wagner (RHP)
Stephen Head (1B)**

Stephen Head will be on the taxi-squad. One note, is from what I understand a team can only send one player who played below Double-A to the AFL. Also, Lake County Pitching Coach Ruben Niebla will be a coach for the Surprise team.

Bid On A LaPorta Jersey

On Tuesday I received an e-mail from Huntsville GM Buck Rogers (yes, the name is legit) in regard to former Huntsville star player outfielder Matt LaPorta before being dealt to the Indians in July in the C.C. Sabathia trade. I am passing this along as some of you who read this weekly report may be into collectibles or helping charities, so felt it best to include it in today's update:

I don't know what the interest is in Cleveland, however we are in the middle of a fundraiser for the Muscular Dystrophy Telethon and are auctioning off all of our game worn jerseys. If there is any interest in a red, game-worn Matt LaPorta jersey, the current bid is at $150 with funds going to a replacement jersey and the MDA telethon.

We have taken a few phone calls from Indians fans regarding Matt's jerseys, so I thought it would be easier if we just emailed this info to various blogs, fan sites, etc. fans get a collectible item and we get to help our MDA fundraiser. We do have a buy it now feature for $600 with all of our jerseys, first come, first served. Matt's road jersey (gray) is already gone thru that option.

Bidding closes 11:59 pm on September 1st.

Email bids accepted to: buck@huntsvillestars.com

Have bidders send bids with contact information.

Thanks,
Buck Rogers
General Manager
Huntsville Stars
AA Affiliate - Milwaukee Brewers

Affiliate Notebook


Buffalo Notes (63-75, 5th place, 23.0 GB): Since joining Buffalo on August 4th, infielder Andy Cannizaro has hit in 16 of 20 games and has failed to reach base in a game just twice. Overall with Buffalo, Cannizaro has hit .323 (21-for-65) with four doubles, two home runs and 12 RBI. ... Outfielder Jason Cooper is hitting .385 (15-for-39) with a 1.053 OPS in August. He hit his 19th career Buffalo triple the other night and is now just one triple shy of the modern era record set by infielder Joe Inglett. ... Prior to this season Buffalo had not finished a season under .500 since going 55-89 during the 1994 season, which coincidentally was the final year they were affiliated with the Pittsburgh Pirates. In the modern era (1985), Buffalo has finished with a losing record in only four of 23 seasons. Their affiliation with Cleveland is expected to come to an end this season. ... Left-hander David Huff had another good outing on Saturday going 5.2 innings and allowing three runs on ten hits, no walks and had four strikeouts. Huff had blanked the opposition through five innings, but ran into trouble in the sixth inning with the hits and runs. On the season Huff is now 10-5 with a 2.48 ERA in 26 combined starts at Akron and Buffalo. ... Right-hander Jeff Stevens is back from Beijing and is expected to be activated today (Thursday).


Akron Notes (76-60, 2nd place, 5.0 GB): Akron can wrap up a wildcard berth tonight with just one win in their double-header tonight with Altoona or with a Harrisburg loss. Akron's regular season wraps up this Monday, and provided they make the playoffs they will open play against Bowie in a best-of-five series with Game 1 in Bowie Wednesday night. Akron would return for Game 3 on Friday night and also if necessary Game 4 on Saturday. All games are at 7:05 PM. ... Outfielder Matt LaPorta and right-handed reliever T.J. Burton are back in Akron, but have yet to be activated. Both are extremely exhausted from the whole experience and especially the flight back where they gained 12 hours. They should be activated today or sometime over the weekend. ... On Sunday, right-hander Kevin Dixon went a strong seven innings and allowed three runs on seven hits, no walks, and struck out five. On the season he is 8-11 with a 4.56 ERA in 25 starts, and his 15 quality starts leads the team.


Kinston Notes (35-28, 3rd place, 5.5 GB): Today is a make or break night for Kinston in their quest to make the playoffs. With four games remaining after tonight, Kinston pretty much needs a sweep in today's double-header against Winston-Salem - who they are 1.5 games behind for the wildcard spot - for any shot at the playoffs. If they get swept they would all but be eliminated, and a split would still leave things bleak. If Kinston can win both games tonight they take back complete control of the wildcard going into the season's final weekend. ... First baseman Beau Mills has been out of the lineup since Saturday with a minor injury. He left the game on Saturday in the third inning because of quad tightness and was removed for precautionary reasons. Mills will not play today, but could be back in the lineup this weekend. ... On Friday the Kinston bullpen put up an impressive string of innings in retiring 16 batters in a row from the 7th to 12th innings in a 3-2 extra innings loss. Left-hander Matt Meyer, right-hander Josh Tomlin and right-hander Vinnie Pestano combined for four perfect innings from the bullpen, and right-hander Sung-Wei Tseng threw a perfect inning before surrendering a one our home run with one out in his second inning of work. ... Right-hander Hector Rondon struck out a season high nine batters on Friday. In 26 starts he is 11-6 with a 3.69 ERA. ... Kinston ended their 2008 regular season home schedule with 130,406 fans, 15,000 more than last season and the most since 2001. It was just the seventh time in the K-Tribe's 45 year history in the Carolina League they have crossed the 130,000 fan plateau. ... Three Kinston players were named to the Carolina League postseason All-Star team this wee: first baseman Beau Mills, infielder Niuman Romero and former Indians farmhand right-hander Luis Perdomo. Kinston Athletic Trainer Chad Wolfe also was named the Carolina League Athletic Trainer of the Year.



Lake County Notes (33-31, 4th place, 9.5 GB): Lake County's regular season wraps up on Monday, and then they open a best-of-three series on Wednesday September 3rd at what looks like will be West Virginia. The Captains come home on Friday for Game 2 and if necessary Game 3 on Saturday. All games are at 7:05 PM. ... On Friday something happened in the ninth inning you don't normally see in the minor leagues: a manager called on a pinch hitter. With two on and two out and down 5-3, Captains manager Aaron Holbert summoned catcher Matt McBride to pinch hit and he responded with a three-run walkoff home run. ... On Sunday the Captains threw their first shutout of the second half with Joanniel Montero leading the way with five shutout innings. Overall, the Captains now have nine shutouts on the season and Sunday's shutout was the first since an 11-0 victory at Hagerstown on June 6th. ... Catcher/first baseman Richard Martinez followed up a 4-for-4 night on Tuesday with the game winning solo home run on Wednesday night in the Captains final at bat. In 39 games, Martinez is hitting .322 with 4 HR, 12 RBI, and an .899 OPS. ... On Tuesday, left-hander Ryan Morris had another solid outing going five scoreless-hitless innings and walked two and struck out five. Morris is now 9-5 with a 3.50 ERA in 25 starts.


Mahoning Valley Notes (28-37, 5th place, 13.0 GB): Sunday night Indians 2008 fifth round pick right-hander Zach Putnam made his professional debut going 1.1 innings and did not allow a run, gave up a hit and walked two, and struck out one. His appearance was his first game action in months, and he threw 35 pitches before being taken out. This past spring Putnam was named Big Ten Pitcher of the Year after going 9-0 with a 2.58 ERA. He is also a pretty accomplished hitter as he hit .307 with 11 HR and 51 RBI in 55 games as a designated hitter. ... Shortstop Lonnie Chisenhall is all over the NY-Penn League leader board as he is tied for 1st in doubles (18), tied for 2nd in RBI (44), 5th in total bases (111) and hits (72), and is 11th in slugging percentage (.461). ... Mahoning Valley's plate discipline as a team has shown this year as they lead the New York-Penn League in walks drawn with 275 and are second with the least amount of strikeouts at 452. ... Eleven of the Indians' top 15 draft picks have played for Mahoning Valley this year. ... Right-handed pitcher Jonathan Williams voluntarily retired. ... Second baseman Cord Phelps is hitting .327 with 0 HR, 17 RBI and an .860 OPS in 25 games.


GCL Indians (27-29, 4th place, 5.0 GB) and DSL Indians (38-32, 6th place, 8.0 GB): The GCL and DSL Indians seasons are now over. The DSL club actually finished up play last weekend, and the GCL club wrapped up play yesterday with what may have been their 10th or 11th rainout (wet grounds) of the year. ... Third baseman Abner Abreu hit his 11th home run this week and finished the season with the GCL club hitting .251 with 11 HR, 37 RBI, and had an .827 OPS. ... Catcher Nate Recknagel made his one and only appearance with the GCL club on Monday. In his professional debut, Recknagel went 3-for-4 with a 2B at the plate. ... Left-hander Chris Jones threw 4.2 shutout innings on Monday. In 11 starts, Jones finished the year 3-4 with a 3.10 ERA. ... Some notable final stats in the DSL: third baseman Kelvin Diaz (.305, 5 HR, 44 RBI, .869 OPS), outfielder Darling Read (.281, 13 HR, 47 RBI, .900 OPS), left-hander Elvis Araujo (4-2, 1.89 ERA, 1.21 WHIP), and right-hander Rafael Quintero (5-1, 1.36 ERA, 1.06 WHIP).

Photos courtesy of the Lake County Captains, Mahoning Valley Scrappers, Kinston Indians, Akron Aeros, Buffalo Bisons and Cleveland Indians.
User Comments
No comments currently. Be the first to comment!