Minor Happenings: De La Cruz Breaks Through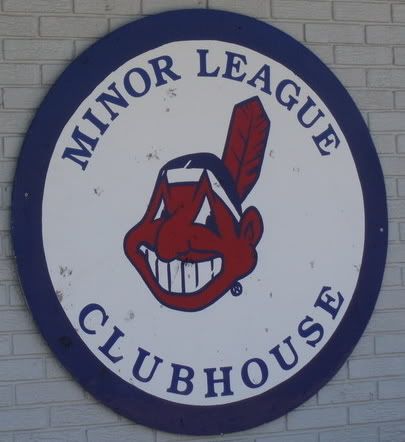 "Minor Happenings" covers the important developments and news in the Indians farm system. While most of the information in this report is from my own research and through interviews I have conducted with organizational personnel, some information in this report is collected and summarized from the various news outlets that cover each team.

Welcome back folks to another year of Happenings down on the Indians farm. This is the only place you need to be for your minor league fix, as you'll get no better coverage elsewhere.

I'll be making my first minor league pit-stop of the season when I travel to Woodbridge, VA tomorrow (Friday) to take in the Kinston/Potomac game at Pfitzner Stadium. I'm going to try and nail down as many guys as I can for interviews since Kinston will be the team I see the least this year, so check back over the weekend and throughout next week for some interviews I did with the players. I'll be hitting up all the affiliates at least three times this year, so there will be many player articles coming down the pipeline throughout the season. Also, I plan to do a couple "Where Are They Now" features on some long lost prospects.

It's good to be back....

Indians Minor League Player Of The Week
(for games from April 3 through April 9)

Kelvin De La Cruz - Left-handed pitcher (Lake County)

Lake County left-handed ace Kelvin De La Cruz is certainly going out of his way early in the season to make me look good. Many publications did not give De La Cruz much fanfare this offseason in their rankings of the Indians prospects, but from the people I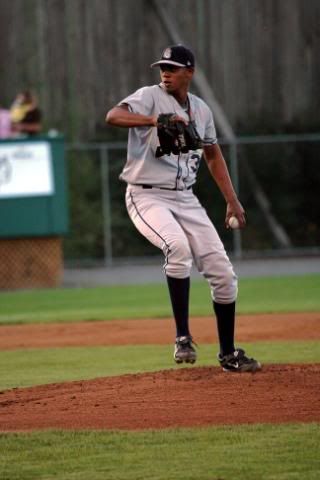 talked to last year there was a lot of excitement for this 20-year old not only in the Indians organization, but from people outside the organization as well. So far, in two starts at Lake County, De La Cruz has been dominant. Working on an 85-pitch count that limits him to five to six innings a start, in two starts he is 1-0 with a 0.90 ERA and in 10 innings has allowed eight hits and three walks while striking out 14.

De La Cruz was signed as a non-drafted free agent out of the Dominican Republic in December of 2004. Last year, De La Cruz showed much improved arm strength as his fastball velocity jumped up to 88-92 MPH and topped out at 93 MPH, where the previous year it was only 84-86 MPH. His fastball velocity could still increase because he is still young and getting bigger and stronger, and he compliments it with a plus changeup and average curveball. He has the size, the pitches, and the intelligence to grow a lot in the coming years, and projects as a starter in the big leagues. In a lot of ways, his build and pitching style is reminiscent of Fausto Carmona when he was with Lake County in 2003.

Honorable Mention: Josh Judy (RHP - Lake County), Armando Camacaro (C - Akron), Ryan Edell (LHP - Akron), Andy Gonzalez (IF - Buffalo)

Director's Cuts

Indians Farm Director Ross Atkins has been in Single-A Lake County this week taking in the action and watching his young players, and provided some insight into the Lake County team as well as all sorts of other things:


On the Lake County starting rotation: "Kelvin De La Cruz has really looked good and thrown the ball well. A 19-year old 6'5" left-handed pitcher who throws 93 MPH is really fun to watch. Chris Archer, Ryan Morris, Ryan Miller, and Santo Frias have all been encouraging, and coming out of spring training it is the first time some of them have pitched in cold weather and they have handled it well."

On the "prospect" label: "I'd say [Lake County] is one of the first thresholds where you really start to put the true prospect label on them. Those bottom feeders like myself in the minor leagues can put prospect labels on guys that are 16-17 years old, but once you get to the GM level to earn that prospect status you have to have at least participated in a full season. This is definitely one of the first thresholds. You have to use every piece of information that you have. It is all about projection and all about what the guy's ceiling ultimately is. Age and action of pitches both play a role. A guy like a Kelvin De La Cruz who is 6'5", 19 years old, arm strength, durability, and a competitor, there is not much not to like."

Early first impressions of the position payers: "A couple guys, like Karexon Sanchez, have looked good. He has started the season off hot, as well as Lucas Montero. Mark Thompson is an exceptional defender in the middle of the field, and he reminds us a lot of John McDonald. He could be of that type of mold like a John McDonald or Marco Scutaro. Adam White is another player who is an eighty runner, which is the best on the scouting scale. He flies."

On guys being sent down to Triple-A and responding well: "They have and that is always good to see. None of them are happy about it, and that is just how we want it. We don't want anyone to be happy about playing in Triple-A. We want every single one of them to want to be in the major leagues. There are guys in the game that can pout and sulk and be negative energy in a clubhouse, but ultimately if the guy is a true pro he recognizes where the money is made and he needs to get out of there. Guys as young as them typically don't pout too long because they realize
User Comments
No comments currently. Be the first to comment!