Minor Happenings: GCL Rundown
"Minor Happenings" covers the important developments and news in the Indians farm system. While most of the information in this report is from my own research and through interviews I have conducted with organizational personnel, some information in this report is collected and summarized from the various news outlets that cover each team.

This is the first of what will be three editions of Minor Happenings this week. Today's edition as well as tomorrow will recap my visit to Winter Haven and Myrtle Beach to see the rookie-level GCL club and also Kinston. The third installment on Friday will be a regular edition of Happenings.

Tomorrow's piece will be much larger and include lots of comments from Indians Farm Director Ross Atkins on some of the Kinston players as well as Abner Abreu who is playing with the GCL club. In addition to that, I'll have a recap of my talk with pitching coach Greg Hibbard on several pitchers he has on the Kinston staff along with small recaps of interviews I had with catcher Carlos Santana, infielder Jared Goedert, and relievers Vinnie Pestano and Michael Finocchi. I'll even have a special little story on the visiting clubhouse manager in Myrtle Beach, Bob Leber, who just happens to be a diehard Indians fan.

Also, let me take this moment to announce that my first attempt at a radio show will commence tomorrow night (Thursday) August 14th from 9:00 PM to 10:00 PM EST. The show can be heard on BlogTalkRadio.com by clicking here. When you go to the link you should see The Cleveland Fan Live upcoming shows and you should see mine on there. I'll be partnered up with Paul Cousineau, who is a widely popular writer on TheClevelandFan.com as well. For the first few episodes we will likely split time on the major league team and the prospects. Down the road, as soon as we get more comfortable with this, I'll have a show that is 100% just on the prospects.
Do note, these are just test shows still and I have nil radio experience, so please keep that in mind when listening for the first several episodes. The hope here is this provides yet another way for people to get some prospect information, and more importantly offers people a place to talk shop on the radio about Tribe prospects. The best thing is you don't have to listen live to hear the show as you can download the podcast and listen to it anytime 15 minutes after the show and listen on your computer or download it into whatever media device you choose.

Last, two players I spoke to during my visit to Winter Haven - outfielder Bo Greenwell and left-hander Chris Jones - will not be included in this piece because I will have a feature article in each of them down the road.
Manager's Minute: Rouglas Odor
I had a chance to sit down with GCL Indians manager Rouglas Odor and talk about a few of the position players on the team during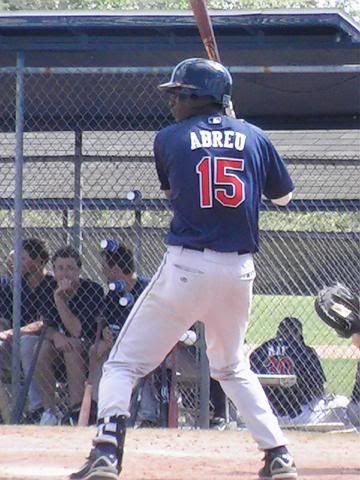 my visit to Winter Haven a few weeks back. Odor is a very easy going manager who enjoys his role as a mentor and teacher to all the new young kids in the system at the rookie level. Considering the environment the kids play in, he does his best to lighten things up and make it fun in Winter Haven. He lives in Winter Haven year round, and actually has two young boys named Rouglas (both have different middle names).

Odor is in his 20th season in the Indians organization as a player, manager or coordinator. Odor was a 32nd round pick out of the University of New Orleans in 1988, and played in the Indians system for seven years from 1988-1994. In 1995 he retired and joined the Indians field staff as the Venezuelan Field Coordinator before eventually managing the Venezuelan Summer League team in 1999 and 2000. This is his second year in a row managing the GCL Indians club, and prior to that he manager short-season Single-A Mahoning Valley for two seasons (2005-2006) and rookie-level Burtington for four seasons (2001-2004).
On Abner Abreu (3B): "He looks very good and he can hit the ball with a lot of power. It is something when you see an 18-year old hitting the ball out of a major league ballpark the other way. He did it here and hit it out toward right-center. He has strong hands and a natural whip in his swing that is hard to teach. He will continue to improve and I think he is going to be just fine."

On Bo Greenwell (OF): "If you look at his numbers right now they are not probably that great, but the adjustments he has made from last year are unbelievable. He is a totally different hitter. He already has a few home runs where last year he was more a contact hitter. Now he is hitting the ball with authority and is much stronger. It is hard to make that adjustment in one year, so I have been really impressed to see that progress."

On Kevin Rucker (OF): "He is another player with a bright future, but he needs to play. He is only 18 years old, and last year he didn't play much as he had an injury. So basically this is his first year. His arm strength and speed are above average. He can go get the ball in the outfield, and when he makes contact he can hit the ball way out of the ballpark. So, we know out of the five tools he has four of them. Now we are just working on his hitting as he needs to be more consistent. He needs to make more contact and put up more quality at bats, which could come as he matures. He really has a bright future and the potential to be an everyday player in the big leagues. He reminds me of Andre Dawson."

On Jason Smit (2B): "He had a shoulder problem throughout all of spring training and extended spring. He just got back a few days ago and we are taking him slowly. He looks very good, but he lost so much time."

Coaches Corner: Steve Lyons

In addition to talking with manager Rouglas Odor, I also had the opportunity to sit down and break down a plethora of the pitchers on the staff. Like Odor, this is Lyons second season with the GCL club. Prior to coming to the GCL he was the pitching coach at Watertown (1998), Mahoning Valley (1999), Kinston (2000-2001, 2005-2006), Columbus (2002), and Akron (2003-2004). This is his 11th year in the organization, and he also resides in Haines City which is about 10-15 minutes outside of Winter Haven.


On Danny Salazar (RHP): "His fastball sits between 88-93 MPH. He is just a real athletic kid, throws good strikes with his fastball, and is just trying to develop his secondary pitches right now. He has a good feel for a changeup and we are trying to figure out if he will throw a curveball or slider, whichever fits well with him. He is a former shortstop and moves around well, and he should be able to make adjustments pretty easily because he is such a good athlete."

On Alexander Perez (RHP): "His curveball and changeup are so far advanced for any kid his age. He is basically a high school senior and just turned 19 so would be going into his freshman year in college. You just don't see that at such an early age. He has an ability to throw his curveball for strikes and is a big league breaking ball ...a weapon. His changeup is very similar to that too. He is a very loose bodied kid, and has a good frame that should fill out. His arm works so easy, so with maturity he is going to add velocity. When you add velocity to the secondary pitches he has, you have a big time starting pitching prospect."

On Clayton Cook (RHP): "He just turned 18. You know what, this kid is probably one of the most mature kids we have in that locker room which says a lot for a 17-18 year old kid. Coming into this environment he has handled himself nothing but professionally and is ready to work everyday. He pretty much had a good delivery when he got here, so it is more about educating him on taking care of himself, learning how to attack hitters, and just kind of acclimating him to professional baseball."

On T.J. McFarland (LHP): "Really all through extended spring he has probably been the most consistent guy here from the beginning until now. He has made improvements. He is a guy who throws three pitches for strikes and really trusts his fastball. He is not scared of contact, and I think eventually he will be more of a groundball type pitcher. I wouldn't say he is like an Aaron Laffey because he has a different fastball and stuff, but I think he has a chance to be one."

On Chris Jones (LHP): "He is 100% healthy. He has made a lot of improvements, and he is still trying to acclimate to professional baseball as even though he was here last year it was not very long. He is now learning that it is more than just showing up on the day you pitch and that there is work that goes in between those five days. He is around 87-90 MPH with the fastball and throws a curveball and changeup where the curveball is very good."

On Marty Popham (RHP): "He is around 90-92 MPH and is a big physical kid with a nice loose arm. He had a big year in college going 17-1 or something like that and had a big increase in his workload where I think he had around 130 innings before coming out here. So we are just kind of limiting his workload. I think we will be able to get a better feel for him next year getting him out to a full season team. Who knows if he is going to start or be in a reliever role, I don't think it matters. He is an interesting kid because he is a big, big guy with some arm strength and looks like he has a good slider and changeup. I think the slider has the potential to be a major league slider."

On Denny Montero (RHP): "He is what we call a pure development guy where he has a lot of arm strength, is very inconsistent with his strike throwing, will show you anywhere up to 95 MPH, and does have a lot of secondary stuff. It is one of those things where it is patience and consistent work with him. I almost want the kid to back off a little bit with the velocity so he can get a better feel for the strike zone. Once he learns how to command the ball with a little less velocity then it is easier to add the arm speed back."

Rucker's Potential

One of the more intriguing players on the GCL roster is outfielder Kevin Rucker. Rucker (6'1" 185-pounds) is a player with a lot of talent where he runs well, plays very good defense and has some good raw power. At 18-years of age, he is also very rough around
the edges and raw for a prospect, but the Indians are excited about his potential. Rucker signed late last year and came into the organization at the end of July so he played very little last season.

This year is his first full season in the organization, and he is learning to live on his own and also get acquainted with everyday life as a professional baseball player.
"I'm getting used to playing everyday," said Rucker during my recent visit to Winter Haven. "It is a whole lot more games than in high school as I think I passed the amount of games I played in high school the first two weeks out here. But it is pretty cool to live on your own and stuff. I think the weirdest part was when you wake up in the morning you are like 'aw, I gotta go to school...oh wait, no I don't'. I just go to the ballpark now and have fun and play baseball."

Coming from high school, Rucker has a lot to learn and will be making a lot of adjustments over the next several seasons.

"The pitchers here have a lot of good stuff," said Rucker. "In high school you see maybe one guy who throws 90 MPH, but out here everybody throws 90 MPH. I am learning from the coaches here and they are helping me out to make my job easier so I can perform. I am working on staying with a steadier approach and trying not to swing at balls out of the zone. I am still learning the zone as a young hitter, and I am just trying to stay consistent as much as I can with my plan at the plate."

Rucker was a 47th round pick out of a Pioneer Valley High School in Santa Maria, CA. He sort of went unnoticed because he spent a lot of time playing football in high school as a full-time defensive player at the free safety position. His prowess as a free safety in football certainly translates to his excellent ability to track down balls as an outfielder. Rucker planned on attending junior college if he did not sign with the Indians, but after talking to his family they felt the best choice for him was to take the opportunity to play professional baseball now.

"I live in kind of a small area, so a lot of scouts don't get around there for colleges and stuff," said Rucker. "Also my senior year in high school was my first year playing baseball full time. I was going to go to a junior college, but then I got offered a contract and my family felt it was a good decision so I made up my mind to play pro ball."

Last year, Rucker played in only 11 games for the GCL Indians and hit .281 with 0 HR, 8 RBI and a .674 OPS. He is once again back with the GCL club this year and to date in 31 games is hitting .213 with 2 HR, 8 RBI, and a .633 OPS. The stats may not look good, but for a kid his age he is still very much learning the game and maturing as a player. Even though he has struggled with the numbers, Rucker has noticed some improvement from this last year to this year.

"I am more disciplined as a hitter now," said Rucker. "My instincts in the outfield are getting a lot better, and my adjustment from center field to right field [has gone well]."

McFarland's Consistency Impresses

Left-hander T.J. McFarland is one of the top pitching prospects pitching for the rookie level GCL Indians. McFarland was a 4th round pick in the 2007 Draft out of high school and has quickly impressed in his first year going 3-3 with a 4.43 ERA in nine starts. Out of his nine starts, McFarland has allowed one run or less fives times and only allowed more than four runs once.


As fate would have it, the one day I see him pitch he was a wreck on the mound with command problems and was elevating everything he threw. His line for the game was not pretty (4 IP, 12 H, 9 R, 1 BB, 1 K), and it was his one bad start of the year. Even with the rough outing, McFarland has maintained a positive attitude.

Having stuck around in Winter Haven since early March, McFarland has not grown weary of his surroundings and is excited to finish out the season and see what is in store for him next year.

"Things are going really great," said McFarland in the clubhouse after the game. "I am enjoying it down here and just loving it, and I am pretty satisfied with what I have done so far."

This of course is the politically correct answer because anyone who says they are enjoying themselves in Winter Haven is either lying through their teeth or needs to be sent to a mental institution.

In any case, McFarland showcases a two-seam sinking fastball that sits in the low 90s and has topped out as high as 94 MPH. He also throws a slider and changeup where the slider has good potential to be a plus pitch for him and the changeup is still a work in progress. He is working on refining these pitches as well as making adjustments to improve and get to the next level.

"There are a few things I need to work on mechanically like just being more efficient with my pitches and making more strike pitches," said McFarland.

The big thing right now is McFarland is healthy and looks ready to move onto what could be a callup to Lake County at the end of the GCL Indians season on August 28th. Many of the players on the roster will be sent to Lake County or Mahoning Valley for the final week of the regular season for those clubs to give them some experience playing in a more baseball friendly environment.
User Comments
No comments currently. Be the first to comment!