Minor Happenings: Hodges Off To A Hot Start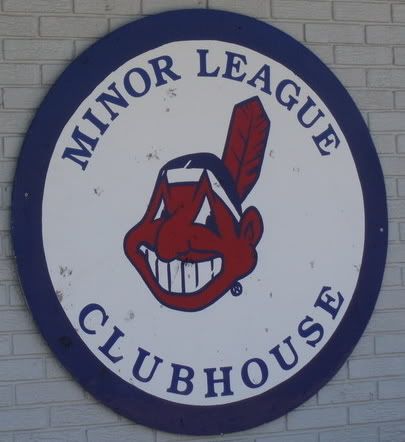 "Minor Happenings" covers the important developments and news in the Indians farm system. While most of the information in this report is from my own research and through interviews I have conducted with organizational personnel, some information in this report is collected and summarized from the various news outlets that cover each team.

This weekend, I will be in Eastlake, Ohio to catch Single-A Lake County in action and talk with a few players. I am not sure who I will get to talk to as it is always hit and miss, but a few guys I have targetted are Matt Brown, Vinnie Pestano, and one of the starting pitchers. Lake County is basically in my backyard (I live 10 minutes away), so I'll be seeing many of these guys throughout the season. There are a lot of intriguing young players, particularly on the pitching staff, so I hope to be able to bring all their stories to all of you over the course of the season.
Last week I was in Woodbridge, Virgina and was able to see advanced Single-A Kinston in action and talk to several players. On Tuesday, an article on left-hander Matt Meyer was posted and this weekend I will have a special edition of Minor Happenings recapping the conversations I had with right-handed pitchers Carlton Smith and Paolo Espino as well as utility player Jerad Head.

Indians Minor League Player Of The Week
(for games from April 10th through April 16th)

Wes Hodges (Third baseman - Akron)
.360 AVG (9-for-25), 2B, 3B, 3 HR, 12 RBI, BB, 6 K

Akron third baseman Wes Hodges is one of the few Indians hitters in the system off to a hot start this season. After Hodges big week he is currently hitting .360 with 4 HR, 15 RBI, and a 1.117 OPS on the season in 12 games. Hodges came through with a big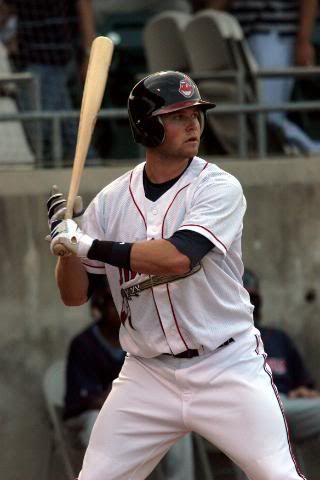 game on Tuesday night when he hit two home runs and piled up seven RBI, and his sixth inning grand slam was the deciding blow in a game Akron won 11-10.

Right now, Hodges is seeing the ball well and his fast start is good to see, especially considering that last year he got off to a slow start when he was only hitting .238 through May 10th. Hodges slow start last year was mostly attributed to him not being 100% because of a stress fracture he suffered in 2006 which limited his strength in his lower half early last season. As his strength returned last year, he finished the season strong and ended up hitting .288 with 15 homers and 71 RBIs for Kinston. Hodges fast start is a result of better health as he now has full use of his legs and the power has returned to his lower half, and on top of that he has become better at recognizing pitches.

Hodges is a very disciplined hitter with great bat-to-ball ability, and has a nice line drive stroke with good power potential to all fields. Last year, Baseball America tabbed Hodges as the best power prospect, the best defensive third baseman, and having the best tools in the Carolina League. With absolutely nothing above him in Buffalo or Cleveland, Hodges has a clear path to the major leagues at first base and could debut in Cleveland sometime in 2009.

Honorable Mentions:

Ryan Morris (LHP - Lake County): 2-0, 0.00 ERA, 10.1 IP, 0 ER, 4 H, 2 BB, 8 K
Matt Brown (OF - Lake County): .444 AVG (12-27), 5 R, 3 2B, HR, 8 RBI, 0 BB, 2 K, 1 SB
Heath Taylor (LHP - Kinston): 0-0, 0.00 ERA, 7.1 IP, 0 ER, 1 H, 1 BB, 7 K
Carlos Rivero (SS - Kinston): .345 AVG (10-29), 1 R, 3 2B, 0 HR, 5 RBI, 0 BB, 6 K

Previous Winners:

4/3 to 4/9: Kelvin De La Cruz (LHP - Lake County)

Director's Cuts

Indians Farm Director Ross Atkins was in Akron this week taking in the action at Canal Park. This week he offered up thoughts on some players on the Akron roster as well in Lake County:


On Wes Hodges: "Well, on [Tuesday] he had seven RBI, a game-winning grand slam home run, and drove in a couple with a great at bat with a single up the middle and he is playing a great third base. They talk about the transition to Double-A being a tough one, but sometimes with really, really good high ceiling players you see it being an easier transition than even just the transition to pro ball because they start to see more strikes and there is a tighter strike zone especially with position players, and I think this is what we are seeing with Wes. There is always development to be done, routines to be tightened up and areas players can improve upon. And in Wes' case he is very professional and is very committed, but just learning what a good routine is and sticking to that. That takes away from the focus of all the derailers and all the distractions and off the field pressures that come in addition to that 84 MPH slider. So, with Wes it is always about getting him to focus on the process and stay committed to that. And, in this case not get too high. Not think 'okay, I'm done, I'm ready'. He can still be a better baserunner and defender, and the pitching is only going to get better."

On David Huff: "It is just always different for every guy, but he is absolutely where he should be. After competing and dominating at a very high level in college and then having a good show in Kinston and performing well in the Arizona Fall League, he is now showing what he has done to make adjustments with his body and his committment to professionalism, with repeating his delivery and now commanding really three average pitches. He absolutely belongs at a level where the hitters can tell him what adjustments he needs to make. At this point we feel good about him being in Double-A and we will reassess that after five or six starts if need be. He will certainly be there at least for that duration."

On the Lake County team: "There's a high ceiling on this team's young pitchers, across the board. While there are no bashers among the position players, no potential Travis Hafners, a lot of guys will put the ball in play and force the issue with speed."

On Kelvin De La Cruz: "Kelvin has youth, size, leverage, arm strength and projects to command his fastball, slider and changeup. He has a high ceiling. He's also passionate about baseball and is doing a good job making the cultural transition from the Dominican Republic."

Columbus Bound?

Over the weekend, the Indians all but made it official that they will be moving their Triple-A affiliate out of Buffalo, NY and to Columbus, OH in 2009. Both the Indians and Buffalo agreed to postpone discussions of an extension of their player development contract until after the season. What makes this newsworthy is during their 14-year affiliation with Buffalo which started back in 1995, the Indians have always announced player development contract extensions with Buffalo on their opening day. That was not
the case this year, as before their home opener on Friday Indians GM Mark Shapiro stated in a press conference back in Cleveland that they would table talks of an extension until after the season.

At this point, the only reason why a move to Columbus has not been made official is because major league teams are not permitted to negotiate with new potential minor league affiliates until September when the minor league season has been completed. Also, while there is talk of behind closed door handshakes between the Indians and Columbus officials, the Indians also want to pay their due diligence in assessing all options before leaving or extending with Buffalo. The Indians love their relationship with Buffalo and Buffalo wants to extend the relationship, but really the only reason the Indians are considering leaving is because the Columbus affiliation opened up when the Yankees left there after 2006. They would probably not leave Buffalo for any other opportunity, and this is a unique situation that just fell into their lap.

Before the Indians pursue solidifying their agreement with Buffalo or explore going to Columbus, they want to assess the situation in both areas. Columbus would be an hour closer to Cleveland than Buffalo, and the new state of the art Huntington Ballpark in downtown Columbus will offer up a much better facility than Buffalo's 20-year old Dunn Tire Park. Columbus would also go after the Indians hard for obvious reasons as they feel the Indians would also be a natural fit, especially since the Cincinnati Reds are not an option after they extended their player development contact with Louisville over a year ago.

A move of the Indians Triple-A affiliate into the parent club's home state would be a coup, as they could tap into the Columbus market which is the largest city in Ohio and the state capital. This could be huge in any efforts to expand their two year old cable network SportsTime Ohio into that market. SportsTime Ohio has been interested in minor league broadcasts in the past by airing a few Buffalo Bisons games and also agreeing with the Single-A Lake County Captains to air ten games last year. A move to Columbus may enhance the possibility to add minor league game programming because it may be in more demand, and also it could give the network a chance to add other Columbus area programming for professional sports teams like the NHL Columbus Bluejackets, the World Soccer League's Columbus Crew and even some Ohio State Buckeye programming.

While everything seems to favor a move, the one stumbling block could be how the Indians assess the Columbus front office personnel and staff. Buffalo treats the Indians players well, and the communication between both the Indians and Buffalo is near perfect. So, the Indians need to see if that would still be the case in Columbus before the scales tip completely in favor of a move to Columbus. If the Indians do leave, the two likely options to move into Buffalo next year would be the Toronto Blue Jays and New York Mets as they have contracts that expire after this season and are not expected to renew them.

Next year is setting up for a lot of change with the Indians. They are moving their spring training operations from Winter Haven, FL to Goodyear, AZ. In conjunction with that they will be moving their rookie level team out of the Gulf Coast League and into the Arizona League. And, on top of all this, they could be moving their Triple-A affiliate from Buffalo, NY to Columbus, OH. That is a lot of change in one year. This is a situation that will remain unanswered until September, but at this point based on everything the Indians have said and done publicly along with some comments coming from a few people behind closed doors, it is all but certain they will be in Columbus next year.

Frustration Mounts For Francisco

Buffalo outfielder Ben Francisco is off to a very slow start, hitting only .204 with 0 HR, 2 RBI and a .556 OPS through 13 games. After winning the team MVP award in Buffalo the last two seasons and winning the International League batting title last year, and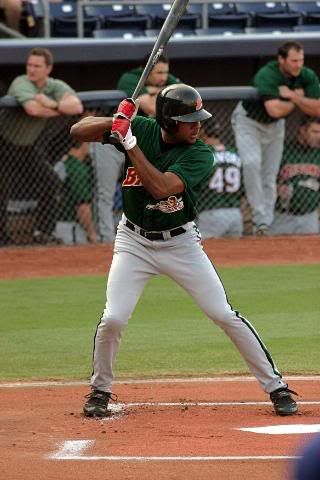 then following that up with a great showing in spring training this year hitting .362 with 3 HR, 9 RBI, and a 1.021 OPS, Francisco still ended up back in Buffalo to start the season. Meanwhile, Jason Michaels is still somehow employed by the Cleveland Indians.

Francisco was understandably disappointed to not make the Indians opening day roster, and it has shown early on. He has struckout three times in each of the last two games, and he now has a team high 17 strikeouts in 49 at bats. This is not the kind of hitter he is, and clearly shows how much he is pressing. He has been getting some extra work in with coaches, with the main focus to get him to relax and stay within himself, but so far nothing has worked. At this point there is not much else to do except hope he catches a spark and it gets him going.

Francisco's troubles and frustration bring to light a problem with the organization at the moment. In the last few years, the Indians have sent some of their big league ready prospects in a return trip to Buffalo because they opted to sign or keep an over-the-hill veteran. This is clearly something that has to stop, as it is frustrating the players and also is creating a ridiculous logjam in the upper levels of the system. Players like Francisco should be on a major league roster, there just is no excuse for it. And this problem not only is in Buffalo, but is shared throughout the system all the way down to Kinston. A lot of players are being forced to repeat a level because the Triple-A and major league team is loaded with a bunch of retread veterans trying to hang onto their baseball careers. The Indians fascination with depth has certainly reached the overkill stage.

Indians Running Out Of Time With Aubrey

First baseman Michael Aubrey is as healthy as he has ever been. This year marks his sixth year in the Indians player development system, and in his five previous seasons he has yet to make it through injury free. Aubrey is also in his final option year, which
means next year when the Indians finish spring training Aubrey will have to either be on the Indians opening day 25-man roster or he will have to be put on waivers before he could be sent to the minors. If he is still a productive hitter at that time, a team would likely claim him.

With his option clock about to expire and him currently in good health, to some it may be a mystery why the Indians chose to start Aubrey in Akron where he is now playing at for the fourth straight season. Aubrey has been injured a lot of his time in Akron, but when healthy he has proven to be an effective hitter as shown by his .301 career batting average, 39 home runs and 178 RBI in 243 games coming into this season. In any case, from the Indians point of view, they are not too worried about whether Aubrey is in Akron or Buffalo. They believe Aubrey can play in the big leagues right now and will hit at Buffalo or Akron, but their number one goal for him right now is to prove he can stay healthy.

Some may say that because first baseman Jordan Brown is in Buffalo, it is keeping Aubrey back in Akron. But that is not completely true, as the real player at Buffalo who is holding Aubrey back a level is first baseman and designated hitter Ryan Mulhern. At some point this season, if Aubrey continues to stay healthy, the Indians will look to move him to Buffalo to get him at least a few Triple-A at bats and geared for a possible major league callup. When that happens, it will be interesting to see what the Indians do with Brown and Mulhern. Both Brown and Mulhern have experience playing in the outfield, so it is possible one (or both) could get more playing time out there to make room for Aubrey at first base or designated hitter.

Crowe To The DL, Head Activated

Akron outfielder Trevor Crowe was placed on the disabled list last Thursday retroactive to 4/6 with back tightness, and outfielder Stephen Head was called up from extended spring training to replace him on the roster. After playing in Akron's first two games,
Crowe had missed four straight games before the Indians decided to place him on the disabled list. The back had been bothering him since spring training, and a report from the Akron Beacon Journal mentioned he may be out a few weeks with a bulging disk.

Head joins the team from extended spring training where he continued to rehab from offseason surgery to his right labrum. Head is a converted first baseman who was moved to right field halfway through the season last year, and he will continue to play exclusively in the outfield for Akron. This is his second stint in Akron, although he played in just 26 games with Akron last year hitting .276 with 3 HR and 18 RBI.

Head actually hurt his right shoulder last July when he was hit by a pitch. The force from the beaning ended up jarring his shoulder where he ended up tearing the labrum in his right shoulder area. It was not a complete tear and it was to his non-throwing shoulder so he was able to play through it the last two months of the season. More impressively, at the same time he made the transition from first base to right field and handled the move well even though he was injured. As soon as the season ended, Head had surgery on the shoulder and spent the rest of the offseason and spring training rehabbing it. Head got a late start in spring training as he did not start hitting until the last two weeks of camp, so he was kept behind in extended spring training to continue getting his shoulder ready for game action.

Lofgren's Slide Continues

Akron ace left-hander Chuck Lofgren is off to an inauspicious start this season. Coming into this season as the top left-hander in the Indians farm system and repeating at Akron it was expected Lofgren would show much improvement over his solid but not
spectacular season last season at Akron when he went 12-7 with a 4.37 ERA. That said, through three starts he has struggled. A lot.

After surrendering four runs on seven hits and three walks in just 3.2 innings on Tuesday night, in three starts this year Lofgren is now 0-1 with a 6.92 ERA. Opposing hitters are hitting .370 off him and he is averaging almost seven walks per nine innings. This was not the kind of performance the Indians expected out of the gates from their prized lefty, so after the game on Tuesday night Lofgren was summoned into manager Mike Sarbaugh's office for a short closed door meeting. The prognosis on Lofgren at the moment is he is fine physically, but he has been putting too much pressure on himself.

Lofgren is still only 22-years old and has a lot of room for growth. However, after a sensational breakout season in 2006 at Kinston when he went 17-5 with a 2.32 ERA, he has been on a slow slide and has shown little improvement. The learning curve last year seemed to start to slope downward and so far this year it has crashed and hit rock bottom. The main goal right now will be getting his fastball command back as he has been all over the place. If he cannot locate his fastball, the other pitches in his arsenal become virtually non-existent and ineffective.

Some may even say Lofgren is suffering from the disappointment of not starting the season in Triple-A Buffalo, although he knew going into spring training that he was most likely heading back to Akron to start the season. So, he had more than enough time to focus and accept it and work on what he needs to do to improve so he can move up to Buffalo sometime this season.

Huffin And Puffin

It has been a mixed bag as far as results go for Akron left-hander David Huff so far in his Double-A debut this season. Huff struggled in his first two starts going 4.0 innings and allowing three runs on five hits and two walks in his first start, and then in his second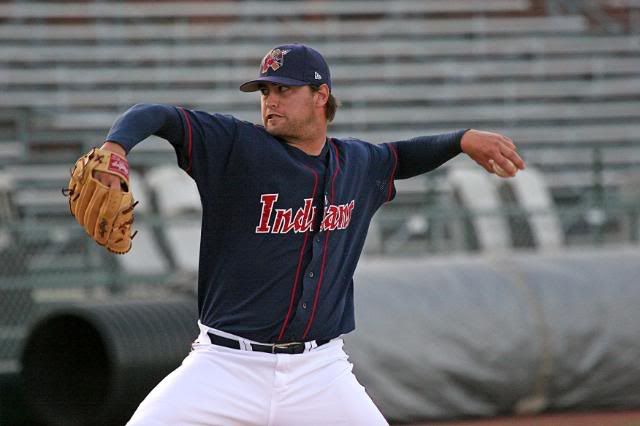 start going just 4.2 innings and allowing four runs on six hits and no walks. Huff came back strong in his third start last night and put up a very good effort and attacked hitters going five shutout innings and allowing three hits and two walks while striking out eight.

It has certainly been a learning process for Huff at Double-A so far as one of the early problems he has encountered is finishing hitters off. Many times he has had hitters down in the count 0-2 or 1-2, but often gave up a hit in that count or let them battle back to work a hit or walk. He has been throwing too many pitches to hitters and giving them too many opportunities to see his stuff. The Indians would like to see Huff shore up his approach in this regard and be more aggressive in going right after hitters and let them get themselves out. He needs to pitch to his strengths and not try to be so fine with his pitches.

Huff is a strike-thrower who has excellent command of his pitches. His fastball consistently clocks in at 88-91 MPH, and his changeup is a plus pitch and ranked one of the best in the country coming into the draft. While he does not overpower hitters, he has unbelievable confidence in his fastball, and commands it well working it to both sides of the plate and to the corners on all four quadrants. He has the best fastball command in the entire system, and is a very polished pitcher.

Laffey Looking Strong

In three starts so far in Buffalo, Laffey has been brilliant in two of them and bad in the other. His most recent start on Monday was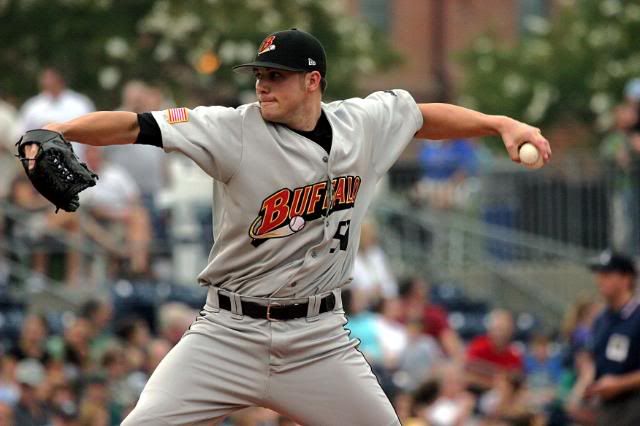 Laffey at his best as he went eight innings and allowed two runs on three hits and two walks while striking out six. Once again, Laffey showcased the command and intelligence that makes him such an effective pitcher. He had his entire three pitch mix working for him, and he mixed up the speed and location of all his pitches well all night. He worked his slurvy breaking ball and sinker in and out all night, and kept the hitters honest by throwing his fastball in on their hands to the inside part of the plate so they could not dive into pitches out over the plate.

Laffey actually took a one-hit shutout into the eighth inning before tiring and allowing a two-run home run with two outs in the inning. Laffey finished the night throwing 99 pitches, and recorded 13 of his 24 outs via the groundball. In three starts, Laffey is now 2-1 with a 4.00 ERA and in 18 innings has allowed 20 hits and four walks while striking out 13. He also has a 2.31 groundball to fly ball ratio.

Slocum If You Got
User Comments
No comments currently. Be the first to comment!