Minor Happenings: Huff Showing His Stuff At Akron
"Minor Happenings" covers the important developments and news in the Indians farm system. While most of the information in this report is from my own research and through interviews I have conducted with organizational personnel, some information in this report is collected and summarized from the various news outlets that cover each team.
This week I was in Lake County on Sunday and Tuesday, and got to see top left-handers Ryan Miller and Kelvin De La Cruz in action again. During my visit, I was able to talk to De La Cruz and Miller, and will be having feature pieces on them soon. Also, I talked to speedy outfielder Adam White and will have a piece on him sometime in the near future.
I'll be in Akron on Saturday night, so if anyone that reads this will be in attendance feel free to say hi. I'll be the crazy guys bustling all about taking video and pictures of guys, as well as talking to several people connected with the team. Speaking of Akron, if you missed it, I did a feature piece on catcher Chris Gimenez's transition to catcher over the weekend.
Indians Minor League Player Of The Week
(from May 15th through May 21st)

David Huff (Left-handed Pitcher, Akron)
2-0, 0.64 ERA, 14 IP, 1 R, 7 H, 1 BB, 8 K

Last Thursday, he was sensational in tossing a complete game seven inning three-hit shutout only throwing 68 pitches. In the start,
he only allowed one runner to reach second base and had one walk and two strikeouts. The game marked the first complete-game shutout of three hits or less for an Akron starter since right-hander Bear Bay tossed a nine inning two-hitter on June 9th, 2006.

He followed up that start with another outstanding effort last night going seven innings allowing just one run on four hits while walking no one and striking out six. In his last seven appearances, Huff has allowed just five earned runs in his last 45 innings (1.00 ERA), and on the season he is 4-1 with a 2.03 ERA in nine starts. He leads the Eastern League in ERA (2.03), WHIP (0.83), and is third in strikeouts (49). Huff was also named the Bank of America Eastern League Pitcher of the Week for the week ending May 18th.

With his dynamite start to his season, Akron left-hander David Huff has cemented his standing as one of the Indians top pitching prospects. In fact, if he keeps this up, by season's end he just may be THE top pitching prospect in the system. If not already. When the Indians look to make a deal here in the next month or so for an impact bat to help rejuvenate an offense stuck in a season long slide you better believe that Huff will be at the top of every team's wish list.

Honorable Mentions: Carlton Smith, RHP, Kinston (1-1, 0.69 ERA, 13 IP, 1 R, 7 H, 0 BB, 7 K); Adam Miller, RHP, Buffalo (0-1,1.64 ERA, 11 IP, 2 R, 4 H, 5 BB, 6 K); Ryan Morris, LHP, Lake County (0-0, 1.50 ERA, 12 IP, 2 R, 10 H, 6 BB, 10 K); Chris Gimenez, C, Akron (.412 AVG, 2 2B, HR, 4 RBI, 4 BB); Niuman Romero, IF, Kinston (.450 AVG, 2B, HR, 3 RBI)

Previous Winners:

5/8 to 5/14: Steven Wright (RHP - Kinston)
5/1 to 5/7: Jeremy Sowers (LHP - Buffalo)
4/24 to 4/30: Jose Constanza (OF - Akron)
4/17 to 4/23: Hector Rondon (RHP - Kinston)
4/10 to 4/16: Wes Hodges (3B - Akron)
4/3 to 4/9: Kelvin De La Cruz (LHP - Lake County)

Director's Cuts

Indians Farm Director Ross Atkins was once again in Buffalo this week to get a look at some of the players there, and offers up some comments on a few players there as well as in Akron:


On Shin-Soo Choo: "When I was there on [Tuesday], he looked like [Ichiro] Suzuki. I mean the guy was doing it all. He hit a home run, he was filleting doubles into the gap on changeups, looked good defensively, stole a base, tagged up and went second to third on a backdoor sacrifice, and really was all-world. If that is an indication of how the rest of his rehab is going to be, he might be speed that rehab process up in quite a hurry. He looks very much like a big league player. The fact he is back is a testament to our medical staff and our strength and conditioning staff. He is sticking to the process of a plan and being patient with it and seeing it through. He spent a lot of time in spring training, so he is fired up and as happy as I have ever seen him and can't wait to see him up in [Cleveland].

On Oneli Perez: "He has had incredible numbers everywhere except until this year in Triple-A. It looks like he has had some struggles. We saw him as he pitched against us in Buffalo, and he opened our eyes there. It is a creative acquisition process as we have to put him our roster and the White Sox have to take him off theirs. It is another depth major league arm that we are very glad to have. He has power-sink, a very impressive breaking ball that has a lot of depth to it, so those two combinations if we can get him to be consistently on the plate is a great combination to have. I also believe he was the Pitcher of the Year in the Dominican Winter League this year. So hopefully we can tap into that and get him back onto the major league radar."

On Chris Gimenez: "Chris is one of our favorite guys in the organization. He is just extremely committed, is a natural leader, he has no problem taking charge in a clubhouse or game, and is extremely strong and durable. He can handle injuries and blow at catcher. Last year he played a day after having a significant injury to his wrist that typically in our system is a two week shutdown and he was ready to go the next day to catch. The toughness, the durability, and the skill with the bat is the most important. He probably is our most productive minor league bat in the system this year, so that is very exciting and a nice bright spot in our system. It is obviously a huge challenge [converting to catcher]. He has answered the call. I think the final thing for him will be consistently throwing to second base. We are making sure that he can keep control of a running game."

Gimenez's New Approach

Akron catcher Chris Gimenez has not only been working hard on adapting to catching full time, but he has also been working hard on improving his approach at the plate. One of the big positive changes for him so far this season is his much improved plate
discipline where he has 26 walks and 23 strikeouts in 97 at bats, where coming into the season for his career he had only 170 walks to 310 strikeouts in 1355 at bats.

This year, Gimenez has focused on being more selective at the plate. By being more selective, he realizes that it will help him get into better hitter's counts and improve his on-base percentage with more walks. It took awhile for Gimenez to become comfortable with the approach as he was very nervous at first, but now he has settled in and his confidence continues to grow after every at bat.

"In spring training, one day I said to myself 'I wanna make this pitch be right there and if it is not I am not even going to attempt to swing at it'," said Gimenez in a recent interview I had with him at Canal Park. "I just kept doing that, and once we started playing games I really starting doing it. I can't tell you how many better hitters' counts I have gotten into. The best thing about it is other teams see it and scout it and know 'hey, we are going to have to pitch this guy in the zone to get him out.'

The strikeout rate has increased some for Gimenez, but this is something which probably will drop to career levels as he continues to get more acquainted with his new approach. He credits a lot of his newfound success to former teammates Michael Aubrey and Jordan Brown who helped him realize you can fall behind 0-1 and still put up a productive at bat.

"I've always been a guy who strikes out 80-90 times, and I bet you a good 75% of them were just because I was getting myself out," said Gimenez. "Swinging at a 0-0 slider that starts at the edge of the plate and breaks off and swinging at it and getting myself down 0-1 as opposed to 'who cares' if it is not right where I want it I am comfortable hitting 0-1. And that is something that when I was a little younger I would get nervous because I would think I was already in the hole at 0-1 and I don't want to go 0-2 and that is the worst thing you can think about. And being around older guys like Michael Aubrey and also Jordan Brown has helped me a ton because they have great strike zone discipline. All it is, is you are making them throw it where you want to hit it. Last year I was getting slidered to death, especially last year when I got up here they kind of figured me out. I did not make the adjustment, and I told myself this year I was not going to let that happen. The thing is I am so comfortable now being able to take 2-0. For me that was like I didn't care where you were throwing it I was swinging. As soon as I started coming up with that mentality, even on 3-1, I will spit on a pitch that is maybe borderline that normally I might swing at and take 3-2 or ball four."

The Fantastic Four

Lake County has been the only team in the entire Indians organization, including the major league team, that has played consistently well all year. While there have been some good performances offensively, the backbone of the team has been its exceptional starting rotation led by left-handers Kelvin De La Cruz, Ryan Morris, and Ryan Miller as well as right-hander Chris

Archer. The three lefties have experienced the most success while Archer has struggled with his command, but nonetheless the Indians are very excited about all four starters and all four of them have very high ceilings.

Miller has been the ace of the staff going 7-0 with a 1.02 ERA in eight starts this season, and has been backed up by strong starts from other members in the rotation with De La Cruz (3-2, 1.77 ERA), Morris (5-0, 2.22 ERA), and Archer (1-6, 5.18 ERA). The Indians are very pleased with Miller's outstanding start to his season. The key to Miller's success has been his ability to throw strikes, and while he seems ready for a promotion, the Indians want to see him put together another few starts where he shows better command of his fastball around the zone. He has electric stuff, but he has gotten a lot of hitters out on pitches that were not even close to the zone and it is something he needs to hone in on because as he moves up the minor league ladder hitters will start to lay off those pitches.

Morris is a more of a pitch-to-contact pitcher and as a 20-year old has held up well in the league (more on him later). The same goes for De La Cruz who is just 19-years old who the Indians feel may have the highest ceiling of any pitcher in the system. His 6-5 frame, youth, and durability makes him very projectable, and his stuff and build has many calling him "Lefty Carmona" after former Lake County great and current Indians ace Fausto Carmona.

Archer's numbers have not been overly impressive, and he has struggled with his command (39 walks in 33 innings), but he is the classic example that it is not all about the stats in the minor leagues. It is about projection, and Archer has a ton of it. The Indians love his live arm and feel he may have the best breaking ball in the system. When he is on, his stuff is unhittable. Archer is only 19 years old and he is a work in progress and the Indians staff is working with him diligently to become more consistent throwing strikes. The Indians really believe that once Archer grows into his 6'3" 180 pound frame, he is going to take off and things will start to fall into place for him.

Three Players, Two Spots

First baseman Jordan Brown was activated from the disabled list and returned to the Buffalo lineup on Monday. Brown had been on the disabled list since May 1st and missed almost three weeks with patellar tendonitis to his left knee, and the injury was to the
same knee he had arthroscopic surgery on in the offseason.

The pain started in a game on April 27th, and after that game he ended up sitting out the next two games to rest it before returning to the lineup on May 1st. But, after two at bats the knee was still bothering him and getting worse, so he was taken out of the game early and put on the disabled list. Brown was 2-for-20 before going on the disabled list, and the Indians decided to not push it and gave Brown a lot of time off to rest the knee in order to help ensure the injury would no flare up and jeopardize the rest of the season. Since his return, in two games Brown is 4-for-7 and on the season is hitting .291 with 0 HR, 10 RBI, and a .746 OPS.

With Brown's return to the lineup as well as first baseman Michael Aubrey's likely return when outfielder Shin-Soo Choo is activated in Cleveland, it presents an interesting quandary in Buffalo at first base. With Brown needing to play everyday, and also Ryan Mulhern and Aubrey both hot at the plate of late, getting three first baseman ample playing time is going to be tough, even with one of them filling in nightly at designated hitter. Brown and Mulhern have experience in the outfield, so it is possible they could get a few starts here and there out there, especially once Choo is called up. However, Brown is still recovering from his knee injury, so Mulhern would be the likely option to play out there if needed. In any case, if Aubrey does return to Buffalo, there could be some roster movement looming as it does not seem possible all three could get enough playing time to stay sharp. Mulhern could very well be the odd man out.

Crowe-ing Once More

On Saturday, Akron outfielder Trevor Crowe was activated from the disabled list and infielder Chris de la Cruz was sent to Kinston. Crowe had been sidelined since April 6th with a strained back, and missed a total of 35 games. In four games since his return,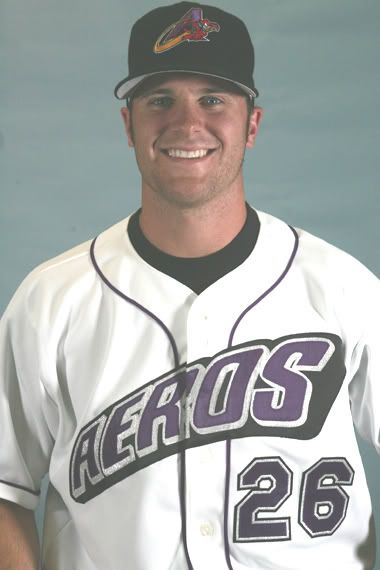 Crowe is 3-for-15 and in six games overall on the season is hitting .182 with 0 HR, 1 RBI and a .697 OPS.

Crowe's season stopped just as soon as it started as he succumbed to pain in his back just two games into the season. The back had bothered him throughout spring training, but he thought it was just typical aches and pains players go through during the spring as they get their bodies ready for another long and grueling season. Things took a turn for the worse when he started having sharp pains shoot down the back of his legs. The Indians ended up shutting him down, and had him rehab in Cleveland for two and a half weeks and then sent him out to extended spring training the last week of April to continue his rehab and play in some games to get back up to game shape.

Crowe may not be in Akron for long regardless of how he performs. With roster movement on the horizon in June, Crowe may finally get his first taste of Triple-A now that Ben Francisco is gone. Francisco's return to the Buffalo outfield at the end of spring training pushed Crowe back to Akron, and once Shin-Soo Choo is done with his rehab assignment in Buffalo do not be surprised if Crowe is moved up to Buffalo at that time (provided he is healthy).

Morris Locked In At Lake County

Lake County left-hander Ryan Morris continues to put up quality starts and notch wins. Fellow left-hander Ryan Miller has put up

some incredible stats early on and sort of overshadowed Morris, but Morris has almost matched Miller pitch for pitch early in the season. On the season Morris is 5-0 with a 2.22 ERA and .211 batting average against, and Lake County is 9-0 in games he starts. Last year at in 14 starts in the Gulf Coast league and at Lake County, Morris went 3-2 with a 3.90 ERA and was certainly on the top prospect radar (he was 31st in my listing), but this season has been a breakout campaign for him so far.

Morris is a 20-year-old North Carolina native who the Indians picked up in the 4th round of the 2006 Draft. He goes about things a little differently than Miller, as he is more a pitch to contact pitcher because he does not have an overpowering fastball. He is what many would call a crafty lefty who relies on hitting his spots and getting off to roll over on balls and put them in play. Morris likes to use his fastball to get ahead in the count and then work the corners with his changeup and curveball, and so far he has had success with this approach. He is a competitor on the mound, creates very good deception in his delivery and does a good job pitching away to left-handed batters and especially right-handed batters.

Goedert Is Silent, But Deadly

Kinston infielder Jared Goedert is extremely quiet by nature and keeps a low profile. Last year, Goedert burst onto the scene when he hit .364 with 16 HR and 51 RBI at Lake County in just 46 games in April and May. The power outburst came as a surprise to
everyone in the Indians organization and scouts everywhere, and was especially a surprise to Goedert himself. Goedert's numbers so far this season have not been as impressive as last season as he is only hitting .269 with 2 HR, 22 RBI and has a .688 OPS, but nonetheless he is someone who is clearly on the Indians prospect radar.

Goedert's big power numbers early in the year last season were more an aberration than anything as he is not a power hitter, but instead more as a line drive gap-to-gap hitter. Goedert certainly has power and is strong, but he more likely projects to be a 15-20 home run hitter in the big leagues.

He has had a solid year so far mostly hitting cleanup in the Kinston batting order. Goedert's best strength at the plate might be his patience and ability to lay off marginal pitches to force pitchers to fall behind in the count and bring more pitches into the hitting zone. Most importantly he is healthy. He was bothered by a sore shoulder for most of the second half of the season last year as he re-aggravated his shoulder he had surgery on the previous offseason.

Herrmann Continues To Grow

Akron right-handed starter Frank Herrmann has made quite an ascent up the minor league ladder for a player who went undrafted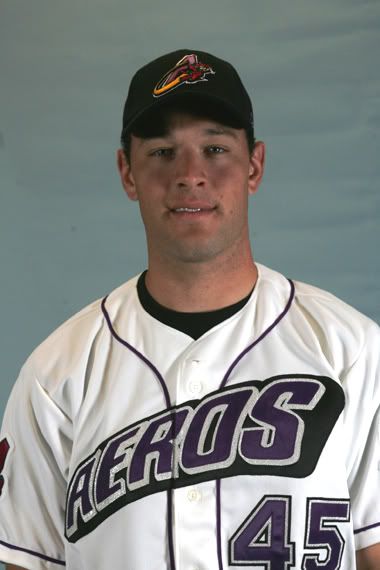 and ended up signing as an undrafted free agent in August 2005. The Indians now view him as a starting pitching prospect on the rise and very much on the organization's radar. The Indians love his exceptional strength, athleticism and durability on the mound, and like his ability to control his fastball to both sides of the plate. He is a sinker-baller who throws in the low 90s, but he pitches more to contact and relies on groundballs. He is a Jake Westbrook-type who has shown an ability to be an innings eater, show great presence on the mound, and get quick outs with his sinker.

Herrmann is extremely intelligent, which goes without saying as he is a graduate from Harvard with an economics degree. But, he is still learning the game of baseball and how to pitch. His aptitude is off the charts, and in just two and a half seasons he has adjusted well to the professional game and made huge strides in learning how to pitch. He came in raw and with little understanding of how to "pitch", and once he gets some of the intricacies of pitching down, the Indians really feel he could take the next step and be high level prospect for them.

Dixon Turns It Around

Akron right-hander Kevin Dixon did not let an 11-day layoff affect him in his start on Tuesday night. Because of a bunch of rainouts
last week, Akron starters pretty much missed an entire trip through the rotation. Still, Dixon was as sharp as he has ever been and easily put up his best start of the season by tossing eight shutout innings on 99-pitches allowing only two hits and no walks while striking out five. He finished the night by retiring the last 13 batters he faced, and it was his fourth straight quality start.

The turnaround for Dixon has been considerable, and it all points back to a start on April 30th when he escaped a bases-loaded jam. That start was the turning point in his season, and if you include that April 30th start Dixon now has now thrown four straight quality starts and is brimming with confidence. In those four starts he is 2-0 with a 2.36 ERA, with 23 strikeouts against only seven walks in 26.2 innings of work. He has lowered his ERA be almost a full run, and on the season is now 2-3 with a 4.34 ERA in eight starts. In 45.2 innings he has allowed 48 hits and walked 15 while striking out 32.

Pena Nearing Promotion

Lake County outfielder Roman Pena has been one of the hottest hitters in the system this month. Pena got off to a slow start the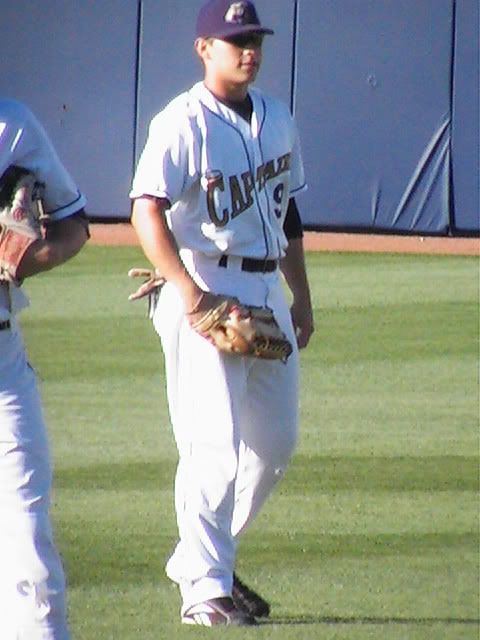 first few weeks of the season, but has turned it on the last five weeks. On the season Pena is hitting .308 with 2 HR, 28 RBI and an .801 OPS. He leads the team in hitting, RBI, and hits (48), and is ranked 10th in the South Atlantic League in batting average and RBI. On Tuesday he went 0-for-5, which snapped a modest 10-game hitting streak.

Pena is a 21-year-old California native, and is in his third professional season and in his second tour of duty at Lake County. While it was a disappointment for him to have to return to Lake County this year, he had some things to work as he only hit .240 with 7 HR, 70 RBI and a .698 OPS last year. Also, more importantly, the Indians want him to play everyday. If he were in Kinston he would not play as often because of outfielders like John Drennen, Nick Weglarz, and Cirilo Cumberbatch who are staples in the lineup every night. When Drennen eventually moves up to Akron, which could come sometime in June when rosters throughout the system will see a big changeover, Pena would likely be the first Lake County position player to move up.

Bauer Big League Bound?

Right-handed closer Rick Bauer continues to impress in Buffalo. In 18 appearances, Bauer is 0-0 with 11 saves and a 1.93 ERA. He may have found his calling as a reliever, and could be someone the Indians look at as a middle reliever at some point this
season. Or, it is possible another club may trade for Bauer if they think he can help them. Either way, Bauer most likely will not be in Buffalo much longer.

The key to his success has been him throwing strikes and having excellent command of his fastball to all four quadrants of the zone. He constantly attacks hitters and goes right at them, and so far the results have been very positive. He blew a save on Tuesday night and was tagged for three runs in an inning of work, so hit ERA ballooned from 0.51 to 1.93 after the appearance. It was his first rough night of the year and blown save, so it will be interesting to see how he bounces back from it. Indians GM Mark Shapiro has always said it is how a closer reacts to a blown save which shows what they are truly capable of accomplishing.

In his 11-year career, Bauer has pitched almost exclusively as a starter or in middle relief. This is the first time he has ever been used as a full-time closer. Right-hander Eddie Mujica was the closer earlier in the season, but he has struggled some and the Indians also want him used more in middle relief to have him ready for that potential role in Cleveland. Bauer is a versatile arm, and can throw multiple innings out of the bullpen which can make him a good option down the road in middle relief or as the long man.

Draft Reminder

Just another reminder, the 2008 First-Year Player Draft commences on Thursday June 5th at 2 p.m. at The Milk House at Disney's
Wide World of Sports complex in Orlando, FL. ESPN2 will broadcast the first round and compensation picks, and the rest of the draft will be aired exclusively on BaseballChannel.TV. Day 2 of the draft gets underway on Friday June 6th at 11:30 a.m. and will go a maximum of 50 rounds.

The Indians will be sending Mahoning Valley manager Travis Fryman and Gulf Coast League Indians pitching coach Steve Lyons to represent them and make their first round selection. The Indians pick 29th in the first round, 76th in the second round, 107th in the third round, 141st in the fourth round and then make a pick every 30 spots thereafter.

Things are still being worked out, but the plan is to have draft guru extraordinaire Dennis Nosco run live updates all day on my blog for both days of the draft. And, he will likely have a recap here on this site post-draft. Also, we are in works with prospect site for other teams on a big mock draft sometime before the draft, and if we do it Dennis would serve as virtual GM of the day making picks for the Indians. More on that as details come in.

Affiliate Notebook


Buffalo Notes (21-25, 4th, 8.5 GB): On Monday, first baseman Ryan Mulhern's eight game hitting streak came to an end. During the eight game tear Mulhern hit .483 since (15-for-31) and raised his average 75 points to .262 going into Monday. Mulhern is currently hitting .252 with 4 HR, 15 RBI and a .732 OPS. ... Right-hander Adam Miller put up another very good outing on Tuesday night throwing five shutout innings and allowing two hits and walking three while striking out four. In six starts so far this season, Miller is 0-1 with a 1.88 ERA (28.2 IP). ... Outfielder Shin-Soo Choo is supposed to be re-evaluated in the next few days and may get a callup to Cleveland as soon as this weekend. So far, Choo has looked great and in five games is hitting .353 with 1 HR, 2 RBI, and a 1.009 OPS (small sample size be damned). ... With left-hander Jeremy Sowers and newly acquired right-handed reliever Oneli Perez being activated in Buffalo on Wednesday, right-hander Bubbie Buzachero was reassigned to Akron and left-hander Jason Stanford was released. ... Outfielder Brad Snyder is hitting .211 with 4 HR, 17 RBI and a .670 OPS. ... Catcher Wyatt Toregas is hitting .196 with 1 HR, 13 RBI and a .548 OPS. ... Left-handed reliever Reid Santos is 2-2 with a 6.95 ERA and 1.95 WHIP in 14 appearances out of the bullpen.


Akron Notes (21-21, 3rd, 5.5 GB): Sunday's 14-1 loss was the worst loss of the season for Akron. Because of a slew of rainouts last week, Right-hander Frank Herrmann was pitching for the first time in ten days, and the rust showed. Herrmann was pounded in 2.1 innings of work for nine runs and a dozen hits. On the season, in eight starts Herrmann is 4-3 with a 5.23 ERA. ... Left-hander Ryan Edell battled his way through his last start on Monday, going five innings and giving up three runs on eight hits and a walk while striking out two. After giving up three runs in the first, Edell stranded six runners (five in scoring position) over the next four innings. On the season Edell is 1-3 with a 5.57 ERA. ... Infielder Brandon Pinckney is in the midst of an 11-game hitting streak. Pinckney is hitting .385 (15-for-39) with four multi-hit games over his streak and it is the longest hitting streak for an Akron player this season. Overall, Pinckney is hitting .286 with 1 HR, 6 RBI and a .673 OPS. ... With right-hander Bubbie Buzachero being re-assigned from Buffalo to Akron on Wednesday, right-hander T.J. Burton was re-assigned to extended spring training. ... Third baseman Wes Hodges is hitting .294 with 7 HR, 37 RBI and an .847 OPS. ... First baseman Matt Whitney is struggling and hitting only .219 with 3 HR, 10 RBI and a .658 OPS in 41 games. ... Right-handed closer Randy Newsom continues to mow 'em down, and in 19 appearances is 1-0 with a league leading 13 saves and a 0.95 ERA.


Kinston Notes (19-23, 2nd, 5.5 GB): Last Thursday, right-hander Carlton Smith put up an excellent outing in giving up just four hits and one earned run in seven innings pitched. He followed that up last night with his fourth good start in a row going six shutout innings and giving up three hits with a season high six strikeouts. On the season, Smith is 2-2 with a 3.88 ERA in nine starts. Opponents are only hitting .216 against him and he has a 0.98 WHIP. ... Right-hander Jim Deters made a spot start on Saturday and made the most of it by throwing five shutout innings and giving up four hits, no walks and piled up three strikeouts. In 14 appearances (one start), Deters is now 2-1 with a 3.54 ERA, and opponents are hitting .269 off him. ... In a double-header on Saturday, utility infielder Niuman Romero got to play in both games and had a big day at the plate by going a combined 4-for-5 with two runs scored and an RBI in the double header. ... Rain stopped what might have been a historic start by right-hander Steven Wright on Sunday. The game was suspended in the bottom of the fifth inning because of rain, and Wright was cruising along with a no-hitter through four innings and had six strikeouts. The only baserunner allowed was a hit batter in the third inning. On the season, Wright is 1-2 with a 2.41 ERA in seven starts. That ERA is actually lower as he has two starts suspended by rain totaling seven innings that he has not allowed a run, but until those games are completed the stats do not count. ... Shortstop Carlos Rivero hit his first home run this week, and is now hitting .263 with 1 HR, 17 RBI and a .640 OPS. ... Outfielder Nick Weglarz is hitting .275 with 5 HR, 15 RBI and an .890 OPS. ... Infielder Beau Mills is hitting .242 with 4 HR, 24 RBI and a .773 OPS.



Lake County Notes (30-16, 1st, 5 GU): The Captains have 24 games left in the first half of the season, and if they finish the first half of the season in first they will clinch a playoff berth in September's South Atlantic League four-team playoff. Up five games with 24 to go, their magic number to clinch the first half division title and playoff berth is 20. ... Indians right-hander Jake Westbrook made a rehab start on Sunday throwing 3.2 innings, and left-hander Ryan Miller followed him and came in and pitched the rest of the game after a 45 minute rain delay with two out in the bottom of the 4th inning. Over the last 5.1 innings, Miller did not allow a run and gave up four hits and one walk while piling up eight strikeouts. In all, he threw 79 pitches, got the win and is now 7-0 with a 1.02 in eight starts. He leads the league in both those categories. ... Outfielder Matt Brown hurt his left wrist on Saturday night on a play in the outfield and has been sidelined since. He had an MRI on the wrist on Tuesday and the results are still unknown at this time how severe the injury is or how long he will be out, but after talking to him on Tuesday he expects to be back in there very soon. As a precaution, outfielder Ramon Hernandez was called up from extended spring training. ... First baseman Chris Nash is also battling the injury bug and had been out with a triceps issue for a few games, but was back in the lineup yesterday. On the season, Nash is hitting .261 with 3 HR, 24 RBI, and a .714 OPS. ... Through Wednesday, Lake County ranks 3rd in the league in ERA (2.93), 1st in fewest runs allowed (157), 1st in fewest hits allowed (290), but are 1st the league in walks allowed (180). Also, the Captains are the best defensive team in the league with a .976 fielding percentage.
Photos courtesy of Ken Carr, Carl Kline, Lake County Captains, Kinston Indians, Akron Aeros and Buffalo Bisons.

User Comments
No comments currently. Be the first to comment!