Minor Happenings: Indians Draft Lots Of Pitching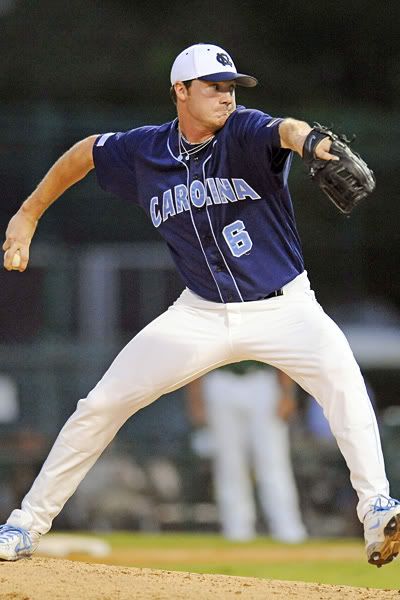 "Minor Happenings" covers the important developments and news in the Indians farm system. While most of the information in this report is from my own research and through interviews I have conducted with organizational personnel, some information in this report is collected and summarized from the various news outlets that cover each team.
The 2009 First-Year Player Draft has come and gone, and now that the picks have been made the real fun begins as teams scramble to sign players by the August 15th signing deadline. To stay with the draft theme, the news and notes in the farm system will be put on hold this week as we concentrate on wrapping up the draft. Lots of comments from Director of Scouting Brad Grant, and also some other nuggets on the draft as well.
For those that missed it, we had 3rd round pick right-handed pitcher Joe Gardner and 18th round pick catcher Dwight Childs on our radio show Smoke Signals on Thursday night. Lots of great insight from both players on how their draft day went and what their plans are going forward.
Also, I will be at Lake County tonight and Akron on Sunday as I begin to make my next round through the farm system talking to players, coaches, club officials and so on.
Directors Cuts
According to Indians Director of Amateur Scouting Brad Grant pitching was viewed as the strength of what was considered a weak draft, so they targeted pitching in the draft. They had a college pitcher targeted with first pick, and it ended up being White who was the top option on their board at the time their pick came up. Also, Grant mentioned that they did not take any Boras guys in the draft, though this was not by design as it just worked out that way. They have already begun negotiations with many of their picks right now, though for the players still playing in the College World Series they cannot do anything with them until their season's are over.
Here is what Grant had to say about several of the players take in the draft:
On Alex White (RHP, 1st round): "He'll run up to 95-96 MPH. He has good life to his plus fastball, and it has good, heavy sink to it and is more like a two-seam fastball. He features two different secondary pitches, a split which is a late swing-and-miss type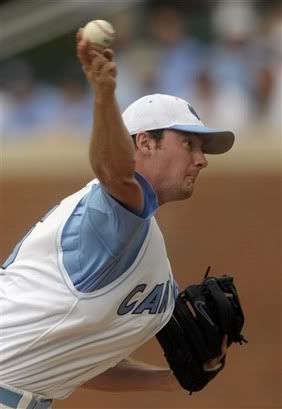 pitch and a slider that is a swing-and-miss type pitch as well. He has very good size at 6'2" 235 pounds. He has been one of our targets since the beginning of the season and he was the top talent left up on the board at that point in time. He was a guy who once he pitched his senior year in high school he had the power stuff we liked with a power sinker, power fastball, and power slider, and he is just a very athletic, intelligent kid. He was a guy that we have known since high school, and our area scout Bob Mayer has known him since high school. He is a guy we had interest in when he was in high school but were unable to draft him, but watched him for the last three years in North Carolina. He is an intelligent kid who is very grounded and very strong in his values. He has added a split to his repertoire now, as in high school he was a power sinker-slider guy. We are going to likely project him out as a power backend bullpen arm. He is a plus-plus makeup guy. Our development path with the innings he has right now at North Carolina, we will probably slow-play it once we do get him signed, but we will begin the transition to the bullpen probably next year. We took him with the intention of signing him."
On the reasoning for White's move to the bullpen: "We are going to develop him as a reliever, so we just figured we would come out and go ahead and just say that ultimately see him in the future as a power backend of the bullpen guy. He has the makeup to do it, and the mentality to do it. It is very hard to predict who is ever going to be a closer, but he certainly has the stuff to be a backend arm. We think his track will be shortened if we put him in that role and let him go. We don't draft off of major league need, as our major league need could change drastically in a year. He was the best talent available and we went ahead and selected him in the first round. Everything we look for and value in a pitcher he has it. Alex is going to do whatever is best for the organization and best for him to succeed. We just feel that the strike throwing ability and stuff will play better in a bullpen role. When you stretch it out longer the stuff still plays, but in a shorter role the fastball, slider, and splitter are going to play up. He has three legitimate above average major league pitches.
On Jason Kipnis (OF, 2nd round): "He was our second round draft pick this year, and he is a left-handed centerfielder at Arizona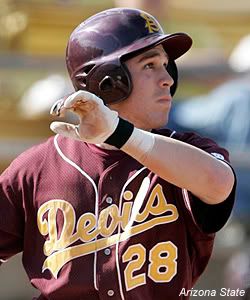 State. He is a very athletic player with advanced ability to hit. I think he is going to hit with power as well, he has the ability to play center field and play the other corner positions as well. We feel we have added a very athletic bat through the draft, and we see him as an everyday centerfielder with the ability to play all three outfield positions. It is an advanced college bat, and is a guy we followed the last three years. He is a guy who gets on base a lot and doesn't strikeout. He has a very good, disciplined approach at the plate. He has more hitting than power, but we also feel like he has a chance to hit with power. He is a guy who was sophomore eligible last year that we had targeted and lost him in the draft. Fortunately he came back through the draft again this year and he was a guy we had targeted since the beginning of the season and we are happy we were able to acquire him."
On where they will play Kipnis: We are going to keep Kipnis as an outfielder. We see him as a centerfielder. He is a very good hitter, has an advanced approach at the plate, doesn't swing and miss much, and a very patient approach. He is a good hitter with power. I think he has enough tools to be able to play centerfield as an average runner, average defender which are enough tools to stay in centerfield on an everyday basis.
On Joe Gardner (RHP, 3rd round): "He is a big, strong, physical 6'5" 225-pound right-hander. He has a sinker-slider mix with a feel for a changeup, and he is a very good strike-thrower. He throws 90-94 MPH with a late heavy fastball that sinks and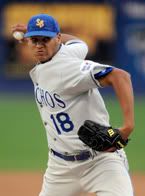 produces a ton of groundball outs. He has a solid-average slider that gets up to 80 MPH. He has all the attributes to start, the only thing is the slot is a low-three quarters slot which allows for a lot of sink to the fastball. So we are going to start him. Ultimately he does have a three pitch mix with solid strike throwing ability, so if it does not work out in a starting role we have a power backend sinker-slider bullpen arm. He is a big physical player. We got another power arm that we are going to be able to send out there and add to our depth at the pitching position. We have followed him since junior college two years ago, and then we followed him the last two years at Cal-Santa Barbara as well."
Kyle Bellows (3B, 4th round): He is a very athletic right-handed shortstop right now that we are projecting out to be a third baseman. It is a very good bat with developing power. He is 20 years old and he is starting to progress each year if you look at it, and his power has continued to develop. Our area scout Don Lyle - who signed Cord Phelps last year - this was a strong gut feel guy for him as this is a guy he really feels has the ability to continue to grow as a hitter and continue to develop power.
Austin Adams (RHP, 5th round): I would say Adams is a [risk-reward guy]. He is a converted shortstop and came up onto the mound at 94-98 MPH with a plus curveball. He is a power pitcher they had in a starting role, and we are going to put him back into a bullpen role and hope that the stuff and power plays up in the role. He was a shortstop who was drafted last year, so we have seen him for the last three years. Our area scout Chuck Bartlett has a very good feel for him where he feels if you put him into the right role he will have a chance to excel.
Joseph Colon (RHP, 12th round): He was out of junior college in Puerto Rico. The Cubs tried to sign him last winter but since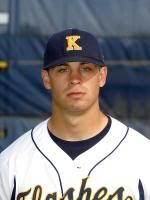 he is enrolled in a junior college they found out that he is draft eligible and had to go through the draft.
On Kyle Smith (RHP, 20th round): He has a three pitch mix and has a chance to be a starter. He is a big, physical, strong right-handed pitcher. He had some shoulder injuries at the end of the season, but he was able to pitch through them. He should be healthy and should be fine as he pitched at the Regionals this year. We are going to let him slow down a little bit and take some time off and rest and see where things go this summer. But we like the size, we like the three pitch mix, and we like the strike throwing ability. He is a very good overall athlete. What we look for in a pitcher is athleticism and the ability to repeat the delivery, especially in a guy like Kyle. He has that along with intelligence.
On Matt Hamann (RHP, 24th round): He is a local kid who is going to the University of Toledo. It is a projection, he is a high school right-handed pitcher who has not pitched that much just because of the weather here in Cleveland. We are going to follow him over the course of the summer and see where things progress.
Robert Sabo (RHP, 38th round): "He was a reliever at Kent State this year. He is coming off of shoulder surgery last year as he only had 20 innings this year. He has pitched well, and we are going to watch him over the course of this summer, kind of similar to what we are going to do with Kyle Smith, and see where things progress and take it from there."
On how they use their area scouts in the draft: "This year once we got past the 7th round then we started to take guys who were strictly with the area scouts at that time. Occassionally it would mix in some where a crosschecker, myself or John Mirabelli would had seen the player, but really once you get outside the top five rounds you really start to rely on your area scouts as that is where they start to make the difference. We did bring all of our area scouts into Cleveland this year. We had all 15 area scouts right behind us, and it makes our process that much better as we can turn around to them and ask questions and they are right there to say to us
User Comments
No comments currently. Be the first to comment!