Minor Happenings: LaPorta, Stevens Set For Olympics
"Minor Happenings" covers the important developments and news in the Indians farm system. While most of the information in this report is from my own research and through interviews I have conducted with organizational personnel, some information in this report is collected and summarized from the various news outlets that cover each team.

For those that may have missed them, check out the feature articles on Wyatt Toregas, Beau Mills, and Trevor Crowe that posted over the past few days.

Also, coming down the pipeline maybe in August and for sure next year will be a weekly Minor Happenings radio show. More details on this later, but for now it looks like it will be a go and will be streamed on-line. There will be podcasts of the show, so even if you miss it live any episode will be available for download. More on all this later, but wanted to mention it now so those interested could be on the lookout for it. The show would probably be an hour and on at 9pm or 10pm on a Thursday night.

And one quick note to mention that Minor Happenings may post a little late next week, probably on Friday or maybe on Saturday. I am leaving on a two week vacation and baseball trip where I was able to bookend a family vacation with some baseball visits to the Indians affiliates. I will be down in Winter Haven, FL next weekend July 25-27th to see the GCL Indians play and will also see them in Clearwater, FL at the Phillies complex on Monday the July 28th. Then, on my way home I will be stopping in Myrtle Beach, SC to see Kinston play August 4-5th. Also, I am still working it out, but there is a 50/50 chance I will be in Durham, NC on Sunday August 3rd to see Team USA and Team Canada play each other in exhibition play. So, as you can see, these next few weeks will be busy!

Indians Minor League Player Of The Week
(for games from July 10th through July 16th)

Niuman Romero (Infielder - Kinston)
.444 (12-for-27), 6 R, 6 2B, 1 HR, 6 RBI, 0 BB, 3 K

Romero is having a dream season at advanced Single-A Kinston. He is not considered much of a prospect, but at 23 years of age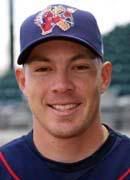 and in High-A he has the potential to develop into a useful utility player in the major leagues someday. His versatility is of great value to Kinston where he has played nine games at first base, 21 games at second base, six games at third base, and 31 games at shortstop. He has even pitched in one game (which I saw) in mop up duty in a blowout loss to Potomac the first week of the season.

Romero got a chance to play more regularly when shortstop Carlos Rivero came up lame in late-May with an ankle injury. Given the chance to play everyday, the results have been staggering. Romero hit .187 with a .452 OPS in April in only 27 at bats, but hit .303/.819 in 66 at bats in May, .283/.814 in 92 at bats in June, and so far in July is hitting .440/1.131 in 50 at bats. Romero is currently in the midst of a 20-game hitting streak which is the longest in the Carolina League this season and is hitting .311 with 6 HR, 30 RBI and an .840 OPS on the season.

Romero was also named the Carolina League Batter of the Week for the week ending July 13th. The All Star infielder hit .444 (12-for-27) with six doubles, two home runs, nine RBI, three walks, two strikeouts and a1.263 slugging percentage from July 7th to July 13th.

Honorable Mentions:

Jeremie Tice (3B - Mahoning Valley): .417 AVG, 8 R, 1 2B, 2 HR, 4 RBI, 3 BB, 4 K
Jared Goedert (INF - Kinston): .333 AVG, 5 R, 2 2B, 1 HR, 8 RBI, 2 BB, 3 K
Wyatt Toregas (C - Akron): .389 AVG, 2 R, 3 2B, 0 HR, 5 RBI, 1 BB, 1 K
Frank Herrmann (RHP - Buffalo): 0-1, 0.00 ERA, 6 IP, 0 ER, 3 H, 3 BB, 10 K
Kelvin De La Cruz (LHP - Lake County): 0-1, 2.57 ERA, 7 IP, 4 H, 2 ER, 0 BB, 7 K

Previous Winners:

7/3 to 7/9: Nick Weglarz (OF - Kinston)
6/26 to 7/2: Stephen Head (1B/OF - Akron)
6/19 to 6/25: Trevor Crowe (OF - Akron)
6/12 to 6/18: Chris Gimenez (C - Akron)
6/5 to 6/11: Jim Deters (RHP - Kinston)
5/29 to 6/4: Steven Wright (RHP - Kinston)
5/22 to 5/28: Chris Archer (RHP - Lake County)
5/15 to 5/21: David Huff (LHP - Akron)
5/8 to 5/14: Steven Wright (RHP - Kinston)
5/1 to 5/7: Jeremy Sowers (LHP - Buffalo)
4/24 to 4/30: Jose Constanza (OF - Akron)
4/17 to 4/23: Hector Rondon (RHP - Kinston)
4/10 to 4/16: Wes Hodges (3B - Akron)
4/3 to 4/9: Kelvin De La Cruz (LHP - Lake County)

Directors Cuts

Indians Farm Director Ross Atkins this week commented again on the players received in the C.C. Sabathia trade as well as a few players from around the system:


On Matt LaPorta: "Most certainly there is a ton of talent in Matt LaPorta. It has already shown up with a two-run two out game winning home run on Friday night in the ninth inning. There is plenty to learn and plenty to do. A lot of it is just the difference in the professional game and the amateur game. There is a ton to still accomplish and prove on some levels. What he has done from a performance standpoint already is greatly impressive. But he will greatly benefit from a couple full seasons in the minor leagues, and who knows how long he will be in the minors as he could speed that timeframe up in no time. He will greatly benefit from going through the cycle in the minor leagues and learning what it means to play 162 games and be ready to go day in and day out. Just what it means to be a professional base-runner and a professional defender. We can look at the offensive stats and all you say is wow. The power, the discipline, the low strikeouts, the high average, there is not a better offensive combination. He'll be playing left field everyday in Akron, and we will keep first base an option because versatility is always a good thing to have. We haven't even talked about [a move up to Triple-A] yet. We are still getting to know him and he is getting to know us. The players tell us when they belong at another level."

On Rob Bryson: "He is pitching in what we call a priority bullpen role. Essentially he throws every three days anywhere up to two to three innings. We would like him to see an entire lineup so he sees both left-handed and right-handed hitters and has to use his pitches to get through those nine guys. He has such a powerful fastball that if he were just to come in and face three guys he could probably cruise through the league with very little trouble just using his fastball. So, we are going to try and stretch him out and get him to use his other pitches and develop his breaking ball most specifically. He is a guy that has punched out the world already, and we are very glad to have that youth, power, and athleticism in the system."

On Zach Jackson: "He is the guy with the longest career. Sometimes with more time the inconsistencies are more readily available. He is a guy who is high profile, and has had some success, but also had some struggles. He has also been bounced around in different roles. He still shows the ability to compete in the major leagues and is definitely a nice arm to have."

On David Huff: "We are talking about a guy who is in his second full season. There is a lot to look forward to, but he is coming off a strained UCL last year so there is an innings threshold we are going to keep him too. So I think most importantly when we make a decision on David Huff we want his callup to be the last one and he is here to stay."

On Jeff Stevens: "Yeah, he has touched 96 MPH and I am hearing he has touched 97 MPH. He pitches at 92-94 MPH, and he can rare back and when everything clicks just right he can hit those higher numbers. Definitely a power fastball and he has been aggressive with it. It is hard to say, but he is pretty near ready to get outs [at the big league level]. But he is not quite ready to be dominant yet. We'd like to get him as close to ready to dominate before you get to that initial callup. He throws a breaking ball and cutter and uses his fastball a ton. He is a lot like Bob Howry in my opinion."

On Trevor Crowe: "He is going to be fine. We are not exactly sure where the pain is coming from or what is generating the pain. It is something that is preventing him from swinging with a 100% strength left-handed, and because we are in the minor leagues and we don't have to win every day in the minors and he is not quite ready for the major leagues, we will take advantage of the disabled list and make sure he is a 100% and ready to go. It is below his left chest in his rib cage region. It is not an intercostal strain, it is more of a bruise."

On Hector Rondon: "He just turned 20 years old this year. He is in the Carolina League, is up to 94 MPH, and is striking out a guy an inning. He projects, which is one of the most fun type of player to work with in player development. He is young with power, projection, aggression and puts the ball on the plate, so Hector has a bright future ahead of him. It is really hard to tell exactly what he will be because he is so young. I wouldn't say that he couldn't be [a front of the rotation guy].

Team USA Welcomes LaPorta, Stevens

Yesterday afternoon USA Baseball unveiled 23 of the 24 members that will make up the 2008 U.S. Olympic Baseball Team which will compete in the Beijing Olympic Games from August 8-24. Buffalo right-handed reliever Jeff Stevens and Akron outfielder/first baseman Matt LaPorta were both been named to the team.

LaPorta is hitting .375 (6-for-16) since his arrival in Akron after being the centerpiece of the trade that sent ace C.C. Sabathia to the
Milwaukee Brewers. LaPorta has a hit in all four games at Akron, including a two out game-winning home run in the 9th inning on Friday night to lead Akron to a 3-2 comeback win. In 84 combined games at Akron and Double-A Huntsville, LaPorta is hitting .292 with 23 2B, 21 HR, and 70 RBI.

Stevens played for Team USA in the World Cup in Taiwan in 2007 and recorded the save over Cuba in the championship-clinching game. Stevens was promoted to Buffalo on June 2nd and in 14 games he is 0-1 with a 3.92 ERA and five saves. In 20.2 innings he has allowed just 14 hits, 10 walks and struck out 28. Prior to his arrival in Buffalo, in 17 games at Akron he was 5-1 with a 2.51 ERA and one save. In 28.2 innings pitched he allowed 19 hits, 11 walks, and had 37 strikeouts.

For those wondering, any player not on an active 25-man major league roster was eligible for the 24-man Olympic team. Akron right-handed reliever T.J. Burton and Kinston outfielder Nick Weglarz were also officially named to the Canadian Olympic team earlier in the week. The United States will play Canada in a four game series August 1-4th in North Carolina before the teams begin competition August 13th, with the U.S. taking on Korea and Canada facing off with host China. The medal-round games will take place August 23rd.

Coaches Corner: Aaron Holbert

I had a chance to sit down and talk with Lake County manager Aaron Holbert for a few minutes before Fausto Carmona's start in Lake County on Monday. He provided some updates on some injured Captains, the new guy Rob Bryson, and what Carmona's start does for his team.


On Rob Bryson: "He looks good. He has a power fastball and good slider. Unfortunately, he could not locate as well as he wanted to on Sunday as he walked a few guys. I think he is starting to hopefully calm down a little bit. The trade jitters are getting out of him and now it is just about going out and performing. He was in that trade for a reason. Scouts went out and saw some good things, and we have seen some good things. It is a matter of him getting comfortable out there and settling in with the Cleveland Indians now. We don't want to tinker with anything initially except maybe a few small minute adjustments. To be traded for C.C. Sabathia is a big honor, and apparently there is something in there. It is a matter of us just allowing some of those things to come out."

On Dallas Cawiezell: "He has a throwing shoulder issue. He has been throwing some sides and a throwing program and is getting close, but he doesn't seem like he is quite there yet. He is saying there is no pain, but we just need to monitor his progress and not just rush him out there. The most important thing is for him to be ready for the latter part of the season compared to just trying to rush him back now and losing him the rest of the season. We were hoping he would be ready this Wednesday, so maybe sometime early next week. We'll just take him along slowly to make sure he is just right."

On Chris Nash: "He has been out for awhile with a shoulder issue, and they say he is doing better down in extended spring training. He is starting to throw and stretch it out a little bit, but he continues to have some setbacks which is unfortunate for him and for us. So once again it is just a matter of bringing him along slowly and if he is ready for that last little stint of the season for the playoffs. Playoffs are more important at this moment, and even more important is his career for next year."

On Dustin Realini: "He had three different fractures to his eye area. His orbital bone, nasal sinus bone and one in his cheek. He had surgery and had a plate put in there to keep it together and he is ready to get back to work, but it is a matter of us slowing him down and making sure he doesn't re-aggravate anything or even the stresses that come with just trying to visualize seeing the ball coming in. He wants to lift, he wants to swing and this and that, but it is important he doesn't re-aggravate anything and that he is ready for that stretch run."

On Fausto Carmona's appearance: "I think it is great for all these young players to just sit back and just watch him. Watch him work and go about his business and get an idea what his pre-game routine is. Not to emulate the next man or try to be like someone else, but just get an idea how a major league player prepares himself for a game. Hopefully they can see this and develop a routine that is going to get them in the right frame of mind to prepare for a ball game. And then to go out and watch him pitch to watch his composure, how he is on the bench, how he is on the mound, how things affect him, and certain pitches makes to certain hitters. I think that is a good opportunity for all these guys to really pay attention to that. It is only going to help those guys because they are paying attention and want to learn how to pay the game."

Another Sabathia Trade View

We have seen many different angles and several analysis pieces on the C.C. Sabathia trade which netted the Indians outfielder Matt LaPorta, right-handed pitcher Rob Bryson, left-handed pitcher Zach Jackson and a player to be named later that is believed to be a high level prospect.


But, how about looking at it another way. Say the Indians were in the middle of a heated AL Central race with Chicago and Minnesota like Milwaukee currently is with Chicago and St. Louis, and that Milwaukee was the team struggling and looking to deal Sabathia off for prospects. Had the Indians traded prospects to Milwaukee for a three-month rental in Sabathia to make a run at the playoffs this year, the equivalent deal they would have given the Brewers would of been third baseman Wes Hodges, right-handed pitcher Mike Pontius, left-handed pitcher Jeremy Sowers, and outfielder Nick Weglarz.

How did I come up with those four names? Hodges is a lower value than LaPorta straight up, but is the best comp in the system for the type of player the Indians got in LaPorta. Bryson and Pontius as far as age, level, ability, and projection go are nearly a perfect match. Sowers and Jackson are very similar left-handers, with Sowers only more valuable because of more big league experience and some success there. Weglarz is a good comp to the value the Indians will be getting in the player to be named portion of the deal which is believed to be one of outfielder Michael Brantley, infielder Taylor Green, and catcher Jonathan Lucroy. Obviously Weglarz has more value than all three of these guys, but he evens out the difference between LaPorta and Hodges.

So, Hodges, Weglarz, Pontius, and Sowers for a 3-month rental in CC that you are highly unlikely to resign.....does that change your viewpoint of what the Indians got in this trade or why they made it? Just something to consider, and another way to look at it.

The Next Fausto?

The Lake County Captains enjoyed a record turnout on Monday night when Indians right-handed starter Fausto Carmona made a rehab start. While the draw was certainly to see the popular Indians star, Carmona is also a favorite son of the area and was part of

Lake County's inaugural season in 2003. At 19-years of age that year, Carmona was named the Indians Minor League Pitcher of the Year after he went 17-4 with a 2.06 ERA.

Fast forward five years, and another big star is on the rise in left-hander Kelvin De La Cruz. The 19-year old De La Cruz has often been compared to his fellow countryman Carmona because of his success and development at such an early age, but also because of his impressive size, ability, and makeup on and off the field. De La Cruz is 7-4 with a 1.81 ERA in 17 starts, and could have many more wins if not for the Captains anemic offense. Like Carmona before him, De La Cruz is well on his way to being named the South Atlantic League Pitcher of the Year and should be in a dogfight with David Huff and Hector Rondon for Indians Minor League Pitcher of the Year.

Both Carmona and De La Cruz are from the Dominican Republic and have a friendship that goes beyond the field. De La Cruz often talks to Carmona looking for advice as he adapts to the professional game, and there is little doubt he soaked in every minute Carmona was there on Monday as he got to watch how Carmona prepare for his start and then go out and pitch.

Now Catching...Matt McBride


Catcher Matt McBride made his return to the catching position on Friday afternoon for the rookie-level GCL Indians club in Winter Haven, FL. Prior to his return, McBride had only been playing as the designated hitter for the past three weeks in the GCL. McBride is still recovering from offseason shoulder surgery and is being ramped up to be able to handle nine innings and everyday duties behind the plate, so he was limited to just five innings and removed from the game in the sixth inning. McBride returned to a designated hitter role the next day, but was back at catcher on Monday afternoon and this time went nine innings.

With McBride now able to go nine innings and showing he can play a whole game behind the plate, the final hurdle for him will be to show he can handle it everyday. If he has no setbacks, McBride should be moved up to Lake County or Kinston sometime in the next week. The games on Tuesday and Wednesday were rained out, so McBride has not had a chance to go back out there and prove he can handle back-to-back games behind the plate. In 12 games, McBride is hitting .324 with 2 HR, 4 RBI and a 1.026 OPS.

Opportunity Knocks For Herrmann

Last week right-handed starter Frank Herrmann took advantage of all the recent shuffling of pitchers between Cleveland and Buffalo. With several bullpen arms and starters at Buffalo being used in Cleveland the last two weeks, the door was opened for Herrmann to get two spot starts in at Buffalo last week.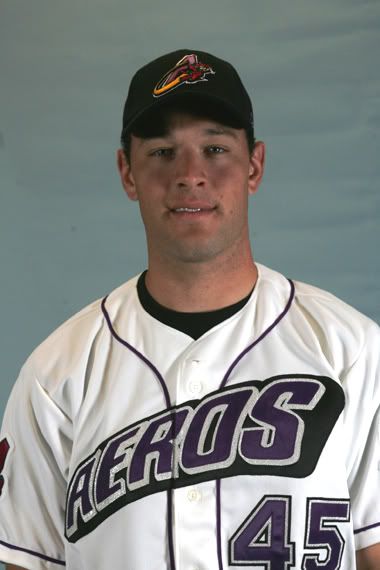 Herrmann responded to the opportunity to go 0-2 with a 1.38 ERA in two starts, giving up just two runs in 13 innings and allowing 11 hits, six walks and striking out 14. Last Saturday July 5th he made his Triple-A debut and went seven innings and allowed two runs on eight hits, two walks and struck out four. He followed that up last Thursday night to go six shutout innings and allow just three hits, three walks and struck out ten. Herrmann became the first Buffalo pitcher to strike out ten batters in a game since right-hander Jason Davis did so on August 12, 2005. Herrmann threw 107 pitches on the night and was still in the low 90s when he was lifted in the seventh inning.

So, after two very good starts, the Indians rewarded Herrmann by sending him back to Double-A Akron and activating retread pitcher number 5,234 on the year, right-hander Jeff Weaver, this past Saturday. This of course is maddening. Herrmann is 24 years old and Rule 5 eligible this coming offseason. While it is unlikely the Indians will roster Herrmann given the limited roster space and so many higher rated prospects needing the protection, it may make some sense to push him a little more to see what he can do.

Anyone who has read my stuff the past few years should know I am a big supporter of the player development process the Indians have in place. And, for the most part I understand the patience they take with moving guys up a level as they like to make sure they are ready to handle the jump before throwing them up a level. I am down with all that. But, the one thing that has bothered me all year is the way the shuttle between Akron and Buffalo has been handled. Maybe it is on purpose just to give Buffalo a lame duck team this year so fans there are not in an uproar when the Indians leave for Columbus after this season. Who knows.

But the way they keep pulling names like Weaver, Reichert, Halama, Rincon, Stanford, Perez, Harris, etc out of the recycle bin to fill out the Buffalo pitching staff this year has been tough to follow. Man, Herrmann deserved a better fate than that. Why not give him another start and see if you caught lightening in a bottle? As it is, I am willing to bet Herrmann would be much more effective at the major league level than all of these retreads the Indians keep bringing in off the scrapheap.

Miller Down, But Not Out

Lake County left-hander Ryan Miller was the hottest pitcher in the system the first month and a half of the season when he went 7-0 with a 1.02 ERA in his first eight starts. Since then, however, his fortunes have changed as in his last nine starts he is 0-4 with a

3.98 ERA. Miller hasn't won a game since May 18th, and while his performance has evened out since his blistering red hot start, he has been on the short end of some bad breaks. In seven of those nine starts he has allowed two runs or less, and in five of them he should have got the win, but he did not because of either a lack of run support or the bullpen melting down and blowing a late lead.

A stretch like what Miller is going through is tough for any young player, especially after the early season success maybe made him feel a little invincible. Still, what he is going through right now is the time when players prove whether they are prospects or suspects. Baseball people often say it is not how a player does when things are going well that proves what kind of player they will be, it is how they handle themselves when they are going through a little adversity or how they get themselves out of a rough patch. While Miller has let his frustrations show somewhat in his recent outings, this is something he is working very hard to come out of and get back on track.

Miller is very competitive. Maybe too competitive. He knows he needs to pitch better, and he is working hard with pitching coach Ruben Niebla everyday dissecting video and working on his mechanics. In what looked early on like he would be called up to Kinston in short time, it now looks like he will pitch all season in Lake County. In hindsight, the Indians may have been wise not to rush him too soon after he was so lights out early in the season. There are obviously still some things Miller needs to work on, namely his command. On the season Miller is 7-4 with a 2.47 ERA in 17 appearances (15 starts).

Pickens Not So "Blue" Anymore

Mahoning Valley catcher Doug Pickens has enjoyed some recent success at the plate. Pickens struggled earlier in the year at Lake County, splitting catching duties with Michael Valadez and he hit only .236 with 1 HR, 13 RBI and a .648 OPS in 40 games.
When short-season leagues started up in June, Pickens was reassigned to Mahoning Valley and he has finally started to settle in.

Indians minor league hitting coordinator Bruce Fields was in town over the weekend and worked some with Pickens, breaking down his swing on video and making some slight adjustments during cage work. The work has shown immediate dividends as Pickens responded by going 4-for-4 on Monday night with a walk, two runs and two RBI. Pickens saw his .214 batting average he took into the game jump to .267 after it. He has shown a good approach at the plate with 31 walks and only 25 strikeouts in 191 combined at bats between Mahoning Valley and Lake County. He also has a .362 on-base percentage to go along with a .246 batting average, 1 HR, 18 RBI and .671 OPS in his combined time at the two stops.

Pickens was originally drafted out of high school by the Indians in the 31st round of the 2004, but opted to attend the University of Michigan. Pickens was selected again by the Indians after his junior season at Michigan, this time in the 50th round, and Pickens eventually signed last August. Because he signed late, Pickens did not make his professional debut until this season at Lake County, although he was involved with the Indians offseason Instructional League in late September and early October.

Simpson Adjusts To Change

First baseman Brock Simpson is off to a good start with short-season Single-A Mahoning Valley. Simpson was a 46th round pick in last year's draft out of the University of Kansas, and in 20 games is hitting .325 with 0 HR, 8 RBI, and a .764 OPS. He did not
play professionally until this season because he did not sign until August 13th last year and was still recovering from a broken hand he had injured during summer ball.

Simpson was drafted as an outfielder, but upon joining the Indians organization he has been moved to first base. It has been a challenging position change going from the outfield to first base, but Simpson worked hard in Instructional League last fall and continued to work hard in spring training this part March into extended spring training from April to June. Mahoning Valley manager Travis Fryman worked a lot with Simpson during the spring, and the work has paid off to where Simpson now has a good handle on the position. He is still very raw at the position and rough around the edges, and in time he will need to make a lot of the smaller adjustments to playing first base to smooth those edges out.

Simpson was never much of a hitter in college, hitting just .270 (128-for-474) in his three year 158-game Kansas career. He is very much a long shot and may be more of an organizational player in the coming years, but the Indians definitely saw something there with the bat even though the numbers said otherwise. He has good size at 6'3" 210 pounds, and his versatility that allows him to play infield or outfield is a plus.

All Star & Futures Wrap

Several Indians prospects were involved in the many All Star showcase games over the past week. In Sunday's Futures Game, Akron outfielder/first baseman Matt LaPorta played first base and went 1-for-3 with a walk and a strikeout. Also, third baseman Wes Hodges went 1-for-2 with a double, and right-hander Hector Rondon threw one shutout inning.



Last night the Triple-A and Double-A All Star games were played. In the Eastern League All Star game, infielder Josh Rodriguez went 0-for-4 with a strikeout and third baseman Wes Hodges went 0-for-2 with a walk. Right-handed reliever Scott Roehl pitched two thirds of an inning allowing a run on two hits and struck out a batter.

In the Triple-A All Star game that matched up the International League against the Pacific Coast League, Buffalo's lone representative left-handed reliever Rich Rundles threw a shutout inning of relief. Rundles worked a 1-2-3 sixth inning retiring the batters on two ground outs and a strike out.

Award Winners



It seems like every week the Indians are having multiple players in the system take home player of the week awards in their respective league. This week, Buffalo shortstop Asdrubal Cabrera and Kinston infielder Niuman Romero took home the honors.

While Romero's achievements were already noted above, Cabrera was named the International League's Batter of the Week for the week ending July 13th after he hit .394 (13-for-33) with three doubles, three home runs, six RBI and eight runs scored. He led the International League in runs scored over the week and tied for league lead in hits, extra-base hits (6) and home runs. Cabrera had homered just twice in 266 total at bats entering the week, then proceeded to hit three home runs in 33 at bats. Cabrera hit safely in seven of Buffalo's eight games for the week, five of which were multi-hit efforts. On the season Cabrera is hitting .326 with 4 HR, 13 RBI, and an .850 OPS in 34 games at Buffalo.

Affiliate Notebook


Buffalo Notes (43-56, 5th place, 18.5 GB): Left-hander David Huff has been very consistent since his promotion to Buffalo on June 6. In eight starts, Huff is 2-2 with a 3.35 ERA and in 43 innings has 48 strikeouts and only five walks. In 19 combined starts between Akron and Buffalo, Huff has 110 strikeouts and only 19 walks in 108.2 innings pitched. ... Outfielder Jason Cooper keeps climbing the Buffalo record books. He tripled in the past week, which now puts him third on the all-time list in Buffalo for triples with 18, and is now two behind all-time leader Joe Inglett. Cooper has now played in 382 games at Buffalo, which is second on the all-time list to Tom Prince's 400 games. Cooper also ranks second in franchise history in RBI (215), third in doubles (75) and sixth in home runs (49). ... Right-hander J.D. Martin made a spot start on Sunday, going four innings and allowing one run on two hits, no walks and had four strikeouts. The start was Martin's second career start at Buffalo, as he made a spot start four years ago on July 24, 2004. In that outing, Martin pitched five innings and allowed six runs on nine hits. In 25 combined appearances at Akron and Buffalo, Martin is 7-3 with a 3.30 ERA. ... The Indians activated right-handers Jeff Weaver and Brian Bullington on Saturday. To make roster room for Weaver and Bullington, infielder Chris De La Cruz and right-hander Frank Herrmann were transferred to Double-A Akron. ... Buffalo is hitting .243 as a team, which is by far the worst team batting average in the International League by 13 points! In Buffalo's modern era, no team has finished a season with an average lower than .256. ... Buffalo's 43-56 record at the All Star break is their worst first half record as an Indians affiliate, a partnership which began in 1995.


Akron Notes (61-35, 1st place, 6.5 GU): Newly acquired Matt LaPorta has made his presence felt already in Akron. In four games he is hitting .375 (6-for-16) with 1 HR, 4 RBI and a .938 OPS. On Friday night with Akron down 2-1 with two outs and a runner on in the ninth inning, LaPorta hit a two-run bomb of a home run to win the game for Akron. ... When outfielder Trevor Crowe returns to the lineup from the disabled list (strained left intercostal muscle) in the next week or so, the top seven hitters in Akron's lineup would all be first or second round picks: Crowe (14th overall, 2005), shortstop Josh Rodriguez (57th, 2006), outfielder Matt LaPorta (7th, 2007), third baseman Wes Hodges (69th, 2006), outfielder Bronson Sardinha (31st, 2001), first baseman Stephen Head (62nd, 2005), and designated hitter Matt Whitney (33rd, 2002). ... On Friday night, left-hander Ryan Edell put together another great effort with his fourth straight quality start and ninth overall. In seven innings Edell only allowed one run on six hits, no walks, and set a new season-high with seven strikeouts. Over his last four starts, Edell is 2-0 with a 1.44 ERA, with 20 strikeouts and just one walk in 25.0 innings. On the season he is 5-5 with a 4.30 ERA in 18 starts. ... On Saturday night, right-hander Kevin Dixon racked up his fourth straight quality start and eighth victory of the year. In six innings Dixon allowed just one run on five hits, three walks and piled up six strikeouts. On the season he is 8-5 with a 4.12 ERA in 18 starts. ... On Sunday, left-hander Chuck Lofgren returned to the starting rotation for the first time in a month after spending time on the inactive list. Unfortunately for Lofgren, his struggles have not disappeared as he went just 2.2 innings and allowed four runs on four hits, three walks, and had three strikeouts. On the season, Lofgren is now 1-4 with a 5.98 ERA in 15 appearances (14 starts). ... Third baseman Wes Hodges is hitting .315 with 10 HR, 72 RBI, and an .862 OPS in 91 games.


Kinston Notes (14-11, 3rd place, 1.0 GB, 49-45 overall): Right-hander Brendan Donnelly has been activated by the Indians and assigned to Kinston. The 37-year-old Donnelly signed with the Indians in the off season after having Tommy John surgery. Donnelly made three appearances with the rookie-level GCL team before the assignment to Kinston, going 0-1 with a 13.50 ERA in 2.2 innings of work. Last season he was 2-1 with a 3.05 ERA with Boston before his injury. Infielder Cristo Arnal was moved to Lake County to make room Donnelly. ... First baseman Beau Mills hit his 15th home run of the season on Saturday night, which ranks him second in the Carolina League. Mills is also fifth in hits (95), second in RBI (60), third in extra base hits (44), third in doubles (27), sixth in slugging percentage (.499), and eighth in OPS (.861). ... Mills also has a 21-game home hitting streak going which started on May 25th and is the third longest in the Carolina League this season. He also has a 29-game home on-base streak going since May 10th, which is the longest in the league this season. ... Outfielder Nick Weglarz was officially named to Team Canada and will participate in the Olympics in Beijing. Weglarz is expected to leave on July 27th and be gone for roughly three to four weeks while he plays in the Olympics. On the season he is hitting .276 with 10 HR, 36 RBI and an .845 OPS. ... Infielder Jared Goedert is hitting .270 with 8 HR, 51 RBI and a .735 OPS. ... Shortstop Carlos Rivero is hitting .246 with 3 HR, 32 RBI and a .645 OPS. ... Right-hander Hector Rondon is 7-4 with a 3.48 ERA in 18 starts and has 101 strikeouts in 93 innings pitched.



Lake County Notes (11-14, 6th place, 7.0 GB): On Sunday afternoon, left-hander Kelvin De La Cruz went the distance in a shortened seven-inning game. De La Cruz set down the last fifteen men in a row that he faced but still took the loss going seven innings and allowing two runs on only four hits, no walks and struck out seven. On the season he is 7-4 with a 1.81 ERA in 17 starts. ... Outfielder Roman Pena hit a walk off home run in the bottom of the tenth inning on Friday night. Pena has put together a solid year and is hitting .289 with 10 HR, 58 RBI, and a .793 OPS. ... The Lake County pitching staff combined to strike out a season high fourteen batters on Friday night. ... Outfielder Matt Brown is hitting .284 with 5 HR, 49 RBI, and a .725 OPS. ... Outfielder Lucas Montero is hitting .275 with 8 HR, 34 RBI, 43 stolen bases, and a .797 OPS. ... Infielder Karexon Sanchez is hitting .250 with 8 HR, 44 RBI, and a .730 OPS. ... Right-hander Chris Archer is 2-8 with a 3.64 ERA in 18 starts, and in 76.2 innings has allowed only 50 hits but walked 63 and struck out 68.


Mahoning Valley Notes (12-15, 5th, 7.0 GB): Third baseman Jeremie Tice is fourth in the league with a .343 batting average, first with a .473 on-base percentage, and fifth with a .986 OPS. He also has four doubles, a triple, two home runs and 11 RBI in 20 games. ... On Monday, right-hander Eric Berger put forth his third straight impressive outing since signing and being activated a little over a week ago. Berger went five innings and allowed two runs on four hits, one walk and struck out six. In three appearances, Berger is 1-0 with a 2.08 ERA, and in 13 innings has allowed nine hits, three walks and struck out 15. ... In the 14 team New York Penn League, Mahoning Valley is fifth in hitting with a .255 team batting average and first in runs scored (136). On the pitching front, Mahoning Valley ranks ninth in pitching with a 3.83 team ERA. ... On Monday and Tuesday the Scrappers offense busted out combining to score 25 runs on 27 hits and 14 walks in the two games. ... Outfielder Ryan Blair is hitting .290 with 1 HR, 9 RBI, and a .754 OPS. ... Outfielder Juan Valdes is hitting .253 with 2 HR, 19 RBI and a .802 OPS. ... Right-hander P.J. Zocchi is 2-1 with a 4.55 ERA in six starts.


The GCL Indians (9-12, 5th place, 6.0 GB) and DSL Indians (23-16, 4th place, 6.0 GB): Infielder Jason Smit has begun to play in the field this past week. Smit has been bothered by a sore arm/shoulder all year and has only played as the designated hitter with the GCL team up until this past week. If he proves healthy, there is a good chance he could be in Lake County by the end of the year for a cup of coffee. Smit is hitting .208 with 0 HR, 3 RBI and a .588 OPS in 10 games. ... Right-hander Danny Salazar put forth another good effort on Saturday, going seven innings and allowing just one run on three hits, no walks and struck out six. On the season, Salazar is now 3-0 with a 1.06 ERA in three starts. ... Left-hander Chris Jones continues to get stronger as he comes back from an arm injury, and on Saturday in the second game of a double-header he went six innings and gave up one hit, no runs, three walks and struck out three. On the season, Jones is 0-2 with a 2.55 ERA in four appearances. ... Infielder Abner Abreu is hitting .294 with 3 HR, 10 RBI and a .969 OPS. ... On the DSL side, left-hander Elvis Araujo is 2-0 with a 1.69 ERA in eight starts. He has held opposing batters to a .191 batting average and has 16 walks and 23 strikeouts in 32 innings pitched. ... Right-handed reliever Rafael Quintero is 5-0 with a 0.30 ERA in 13 appearances. He has held opposing batters to a .244 batting average and has four walks and 37 strikeouts in 30 innings pitched.

All photos courtesy of Kenn Carr, Carl Kline, Lake County Captains, Mahoning Valley Scrappers, Kinston Indians, Akron Aeros, and Buffalo Bisons.


User Comments
No comments currently. Be the first to comment!