Minor Happenings: Martin Is Back On The Radar
"Minor Happenings" covers the important developments and news in the Indians farm system. While most of the information in this report is from my own research and through interviews I have conducted with organizational personnel, some information in this report is collected and summarized from the various news outlets that cover each team.

Wow, what an opening night in the playoffs last night for both Lake County and Akron. Lake County cruised to a 10-4 win in Game 1 of their best-of-three series and can wrap things up at home on Friday night (7:05 pm) in Game 2 or if necessary on Saturday night (7:05 pm) at home in Game 3. Outfielder Juan Valdes was the key player offensively going 2-for-4 with a HR and 4 RBI, and right-hander Joey Mahalic was outstanding going five shutout innings for the win.

Akron won their game 6-5 in 12 innings, blowing leads of 4-3 in the 8th and 5-4 in the 9th to finally secure the win in extra innings. Matt LaPorta broke out and went 4-for-5 with 2 HR and 4 RBI and was the star of the game for Akron, and newcomer Neil Wagner was the unsung hero pitching three scoreless innings of relief in extra innings for the win. Game 2 of the best-of-five series is tonight in Bowie (7:05 pm).

Anyway, today is another special edition of Happenings. In past weeks I sort of wrapped up the season coverage with extended pieces on the GCL Indians, Kinston, and Lake County, and this time the focus is on Double-A Akron. Today's piece is a rundown of some players I had not had a chance to talk to yet this year or talk much about. Also, I'll have a separate piece featuring right-hander Kevin Dixon sometime before the end of the month.

Also, don't forget that every Thursday at 9:30 PM (EST) I have my weekly hour long radio show. My co-host Paul Cousineau is still on vacation, but this week Brian McPeek will be substituting as we talk about a myriad of Indians topics relating to the major league and minor league teams. Check it out! And if you miss the live broadcast you can download and listen to the show anytime.

For those wondering where I'll be this next week, I will be in Mahoning Valley tonight to wrap things up there for a season ending special piece on them next week. I'll be targetting a lot of the new big draft signings like Tim Fedroff, Trey Haley, Zach Putnam and others. Also, I will be in Lake County tomorrow to take in Game 2 and if Akron wins their opening round I will be in Akron next Tuesday or Wednesday next week for Game 1 or 2 of their championship series.

And last, there will be a regular edition of Happenings tomorrow. Things are quickly winding down on the season!

Martin Is Back On The Radar

Right-hander J.D. Martin is finally healthy and pitching late into the season for the first time in years. The 6'4" 195-pounder has enjoyed a little bit of a revival this year combining to go 12-3 with a 2.41 ERA in 35 games (9 starts) at Akron and Buffalo this year.
His overall numbers this year were oustanding, especially recently where after being re-inserted back into the starting rotation he went 3-0 with a 0.48 ERA in four games the last three weeks of the regular season.

"It's going good," said Martin in an interview late last week at Canal Park. "I'm just happy to be playing through August now. It has just been kind of tough as I re-injured my arm last year, so that was frustrating. But this year it has been good, and I haven't had any problems with [my arm]. Right now I don't care [if I start or pitch out of the bullpen]. Whatever gives me the fastest track to the big leagues, that's all I am worried about. As long as I stay healthy I think I will be alright, and it will put me in a good position for next year."

The problems Martin is talking about center around Tommy John surgery he had in 2005 that wiped out most of his 2005 and 2006 seasons. He also strained a ligament in his arm in 2003 and last year which resulted in him missing a big chunk of those seasons as well. Coming into this season Martin had missed a lot of time over the past three years coming back from his various arm injuries, but finally appears to be 100%.

Before Martin underwent Tommy John surgery he was one of the Indians top pitching prospects and had what was considered the best 12-6 curveball in the system. Martin doesn't throw the curveball as much as he used to, but it is certainly still a big weapon for him. Also, his velocity had crept up to around 90-91 MPH after his initial return from the surgery but has settled more into the high 80s at 88-89 MPH.

"[My velocity] was up more consistently higher in 2006 when I came back," said Martin. "Now it is about where it was in the high 80s. I'll touch 90 here and there, but that's about it. [The curveball] is still there. I haven't been using it very much lately as I haven't really needed it. It is still probably my best pitch."

Martin is part of the vaunted 2001 Draft crop where the Indians had four first round picks and a second round pick because of compensation they were awarded from the loss of Manny Ramirez, Sandy Alomar Jr. and David Segui to free agency. The Indians used those first round picks on Martin, Dan Denham (RHP), Alan Horne (RHP), and Mike Conroy (OF), and the second round pick on Jake Dittler (RHP). They also later selected Travis Foley (RHP) in the 4th round, and the young pitching they had piled up in Martin, Horne, Denham, Dittler and Foley was to be the backbone of the farm system the next several years. Unfortunately, things did not work out so well as Horne never signed with the Indians, and Denham, Foley and Dittler never pitched an inning for the major league team and were all out of the organization by last season.

Martin is now the last man standing from that highly touted 2001 Draft class, and now 25-years old and in his eighth season of professional ball he is taking things in stride.

"It's alright," said Martin about being one of the last guys around from the 2001 Draft. "I think me and [T.J. Burton] are the last ones from '01 left. Those other guys are still playing, and I talk to Denham all the time who is with the Angels now. This is my eighth season now so I have been picking up a lot of stuff along the way, but I am really just trying to stay patient right now and stay within myself and not trying to do too much. That is pretty much how things have gone this year."

Martin had an interesting offseason last year where he was coming off an injury, but found himself removed from the 40-man roster when the Indians acquired Jamey Carroll from Colorado in a trade. Martin said he was not surprised by the move to remove him from the roster, which required the Indians to place him on waivers where he could be picked up by another team willing to put him on their 40-man roster. He had the option to sign elsewhere as a minor league free agent, but ended up back with the Indians on a minor league deal.

"I wasn't surprised they took me off the roster because of my injury," said Martin. "I was kind of expecting it, and when it happened I was fine. They were pretty generous with my contract this year. I had I think a six day period where another team could pick me up, but it was right after the 40-man rosters came out. So fortunately the Indians signed me back with a nice little contract, so it was good."

With this season coming to a close, it remains to be seen if the Indians will give Martin a well deserved shot at a big league opportunity this September or if they will roster him again this offseason. Martin is a six year free agent, so if he is not rostered he almost certainly will sign elsewhere. In any case, he appears to finally be on the verge of a big league opportunity with the Indians or someone else.

"Hopefully," said Martin. "If they give me the opportunity we'll see [what happens]."

Coaches Corner: Tony Arnold

As with any of my visit to the affiliates this year, I always try to sit down with the manager or one of the coaches to talk about some of their players. This time around I was able to sit and talk to Akron pitching coach Tony Arnold about some of the pitchers on his
staff. Arnold is now in his 16th year as a coach in the Indians player development system and has been the pitching coach in Burlington (1993, 2000-2002, 2006), Watertown (1994), Kinston (1995, 2007), Akron (1996-1999), Lake County (2003-2004), and Mahoning Valley (2005).

On Chuck Lofgren: "The bullpen role kind of fits him a little bit. It has been a way to let him settle down because he had a tough time evidently here last year at times and at the start of this year I think he was pressing really hard because he wanted to do good and repeat what he has done in the past. I think he has put a lot of pressure on himself. Going down to Florida let him get re-acquainted with his delivery a little bit better, and coming back here in the bullpen he knows he can pitch every day or every other day. He knows if he is pitching one inning he is not necessarily down for five days. He has had a couple tougher outings in the bullpen, but he is right back out there in two or three days. It is not five days where he has to relive it and wear himself down. Hopefully next year, later on or whenever he gets locked back in he will return to the starting rotation because he definitely has starting stuff. He has enough arm and enough pitches to attack hitters as a starter. I don't think him staying in the bullpen in any way means he will be a bullpen guy, but just for me I think it fits him. There really was no definite need to have to start him, so it just has let him get his confidence back. It also lets you see he is capable of doing other things if it comes to the point where he does have to go to the bullpen. Now he has done it and he knows how to do it, so it kind of helps him on both ends."

On Erik Stiller: "I had him last year, and I had him the year before in Burlington when he signed, so I am very familiar with him. He is one of those guys who did not come from a high profile "baseball power" at Princeton. He came out of Texas and was around the game, and with his size and the way he goes about his business he is quietly climbing the ladder and making people take notice of him. His fastball has played up from his first year when he was 86-87 MPH in Burlington and then all of a sudden last year jumped up to 93-94 MPH at times. This year, it is a pretty big jump to go from where he was to Double-A baseball in two years. It came on him quick early here this year so I think he was ahead of himself, but I think slowly over the course of this year he has caught up with knowing he belongs and can do things and he has gradually put together some good innings of late. He has come in and really pounded the zone with some quality stuff, using and mixing his stuff a little better, which has allowed him to have some success."

On Frank Herrmann: "He is a bright kid. He works hard, he is durable, and has been able to maintain his velocity. In fact lots of times his velocity increases as the year goes on. The biggest thing with Frank is he has never really had a third pitch as he has always been fastball-changeup. From last year to this year his breaking ball has gotten so much better and is getting more consistent, and with that third pitch it allows him to attack hitters better. I know he went to Buffalo and did a nice job and he trusted it a little bit more. I think that helped his confidence by seeing he could go up there and pitch the games he pitched up there. Coming back here is just a matter of him maintaining the things he has learned. He is able to take it out and attack and he has a good idea of the gameplan of attacking hitters where before I don't think he had that. He is just gradually increased everything about his knowledge of the game and how he goes about what makes him successful and not necessarily the way everybody else does it."

On Kevin Dixon: "He is continually developing himself to become a major league pitcher. At times, it seems like he takes two or three steps forward and one back a little bit. But it is just a matter of him solidifying his delivery and trusting his delivery to allow him to throw the ball like he is capable of throwing it and commanding it. At times when he gets in trouble it is just that his command was not what it was. He has a splitter that he has started to develop since the end of last year. This year at times it has been really good and at times it has not been very good. If he can maintain feel for it, then that is the out pitch he has been missing."

On J.D. Martin: "J.D. has been outstanding all year long whichever role we have used him in. It just worked out with Scott Lewis leaving to let him slide into the rotation. It has been a good spot to get him back in there, and he has six days between every start since we had three off days in a row. It has worked out, and he is pretty efficient with his pitches so it is not like he has to throw a whole bunch of pitches for five to six innings to give us a solid start. He's just been himself and I think it is a matter he is healthy. He has been healthy all year long and been regimented off the field to keep himself healthy and has done a good job with it."

On Tony Sipp: "He has progressively gotten more consistent with his command and stuff. The stuff was there as his first outing here he still had a fastball, threw a good slider and changeups, but it is just a matter of commanding it consistently. It seems like with each outing he has progressed consistently toward having better command and attacking the strike zone better. But stuff-wise it has been good from day one."

Enjoying A Sipp Of Success

The road to recovery has been long for left-hander Tony Sipp, but he is finally all the way back. After undergoing Tommy John
surgery last July to repair a torn ligament in his pitching elbow, Sipp pretty much spent the last year rehabbing his elbow in Winter Haven, Florida. The rehab from Tommy John surgery is long and grueling, but Sipp made it through and is now pitching pain free. He also has very few restrictions on when he pitches other than he cannot come into a game in the middle of an inning. The Indians want to monitor the stress level of his pitches and feel that only using him to start an inning is a good way to ensure he gets a fresh start every time out and also helps control some injury variables.

Of course, being the competitor that Sipp is he is itching to get out there in those tight situations, but those days will likely come next year. While he appreciates the fact that the Indians are taking his health into consideration, from a competitive standpoint he wants to go out there and be the guy to get needed outs.

"It feels good right now and I am just getting some games under my belt," said Sipp last week in an interview at Canal Park. "I'm just getting back into the swing of things because right now things feel normal again. I think things are a little sweeter this time around because you tend to appreciate it more coming off an injury knowing that could of been the last time you step on the field. To finally get back to where you remember yourself before you got hurt, just to get close to that is a blessing for me."

Sipp started his baseball comeback late this June when he started pitching games in the Gulf Coast League (GCL) as part of his rehab. In three appearances in the GCL he threw four shutout-hitless innings and then moved on to Kinston in July. In five games at Kinston, Sipp went 0-0 with a 1.13 ERA and allowed just four hits and three walks while striking out ten in eight innings. From there, Sipp moved on to Akron where he stayed for the rest of the season. In 16 appearances he went 0-3 with a 3.74 ERA, but after a rough patch initially he really settled in where in his last ten appearances he was 0-0 with a 0.60 ERA.

"When I got here, I wasn't feeling bad," said Sipp about his early struggles in Akron. "When I got here every bad game that I had everyone wanted to make the excuse that 'oh it is just because you are coming off rehab' and I would tell them 'no, I don't think that is it'. I think I just made bad pitches because my body felt normal, and I felt like I had my stuff, it was just I would go out there and get behind a lot. Now I am going out there with a more mature approach and a comfort where 'hey, I've done this before' and it is more of just getting back into the swing of things more than anything."

Since Sipp has only thrown 33.2 innings this year in combined time at Winter Haven, Kinston, and Akron, so the Indians are sending him to the Arizona Fall League (AFL) this October to get some more innings in and make up for some of the lost innings from this season. Sipp, though, is trying to get out of his assignment to the AFL and instead is going to try and pitch in the Dominican Republic this winter.

"I don't even know if I am going now [to the AFL]," said Sipp. "I was trying to talk about going over to the Dominican Republic, so I don't know if I will go to the fall league for a little while and then go over to the Dominican Republic or what. I've been to the fall league already, and I know what that is like. I don't know what the Dominican is like and it is just something different. There is no reason at all for going there just that the competition is a little better, and I just want to experience something different."

Now that Sipp is back 100% from his injury, he immediately becomes a bullpen option for the Indians as soon as the start of next season. The Indians will likely not push Sipp and instead have him start the year in Triple-A Columbus, but his talent and competitive spirit could push him into a bullpen role in Cleveland by the end of spring training next year.

"I'm ready now," said Sipp. "It has been a long time coming and I definitely hope I am in the mix."

Whitney's Encouraging Season

It was an interesting season for first baseman Matt Whitney at Akron this year. After he had an unbelievable season last year at Lake County and Kinston where he combined to hit .299 with 32 HR, 113 RBI and a .909 OPS, Whitney moved up to the Double-A for the first time in his career this season and hit .268 with 10 HR, 58 RBI, and a .760 OPS.


One look at those numbers compared to last year, and it may seem like it was clearly a disappointing year for Whitney, but that is not the case as he adapted well to the Double-A level and more importantly showed that he may finally be over the injury bug that plagued him for much of his career prior to last season.

"Staying healthy is the biggest thing for me," said Whitney. "How the season goes is how it goes. It has been up and down and streaky, but I am not too unhappy about it. I have been able to get a bunch of at bats and help the team out here and there. Of course I would like to be doing as good as I was last year or better than I am doing now, but all in all I am pleased with the year."

Whitney's success last year and the Indians decision to leave him off the 40-man roster found him as one of the top hitting prospects available in the Rule 5 Draft this past offseason. Whitney ended up being selected by the Washington Nationals and went to camp vying for a big league job in what was a wide open competition at first base and on the bench, but his long shot opportunity to make the Nationals opening day roster ended late in spring training when he was eventually shipped back to the Indians.

Whitney's experience with the Rule 5 Draft was exciting and full of a whirlwind of emotions as he got the chance to play for a big league job sooner than he expected, and while he was disappointed he could not take advantage of the opportunity the fact that he got a taste of it has made him work that much harder to get back there and get another opportunity.

"It was crazy," said Whitney about his experience on draft day in the Rule 5 Draft. "I got a call out of the blue from my dad and he was like 'you got picked up by the Nationals' and my mom was going crazy. It was awesome as I got a chance to enjoy the big league spring training experience. There were a ton of guys in camp for [the Nationals], and it was fun to see how they go about their business and talk to them about different things. And coming back to the Indians, if I had to go anywhere else I wanted to come back here because I am comfortable with all the coordinators and coaches here."

As with any player who goes through the Rule 5 experience there is always a hangover when they are sent back from major league camp with their new team to minor league camp with their old team (ask Ryan Goleski). Some players have a hard time getting over the disappointment of not taking advantage of the opportunity presented to them, while others have trouble dealing with going back to an organization where they may be buried in the system. Whitney took it all in stride and kept a positive attitude through it all, although admits there was an adjustment period he had to go through and almost re-program himself.

"Yeah, it is a little bit of an adjustment," said Whitney about being sent back to the minors. "But the guys here definitely did not let me forget I was in big league camp when I cam back here (laughing). But it was alright. I knew all the guys so it was an easy situation to come back into."

Now that he is back in the Indians organization, Whitney's focus this season was on his health and becoming more consistent with his approach at the plate.

"Basically, I'm just trying to stay consistent with my swing," said Whitney. "I kind of fell out of what I was doing last year, and I couldn't really feel my swing. [Earlier in the year] I was more or less trying to think the other way because I was getting a lot of stuff on the outside corner and a lot of offspeed stuff. So I was thinking right to right-center and I was producing hits over there. I have been able to handle the inside pitches, but I was getting beat up outside and was just trying to focus on that. Right now we are just trying to stay consistent and see the ball and go back to the basics."

With the season now coming to a close with Akron in the playoffs, Whitney looks forward to another interesting offseason where he will be Rule 5 eligible again - though likely not selected this time - and could be a minor league free agent (unconfirmed).

"[I just want to] finish strong and try to get ready to handle whatever happens this offseason and go from there," said Whitney.

J-Rod Learns From Rough Season

For middle infielder Josh Rodriguez, things did not exactly go as planned for him this season. After hitting .262 with 20 HR, 82 RBI, 21 stolen bases and an .811 OPS in Kinston last year, the top rated middle infield prospect in the Indians system had a rough first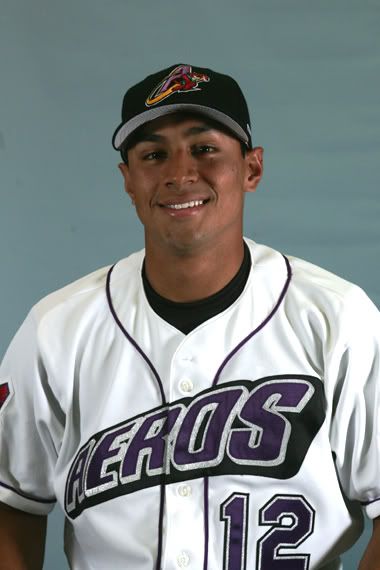 taste of Double-A this year hitting just .241 with 7 HR, 49 RBI, 12 stolen bases and a .694 OPS. While there was certainly a significant drop in his performance this year, the Indians are still very high on Rodriguez and he is fighting his way all the way to the finish and hopes to have something positive in the playoffs to help serve as a springboard for a successful season next year.

"It has been a roller-coaster this past month and a half," said Rodriguez in an interview last week at Canal Park. "I just have to keep working. You can't really change your routine when you struggle. You try not to change anything too big, especially at the end of the season. Hopefully things will come back around. I'm just grinding it out right now and making it through the end of the season."

After a solid first half showing where he hit .266 with 6 HR, 41 RBI and a .757 OPS in 94 games before the All Star break, Rodriguez slipped considerably in 43 games after the All Star break where he hit .183 with 1 HR, 8 RBI, and a .551 OPS. To be fair, just about everyone in the Akron lineup faded after the All Star break, but the struggles that Rodriguez went through late in the season were certainly alarming. Rodriguez plans to use his experience with his second have struggles to make sure they don't happen again.

"I just need to take this experience with this fall toward the end of the year into next year," said Rodriguez. "I know some of the things I need to work on to get better. I am kind of glad this happened because it shows me some flaws I need to work on to make sure they don't happen again. This is only my second full season and having to go through it like I did I now know what I have to do to get back to where I need to be. That's what you want to be is consistent and that is what I am trying to get to right now."

Rodriguez is listed as a shortstop, but he actually split time at second base this year playing 62 games there and 74 games at shortstop. The Indians view him as an option in the future at either shortstop or second base and feel he can handle both defensively.

"I played a lot of second my first two years of college and then moved over to short [my junior year]," said Rodriguez. "Most of my life I have played shortstop, but coming into this season I knew I was going to be somewhere in the middle of the infield. I have played an even amount of time at both spots this year as I played more short at the beginning of the year and I think toward the middle of the season that is when I started playing more second and splitting time. I was supposed to do this last year, but some injuries we had [in Kinston] forced me to play just shortstop. So coming into this year I had a feeling I would play more second this year as they are looking for me up the middle somewhere."

Middle infield is an organizational weakness for the Indians in the minors, especially in the upper levels of the system. With absolutely nothing above him in Triple-A this year standing in his way, Rodriguez is really the next middle infield prospect in line for a job in Cleveland down the road. Many feel he eventually will break in with the Indians in a utility role because of his versatility to play shortstop, second base and even third base. His speed and good bat could also be an asset coming off the bench.

The key to his usefulness as a utility player may come down to his ability to handle third base in spot duty, and it is a position he has had some experience playing.

"I actually played third base my last year in college a little bit because of my arm injury," said Rodriguez. "It is all about reaction time over there at third and I think I can play there. I played a half season there so I have a feel for it, and I know some of the basics and what it would take to play there. It is all based on reaction and a lot like second base where you have time to throw the ball when it is hit well. [You have to learn to] read bunts and read the ball off the bat, and you are not expected to go deep in the hole."

Hodges Strives For Consistency

After the season he had at Akron this year where he hit .290 with 18 HR, 93 RBI, and an .821 OPS in 133 games, third baseman Wes Hodges has firmly established himself as one of the top third base prospects in baseball. Hodges has piled up all kinds of awards because of his successful season, most recently being named the Eastern League's Rookie of the Year last week, but
when asked about it the soft-spoken and modest Hodges played off the importance of the awards.

"It feels good to get that recognition because of all the hard work I did last offseason and this year it is paying off, but really that is about it," said Hodges in an interview last week at Canal Park. "It is just a title and doesn't mean much after that, but it is nice to get that recognition."

Hodges was about as consistent as you can get as he never had less than 17 RBI or more than 21 RBI in any month this season, and also never had an OPS under .746 or above .860 in any month. He did seem to wear down some in the second half as he hit .315 with an .862 OPS in 91 games before the All Star break, but in 41 games after the break hit just .238 with a .728 OPS. All that said, when asked about it Hodges just shrugged off the drop in production he had in the second half and feels he was able to finish stronger than he did last year.

"Some guys struggle at the beginning at the year, some at the end," said Hodges. "I am fine, I mean I am not tired or anything. I just kind of went in a little bit of a funk, but I feel better now as I have played better [recently]. I am feeling confident in finishing strong. I feel like I got stronger and have done a good job of maintaining this year. I feel like that is why I have had the success I have had because I have just stayed focused and stuck to my routine and it has paid off. Definitely everything I learned from last year I have improved upon so I feel good about things."

This is just Hodges' second season playing as a professional as after he was drafted in the 2nd round of the 2006 Draft out of Georgia Tech he did not play in order to allow him to heel from a foot injury. Hodges adjusted well to the move from advanced Single-A last year in Kinston to Double-A in Akron this year, and has just worked on being consistent this year.

"I am just trying to work on everything defensively and offensively and learn the game more and improve on all aspects as much as I can," said Hodges. "In baseball there is always plenty of room for improvement, and I am just trying to be more consistent at the plate and in the field."

With a very successful 2008 season behind him, Hodges is looking to use it as a springboard to a successful 2009 campaign which should be at Triple-A Columbus and possibly even in Cleveland by mid-season if a need arises.

"I just want to stick with the same plan and same routine," said Hodges. "As long as I can keep doing that and into the offseason continue to get stronger, I think it will help with a good start next year."

Photos courtesy of the Akron Aeros and Carl Kline
User Comments
No comments currently. Be the first to comment!