Minor Happenings: McBride On The Rise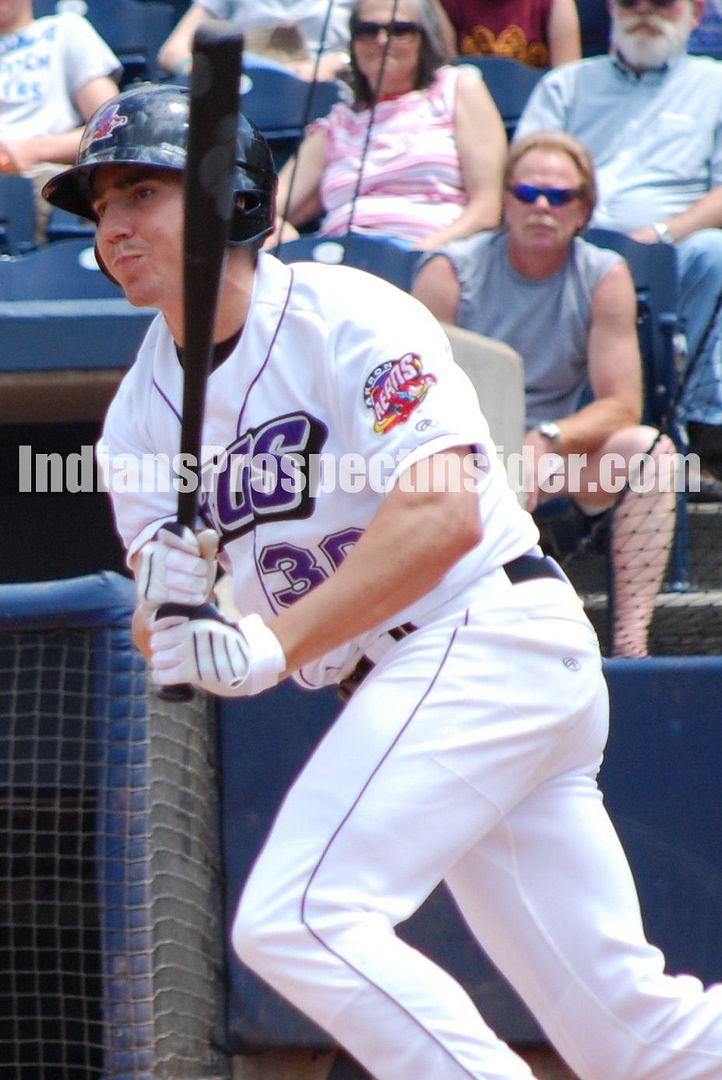 "Minor Happenings" is a weekly column which covers the important developments and news in the Indians farm system. While most of the information in this report is from my own research and through interviews I have conducted with organizational personnel, some information in this report is collected and summarized from the various news outlets that cover each team.
Here is a quick update today as I continue to clear out the notebook. Today the focus is on the Player of the Month winner for July as well as some comments from High-A Kinston pitching coach Tony Arnold.
We are now less than a week away from the signing deadline for players taken in the 2010 Draft, so expect a lot of signings to be announced over the course of this next week. For all the news and notes from the entire signing process, I have been
keeping a log of everything
. I will post signings as soon as they happen on
my Twitter account
and then shortly thereafter update the signing log.
Also, I am planning to go to Double-A Akron tonight to see the home debut of recently acquired right-handed pitcher Corey Kluber, so I will have some video and more information on him soon.
Onto the
Happenings
…
Indians Minor League Player of the Month
(for July)
Matt McBride (Outfield/First Base – Columbus)
.384 AVG (38-for-99), 24 R, 11 2B, 0 3B, 12 HR, 32 RBI, 9 BB, 16 K, 1.295 OPS
Triple-A Columbus first baseman/outfielder Matt McBride has been in some kind of groove at the plate since the end of June.

He was recently named the Eastern League's Player of the Month for June when he was with Double-A Akron.
Through June 27
th
in 68 games at Akron he was only hitting .255 with 4 HR, 32 RBI and a .686 OPS. Since then, in 36 games combined at Akron and Columbus, he is hitting .362 with 14 HR, 35 RBI, and a 1.157 OPS.
After his hot month of July, the Indians promoted McBride to Columbus almost two weeks ago and in ten games he is hitting .357 with 1 HR, 3 RBI and an .848 OPS. Overall this season in 104 games between the two stops at Akron and Columbus he is hitting .293 with 18 HR, 67 RBI and a .851 OPS.
Those who have followed the 25-year old McBride in his career know he is capable of going through some extreme hot streaks as seen last year the first six weeks at High-A Kinston and then in the Arizona Fall League last October-November.
"Yeah, I really struggled at the beginning of the year trying to get something going I guess," said McBride in a recent interview for the IPI. "I am just trying to keep my routine working out in the cage and with flips before the game. I am trying to just keep things simple when hitting and trying not to think of it too much and whatever happens, happens."
What has happened recently for McBride is the beauty of handling the peaks and valleys in a long season, just right now he is on the highest peak he can be on and he doesn't want to come down.
"Yeah, that's the thing," said McBride. "You hear this a lot, but you are never as good as you think you are and you are never as bad as you think you are. It is always just about trying to work hard everyday. Some days are going to be better than others, but hopefully the harder you work it is going to even out a little more than if you didn't."
According to McBride, the recent success is nothing he has changed mechanically with his swing at the plate or anything with his approach, it just all boils down to confidence.
"Really not too [many mechanical changes], even going from the beginning of the year and now when I am hitting a little better," said McBride. "I really think sometimes hitting is just mental. Sometimes you go up there and you are feeling okay, but you are not feeling confident, and in baseball with hitting it is so much about confidence. If you get up there and you are hesitant and you don't take a good, strong, aggressive hack at a ball in the strike zone when you take a swing you are probably not going to put a good swing on it. I think it has a lot to do with confidence."
In addition to McBride's performance at the plate, he has also shown some improvement in the field. As a former catcher who has spent the last two years working on a conversion as a corner outfielder and first baseman, he is starting to settle in now.
"I still have to keep working at both positions, but I feel like I am getting better," said McBride. "The biggest thing is getting experience out there at each position. Seeing fly balls off the bat in game action, and the same at first base with fielding those hot shots. You don't always get them every game, but you don't see that before the game with fungos. The more times you are out there the more things that are going to come up, especially with certain situations that you wouldn't think of that all of a sudden come up. You just keep learning and that's the biggest thing the more you are out there the more you are going to get comfortable at each position."
At this point, McBride's future is as a versatile player who can play first base, left field, right field and designated hitter. His days as an everyday catching option are all but gone as he is now viewed more as an emergency option there.
"When I was going to the Arizona Fall League (AFL) they got me in there in a catching spot," said McBride. "I was actually playing a good amount [in the AFL), but even halfway through I was only catching like once a week but I was also playing left, first, and DH. When we were down to about two to three weeks to go all of a sudden I ended up as the only catcher left on the team. I ended up catching a good amount of games, which I think was good as I showed that while I was not unbelievable that I could hold my own in an emergency role. I think [the Indians] are more focused on outfield and first base and they have not mentioned catching at all, but it could come back up where I could go back there and do it."
McBride's shoulder issues earlier in his career took a toll on his shoulder. He was a pretty highly regarded catcher coming out of college at Lehigh University and after his first professional season at short-season Single-A Mahoning Valley in 2006, but even with offseason labrum surgery between the 2007-2008 seasons the shoulder never came all the way back to endure the rigors of catching everyday.
"My arm feels so much better this year," said McBride. "Last year it felt good, but I didn't feel like I had any carry on it. With labrum surgeries and shoulders in general I think it just takes time. It was sort of frustrating as I enjoyed catching, but definitely those first couple of years before the surgery it was bothering me and then coming back it was sort of a rocky road and that is when I sort of made that transition to the outfield and first base."
Right now there is a large bottleneck of like players in the outfield and first base between Cleveland, Columbus and Akron. It is unknown when or if McBride will ever get that big league opportunity with the Indians, but if he continues to produce like he has the last two years someone is going to give him a shot.
"[Promotions] are always out of your control as whatever happens, happens," said McBride. "Wherever you are at you try and play hard and work hard. Really I try not to think too much about it and just go and have good at bats. It's about the most you can do."
Honorable Mentions:
Jordan Brown (OF – COL): .312 AVG, 9 R, 10 2B, 0 3B, 4 HR, 26 RBI, 8 BB, 14 K, .870 OPS
Cord Phelps (2B – COL): .337 AVG, 20 R, 5 2B, 2 3B, 3 HR, 10 RBI, 11 BB, 10 K, .952 OPS
Nick Weglarz (OF – COL): .366 AVG, 15 R, 8 2B, 0 3B, 5 HR, 8 RBI, 11 BB, 14 K, 1.154 OPS
Vinnie Pestano (RHP – COL): 1-0, 5 S, 10 G, 0.00 ERA, 11.1 IP, 5 H, 3 BB, 16 K, .132 BAA
Lonnie Chisenhall (3B – AKR): .280 AVG, 22 R, 3 2B, 1 3B, 5 HR, 21 RBI, 7 BB, 12 K, .844 OPS
Tim Fedroff (OF – AKR): .424 AVG, 13 R, 7 2B, 1 3B, 1 HR, 9 RBI, 4 BB, 8 K, 1.071 OPS
Jason Kipnis (2B – AKR): .320 AVG, 22 R, 10 2B, 1 3B, 2 HR, 12 RBI, 13 BB, 18 K, .902 OPS
Beau Mills (1B – AKR): .320 AVG, 17 R, 7 2B, 1 3B, 5 HR, 23 RBI, 7 BB, 19 K, .929 OPS
Kelvin De La Cruz (LHP – AKR): 3-0, 5 G, 2.49 ERA, 25.1 IP, 24 H, 14 BB, 24 K, .255 BAA
C.C. Lee (RHP – AKR): 1-0, 9 G, 0.00 ERA, 13.2 IP, 3 H, 2 BB, 18 K, .070 BAA
Alex White (RHP – AKR): 3-0, 5 G, 1.15 ERA, 31.1 IP, 28 H, 4 BB, 30 K, .235 BAA
Austin Adams (RHP – KIN): 3-0, 6 G, 0.98 ERA, 27.2 IP, 23 H, 5 BB, 21 K, .221 BAA
Adam Abraham (3B – LC): .317 AVG, 15 R, 6 2B, 0 3B, 6 HR, 20 RBI, 12 BB, 19 K, .954 OPS
Matt Packer (LHP – LC): 2-2, 6 G, 1.17 ERA, 38.1 IP, 28 H, 6 BB, 37 K, .203 BAA
Alex Kaminsky (RHP – MV): 2-2, 6 G, 2.37 ERA, 30.1 IP, 23 H, 9 BB, 23 K, .213 BAA
Jesus Aguilar (1B – AZL): .284 AVG, 13 R, 1 2B, 1 3B, 6 HR, 18 RBI, 3 BB, 23 K, .835 OPS
Previous Winners:
June: Matt Packer (LHP - Lake County)
May: Chun Chen (C - Lake County)
April: Bo Greenwell (OF - Lake County)
Coach's Corner: Tony Arnold
I recently had a chance to sit down and talk to High-A Kinston pitching coach Tony Arnold for a few minutes about a couple of the pitchers on his staff:
On T.J. House:
"He has had his ups and downs as his numbers are not where he would like them to be. But within that he has been making steady progress, maturing as a pitcher, and surviving another full year of pro ball. Here the last [few] weeks we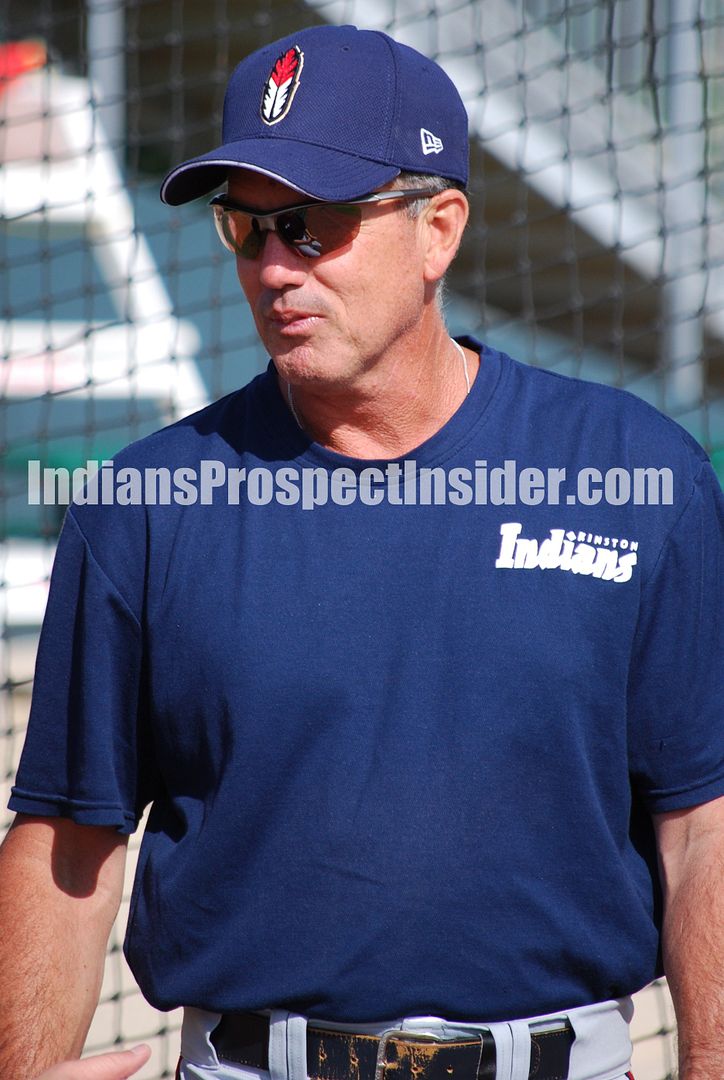 have started to work on a curveball and just working on rotation. It is not something that he is going to take into a game yet, but just to work on and give him another weapon to attack hitters with. If it comes on where he has command of it we may start to filter it in toward the end of the year. It is not like it is something he has to have to have some success; it is just another weapon to give him something to throw in the strike zone that has some depth to it. If you look at the big league level there are very few starters that don't throw four pitches. Most have a slower breaking ball, more of a strike throwing pitch, and then a cutter or a slider as a harder pitch to attack the different swings. It is more along those lines to help him have something softer in addition to his changeup where he doesn't have to overuse his changeup. His changeup has really come on this year. Last year he didn't have quite as good of a feel for it, but this year it is the one pitch that has kept him in games."
On Joe Gardner:
"He is very impressive as this is really his first year of pro ball. Ever since he has been here he has gone out and competed in every outing. He has pitched in a couple of big games so to speak as he beat Salem the last game of the first half which if they would have won it they would have tied and they were hot at the time. He went out and in six-seven innings I think he allowed one or two hits. He has a power sinker and his slider has been adequate and will get better as he becomes more comfortable with it, and he is really starting to use his changeup more in this league and having good success with it. He just needs to pitch and understand what he can and can't do. His breaking ball has to be more consistent, but he shows you the breaking ball he needs. His changeup has to get more consistent and the usage of it, but he shows you a good changeup. All he has to do is maintain command and understand where and when to throw his sinker which he is throwing for a swing-and-miss pitch. He is very aggressive and very confident on the mound and goes right after guys."
On Marty Popham:
"He has been here and had a few good outings early and threw the ball alright, then went to Akron [and Columbus] and threw the ball well up there too. Since he has been back he has been piggybacking with [Austin] Adams since Adams got here. His velocity and stuff have been good, the only thing that has hurt him is he has been inconsistent with his breaking ball. His fastball-changeup has been pretty consistent throughout each outing and he has been able to put together some decent outings."
On Tyler Sturdevant:
"He looks very confident on the mound and has pretty good poise. His first outing here he came in and the first two guys got on and he came back and pitched out of it no problem. He has a good fastball with good location of it down in the zone, and he has a hard cutter which he is really abusing hitters with to tell you the truth. And then he has a slider and changeup he hasn't used a whole bunch, but he has been very impressive for a kid just coming into this league as he has been aggressive and goes right after guys."
Follow Tony and the Indians Prospect Insider on Twitter @tlastoria. His new book the 2010 Cleveland Indians Top 100 Prospects & More is also available for purchase on Amazon.com or his site.
User Comments
No comments currently. Be the first to comment!