Minor Happenings: Miller Returns To Buffalo
"Minor Happenings" covers the important developments and news in the Indians farm system. While most of the information in this report is from my own research and through interviews I have conducted with organizational personnel, some information in this report is collected and summarized from the various news outlets that cover each team.

Last weekend, I was in Eastlake, Ohio to see Single-A Lake County in action. I did a piece on closer Vinnie Pestano yesterday, and will have pieces on outfielder Matt Brown and right-handed starter Chris Archer over the coming weekend. Also, last weekend, I wrapped up my Kinston visit from the previous week with a piece on Jerad Head, Paolo Espino, and Carlton Smith.

Indians Minor League Player Of The Week
(for games from April 17th through April 23rd)

Hector Rondon (Right-handed Pitcher - Kinston)
0-0, 0.00 ERA, 2 games, 10 IP, 6 H, 2 BB, 12 K

Advanced Single-A Kinston is off to a slow start in virtually every category from pitching, to hitting, to defense. One of the strengths going into the season was supposed to be a starting rotation filled with several promising pitchers, most notably Hector Rondon.
Like most of the pitchers in the rotation, the 6'3 180 pound right-hander from Venezuela is off to a very slow start. In four starts Rondon is 0-2 with a 4.67 ERA and in 17.1 innings pitched has allowed 18 hits and seven walks while striking out 21.

While the overall numbers look bad, in his last two starts over the past week Rondon was very good. Last Friday, Rondon took a step in the right direction with a nice outing by throwing six shutout innings and allowing three hits and no walks while striking out seven on just 77 pitches. He followed that up with another good outing last night, going only four innings but not allowing an earned run on three hits, two walks and striking out five. It is a 180 degree turnaround for Rondon, as in his first two starts he had problems with allowing way too many baserunners (2.32 WHIP). The overnight change for Rondon is a result of Indians coaches working with his delivery and challenging him to be more aggressive with his breaking ball. He has started throwing his secondary pitches for strikes, and the rest of his pitches are feeding off of that and making him much tougher to hit.

Honorable Mentions:

Ryan Edell (LHP - Akron): 1-0, 1.98 ERA, 2 games, 13.2 IP, 9 H, 3 R, 3 BB, 8 K
Ryan Miller (LHP - Lake County): 1-0, 0.00 ERA, 1 game, 6 IP, 3 H, 0 R, 2 BB, 7 K
David Huff (LHP - Akron): 0-0, 1.35 ERA, 1 game, 6.2 IP, 1 H, 1 R, 2 BB, 6K
Aaron Herr (3B - Buffalo): .391 AVG (9-23), 6 R, 2B, 3B, 3 HR, 6 RBI, 2BB, 6 K

Previous Winners:

4/10 to 4/16: Wes Hodges (3B - Akron)
4/3 to 4/9: Kelvin De La Cruz (LHP - Lake County)

Director's Cuts

This week, Indians Farm Director Ross Atkins talks about some of the players on the Triple-A Buffalo roster:


On Laffey and Sowers: "It really has been a good start for both guys. Aaron and Jeremy have been extremely professional having not made the team coming out of spring training and went right down to Buffalo and got to work. Both of them have put up such remarkably similar numbers that we are in a great situation having both of them available for the spot start. Obviously, Eric Wedge would like to have Jake Westbrook healthy, but with him not having our choice between Laffey and Sowers is a great situation to be in. Both guys put the ball over the plate, both guys have a feel for three pitches, and both guys can get a groundball. So, those are the things we are looking for and the fact that we have the option to bring up one of the two and the fact that we have two to pick from is really a good situation."

On Brian Slocum: "He has been great. He has actually from a performance standpoint been as good as Laffey and Sowers. It is really just a matter of him repeating that and sustaining some health before we consider him as a viable major league starter. But I gotta believe at some point we see him help the major league team."

On Andy Gonzalez: "He would be much heavier on the radar screen if he was on the 40-man roster. But I will tell you what, he is really off to a great start. He has three home runs already, he has great at bats every night, and he can play everywhere but catch and pitch. He is a great asset for us to have down there in Triple-A. He just lost his father and had a baby girl, so he has really been through a whirlwind of emotions. Coming into major league spring training and performing and going back to Triple-A and doing a great job there is a testament to his professionalism. We are really glad to have him as a member of this organization."

On Jordan Brown: "You know what, we were anxious about [his transition to Triple-A]. Mostly because he has been so good, we continued to ask ourselves if he could keep doing it and he just keeps doing it. He reminds us a lot of the Sean Casey's of the world, guys who just have an innate ability to square up the baseball. He's gone into Triple-A and really shown that it is just a game and he is still standing 60 feet six inches away and has not made the game more difficult. He is really off to a good start there."

Miller Back In The Rotation, Closing Soon?

Buffalo right-hander and Indians top prospect Adam Miller finally made his long anticipated season debut last night. The 23-year-old fireballing right-hander went five innings and allowed no earned runs on four hits, two walks and struck out two. Miller was sharp, as he threw 84 pitches and 55 of them for strikes. He left after the fifth inning with Buffalo in the lead; however, did not record a win as the bullpen could not hold the lead. Miller's season debut was delayed because of an annoying blister he suffered early in spring
training that sidelined him for over two weeks. As a result, he fell behind almost three weeks in camp in his pitching program to ramp him up to 85 pitches to handle the start of the season.

With Miller back in action, there is still no word or idea how Miller may be used this year at the major league level by the Indians, if at all. For now, he will continue to pitch out of the rotation in Buffalo, but at some point this year it is very likely that Miller will get a shot in the Indians bullpen as a 6th or 7th inning option. He is also a remote possibility to get a spot start this coming Monday when the Indians will need to callup another starter to make a start because of today's doubleheader.

Because of the depth in the starting rotation, Miller may work well as a closer down the road. This is something that would likely not happen anytime soon as with C.C. Sabathia and Paul Byrd heading into free agency next year, Miller is one of the top options to replace them if one or both of them do not return next year. Also, after what happened to Fausto Carmona when the Indians threw him into the closer's role in 2006 there is no way they will do the same thing with Miller this year.

Still, Miller has closer stuff with great makeup and two plus pitches in his fastball and slider. He has never pitched in such a role, so it is possible at some point this season or next that the Indians could convert him to the role in Buffalo, or if the Indians fall out of the race this year they could give Miller some exposure in such a role late in the year to build for 2009.

Ever since Miller injured his elbow in the spring of 2005 the Indians have been cautious with Miller. He is still only 23 years old, and this is only his first option year, so they will continue to handle him with care, especially after he was sidelined with several injuries last year with a torn tendon in his middle finger and right elbow inflammation. There is no rush to get him to Cleveland because is option clock just started, and the Indians still see more value in him as a front-of-the-rotation starter, but a backend bullpen role certainly seems like an option down the road.

Sowers Coming To Cleveland

Left-handed starter Jeremy Sowers is off to a very good start this year as he had a good spring training and has been extremely sharp in his four starts at Buffalo compiling a record of 0-2 and 3.18 ERA. Sowers worked at least six innings in his first three starts
and allowed a total of only seven earned runs, but he was 0-2 because his offense only scored a combined four runs in those three starts. The key to Sowers renewed success has been the re-emergence of his command and aggressiveness as well as increased velocity where he is regularly throwing in the low 90s. One report out of Buffalo on Monday had him hitting 94 MPH on the radar gun in his last start.

In his fourth start on Monday Sowers only went 4.1 innings allowing just one run on four hits and a walk while striking out six, but had to leave because the Indians wanted to limit his pitch count after they learned earlier in the day that Jake Westbrook would go on the disabled list. Sowers will be called up to Cleveland to make a spot start on Saturday against the New York Yankees. With the rainout last night in Kansas City forcing the Indians and Royals to play a doubleheader tonight, it also means that even with Sowers here on Saturday that the Indians will need to pull from the minors again and call someone up for a spot start. As a result, Sowers is likely to be sent back down to allow Aaron Laffey or Brian Slocum to make a spot start on Monday, or Adam Miller could even enter the mix as he would be pitching on regular rest.

Clairvoyant Catcher

For any prospect, the future is uncertain as they face the unknown. Apparently, however, Akron catcher Chris Gimenez has some
psychic abilities that were unknown until this past weekend. Before Akron's game this past Sunday in Bowie, first baseman Matt Whitney was shuffling a deck of cards in the clubhouse. Gimenez looked at Whitney and said "Toss me a card, I guarantee it'll be the nine of spades." Whitney looked at him with arched eyebrows, but shuffled twice more, grabbed a card, and flipped it across the table to Gimenez. Sure enough, it was the nine of spades.

Gimenez was so excited he kept the card and taped it inside his batting helmet, and proclaimed "This is good for two walks and two knocks." Gimenez then went out and collected a single and a walk before the game was suspended Sunday, and on Monday, you guessed it, he had two hits including his second homer of the year and two walks while driving in two runs. Gimenez had reached base six straight times after the nine of spades came up before he went 0-for-3 with a walk on Tuesday night.

Overall, Gimenez has had a solid start to his season. He is second in the Eastern League with a .490 on-base percentage, thanks in large to part to his 16 walks which is also second best in the league. Gimenez only has 33 official at bats in 12 games, and is hitting .242 with 2 HR, 3 RBI and a .944 OPS so far this season.

Stevens Revels In Team USA Experience

Akron right-handed reliever Jeff Stevens is coming off a sensational 2007 campaign that saw him breakout as a relief prospect going 6-3 with a 2.81 ERA, holding opposing hitters to a .194 batting average and racking up 11 strikeouts per nine innings pitched. He topped off his memorable 2007 season by participating in the Arizona Fall League and then with Team USA in the Olympic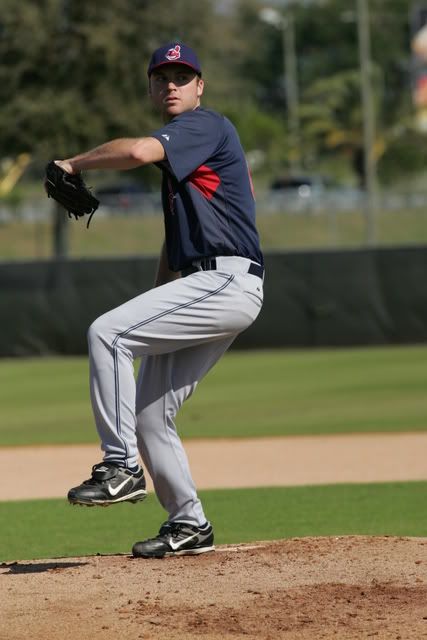 qualifiers, and in 12 combined appearances between the two places racked up three saves and did not allow a run in 12 innings pitched while allowing five hits, one walk and striking out 11. So far this season, in six appearances at Akron Stevens is 2-1 with one save and a 4.22 ERA and hitters are hitting .262 off him while he has 13 strikeouts in 10.2 innings pitched.

The experience in Taiwan pitching for Team USA was not only an opportunity for Stevens to showcase his talents on an International stage, but also relish the opportunity to pitch for his country and gain more confidence going into this season.

"Yeah, it gave me a little confidence," said Stevens. "In the fall league there were some great hitters out there. Team USA was a great experience. I threw three innings in the fall league, and then when we got Team USA started up we all met in Arizona and we played all the fall league teams once and I threw three innings in that. And then I think I threw five and a third in Taiwan. So combining the two I threw well."

One of the most memorable moments of the Team USA experience was getting to close Team USA's big win over perennial International power Cuba.

"I was fortunate to get in there and was very excited," said Stevens. "It is hard to explain because I did not even know what to expect. All the USA guys were telling us that when you get over there and hear the national anthem played in a different country you get this feeling you can't explain, and it is true. You can't explain the feeling that comes over you. Especially us beating Cuba who is a perennial powerhouse in International play. They were really good."

Nash Not A Smash Early On

First baseman Chris Nash is making his South Atlantic League (SAL) debut this year, and this is his first year playing on a full-season team. His inexperience has shown and he has had a rough go of it early this season at Lake County hitting only .221 with 0 HR, 9 RBI and a .579 OPS in his first 18 games. The most alarming stat early in the season has been the strikeout totals he has
been piling up, as he has 28 strikeouts in 68 at bats.

Nash has quickly been introduced to more advanced pitching at the full-season Single-A level, and the biggest difference he says has been that pitchers throw a lot more curveballs whereas in short-season leagues last year they mainly threw him fastballs. There is no doubt Nash is a very good excellent fastball hitter, but until he can show the ability to either hit the curveball or lay off pitches low and away he will continue to rack up the strikeouts. The good thing is Nash has a great attitude and understands what he has to do. It is starting to show as in the first nine games he struck out 18 times in 35 at bats, whereas in his last nine games he has struck out 10 times in 33 at bats.

Nash continues to make mental notes with the stumbling blocks he has encountered, and does his best to improve. He is keeping a positive attitude and working hard every day to get on track. It also should be noted he missed most of spring training with a lat injury, so he is still in spring training mode.

"Unfortunately for Chris he was hurt in spring training," said Lake County Manager Aaron Holbert. "I believe he played the first game or two and hurt his lat, so he did not play until the last three games before spring training ended. So that was a lot of time he missed. Not only in seeing live pitching, but also taking batting practice. Unfortunately for him it is going to take awhile. It is not fun to watch or fun to go through what he is going through right now, but we understand as an organization that is is going to take him awhile to get his timing back, to get used to seeing offspeed pitches, and to start thinking along with the pitchers and guessing with them a little bit. We understand strikeouts or slumps like these are going to happen. It is going to take awhile, and we have the patience it is just a matter of him staying focused and having patience with himself."

The Other Miller

Buffalo right-hander Adam Miller gets all the hype as the Indians top rated prospect, but another Miller is emerging on the prospect scene and by season's end could be one of the top pitching prospects in the Indians system. After three starts, Lake County left-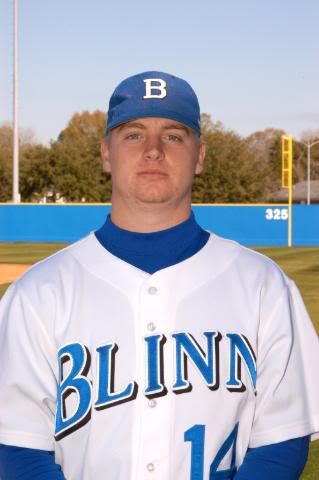 hander Ryan Miller is still perfect at 3-0 and has an unblemished 0.00 ERA. His numbers early on have been impressive, as he has also held opposing hitters to a .161 batting average and has struck out 17 batters in 16 innings.

The Indians drafted Miller in the 36th round of the 2006 Draft after his freshman season at Blinn Junior College. Miller went back to Blinn for his sophomore year as a draft and follow player and eventually signed with the Indians in May 2007. Because of new rules and regulations in regard to the draft, the draft and follow process has been dropped as the signing deadline for players has been moved up to August of the draft year. As a result, Miller was part of the final class of draft and follow players to sign with teams last year.

Throughout spring training and early in the season Miller has been working on becoming more comfortable on the mound and not overthrowing. In his last start on Friday night, Miller displayed some nasty stuff and had opposing hitters reeling. His fastball was crisp and locating to both sides of the plate, and he was throwing his curveball for strikes. The topper was a changeup which he fooled many hitters on all night with two strikes for many of his punchouts.

The Running Man

Lake County outfielder Adam White is a former All-State running back in high school at Philipsburg-Osceola High School in Pennsylvania. When he did not get a Division I football scholarship, White focused his efforts on his other love, baseball. White ended up attending the University of West Virginia to play baseball, and was eventually drafted by the Indians last year in the 9th
round of the 2007 Draft. He debuted at short-season Single-A Mahoning valley, and in 57 games hit .260 with 1 HR, 10 RBI, and a .723 OPS. He also showed his speed potential by swiping 22 bases.

Now at Lake County, the 5'10" 190-pound switch-hitting White is quickly starting to turn some heads in the South Atlantic League (SAL). Literally, because if you don't look fast enough you might miss him. White is a burner on the bases, and arguably the fastest player in the Indians entire system from the majors down to the Dominican Summer League team. White possess unbelievable speed that is rated an 80 on the scouting scale where 80 is the highest value attainable.

The Indians are continuing to work on White's base-running in order to improve his fundamentals in areas such as getting quality secondary leads, reading pitchers better, and first step quickness to second base. Minor league base-running coordinator Gary Thurman has worked with him a lot on the mechanics of base-running rather than just relying on raw speed, and also in being a more aggressive runner. White has the green light from Lake County manager Aaron Holbert to run anytime he wants this year, and by season's end if he stays healthy it is expected he will pile up around 50 stolen bases. On the season, White is hitting .328 with 0 HR, 6 RBI, 5 stolen bases and an .825 OPS.

Herrmann Shaky, But Remains Steady

Akron right-hander Frank Herrmann has been working out of jam after jam this year. Then again, such is life as a sinker-ball pitcher. Herrmann has mostly struggled in the first inning so far this year, and in his last two starts he worked out of jams to limit
the damage before putting up a good start.

Last Thursday, Herrmann survived by getting out of a bases loaded, one out jam in the bottom of the first when he induced a double play groundout to end the inning. Herrmann ended up working into the sixth inning, but after retiring the first two hitters he surrendered consecutive singles and was lifted for a reliever. His final line was 5.2 IP, 0 R, 7 H, 0 BB, 0 K. In his next start this past Tuesday, he once again got into trouble early by allowing two first inning runs before settling in and putting up a quality start. His final line was: 6 IP, 3 R, 6 H, 1 BB, 3 K. On the season, in four starts Herrmann is now 2-1 with a 4.37 ERA.

While Herrmann is big and strong at 6'4" and 220 pounds and throws the ball in the low 90s, he is not a power pitcher by any means and uses a pitch to contact approach to get batters to pound his sinker into the ground for outs. In his start last Thursday, Hermann faced a total of 23 hitters and did not record a strikeout despite getting two strikes on 12 of those batters. Herrmann also did not allow a walk, which is par for the course for him as he has only surrendered six walks this year and last year at Kinston only walked 28 batters in 146 innings.

Head Disabled, Again


On Thursday, Akron first baseman Stephen Head was put on the disabled list with a broken bone in his right (non-throwing) wrist. Head only appeared in five games, hitting .357 with three RBI. Infielder Brandon Pinckney was activated from extended spring training and took Head's spot on the Akron roster.

It is an unfortunate setback for Head, who had just been activated from extended spring training a week earlier after he had successfully recovered from offseason labrum surgery to his right shoulder. Head injured the wrist sliding into second base on a stolen base attempt, and after the injury joked "I guess that's why they say speed kills." Head will not need surgery and is expected to miss a minimum of two weeks. The Indians and Head are actually very relieved at the diagnosis as he will not miss much time since surgery will not be required.

Cooper Climbs Buffalo Record Books

Outfielder Jason Cooper is now playing his fifth season at Triple-A Buffalo, and his tenure at the Indians highest minor league stop has him nearing the top of many franchise milestones. Cooper is the seventh player in Buffalo's modern era to play parts of five
different seasons in Buffalo. His three-run home run last Thursday was his 41st at Buffalo which ties him for 10th all time with Dave Clark. He has 186 RBI in his Bisons' career, which is now 5th most in the team's modern era. Only three players have collected 200 RBI in a Bisons' uniform in the modern era (Bill Selby 245, Jeff Manto 207, Russell Branyan 202) and Cooper likely will join that list sometime this season. Cooper also ranks 5th with 322 games played and 4th in doubles with 64 (Selby is 1st with 90). If he can stay healthy, Cooper should pass former catcher Tom Prince's record of 400 games played near the end of the season.

Cooper is probably in his final season with the Indians organization as he should be a minor league free agent at season's end. Given the depth in the organization in the outfield, the Indians most likely will want to use his roster spot for another player, and he likewise would probably like to be with an organization where he has a better shot to make his major league debut. That said, he has been a good organizational player for the Indians and has never displayed any displeasure he may have in regard to his situation. On the season he is hitting .224 with 1 HR, 10 RBI, and a .712 OPS in 15 games.

Realini's Big Day


Lake County infielder Dustin Realini picked the perfect time to have his best game as a professional this past weekend. Realini was drafted in the 28th round in the 2006 Draft out of Santa Clara University (CA), and is from California. As a result, since he is two thirds of the way across the country in Cleveland, Ohio his family does not get a chance to see him often.

That all changed this past weekend when his family was in town in Eastlake, OH and got to see Realini's big day on Saturday when he went 4-for-4 with two home runs and three RBI. Realini helped jumpstart a Lake County offense which, while it has been opportunistic, has been a weakness for the team early on in the season. Playing time has been hard to come by for Realini as he has only played in a handful of games early on but has kept a positive attitude and worked hard to keep sharp. Coming into the season, Realini owned a .243 career batting average with 6 HR and 53 RBI in 110 minor league games mostly at short-season Single-A Mahoning Valley. This year, in nine games he is hitting .320 with 2 HR, 7 RBI and a 1.045 OPS.

Affiliate Notebook


Buffalo Notes (7-14, 5th place): First baseman Ryan Mulhern has shown some improved patience at the plate this year as he is currently tied for the team-high with 12 walks (59 at bats). Last year Mulhern has only 40 walks in 476 at bats. On the flip side, Mulhern is only hitting .203 and his on-base percentage is .338, so the early focus on a more disciplined approach at the plate has hurt him in other areas. ... Infielder/outfielder Andy Gonzalez was activated off the temporary inactive list Friday. Gonzalez had left the team to travel to Puerto Rico for the birth of his child. To make room on the roster, catcher David Wallace was sent back to extended spring training. ... Second baseman Josh Barfield had a power outburst over the weekend, hitting two home runs on Saturday night and following it up with another home run on Monday. Barfield is now hitting .247 with 3 HR, 7 RBI, 2 stolen bases and a .708 OPS. ... Outfielder Jason Tyner hit a solo home run Saturday night, which was only his fourth career homer in 1,226 professional games and 4,460 at-bats in the minors and major leagues. Last year, Tyner hit his first major league home run while playing for the Minnesota Twins on July 28th against Indians' starter Jake Westbrook. ... Outfielder Brad Snyder is hitting .246 with 4 HR, 9 RBI and a .829 OPS. ... First baseman Jordan Brown is hitting .304 with 0 HR, 9 RBI and a .778 OPS.


Akron Notes (7-11, 6th place): Outfielder Trevor Crowe is going to be out for awhile longer. He was put on the disabled list almost two weeks ago for back tightness, but will now miss at least another three or four more weeks because of a bulging disc in his back. ... On Monday night, left-hander David Huff was outstanding. After making a mistake early in the game by giving up a solo home run to the first batter he faced, Huff settled in and dominated the rest of the way by only allowing three base runners, one on an error and two on walks, and retired the last nine batters he faced. In total he pitched 6.2 innings and allowed one run on one hit and two walks while striking out six. On the season he is 0-1 with a 3.54 ERA in four starts. ... On Friday, third baseman Wes Hodges and outfielder Nathan Panther both went 0-4 and saw their modest nine game hitting streaks come to an end. ... Infielder Brandon Pinckney had a nice debut on Saturday night. After failing to land with a full-season club out of spring training, Pinckney was called up from extended spring training on Thursday when outfielder Stephen Head went down with a broken bone in his right wrist. In his first game on Saturday, Pinckney went 2-for-4 with a home run and RBI. ... On Saturday night, shortstop Josh Rodriguez had a big night at the plate going 3-for-4 with a home run and two RBI while finishing just a triple shy of hitting for the cycle. On the season, Rodriguez is hitting .200 with 2 HR, 5 RBI, and a .636 OPS.


Kinston Notes (5-11, 4th place): Last Thursday, right-handed starter Steven Wright had another very good start going six innings and allowing one run on one hit while walking one and striking out five. In his next start on Tuesday, Wright struggled in giving up three runs on six hits and three walks in four innings. In three starts, Wright is 0-1 with a 2.81 ERA. ... Left-handed reliever Dan Cevette is off to a hot start in Kinston. Cevette got the callup from extended spring training late last Wednesday when left-hander Matt Meyer went on the disabled list. Like a lot of the players left behind in extended spring training, Cevette was frustrated to be left behind but has channeled his aggression on Carolina League hitters. In two appearances which cover five innings of work, he has not allowed a run and only one hit while walking three and striking out six. ... Outfielder Nick Weglarz is off to a slow start offensively hitting .233 with 0 HR, 2 RBI and a .787 OPS. The one bright spot is his outstanding walk-rate, as he has 21 walks which is easily tops in the Carolina League. ... Right-hander Erik Stiller could be on the move to Double-A Akron very soon. Because of the logjam at Buffalo and Akron in the pitching department, Stiller returned to Kinston when he probably should have been in Akron. However, Stiller has displayed an excellent attitude and come out firing in Kinston as in five appearances he is 0-0 with a 1.86 ERA. Most notably he has 17 strikeouts in 9.2 innings, good for a Nintendo-like 15.83 strikeout per nine innings rate. ... Outfielder John Drennen currently has a 15-game consecutive on base streak. The streak is highlighted by a five walk performance last Monday. On the year, Drennen is hitting .288 with 0 HR, 3 RBI and a .746 OPS. ... Kinston's current streak of seven straight playoff appearances is the longest streak in the 63 year history of the Carolina League. Kinston has made the Carolina League Playoffs in eight of the last nine and 11 of the last 13 years. Kinston has never missed the playoffs in back to back years as a Cleveland Indians affiliate (21 complete seasons). ... While the Kinston lineup showcases some of the Indians best hitting prospects in the system, there has been a power shortage early in the season. As a team Kinston has hit just four home runs in 16 games this season and have not hit a home run since April 12th.



Lake County Notes (13-7, 1st place): In three games from Wednesday through Friday last week, Captains starters Ryan Morris, Chris Archer and Ryan Miller combined to shut out opponents for 16 innings on seven hits with 15 strikeouts. Also, the bullpen gave up only one run on two hits in 11 innings. Through 20 games, the Captains' team ERA of 2.75 is second among 16 South Atlantic League (SAL) teams. Lake County pitchers have given up only 117 hits, good for first in the league (by 30 hits!). ... Lake County had a temporary power surge on Saturday hitting three home runs. The three home runs they hit on the day are one more than they have hit in their other 19 games combined. In 20 games they have hit five home runs as a team. ... On Tuesday night, Lake County dominated in a double header holding opposing Delmarva to two total runs in the two games. Left-hander Ryan Morris won game one going six scoreless innings giving up only two hits while striking out four. He is 3-0 in has last three starts and has not allowed a run in his last 17.1 innings pitched and on the year is 3-0 with a 1.23 ERA. ... In the second game of the doubleheader on Tuesday night, right-hander Josh Judy picked up his third relief win of the season. He went three scoreless, hitless innings striking out five. On the year, in six appearances out of the bullpen Judy is 3-0 with a 1.98 ERA. In 13.2 innings pitched he has only allowed three hits and five walks while striking out 19. ... Outfielder Matt Brown is hitting .347 with 2 HR, 17 RBI, and an .876 OPS. ... Infielder Karexon Sanchez is hitting .333 with 1 HR, 12 RBI and an .856 OPS.
User Comments
No comments currently. Be the first to comment!